« Zochrot Veers Into Realm of Anti-Semitic Comedy | Main | Where's the Coverage? Israeli Arabs Like Israel »
May 28, 2014
CAMERA Prompts Improved AP Coverage of Temple Mount Clash
An Associated Press news story early today about Temple Mount disturbances failed to adequately address the basic five questions that news stories are supposed to cover: who, what, where, when and how. The article reported:

Who were the masked protesters? Arabs? Jews? The article doesn't say.

Police spokesman Micky Rosenfeld tweeted earlier today:


Haaretz clearly identifies the protesters ("Israeli police clash with Arab protesters"):
The Israeli police officer was lightly wounded by a rock thrown by masked Arab protesters at the Temple Mount.
(Also, the Haaretz story, which was published after the AP story, reports on injuries among the demonstrators and police.)
Following communication from CAMERA's Israel office, AP editors commendably refiled the story, and included the key piece of information about who was involved in this incident: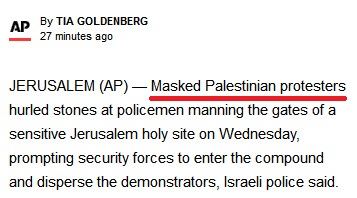 By contacting wire services during the very same news cycle in which a flawed story first appears, CAMERA proactively works to ensure more accurate and informative coverage in newspapers around the world.
For AP corrections prompted by CAMERA, please see here.
Posted by TS at May 28, 2014 06:18 AM
Comments
Guidelines for posting
This is a moderated blog. We will not post comments that include racism, bigotry, threats, or factually inaccurate material.
Post a comment