« Eviction Notice Containing Threats Against Jewish Students Termed a "Prank" | Main | Christy Anastas On the Stone Pavement »
April 27, 2014
Location, Location (And Where the Media Got it Wrong)
April 28 Update: CAMERA Prompts Haaretz Correction on West Bank Barrier
April 30 Update: NY Times Corrects Photo Caption on West Bank Clash
In the convoluted map of the Israeli-Palestinian conflict, the same event taking place in two slightly different locations could have two vastly different significances. In other words, in a region divided up by a Green Line, Area A, Area B, Area C, Palestinian towns, Israeli communities or settlements over the 1967 Armistice Line, location matters. And given the geopolitical sensitivities, media outlets have a particular responsibility to accurately cite locations.
Twice this past weekend, major media outlets, The New York Times and the Israeli daily Haaretz, erroneously identified the site of Palestinian demonstrators (one violent, one apparently peaceful).
The following photograph and incorrect caption appear on the front-page of The International New York Times today:
This photograph is not from "an Israeli settlement." Palestinian demonstrations do not take place in Israeli settlements. If they did, that would be very big news.

According to the original caption provided by European Press Agency (which we accessed from the Newscom photo archive), "Palestinian protester holds his gas mask during clashes over the Jewish settlement of Qadomem, near Nablus, West Bank, 25 April 2014."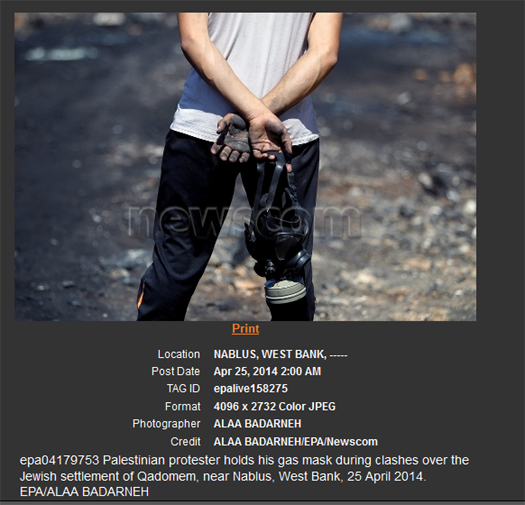 In a second misidentification of setting, Haaretz published the following photograph and caption on page 5 of its Weekend supplement this past Friday (April 25):
The houses in the background are not from the city of Modiin, a bedroom community in central Israel within Israel's pre-1967 boundaries. In no place does the concrete barrier reach within that proximity of Modiin. According to Haaretz's Hebrew edition, this photograph shows Modiin Illit, also known as Kiryat Sefer, a Haredi town several kilometers away from Modiin, over the Green Line.
The Hebrew caption states: "A Palestinian woman in front of the separation barrier near Modiin Ilit, 2011" (CAMERA's translation).
Posted by TS at April 27, 2014 04:33 AM
Comments
Guidelines for posting
This is a moderated blog. We will not post comments that include racism, bigotry, threats, or factually inaccurate material.
Post a comment