« Saeb Erekat Exonerates Hamas | Main | Eviction Notice Containing Threats Against Jewish Students Termed a "Prank" »
April 24, 2014
"Intimidation" If You Do, "Discrimination" If You Don't
If you've ever had the feeling that Israel is criticized regardless of what it does, rest assured: It isn't paranoia.
The absurdity of much of the conversation about Israel is summed up neatly by two recent articles about Israeli Arabs and army service.
A year ago, AI Monitor published a piece in which Israel was charged with "discrimination" because it does not require Israeli Arabs to serve in the army or volunteer for national service.
And yesterday, Christianity Today reported that Israel is accused of "intimidating" Arab Christians by urging them to serve or volunteer.
And there you have it. If it doesn't encourage service, Israel discriminates. If it does, it intimidates.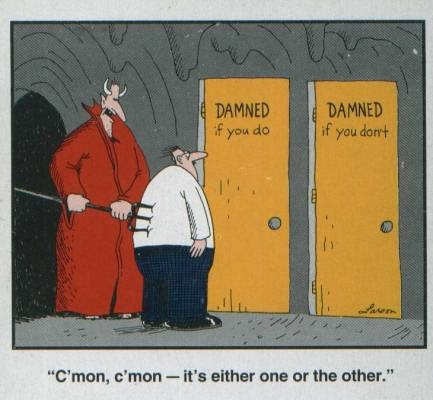 Posted by at April 24, 2014 05:10 PM
Comments
Guidelines for posting
This is a moderated blog. We will not post comments that include racism, bigotry, threats, or factually inaccurate material.
Post a comment