« The Tripod: CAMERA Links in Three Languages -- August 27-28 | Main | AP Returns Golan Heights to Syria »
August 28, 2013
Where's the Coverage? Israel Surrounded by Threats

CAMERA has reported:
Recent statements by U.S. President Barack Obama and Secretary of State John Kerry portend a forceful American response to the Syrian government's alleged use of chemical weapons.
Should the United States –and allies– strike Syria, both Iran and Syria have threatened to retaliate against Israel. This has received coverage in the popular press. The news media have also reported that Israel has had to call up reservists and deploy extra missile defenses, and even recounted:
In addition to [gas] masks, the Israeli government handed out small plastic tents designed to protect newborns and was running videos with step-by-step instructions on how to correctly don the gear.
What the media have missed are the multiple threats that Israel confronts beyond this immediate crisis. Israel literally faces peril on every border and Israelis are in danger from terrorists even when they travel abroad. This infographic from the Israeli embassy in Washington D.C. depicts some of the dangers: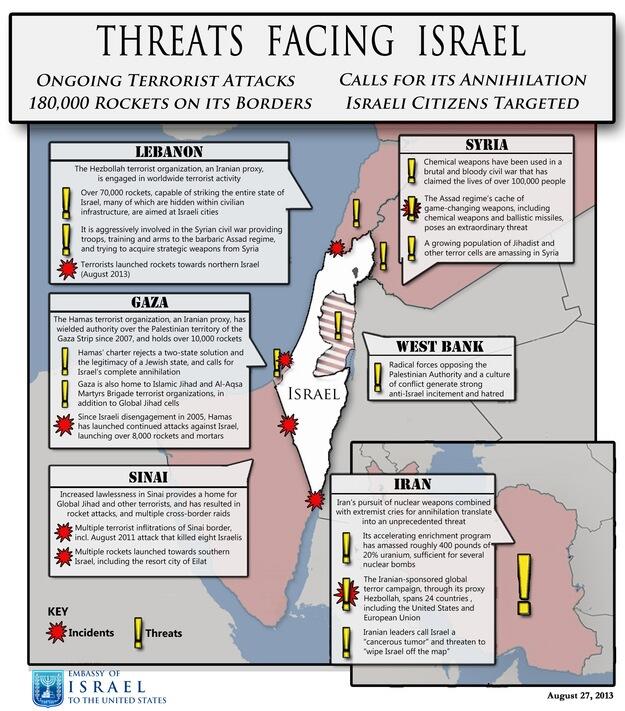 The embassy maintains:
It's because of these threats Israel is ever more committed to maintaining our existing peace agreements with Jordan and Egypt, and reaching an historic peace agreement based on the principle of two states for two peoples – Israel the nation-state and homeland for the Jewish people and an Arab Palestinian state as the homeland for the Palestinian people.

Israel and Israelis yearn for a peace that allows Israel to be able to invest in ourselves, building a better society for our children, and creating a prosperous future.
Israel committed to peace with its neighbors? Israel interested in reaching an agreement with the Palestinian Arabs? Well you certainly haven't heard much of that from the media. As for the multiple, persistent threats all around... Where's the coverage?
Please spread the word by posting the infographic to your Facebook page and by tweeting the link on Twitter.

Posted by SC at August 28, 2013 09:55 PM
Comments
Guidelines for posting
This is a moderated blog. We will not post comments that include racism, bigotry, threats, or factually inaccurate material.
Post a comment