« The Tripod: CAMERA Links in Three Languages: August 8 | Main | The Tripod: CAMERA Links in Three Languages -- August 9-12 »
August 12, 2013
New York Times Map Puts Eilat in Sinai
The entire city of Eilat has infiltrated the Egyptian border, and is now in the Sinai peninsula — at least according to the map that appeared alongside a recent article in the New York Times.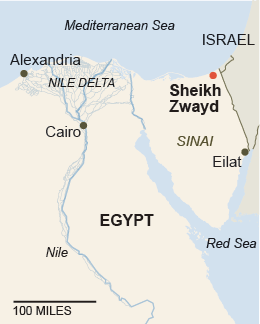 Posted by at August 12, 2013 03:22 PM
Comments
Why should the Times let mere facts interfere with their unique brand of journalism?
Posted by: rmk1 at August 13, 2013 12:49 AM
And what else did you expect from the "august" New York Times that carries all the news that's fit to print??
Posted by: Jack Schwartz at August 13, 2013 08:51 AM
Well, geographical knowledge in general has never been an American quality, even much before the "Grecians" of George Double U... But here in particular, to make of Eilat a part of Egypt is not innocent at all. Next step of the NYT: Haïfa, a Lebanese town? Tiberias, a Syrian city?..
Posted by: Michel Garel at August 25, 2013 06:50 AM
Guidelines for posting
This is a moderated blog. We will not post comments that include racism, bigotry, threats, or factually inaccurate material.
Post a comment