« Human Rights Activist John Eibner Describes Violence in Syria | Main | It Gets Worse - CC's Wall Is "Associate Editor" at VNN »
July 02, 2013
Christian Century's Contributing Editor Also a Columnist at Anti-Semitic Publication
There's no room for denial here. Christian Century, the house organ for mainline Protestantism in the United States, has a problem, a real problem.
One of its contributing editors, James M. Wall, who is listed on the magazine's masthead, is also listed as a contributor for Veterans News Now, a publication well known for publishing anti-Jewish conspiracy theories. It's a scandal that the folks at Christian Century can no longer ignore. The man who served as editor and a regular columnist Christian Century for many years is now writing for a magazine that demonizes Israel and American Jews in no uncertain terms.
It is a disgraceful story that can be told in screenshots, which can be seen after the jump.

First, here is an image of Wall's name on Christian Century's list of Contributing edtiors. His name is right after Martin Marty's.

Below is a screenshot of Wall's bio at Veterans News Now. It says Wall is "currently a Contributing Editor at Christian Century magazine."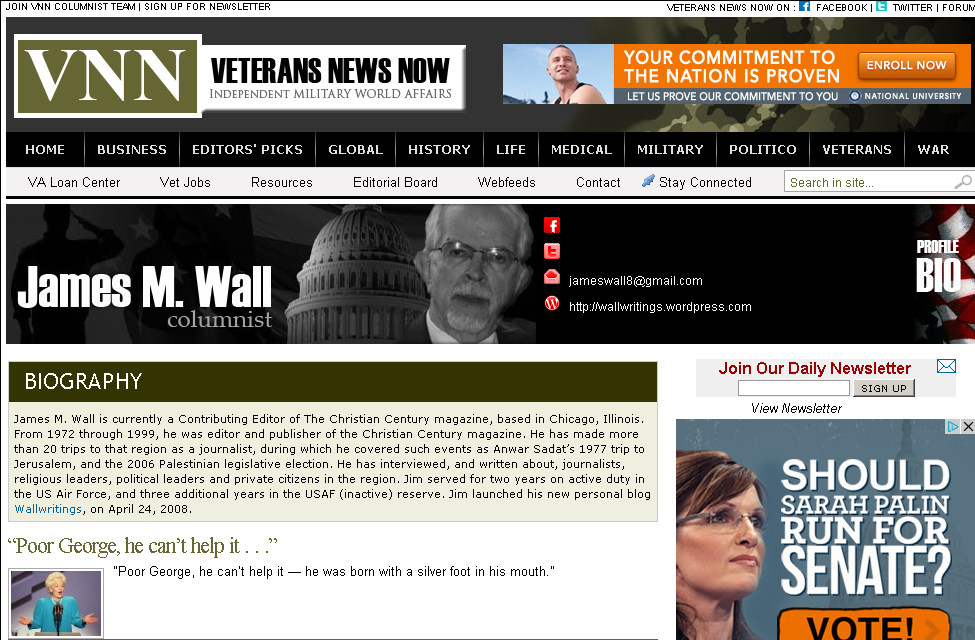 And here is a screenshot of an article recently published at Veterans News Now:
The article's headline asserts that there is a "Zionist Mafia" that is "Earth's Alpha Predator." It asks readers to envision a "Humanity Free From Zionism."
How much longer will Wall's name remain on the masthead at Christian Century? How Long?
Hat Tip: Viola Larson.
Update (5:30 p.m.) Here's another screenshot from VNN:
Posted by dvz at July 2, 2013 04:41 PM
Comments
Guidelines for posting
This is a moderated blog. We will not post comments that include racism, bigotry, threats, or factually inaccurate material.
Post a comment