« June 2013 | Main | August 2013 »
July 31, 2013
The Tripod: CAMERA Links in Three Languages: July 31
What are BBC audiences being told about ME talks?
Taking a look at what the BBC is telling its audiences about the Middle East peace talks . (BBC Watch)
Can't Find A Referendum? You Must Be Gidon Levy
Gidon Levy claims democracies don't use referendums. (Presspectiva)
Guardian falsely claims that most new Israeli immigrants move to the West Bank
The Observer (sister site of the Guardian) claimed that most Israeli immigrants move to "settlements" in the West Bank. However, Israeli population statistics clearly demonstrate that only a small percentage move there. (CiF Watch)
The Hyperbole and the Writer
The politician and writer Mario Vargas Llosa compares Hamas to Israeli settlers. (ReVista de Medio Oriente)
Misrepresenting Palestinian Prisoners
What the media doesn't tell you about the Palestinian Prisoners. (In Focus)

Posted by rh at 05:31 PM | Comments (0)
July 30, 2013
The Tripod: CAMERA Links in Three Languages: July 30
The Guardian Asks if 4.9 Mlllion Palestinian "Refugees� Will "Return� to Cities…Where They Never Lived
Those who get their news from the Guardian could be forgiven for falsely believing that there are nearly 5 million Palestinian refugees from the 1948-49 Arab-Israeli War. The truth is that there are closer to 30,000. (CIF Watch)

From the Campus Director's Desk: CAMERA's Amazing Student Trip to Israel
CAMERA just concluded the 7th annual student trip to Israel. Learn more about what they learned and where they traveled to here. (In Focus)
Whitewashing Hamas
Spanish news agency, Europa Press, avoids referring to Hamas as a terrorist group, yet does not hesitate to speak of "the Jewish terrorist� Eden Natan-Zada. (ReVista de Medio Oriente)
Israel Releases Terrorists, The World Reports on Freed Political Prisoners
A brief survey of how some newspapers confuse political prisoners and convicted terrorists. (Presspectiva)
Tenacity Brings Results in Complaint About BBC Ward Article
The BBC Trust has partially upheld a reader's complaint about the BBC's erroneous language toning down MP David Ward's anti-Semitic remarks. (BBC Watch)
BBC's Bell Suggests Maccabiah Games are Racist
BBC's Bethany Bell uses the subject of sport as a springboard from which to try to influence audience perceptions of Israel. (BBC Watch)
Ashrawi on CNN: So Predictable – Anti-Israel Vitriol and Distortions
CNN International host Christiane Amanpour failed to challenge any of the distortions and falsehoods put forth by her July 23rd guest, Palestinian Legislative Council member Hanan Ashrawi. (Snapshots)
Posted by rh at 04:29 PM | Comments (0)
Ashrawi on CNN: So Predictable – Anti-Israel Vitriol and Distortions
Palestinian Legislative Council member Hanan Ashrawi, a fluent English speaker with a high news media profile, is a veteran anti-Israel propagandist who habitually shades when she does not shred the truth (see, e.g., here and here).
Ashrawi appeared on Christiane Amanpour's July 23 CNN International show on TV to discuss the position of President Mahmoud Abbas's Palestinian Authority in negotiations soon to take place. An Israeli spokesperson, Tzipi Livni, Israeli minister responsible for negotiating with the PA had appeared with Amanpour the day before. Transcripts for the appearances of Ashrawi and Livni are available.
Livni's strongest remark involving Palestinian Arabs was still mild: "The whole idea is to build trust and confidence and not to enter into this blame game that we used to have in the last years.� But Ashrawi, characteristically bending truth into the great Palestinian pretzel, wasn't as diplomatic and non-combative, let alone accurate. Here's a sampling:
Settlement activities are illegal. Annexing and stealing land which is not your own is illegal.

[…]

We have specific U.N. resolutions, particularly 194, dealing with the Palestinian refugees' right of return. We have the Arab initiative that, in a sense, places the whole issue of refugees in a regional context, which is important, because most of the Palestinian refugees are in neighboring Arab countries.

This is a source of instability. It's a source of tremendous pain throughout the region. And this needs to be resolved in a just and legal manner. So the Arab Peace Initiative talks about a just and agreed-upon solution to the Palestinian refugee question. We are not going to say we will start negotiations by violating international law, relinquishing the rights of the refugees. We have already given up 78 percent of historical Palestine, on which Israel was established. That is a major and painful compromise.

Amanpour failed to challenge any of Ashrawi's distortions and falsehoods:
• Ashrawi's false accusations concerning the legality of settlements and "annexing and stealing land�: There is no international law that declares settlements illegal. The Jewish people's return to their ancient homeland, including what is now known as the "West Bank,� was not theft but repossession, as both the British Balfour Declaration in 1917 and League of Nations' Palestine Mandate in 1922 recognized. Article 6 of that Mandate calls for "close Jewish settlement" on the land west of the Jordan River. Article 6 is incorporated by Article 80 of the U.N. Charter, sometimes referred to as "the Palestine article." The United States endorsed the mandate, including Article 6, in the 1924 Anglo-American Convention.
The Arab population of the territory that became Israel, sparse in the late Ottoman period, grew rapidly as Jewish settlement improved health and economic conditions. There never was a sovereign Arab state from which Israel took land. As for the West Bank (Judea and Samaria), Israel gained this territory in a successful war of self-defense in 1967 and it remains to be allocated according to negotiations about legitimate Jewish and Arab claims under U.N. Security Council resolutions 242 and 338.
Jewish villages and towns built in the West Bank since 1967 are no more illegal than areas built since then in previously existing Arab villages and towns. As for Ashrawi's "theft" allegation, the large majority of Jewish settlements have been built on property that was classified state or waste land during Ottoman, British, Jordan and Israeli rule. It is on just such land, and that purchased privately, that the mandate encouraged Jewish settlement. Though many people, including U.N. Secretary-General Ban Ki-moon, insist otherwise, their charges of "illegal settlements" are political, not legal.
• Ashrawi, claiming a right of return for Arabs who fled what became Israel during the 1948-1949 war (and for their descendants), states "We have specific U.N. resolutions, particularly 194, dealing with the Palestinian refugees' right of return.� In fact, no such "right" exists – which is one reason all Arab countries at the United Nations voted against General Assembly Resolution 194 in 1948, against resolutions 393 and 394 in 1950, and 513 in 1952. These called for either peaceful return when practicable or compensation, resettlement of the refugees in the neighboring Arab countries and their integration into the local societies and economies.
It is the Arabs, including the Palestinian leadership, who have been in violation of the recommendations – not rights – included in those resolutions. Hence this particular source of "instability and tremendous pain" in a region featuring the Syrian civil war with more than 93,000 killed and several million made homeless in two years, the bloody turmoil in Egypt, escalating Sunni-Shiite violence in Iraq and so on.
In an essay published in Commentary in May 2001, historian Ephraim Karsh discussed Israel's policy on Arab refugees: "In 1949, Israel offered to take back 100,000 Palestinian refugees; the Arab states refused. Nevertheless, some 50,000 refugees have returned over the decades under the terms of Israel's family reunification program, and another 75,000 who were displaced from the West Bank and Gaza in the 1967 war have also returned to those territories.� Furthermore, a large majority of the Palestinian Arabs worldwide already live in what was "Palestine" under the original post-World War I Mandate – Jordan, the West Bank, Gaza Strip, and today's Israel.
• The falsehood, "We [Arabs] have already given up 78 percent of historical Palestine …,� is typically allowed to stand. In fact, the only "historical Palestine� since Roman times was the 1922-1948 League of Nations/United Nations mandate, held by Great Britain. As envisioned by the drafters of the San Remo Treaty in 1920, it included all of what today is Jordan, Israel, the West Bank, the Gaza Strip, and the Golan Heights. Israel, including the disputed territories, accounts for roughly 22 percent of historic Palestine. If Israel were to withdraw completely from the West Bank, it would possess a little more than 17 percent of the mandatory lands.
Posted by MK at 01:15 PM | Comments (4)
July 29, 2013
The Tripod: CAMERA Links in Three Languages: July 29
Pre-Oslo Prisoners and Their Crimes
To understand the sensitivity of the debate over Israel's decision to release convicted Palestinian terrorists, one must know who these prisoners are and what crimes they committed. CAMERA provides a list. (CAMERA)
Another Perspective on Middle East Peace
Emanuele Ottolenghi describes the "six mistaken assumptions that have driven successive diplomatic efforts [to achieve a Palestinian-Israeli peace agreement] to complete failure." (Snapshots)
The Occupation and Us According To Nadav Eyal
What is Israel's official position on the territories? (Presspectiva)
The Guardian AGAIN Whitewashes the Ethnic Ceansing of Jews
For the second time in a week the Guardian has attempted to expunge from the historical record an indisputable saga regarding the ethnic cleansing of Jews by Arab leaders in the years following Israel's establishment. (CIF Watch)
Parallel Worlds
At a Spanish news agency, Hamas is a valid political source while Tel Aviv is the seat for the Israeli Government. (ReVista de Medio Oriente)
Where's the Coverage?
The media in Spanish continues to turn a deaf ear to the incitement to hatred by the Palestinian Authority. (ReVista de Medio Oriente)
The Spread of Hatred in the West Bank and on the College Campus
The Palestinian Authority is honoring terrorists, while students on campus chant "intifada". (In Focus)
Posted by TS at 01:35 PM | Comments (0)
Another Perspective on Middle East Peace
Dr. Emanuele Ottolenghi
Political scientist Emanuele Ottolenghi provides an important, but not often heard, perspective on the Palestinian-Israeli peace process. According to Ottolenghi, "the region's momentous historical changes are largely beyond the reach of Western influence." Unfortunately, he writes, the West has
still not come to terms with reality when it comes to the Palestinian-Israeli conflict. Despite decades of failed diplomatic efforts, Western leaders are still obsessed with finding a lasting solution, thus appearing oblivious to the daunting challenges such a goal faces in the increasingly ebullient regional environment.
The scholar explains the"six mistaken assumptions that have driven successive diplomatic efforts [to achieve a Palestinian-Israeli peace agreement] to complete failure." Read about them here.
Posted by rh at 12:31 PM | Comments (0)
July 26, 2013
The Tripod: CAMERA Links in Three Languages
800,000 Missing Jews: Guardian 'Refugee' History Includes Glaring Omission
It's one thing to re-write history, but quite another to pretend as if a major historical event – involving a well-documented case of ethnic cleansing – never occurred. (CiF Watch)
BBC's Brook Misleads on Israeli Film
Israelis, it seems, will not be allowed to have their own intimate moments of recollection without the BBC demanding that they be more objective about it than any other nation remembering its history. (BBC Watch)
The Importance of CAMERA to the Sustainability of Israel
As I stood in front of hundreds of rockets fired at Israel with Noam Bedein of the Sderot Media Center, the work that CAMERA and every pro-Israel activist does began to come into focus. (In Focus)
CNN Muddles Through Peace Talks
As diplomats, negotiators and media gear up for the next round of Israeli-Palestinian peace talks, CNN International demonstrates that it needs to brush up with a crash course on Mideast history. (Snapshots)
Did the International Media Ignore the EU Sanction?
Was Moshe Arens right in claiming that the New York Times and Washington Post ignored the new European Union rules? (Presspectiva)
Censorship in Gaza
Hamas closes the Al Arabiya TV in Gaza for daring to criticize the terrorist organization. (ReVista)
Eleanor Clift Whitewashes Anti-Jewish Comments
Clift tells misleads her readers when claiming Helen Thomas Drew Fire for Criticizing "Settlers." (CAMERA)
Posted by TS at 05:00 PM | Comments (0)
Egyptian Blogger on Learning to Hate Jews
Blogger and activist Hussein Aboubakr, who grew up in Cairo, explains how Ramadan's television culture has been used to spread anti-Semitism in the Arab world:
From the days of my early childhood in Egypt, anti-Semitism was not only a common phenomenon, it has been a national characteristic of my country. From Alexandria to Aswan, in every city and small town along the Nile river, anti-Jewish propaganda can be easily found in mosques, bookstores, on the radio, in newspapers and on TV.

Learning to hate Jews starts in Egypt the first moment you learn about their existence and continues long into adulthood.

... As far as I remember from the early days of my childhood, not one Ramadan season missed the opportunity to introduce some major anti-Jewish documentary or TV series. The biggest hit Ramadan specials in Egypt are usually programs that offer a large dose of anti-Semitism to the Arab appetite.
CAMERA recently posted a video, which you can see here, highlighting the unhealthy obsession with al yahud, the Jews, across the Middle East.
Posted by at 12:22 PM | Comments (2)
CNN Muddles Through Peace Talks
As diplomats, negotiators and media gear up for the next round of Israeli-Palestinian peace talks, CNN International demonstrates that it needs to brush up with a crash course on Mideast history. The July 21 article by Jason Hanna, Joe Sterling and Michael Martinez, "Israelis, Palestinians react to agreement on resuming peace talks," bungles a basic historical point, stating that Israel:
annexed East Jerusalem from the Palestinian territories, uniting the historic city to make it the capital of the Jewish state.
In fact, Israel was annexed from Jordan, not the Palestinian territories. (This basic fact was correctly reported by CNN in 2010.) Nor should east Jerusalem be labeled as part of today's Palestinian territories given that the status of that part of the city is disputed and is slated to be resolved in negotiations.
An earlier version of this article, still available through Internet archives, erroneously referred to Tel Aviv as the capital of Israel. The error has been removed, and a screenshot as it initially appeared follows:
The corrected text reads:
It would be in line with a decades-old United Nations resolution calling on Israel to release territories it gained during a war, a demand that Israel has historically fought.
If CNN can't be relied on to correctly identify Israel's capital, and to accurately report that eastern Jerusalem was annexed from Jordan, and not "Palestinian territories," it's no wonder that the media outlet bungles more complex issues.
Indeed, the article repeatedly refers to the "Green Line" as "pre-1967 borders." This is a highly distorted and misleading characterization. President Obama raised the 1967 parameter in a May 19, 2011 policy speech in which he correctly referred to the "1967 lines."
As CAMERA has noted:
The Green Line, to which the president was referring, served as an armistice demarcation line between Israel and Jordan. The armistice line was established April 3, 1949 by Article III of the Israel-Jordan Armistice Agreement and was never the "border� between Israel and the West Bank.

On the contrary, the agreement specifically notes that the lines are not borders: "The Armistice Demarcation Lines defined in articles V and VI of this Agreement are agreed upon by the Parties without prejudice to future territorial settlements or boundary lines or to claims of either Party relating thereto."

In short, the word "border� implies legality, political significance and permanence that does not apply in this circumstance.

Lord Caradon, the British representative to the United Nations during the 1967 Six-Day War, made this very point when discussing U.N. Security Council Resolution 242, which calls for a peace agreement based on territorial concessions and recognition of countries' right to exist in peace and security. Explaining the meaning behind Resolution 242, which he drafted, he noted that

It would have been wrong to demand that Israel return to its positions of 4 June 1967 because those positions were undesirable and artificial. After all, they were just the places the soldiers of each side happened to be the day the fighting stopped in 1948. They were just armistice lines. That's why we didn't demand that the Israelis return to them and I think we were right not to ...
CNN apparently confuses that very point when in a separate article, also July 21, it implies that Resolution 242 called on Israel to withdraw "completely" from territories it won in the 1967 war:
Reuters news agency quoted an Israeli official last week who said Israel agreed to a plan for peace talks based on pre-1967 borders and land swaps.

It is something the United Nations demanded in a resolution in 1967 and has been the gold standard of yearnings for Middle East peace ever since. It requires Israel to withdraw from occupied territories completely and the Palestinians to recognize the existence of an Israeli state.
But as Lord Caradon stated, and as the New York Times corrected three times in the summer of 2000, Resolution 242 does not require Israel to withdraw "completely" from occupied territories, but calls from withdrawal from an unspecified amount of territory. Nor does the current reported plan call for "complete" withdrawal from disputed territories. As CNN itself notes in the previous paragraph, Secretary of State John Kerry's plan allows for land swaps.
Aug. 8 Update: CAMERA Prompts CNN Correction on Jerusalem
Posted by TS at 09:05 AM | Comments (1)
July 24, 2013
Who Played the American Friends Service Committee?
The American Friends Service Committee, a so-called "peace and justice� organization supported by Quakers in the United States, has recently issued a report about Israeli policies in the West Bank. The report laments the suffering of Palestinians whose homes have been demolished in the West Bank.
The report opens with a description of the plight of Palestinians living in the village of Susiya. The AFSC reports that the Israeli government issued 52 demolition orders in Susiya in August 2012 and that "Every structure in the village is now under the threat of demolition, and the community's 250 residents are all at risk of being forcibly displaced from their homes.�
The report also states that Susiya was "[e]stablished in the early 1800s� and describes the locale as a "small herding community.�
What the AFSC fails to report, however, is that while herders may have historically used the site to graze their animals, there have not been permanent structures on the site until recently and that these structures were built illegally by inhabitants of a nearby town called Yatta.
Moreover, the AFSC's depiction of people living under the threat of losing their homes is not accurate because many of them have permanent homes in the nearby village of Yatta. That's the message offered by the Israeli organization Regavim, whose video about the village of Susiya is posted at the top of this entry. The facts offered by Regavim directly contradict the story AFSC tells about the site.
Ari Briggs from Regavim has written about Susiya in an article published in the Jerusalem Post in August 2012. Briggs describes the people currently living in Susiya as squatters supported by the Palestinian Authority, which is trying to create facts on the ground to strengthen its hand in any negotiations. Briggs writes:
Arab shepherds from the nearby town of Yata, a Palestinian Arab city of 80,000 in Area A, have created a new village there called Khirbet Sussiya.

They claim that their families have lived on this land for decades, if not centuries. Their struggle has become the cause célèbre of the cadre of foreigners and locals wishing to harm Israel and its standing worldwide through misrepresentations and outright lies.

In truth, this is just a matter of squatters illegally trying to grab state lands. These illegal squatters will always be portrayed as helpless, weak and vulnerable, but they are nothing of the sort. They all have alternate, permanent homes in Yata and are encouraged by the PA to grab land.

The area occupied by the squatters has been state land since the days of the Ottoman Empire. It has only ever served as grazing land and the caves found there have only ever been used for temporary dwelling by the shepherds for two weeks to a month a year during the grazing season.

Aerial photo archives prove that the squatters have not lived there – or anywhere in the environs of Sussiya – for decades.

These squatters also falsely claim they have been forced to build illegally because of the limited number of building permits approved by the Civil Administration (CA). In fact, the CA has approved over 100 new town plans for Area C in the past 10 years. A good example of these new town plans is a village only five kilometers north of Sussiya, called Khirbet Tawani.

However, the Palestinian Arabs have no interest in applying for building permits anywhere in Area C, as this would be seen as accepting Israel's authority.
Briggs's article, which clearly contradicts the AFSC's narrative, is worth a full read.
There are other problems with the AFSC's report. The report also states that Palestinians who lost their land as a result of the 1948 war were not compensated for their land. "These people's rights to compensation and return were never fulfilled …� the text reports. In fact, Palestinians have been compensated. A previously prepared CAMERA report provides the following detail:
Arabs who lost property in Israel are eligible to file for compensation from Israel's Custodian of Absentee Property. As of the end of 1993, a total of 14,692 claims had been filed, claims were settled with respect to more than 200,000 dunums of land, more than 10,000,000 NIS (New Israeli Sheckels) had been paid in compensation, and more than 54,000 dunums of replacement land had been given in compensation.
And if the AFSC wants to raise the issue of compensation, what about the approximately 1 million Jews who lost their homes in Arab lands who have been given nothing for their loss? Have activists from the AFSC ever addressed this issue? Probably not.
The report also fails to mention that many structures built by the Palestinians without a permit have been retroactively legalized by the Israeli government, which has also approved a number of Palestinian construction projects in the West Bank in recent years.
These errors and omissions raise an important question: Does the AFSC know what it is talking about, or is it merely passing on anti-Israel propaganda handed to it by Palestinians and their ideological allies in Israel?
And while we're at it, where do AFSC's supporters live? On land taken from Native Americans who were virtually extirpated from North America. Arabs, by way of comparison, comprise approximately 20 percent of Israel's population.
Do the activists from AFSC have any idea how hypocritical they look? Do they even know the history of the conflict they seek to end?
Apparently not.
Do the activists from AFSC represent the attitudes of Quakers in the U.S.?
Hopefully not.

Posted by dvz at 04:45 PM | Comments (1)
Where's the Coverage? Territory Occupied for Decades… Not by Israel

You're hearing a lot about "occupation� right now.
Secretary of State John Kerry is doing his best to get Palestinian leaders to resume peace talks with Israel, but they are demanding that negotiations be based on the 1949 armistice lines –that is, before the "occupation.� Of course, this is all over the news.
The European Union recently released official investment guidelines for the 28 EU countries. This was very widely detailed by the media with the Agence France-Presse reporting:
The guidelines forbid dealing with or funding Israeli entities that lie outside Israel proper and beyond the so-called 1967 Green Line –that is, in the West Bank and east Jerusalem, Gaza and the Golan Heights.

They also require any future signed agreements to recognise that these areas are not part of the Jewish state.

This creates a dilemma for Israel over whether to continue occupying the West Bank and risk damaging its relations with the international community –not to mention its trade prospects– or to comply fully.
But while the press has plenty of column-inches and airtime to devote to Israeli occupation, it has little space or time to report on the anniversary of an occupation that ought really to concern the European Union because it's actually the occupation of an EU member state, Cyprus.
July 20 was the 39th anniversary of the Turkish invasion and occupation of the northern part of Cyprus. This anniversary was covered by the Greek press with almost no coverage in the mainstream media. The Greek-American organization AHEPA released a statement, picked up almost nowhere:
We observe the 39th anniversary of the illegal invasion and occupation of the Republic of Cyprus by the Republic of Turkey. This was, and remains to this very day, an intolerable act; one that is a gross violation of the rule of law, human rights, and democratic ideals. We pause to remember the innocent civilians who lost their lives and the thousands who went missing, including four American citizens whose investigations remain incomplete. The illegal invasion and occupation caused the displacement of 170,000 Greek Cypriot refugees who to this day are unable to return to their homes which is also a violation of human rights as determined by the European Commission on Human Rights. Moreover, Turkey's restrictions upon religious freedom and destruction of Cyprus' cultural and religious heritage in Turkish-occupied Cyprus have been well-documented by the U.S. Helsinki Commission, the Law Library of Congress, the U.S. Commission on International Religious Freedom, and several media publications.
And yet, the European media and the European Union are silent on this occupation of a member state. Douglas Murray of the Henry Jackson Society, who was the keynote speaker at CAMERA's most recent annual dinner gala, wrote recently:
The northern part of Cyprus has been illegally annexed for the last four decades by Turkey. It is not as though Turkey shares a border with the island. Nor does it have -- as Israel has with the West Bank -- any legitimate historical, political or other territorial claims on the northern part of the island. There is no security reason for Turkey to sustain its occupation, as there is an obvious need for Israel to have defensible borders that do not permit terrorists from the West Bank to fire rockets into Israel, as do its friends in post-disengagement Gaza or southern Lebanon.

But unlike Israel and the West Bank, the Turkish invasion of Cyprus is not even a disputed matter. It was certainly not some understandable territorial gain made after aggressive war waged by Greece. It was outright theft -- an annexation: state terrorism. The entire international community recognizes it as such. Yet in 2013 not only is Turkey not an enemy of the EU, and not only is it a country which enjoys complete diplomatic and trade relations with the EU, it is a country which many leading members and officials of the EU actually want to promote into a full member-state of the EU.

Into the fifth decade of Turkish occupation of Cyprus, there is still no serious dictating by the EU to Turkey over what it must do about northern Cyprus. Turkey does not find itself under even the most remote international pressure finally to disengage from its illegal occupation of the northern part of Cyprus. And that is because for some inexplicable reason the EU does not consider it imperative that Turkey should disengage from the illegal occupation of an EU member state. It does not consider that the future of any region depends on this action. Yet it does persist, even now, with its view that it can dictate to Israel about its borders. And that it can have a constructive role in doing so. Of all the fallacies of the EU, that is surely the topmost.
Clearly all "occupations� are not created equal. When Israel is involved, even if the territory is in dispute, it's media coverage 24/7. But when Israel is not involved, even when a sovereign European nation is occupied… Where's the coverage?
(In addition, when you hear repeatedly about "illegal� Israeli construction and settlements, ask yourself where the coverage of construction in truly occupied territories is.)

Posted by SC at 03:52 PM | Comments (1)
July 22, 2013
Top Western Diplomats on 1967 Lines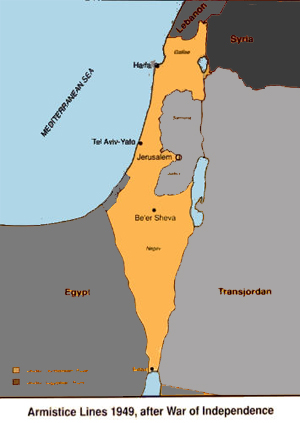 Now that Israel, the Palestinian Authority and the United States are again talking about peace talks, we've heard much, and will likely continue to hear, about the "1967 lines" — also known as the Green Line or the 1949 armistice lines.
As Israel figures out what type of territorial sacrifices it is willing to make in return for potential Palestinian concessions, it is worthwhile for the rest of us to remember what the diplomats behind United Nations Security Council Resolution 242 felt about those lines. Some words they used: Fragile, vulnerable, rotten and temporary.
Read them in context here.
Posted by at 03:59 PM | Comments (2)
The EU on Hezbollah: What are the Consequences
The European Union included Hezbollah's "armed wing" on the list of terrorist organizations. But... only the "armed wing.�
Given this stated limitation, several questions arise.
1. What will Hezbollah Secretary General Hassan Nasrallah be considered – a terrorist or a political figure?
2. Who will decide the boundary between "armed" and "political"Hezbollah and how will they decide?
3. Will the 'political arm' continue to obtain its financing in Europe, using European banks?
The EU seems to have found a formula to make itself appear hard on terrorism without defining or undertaking anything at all. The 1990 International Convention for the Suppression of the Financing of Terrorism, states:
Recalling General Assembly resolution 51/210 of 17 December 1996, paragraph 3, subparagraph (f), in which the Assembly called upon all States to take steps to prevent and counteract, through appropriate domestic measures, the financing of terrorists and terrorist organizations, whether such financing is direct or indirect through organizations which also have or claim to have charitable, social or cultural goals or which are also engaged in unlawful activities such as illicit arms trafficking, drug dealing and racketeering, including the exploitation of persons for purposes of funding terrorist activities, and in particular to consider, where appropriate, adopting regulatory measures to prevent and counteract movements of funds suspected to be intended for terrorist purposes without impeding in any way the freedom of legitimate capital movements and to intensify the exchange of information concerning international movements of such funds.
But the EU is doing exactly that – leaving the funding door wide open. In that sense, the Spanish newspaper El Pais reported that:
The main consequence [of Hezbollah's inclusion on the terrorist list] is the freezing of any asset that might have on Community territory. However, diplomatic sources admit that it is difficult to delimit if these assets belong to the branch of the military or the civil courts. Beyond the practical implications, the decision that the ministers took today is more a political message in the line of which Europe not tolerate terrorist activities in their own territory without punishing the perpetrators.
What is also striking is the timing of the EU decision to veto cooperation with Israel concerning the so-called "occupied territories" and the inclusion of Hezbollah's "armed wing" on the list of terrorist organizations. The second decision appears to be an attempt by the EU to toss out a consolation prize that costs it nothing.
-- Marcelo Wio
Posted by rh at 03:57 PM | Comments (1)
July 17, 2013
Where's the Coverage? Abbas Already Spurned Everything Palestinians Demand

In an interview with The Tower published two months ago, former Israeli Prime Minister Ehud Olmert gave a detailed description of his negotiations with Palestinian Authority President Mahmoud Abbas in September of 2008:
"In the last meeting I brought a big map, like the size of this whole table,� recalls Olmert. "With colors for all the regions that go over to us and the reverse. We would receive 6.3%, they would get 5.8%, but they also get a safe passage in a tunnel between Gaza and the West Bank that was the equivalent in territory of the remaining half percent.

[…]

"I completely gave up on having an Israeli presence in the Jordan Valley. That was because I could protect the line of the Jordan River through an international military force on the other side of the Jordan River. There was no opposition on the Palestinian side to our having a presence in warning stations along the mountain range.�

TheTower.org: But you essentially gave up on Israeli sovereignty on the Temple Mount [the holiest site in Judaism]?

Olmert: "Correct, I proposed a compromise on sovereignty over the Temple Mount. There would be no sovereignty for anyone else. There would be the joint administration of the five states [Saudi Arabia, Jordan, Palestine, the United States, and Israel].�
In addition, the article outlines Olmert's proposal to take in 5,000 Palestinian refugees, 1,000 each year over five years, into Israel proper.
In other words, Olmert offered a territorial proposal based on the 1949 armistice lines –often incorrectly referred to as the 1967 borders– with "land swaps�, contiguity between Gaza and the West Bank, no Israeli military presence in the Jordan Valley, relinquishing Israeli sovereignty over the Temple Mount, and absorption of some Palestinian refugees. This amounts to basically meeting all of the demands Abbas claims he seeks in final status negotiations. And yet, what was his response to Olmert? Olmert says, "I am still waiting for a phone call from him.�
Given the current efforts of Secretary of State John Kerry to restart Israeli-Palestinian peace talks, you'd expect the details of this ground-breaking offer to be picked up widely by the media. However, aside from the Israeli or Jewish press and specialty Web sites, only The Washington Post even mentions Olmert's spurned proposal.
One could argue that the Olmert offer is "old news,� and indeed, CAMERA covered it at the time.
However, the day before The Tower published the Olmert interview, the magazine also ran an article that includes important new information. After the final meeting between Olmert and Abbas, Abbas returned to Ramallah. Then:
Once there he immediately convened his associates and redrew the map from memory. The document also included text scrawled on its margins, and on the reverse side, details documenting the rest of Olmert's offer.
The Tower obtained the map, drawn on the official stationery of the office of the president of the Palestinian Authority.
The fact that this deal, with its unprecedented Israeli concessions, was rebuffed by Abbas casts doubt on whether the Palestinian Authority president will accept any peace agreement with the Jewish state. This is essential information when the U.S. Secretary of State is shuttling back and forth between Amman, Ramallah, and Jerusalem simply trying to get negotiations started.
Can Kerry be successful when Abbas has already spurned everything he claims the Palestinians want? Will the Palestinian Arabs accept the existence of Israel within any borders? And… where's the coverage?
Posted by SC at 09:47 PM | Comments (3)
July 16, 2013
Wall Transits From MLK to David Duke
This photo appeared in the September-October, 2000 issue of The Link, a newsletter published by the Saudi-funded organization Americans for Middle East Understanding.
By now, the descent of James M. Wall into anti-Semitic depravity has been pretty well documented. The former editor of Christian Century, a magazine that caters to mainline (liberal) Protestants in the United States, is now listed as associate editor at Veterans News Now, a magazine that traffics in nakedly anti-Semitic imagery and argumentation.
It's a long way from where Wall started out. At the beginning of Wall's career as a journalist, he was an ardent proponent of the civil rights movement in the United States. He was a fierce critic of white racists. He had his picture taken with Martin Luther King in 1967.
Now he helps edit a magazine that recently published an article written by White Supremacist David Duke. In the article, Duke blames American Jews for the Iraq invasion. (Sorry no link, but it's there. You can go to Viola Larson's blog for proof.)
Let's make no bones about it. Veterans News Now is an anti-Semitic publication. The hostility the publication exhibits towards American Jews is on particularly shameful display in an article published in June. The article, titled "Zionist Washington Ensuring End of America,� is an ugly screed that depicts American Jews as an enemy within American government.
Here is one particularly ugly passage of the article:
Together, with their domination of the media, financial system, Washington, think tanks, the educational system and corporate America, Zionists are able to manipulate the minds of Americans, commit collosal fraud on Wall Street and use this money to buy off Washington which effectively functions to enrich this powerful group and position the U.S. as a puppet nation of Israel.

Here, I focus on the control of Washington by Zionist Jews using the Obama administration as an example. Although a similar level of control by Zionist Jews can be seen in previous administrations, one could argue that their power has never been greater, as evidenced by the current administration.
The images that accompany this article are simply horrific. Here are two.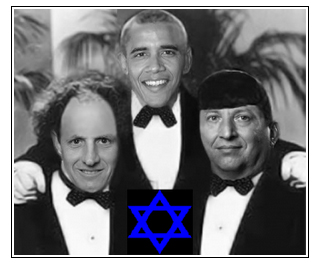 The images speak for themselves.
How is it that a contributing editor for a putatively mainstream Christian publication can also serve as associate editor for a magazine that publishes stuff like this?
How much longer will Wall's name stay on Christian Century's masthead?
Posted by dvz at 03:40 PM | Comments (0)
Ha'aretz On Willis, Ryan Bogus Boycotts
A screen shot of the Ha'aretz headline about CAMERA uncovering the false report about Willis and Ryan boycotting Israel
We have just learned that the Hebrew edition of Ha'aretz covered CAMERA's May findings that contrary to a Toronto Star report, Meg Ryan and Bruce Willis never boycotted Israel. Nirit Enderman wrote in the May 23 Gallery section (CAMERA's translation, "Contrary to reports: Meg Ryan and Bruce Willis Are Not Boycotting Israel"):
Hollywood stars Meg Ryan and Bruce Willis never boycotted Israel, it has been reported in response to a Toronto Star article published two weeks ago. The Canadian paper with the largest circulation published an article May 8 about physicist Stephen Hawking's announcement that, in protest of Israel's treatment of the Palestinians, he decided to cancel his participation in President Peres' conference. In doing so, according to the Canadian paper, Hawking joined a number of celebrities, including musicians Stevie Wonder and Elvis Costello, and actors Bruce Willis and Meg Ryan, who in recent years chose to boycott Israel in solidarity with the Palestinian struggle.

In response, representatives of the Committee for Accuracy in Middle East Reporting in America (CAMERA) -- an American pro-Israel organization -- notified the paper's editors that the information was incorrect. They clarified that Willis' planned visit with Sylvester Stallone and Jean Claude Van Damme last July was cancelled at the last minute following the death of Stallone's son, and was unrelated to political considerations. They sent editors a statement from the actors' film producers confirming the information. In addition, CAMERA posted a pro-Israel ad condemning Hamas and Hezbollah, signed by Willis and published in the American media in 2006. As a result, Star editors published a correction stating that "Willis has never boycotted Israel."

CAMERA did not stop there, however. They also turned to Meg Ryan's publicist and asked for his response. A post yesterday on CAMERA's site yesterday said that Steven Huvane, Ryan's publicist, responded to CAMERA, "That report is untrue. Meg Ryan never participated in any boycott against Israel."

In response to CAMERA's follow up question, regarding the claim that Ryan was supposed to attend the Jerusalem Film Festival in 2010 but cancelled at the last minute, Huvane wrote: "I am her publicist and I am not aware of her committing to the Jerusalem Film Festival. She may have been invited although I dont [sic] have record of that but we never committed to attending."
(All hyperlinks in the above translation were added by CAMERA, and did not appear in the original.)
Two days after Enderman's article appeared, the Toronto Star commendably corrected the Meg Ryan error, as well as an error about Stevie Wonder, who did not boycott Israel, though he cancelled his participation in a Los Angeles Friends of the IDF benefit concert.
Posted by TS at 05:06 AM | Comments (0)
July 15, 2013
Huffington Post Blogger Calls Out Activists for Ignoring Incitement
Rabbi Kenneth Cohen
The Huffington Post has not been one of the most reliable sources of information about the Arab-Israeli conflict, but every once in a while a HuffPo contributor writes something useful.
For example, Rabbi Kenneth Cohen, founder and Executive Director of the Vine and Fig Project, an interfaith educational venture, has written a piece condemning human rights organizations for failing to address anti-Semitic incitement in Arab media. The most recent example is Khaybar, an anti-semitic television that will be broadcast in the Middle East during the celebration of Ramadan. He writes:

Extreme anti-Semitism has become pervasive in the popular culture. Jews-as-villains themes are found on the local equivalents of Dallas, Hardball, and The 700 Club. They even appear on the equivalent of Sesame Street: wicked Zionists killed off a Mickey Mouse look-alike star on a Gaza children's program. Talk shows are saturated with anti-Semitic rants and conspiracy theories. Holocaust denial is the norm, but Friday sermons calling for the slaughter of all Jews everywhere are not uncommon. The depiction of evil, blood thirsty Jews plotting to control the world -- extremist stuff that exists only in disreputable margins of society in the West -- is shown to hundreds of millions of people. Yusri Al-Jindy, the writer of Khaybar, minces no words about the program's anti-Semitic intent. "The goal of the series is to expose the naked truth about the Jews and stress that they cannot be trusted," he said an in interview with the daily Al-Youm. "The charge of anti-Semitism is an outdated trend and, in fact, is a lie that the Jews use against anyone who tries to expose their naked truth and conspiracies."
Posted by dvz at 03:26 PM | Comments (0)
July 14, 2013
On Date Boycott, BDSers Feed Chicago Tribune Rotten Fruit
Not for the first time, BDSers are feeding media outlets with false information about Israel. This time, Chicago Tribune reporter Manya Brachear Pashman swallows whole some BDS falsehoods in her story about efforts to boycott Israeli-grown dates ("In midst of Ramadan, Chicago-area Muslims urged to boycott dates linked to Israel").
First, Brachear Pashman reports that that American Muslims for Palestine "asks shoppers to boycott Israeli fruit companies and any brands distributed by an Israeli date consortium -- business that represents about 35 percent of the world's date market."
According to most recent figures published by the Food and Agriculture Organization of the United Nations (see chart below, 2011), Israel ranks 14th among all nations in date production, and represents a tiny percentage of the world's date market -- some 3.4 million tons as of 1990. Those countries ahead of Israel include Egypt, Iran, Saudi Arabia, Pakistan, Iraq, Algeria, United Arab Emirates, Oman, Sudan and Morocco. As of 2012, Israel exported a mere 13,000 tons of dates.
Even if Chicago area anti-Israel Muslims and their supporters managed to make a dent in the consumption of Israel's limited date export, the boycott would hardly deliver "a powerful economic message" to a country which enjoys some $65 billion in exports. Somebody should tell Kristin Szremski, media director for American Muslims for Palestine.
Second, in an egregious falsehood about West Bank roads, the Tribune's Brachear Pashman writes:


Marwa Abed, 24, of Palos Hills, said she sympathizes with the campaign.

She said she had seen the Jewish-only road built at the edge of her grandfather's olive groves in the West Bank. (Emphasis added)
There are no "Jewish-only" roads in the West Bank. There are some West Bank roads prohibited to Palestinian traffic, there are no roads either in Israel or the West Bank reserved only for Jews. The difference is significant; while most Palestinians are restricted from traveling on a limited number of West Bank roads, Israeli Arabs -- Christians and Muslims -- most certainly may use those roads. Several media outlets, such as AP and the Washington Post, have corrected this falsehood in the past.
While there are no Jewish-only roads in Israel or the West Bank, there certainly are Muslim-only roads in Saudi Arabia, which produces three times as many dates as Israel. Only Muslims are allowed to even set foot in Mecca and Medina and the surrounding areas known as the Hejaz. See for example, the Saudi Embassy website, which on the Traveler's Information page helpfully states that:
Makkah and Madinah hold special religious significance and only persons of the Islamic faith are allowed entry.
Here, in Arabic and English, are two of the Saudi highway signs openly enforcing this apartheid and discriminatory policy:
But, as Brachear Pashman reports, the anti-Israel boycotters are only too happy to buy Saudi dates:
Mike Nobani, manager of the Shop & Save who also is Muslim, said the store sells a steady stream of dates throughout the holy month, though none of the fruits piled high in the store's produce section come from Israel.

Instead, an entire wall was covered Thursday with boxes from South Africa, California, Saudi Arabia, Palestine and Tunisia. Nobani said he doesn't see the point of selling a product that customers tell him they won't buy.

"Our clients were asking," he said. "They know what they want."
Indeed, they do. Marwa Abed, the interviewee who feeds the journalist the lie about the "Jewish-only road," says at the end of the article:
"Ramadan is all about doing justice," Abed said. "Doing justice between you and your creator, between you and the world, between you and your soul. Doing justice in all your actions. If I went the other route I don't think I'd be pursuing justice."
Welcome to the upside-down world of BDS, where "pursuing justice" is all in the eye of the boycotter.
Posted by TS at 05:25 AM | Comments (1)
July 12, 2013
Hezbollah Official Deplores 'Terrorism'; Pot Calls Kettle Black
A bombing on July 9 in Beirut's Bir al-Abed suburb, a Hezbollah stronghold, reportedly injured more than 50 people and caused numerous fires. Rebels fighting Syrian dictator Bashar al-Assad, whose regime is backed by Hezbollah and its patron, Iran, claimed responsibility for the attack.
According to The Washington Post ("Dozens injured in blast in suburban Beirut's Hezbollah bastion; Tensions over conflict in Syria ripple in Lebanon's capital,� July 10), "Hezbollah lawmaker Ali Ammar called the attack 'a despicable act of terrorism' and implied that he held Israel and the United States responsible, without providing evidence.�
When it comes to "despicable acts of terrorism,� Ammar ought to know what he's talking about. From the 1983 bombings of the U.S. embassy and Marine barracks in Lebanon through the 1992 and 1994 bombings in Buenos Aires, Argentina of the Israeli embassy and Jewish community headquarters, respectively, to the 2005 car bomb murder of former Lebanese Prime Minister Rafik Hariri, Hezbollah has left a long and despicable trail.
Terrorism, to paraphrase U.S. law, is the threat or use of force against non-combatants to influence a larger audience and compel government policies to favor certain ideological, religious, economic or other objectives. The United States, Israel, Canada, the Netherlands and other countries have designated Hezbollah, the Lebanese Shi'ite "Party of God,� as a terrorist organization.
But The Post, as in the above article, continues predominately to refer to the movement as "Lebanon's most powerful political and military force.� Most powerful terrorist force, complaining about being treated as it treats others, would be more accurate.
Posted by ER at 02:55 PM | Comments (1)
July 11, 2013
Egypt's Muslim Brotherhood in Its Own, Original Words
Even before its candidate, Mohammed Morsi, won Egypt's first democratic election in the summer of 2012, the Muslim Brotherhood (Al-Ikwan al-Muslimin) had become many Western news media's primary example of "moderate Islamism.� Relations between the Brotherhood and radical Sunni Muslim offshoots including Hamas (the Palestinian Islamic Resistance Movement) and al-Qaeda varied from strained to hostile.
The Brotherhood was founded in Egypt in 1928 to repel Western influence and restore the transnational Sunni caliphate that ended with the collapse of the Ottoman Empire after World War I. But both before and after it disavowed violence in response to repression by Egyptian rulers, the credo of the Muslim Brotherhood was "Allah is our objective, The Prophet is our leader. The Koran is our law. Jihad is our way. Dying in the way of Allah is our highest hope.�
That makes it important to note a recent restatement of the organization's anti-Christian, anti-Jewish, anti-modern and anti-secular guiding principle. As reported by The Washington Post in an article about the aftermath of Morsi's ouster by the Egyptian military, a Brotherhood spokesman found the credo well worth
repeating:
"'God is our flag, and the prophet is our role model. The Koran is our book, and jihad is our path,' [Brotherhood spokesman and ousted government official Yehia] Hamed bellowed to the crowd on the night the generals forced Morsi out. 'To die for the sake of God is our highest wish,'� ("Muslim Brotherhood: At a crossroads, group faces a stark choice,� July 9).
Posted by ER at 02:15 PM | Comments (2)
July 10, 2013
Where's the Coverage? Palestinian TV Broadcasts Jew-Hating Children… Again

On July 3rd, official Palestinian Authority (PA) television broadcast two adorable little girls reciting a poem. Nice? Not really. Here are some of the verses, as translated and posted by Palestinian Media Watch:
Oh, you who murdered Allah's pious prophets [Jews in Islamic tradition]
Oh, you who were brought up on spilling blood
You have been condemned to humiliation and hardship.
Oh Sons of Zion, oh most evil among creations
Oh barbaric monkeys, wretched pigs
This is not an isolated incident. Palestinian Media Watch has documented numerous examples of similar hate speech by children in PA and Fatah (the party of PA leaders) media.
A quick search of Google news turned up only five stories about this shameful episode, and those only in the Israeli press and some specialty media. However, if you type "Israel� into a Google news search you turn up 46,000,000 stories, including a New York Times review of an Israeli movie and an ABC News story about investors buying a bankrupt Israeli electric car company. Is this not at least as newsworthy?
By broadcasting these sentiments on its official television station, it is clear the Palestinian Authority endorses the sentiments in the poem. How difficult will it be to achieve a peaceful settlement to the Israeli-Palestinian conflict when these attitudes are taught to children?:
Jerusalem vomits from within it your impurity
Because Jerusalem, you impure ones, is pious, immaculate
And Jerusalem, you who are filth, is clean and pure.
I do not fear barbarity.
As long as my heart is my Quran and my city
As long as I have my arm and my stones
As long as I am free and do not barter my cause
I will not fear your throngs
I will not fear the rifle.
Young minds poisoned with hatred and bigotry. Children encouraged to embrace violence. And yet… Where's the coverage?
Posted by SC at 06:25 PM | Comments (3)
July 08, 2013
Mass Resignation at Al Jazeera?
According to a report on Gulfnews.com, 22 Al Jazeera staffers in Egypt have resigned to protest what they describe as the station's pro-Muslim Brotherhood bias.
Anchor Karem Mahmoud announced that the staff had resigned in protest against what he called "biased coverage� of the events in Egypt by the Qatari broadcaster.

Mahmoud said that the resignations had been brought about by a perceived lack of commitment and Al Jazeera professionalism in media coverage, adding that "the management in Doha provokes sedition among the Egyptian people and has an agenda against Egypt and other Arab countries.�

Mahmoud added that the management used to instruct each staff member to favour the Muslim Brotherhood.
He said that "there are instructions to us to telecast certain news."
This cannot be good news for Al Jazeera, which in August plans to launch Al Jazeera America, and which surely hopes to reverse U.S. perceptions that the station has a "vicious anti-Israel and anti-American bias," as the New York Times described it in 2001.
Such anti-Western bias continues today. And although it is unlikely to lead to any resignations, as did the network's alleged pro-Morsi bias, it is no less dangerous. For example, the blog Elder of Ziyon has recently pointed to the publicity the network has been providing for an anti-Semitic television series entitled Khaybar, including an article on the Al Jazeera website in which Khaybar's writer explains that Jews have been, and still are, treacherous and treasonous.
Posted by at 02:56 PM | Comments (1)
July 04, 2013
Where's the Coverage? Lebanon's Apartheid Laws

Palestinian Authority President Mahmoud Abbas is on a three-day trip to Lebanon. In addition to the approximately 70,000 Palestinian refugees in Lebanon from the fighting in Syria, there are over 450,000 Palestinians living permanently in refugee camps there. The Jerusalem Post reports:
Following a meeting with [Lebanese] President Michel Suleiman, Abbas announced that the Palestinians were guests in Lebanon and would not meddle in the country's internal affairs.

"The presence of Palestinians is temporary until they return to their homeland,� Abbas said.
(Of course, for a homeland Abbas means all of Israel since he even told The New York Times two years ago that "as Palestinians we have been under occupation for 63 years.� That's not since 1967… but that's a separate little-covered story.)
One often hears of Arab hospitality, but for guests in Lebanon, the Palestinians are getting less that welcoming treatment. Khaled Abu Toameh recently wrote for the Gatestone Institute:
Palestinians have, in fact, long been treated as third-class citizens in most of the Arab countries, where they are denied not only basic rights such as employment and health care, but also citizenship.

According to the United Nations Relief and Works Agency for Palestine Refugees [UNRWA], Lebanon's 450,000 Palestinian refugees have long been subject to many employment restrictions.

For example, Palestinians in Lebanon are banned from working as doctors, dentists, lawyers, engineers or accountants.

By contrast, anyone visiting an Israeli hospital or medical center would quickly notice the presence of a significant number of Arab doctors, nurses and pharmacists.
The United States State Department country report on Lebanon announces:
• Palestinian refugees were subject to arbitrary arrest and detention by state security forces.

• Property laws directly and effectively exclude Palestinians […] from owning land and property.

• Palestinian refugees, including children, had limited social and civil rights and no access to public health, education, or other social services.
Yet there has been little media coverage of this shameful situation. As Khaled Abu Toameh writes:
What is disturbing about the Apartheid laws in Lebanon and the mistreatment of Palestinians by Arab countries is the silence of the international community and media.

Even UNRWA, which is supposed to look after the well-being of Palestinian refugees, continues to turn a blind eye to Lebanon's Apartheid laws.

[…]

The Palestinian Authority and Hamas governments are also continuing to bury their heads in the sand with regards to the mistreatment of Palestinians in Lebanon and other Arab countries. The two governments are too busy fighting each other while at the same time inciting Palestinians against Israel.
Is it possible that the media and even organizations tasked with protecting Palestinian rights like UNRWA don't actually care about oppression of Palestinians? Is it possible that it only becomes a story if it can be used as a cudgel to beat Israel? Well, systematic, legal and state-sanctioned discrimination against Palestinians exists in Lebanon and yet… Where's the coverage?

Posted by SC at 08:59 PM | Comments (3)
July 03, 2013
Christian Century Editor: Wall Will Stay on Masthead
The name of James M. Wall, associate editor of Veterans News Now, a magazine that traffics in ugly antisemitic tropes and imagery (see screenshot above), will remain on the masthead of Christian Century, a magazine that caters to mainline Protestant clergy and intellectuals in the United States. That's the verdict from Christian Century's executive editor, David Heim, who described Wall's work as "prophetic.�
"James Wall did a lot for our magazine,� Heim said. "He deserves to be on our masthead.�
Heim would not comment on the antisemitism that is routinely on display at Veterans News Now.
"I'm not going to get into discussing that magazine,� Heim said, adding that there are many sides to the debate regarding the Arab-Israeli conflict and that there are many voices that need to be heard.
"Jim is one of them,� Heim said.

One voice that can be heard at Veterans News Now -- where Wall serves as an associate editor -- is that of Florence Leone, a former Roman Catholic nun, who in a recent article emphasized Jesus' Aryan identity. In a pro-Iranian piece titled "Abraham is Not My Father,� about the recent controversy surrounding the Church of Scotland, Leone wrote:
Abraham is not MY father. I want nothing to do with Abraham. But Jews want to have it both ways: they insist that Christians must be tethered to Hebrew scripture; they insist that a Christian interpretation of the promises to Abraham that view god's promises to Abraham to be universal rather than exclusive to Jews, is "supercessionist.� Supercessionism is defined as an attempt by Christians to supercede the special privileges granted to Jews alone. Such claims are said to be antisemitic.

German scholars led by Walther Grundmann in the Weimar, Nazi and post-Nazi eras, sought to develop an understanding of Jesus separated from a Hebrew matrix. Susannah Heschel called this effort to find the "Aryan Jesus� anti-Semitic. The fact is, Germany is NOT Semitic. It IS "Aryan,� in terms of its linguistic and cultural values. So is Scotland and most of Europe, and the United States. Non-Semitic is not the same as Anti-Semitic. No doubt Heschel would tag Thomas Jefferson as an antisemite as well. Jefferson was sufficiently committed to a scholarly approach to religious concepts that he learned Hebrew in order to study the Old Testament. He concluded that the Hebrew concept of god was "morally deficient� and chose to define Christianity in terms of the "sublime morals of Jesus.�

Why should Aryans, like the Germans, and Jefferson, and most Europeans as well as Iranians, be forced to think of themselves as Semitic, as 'children' of the flawed character that is Abraham? And what are the real-world present-day consequences of this Elijah-like enforcement of religious belief?
This is the type of stuff that is published at Veterans News Now, where Wall is serving as Associate Editor.
David Heim has made his decision.
James M. Wall, the associate editor of a magazine that prints polemics that come straight out of pre-Holocaust Germany, can also serve as "contributing editor� for Christian Century.

Posted by dvz at 11:04 AM | Comments (5)
July 02, 2013
It Gets Worse - CC's Wall Is "Associate Editor" at VNN
In a previous blog post, Snapshots reported that James M. Wall, a contributing editor at Christian Century was a "columnist" at Veterans News Now. Well, that is true, but he is also listed as "Associate Editor" at the antisemitic publication. Here's the screenshot:
Can someone be a a contributing editor at Christian Century and an associate editor at Veterans News Now?
Apparently so!
Update (6:30 p.m.) Wall has held this post for almost a year.
Posted by dvz at 05:57 PM | Comments (0)
Christian Century's Contributing Editor Also a Columnist at Anti-Semitic Publication
There's no room for denial here. Christian Century, the house organ for mainline Protestantism in the United States, has a problem, a real problem.
One of its contributing editors, James M. Wall, who is listed on the magazine's masthead, is also listed as a contributor for Veterans News Now, a publication well known for publishing anti-Jewish conspiracy theories. It's a scandal that the folks at Christian Century can no longer ignore. The man who served as editor and a regular columnist Christian Century for many years is now writing for a magazine that demonizes Israel and American Jews in no uncertain terms.
It is a disgraceful story that can be told in screenshots, which can be seen after the jump.

First, here is an image of Wall's name on Christian Century's list of Contributing edtiors. His name is right after Martin Marty's.

Below is a screenshot of Wall's bio at Veterans News Now. It says Wall is "currently a Contributing Editor at Christian Century magazine."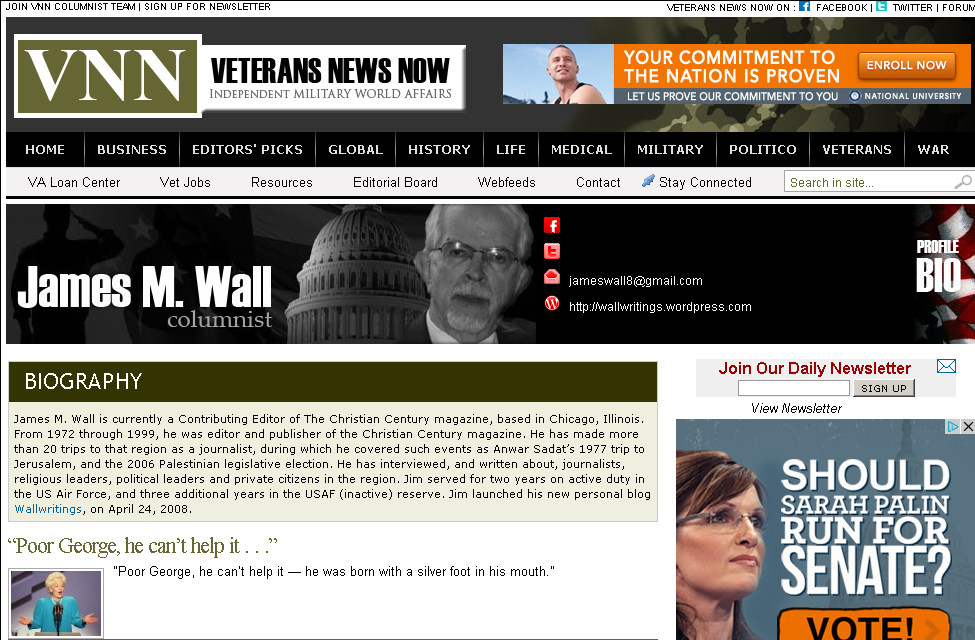 And here is a screenshot of an article recently published at Veterans News Now:
The article's headline asserts that there is a "Zionist Mafia" that is "Earth's Alpha Predator." It asks readers to envision a "Humanity Free From Zionism."
How much longer will Wall's name remain on the masthead at Christian Century? How Long?
Hat Tip: Viola Larson.
Update (5:30 p.m.) Here's another screenshot from VNN:
Posted by dvz at 04:41 PM | Comments (0)
Human Rights Activist John Eibner Describes Violence in Syria
John Eibner
Christians are on the verge of being driven from Syria. That's the message offered by John Eibner, Ph.D., who testified before the House Committee on Foreign Affairs on Tuesday June 25, 2013. Eibner, who serves as Chief Executive Officer of Christian Solidary International (CSI-USA), visited Syria the week prior to his appearance before Congress. "The very existence of the religious minorities of the Middle East is under threat," Eibner told lawmakers.
His testimony is harrowing:

Victims recounted to me details of the religious cleansing of Christian neighborhoods in Homs and Qasair by armed jihadis who threatened them with death and the destruction of their property if they did not leave their homes. A Christian woman told me that before she fled Homs at the beginning of 2012, she had seen the beheading in broad daylight of an Alawite girl who was pulled off a public minibus by armed jihadis. Churches in Homs and Qusair have not only damaged as a result of the exchange of mortars by the Syrian army and rebel forces, but have also been desecrated after falling under the control of the armed opposition.

From credible media reports and interviews with Syrians on the frontline of the conflict, we see that the targeted kidnapping of non-Sunnis is now a regular feature of the Syrian tragedy. I spoke with a Christian who reported that the four cousins of a close Alawite friend were kidnapped and beheaded. A nun told me that she knows a Christian girl who was kidnapped by armed insurgents and is now mentally deranged from the abuse. The victims of kidnapping include priests and prelates. The kidnapping of Syriac Orthodox Archbishop Yohanna Ibrahim and Greek Orthodox Archbishop Boutros Yazigi while attempting to negotiate the release of two abducted priests is widely interpreted within the Syrian Christian community as a message from the Muslim supremacist opposition to leave the country.

The Syrian war has so far resulted in the deaths of over 100,000 people, the internal displacement of 4 million, and the displacement abroad of 1.5 million.
The full text of Rev. Eibner's testimony can be found here.
Posted by dvz at 03:10 PM | Comments (1)
CAMERA Analyst Speaks About Christian Attitudes Toward Israel
CAMERA's Christian Media Analyst Dexter Van Zile appeared on Rabbi David Kaufman's internet television show, "Understanding the World.� During his May 16, 2013 appearance, Van Zile spoke at length about supersessionism, the failure of churches to speak about Islamist antisemitism and violence against Christians. He also spoke about 60 Minutes' ongoing failure to correct mistakes in its April 22, 2012 segment on Christians in the Holy Land. Host Rabbi Kaufman is the rabbi of B'Nai Jeshurun in Des Moinse, Iowa's largest Reform Congregation.
Van Zile's appearance begins at about 9:50 into the video.

Posted by at 11:16 AM | Comments (1)
July 01, 2013
'NPR's Cash Cow' - Radio Executive is Steamed
First, Washington Post media reporter Paul Farhi wrote a feature highlighting National Public Radio's comfortable new headquarters, which lie virtually within the shadow of the U.S. Capitol.
Second, two Post readers sent letters to the editor that criticized an executive for the Washington, D.C.'s top-rated radio station -- commercial news-talk outlet WTOP FM -- for questioning NPR's continued claim on taxpayers' money, given the up-scale nature of the network's building.
Then, Jim Farley, the WTOP executive in question, reasserted his point in a June 27 Post letter of his own:
"NPR just built a luxurious new headquarters that includes a café with chefs, a gym with a trainer, a staffed wellness center, plug-ins for electric cars and other perks. Does an organization that well-heeled still need taxpayer money?"
Farley's complete letter follows:
Letter to the Editor
NPR doesn't need taxpayer support
"Charles H. Ellis III and Brian Ecker ["Throwing stones at NPR's building,� letters, June 25] missed the point I made in the June 22 [Post] Style article, "Broadcasting their discontent.� NPR just built a luxurious new headquarters that includes a cafe with chefs, a gym with a trainer, a staffed wellness center, plug-ins for electric cars and other perks. Does an organization that well-heeled still need taxpayer money?
NPR says it needed the new headquarters because it ran out of room in its old building. That's because it is growing. It is a vibrant enterprise that can afford to do without taxpayer largesse. How much better for NPR's independence as a news organization if it refused the King's shilling? The construct that the organization has two piles of money, one to buy its dream home and another with federal dollars that fund operations, is so twisted it would get a small-business owner in big trouble with the IRS.
At a time when newspapers and other news organizations are practicing austerity, and all federal agencies are pinching pennies because of sequestration, it is fair to question the support our competitor, NPR, gets from the federal government.
Jim Farley, Washington
The writer is vice president of news and programming at WTOP.
Addendum -- NPR Gets Tax Breaks Too
In a later article about the District of Columbia's failure to provide promised low income housing ("In District, affordable-housing plan hasn't delivered," July 8), The Post referred to one neighborhood not far from the U.S. Capitol: "This spring, NPR moved in across the street. The city bestowed $40 million worth of tax abatements and froze property taxes for 20 years to keep the media organization in the city."
"Supported by listeners like you," is the oft-heard tag line for NPR broadcasts. To which perhaps should be added, "not to mention friends in high places and low-income residents of the District of Columbia waiting years for better housing they were told was on the way"?
Posted by ER at 02:34 PM | Comments (0)
Before the Khmer Rouge There was the Al-Badr Brigade
For many Americans, Islamic extremism, in the form of the terrorist group Al-Qaeda, emerged from the shadows on 9-11-2001. But the recent request by the government of Bangladesh to extradite promiment British Muslim leader Chowdhury Mueen-Uddin to stand trial for atrocities committed in 1971, provides disturbing historical perspective on the phenomenon of Islamic extremism. Mueen-Uddin is a prominent Muslim leader in England. He has served as chairman of the Multi-Faith Group Healthcare Chaplaincy in Britain and is a trustee of Britain's leading Islamic charity, Muslim Aid. He was a leading figure in the protests by the British Muslim community against Salman Rushdie.
He now stands accused as a mass murderer.
According to the indictment, Mueen-Uddin was a leader of a Pakistani Islamist group called the Al-Badr Brigade that hunted down prominent secularist intellectuals in what was then East Pakistan.
The Daily Mail Online quotes Sanaul Huq, the Inspector-General of Bangladesh's National Police Force, who describes how
Mr Mueen-Uddin and his associates allegedly subjected their victims to horrendous torture before killing them and dumping their bodies in sports grounds which earned the nickname 'killing fields'.

'They abducted an eye doctor, and then gouged his eyes out before killing him and dumping his body.

'They abducted a cardiologist and cut out his heart before killing him and dumping his body.

'They kidnapped a woman journalist, and cut her breasts off before killing her. Her decomposing body was later found with her breasts cut off.
In nine months from March through December 1971, between 300,000 and 3 million people were murdered by the Pakistani army and their Islamist accomplices. An estimated 200,000 to 400,000 women were raped. The country's minority Hindu population was targeted for extermination as were ethnic minorities. Most of the victims, however, were Sunni Muslims who simply did not want to be ruled by West Pakistan and the Islamists.
Interestingly, during the time he allegedly directed Islamist killing squads, Mr. Mueen-Uddin's day-time job was as a journalist for a newspaper, the Daily Purbadesh.
It has taken over 40 years for the charges to be brought against Mueen-Uddin and other Islamist leaders of the genocide in East Pakistan. The situation is most remniscent of the Khmer Rouge in Cambodia.
As is the case in most genocides, hunting down and murdering intellectuals, especially professors, was a high priority. This casts the efforts of some far left academics to find common cause with today's Islamists in a disturbing light.
As Islamist governments take charge throughout the Middle East in the wake of the Arab Spring, it might be behoove some journalists whose time horizon extends further back than a few years to look more closely at the war between East and West Pakistan. What happened then serves as a warning of what could lie in store for those who seek to modernize and liberalize Muslim society.

Posted by SS at 09:58 AM | Comments (0)