« Toronto Star Claims Bruce Willis is a BDSer | Main | Fox's Discredited Anti-Israel Guest Michael Scheuer »
May 13, 2013
Update: CAMERA Op-Ed: Newseum Discredits Itself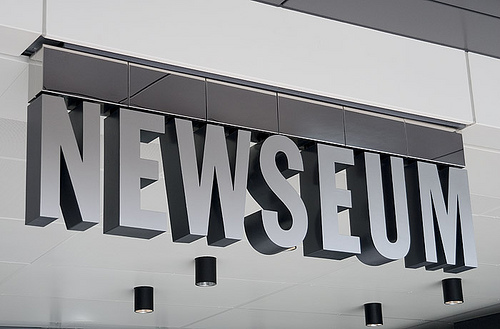 Update: Just before its May 13 ceremony, the Newseum issued a statement saying it was reevaluating the status of the two Hamas TV staffers slated to be added to its Journalists Memorial. Their names were on the complete list headed "Honoring Fallen Journalists" that appeared in the morning's print edition of USA Today.
CAMERA's Eric Rozenman writes in the Washington Examiner today:
Located on Pennsylvania Avenue between the White House and U.S. Capitol, the Newseum claims it "educates the public about the value of a free press in a free society." Then why does it plan to honor propagandists for terrorist organizations and governments today? The Newseum's Journalists Memorial pays tribute to journalists fallen in the line of duty. Yet among those whose names are to be added to the memorial as news-people who died under fire in 2012 are staffers of Hamas' television station, designated by the U.S. government as a terrorist outlet; a representative of Syrian state television, the video face of Bashar Assad's bloody dictatorship; and a "reporter" for Press TV, the Iranian government's English-language propaganda channel.

There is nothing journalistic about them, their activities or their employers. Hamas is designated a terrorist organization by the governments of the United States, Israel, Canada, the United Kingdom and others.

Hamas, Syria and Iran are in the business of propaganda and censorship.

"A free press in a free society," the Newseum's proclaimed desideratum, is an enemy they routinely suppress, murderously when necessary. . .

Responding to critics, the Newseum, echoing Hamas claims parroted by some human rights and putative journalists' organizations, noted that al-Kumi and Salama's vehicle "was clearly marked 'TV'."

Given that Palestinian and Hezbollah terrorists have used ambulances to conceal gunmen and weapons and Hamas has a reputation for staged "news" events, that was a little like labeling a machine gun "For Deer Season Only."
See also "Salama, Shalamah, Shamalah, Shamallakh... and Why David Carr is Wrong Regardless"

Posted by TS at May 13, 2013 07:53 AM
Comments
Posted by: Ken Kelso at May 18, 2013 12:35 PM
Guidelines for posting
This is a moderated blog. We will not post comments that include racism, bigotry, threats, or factually inaccurate material.
Post a comment