« Novelist Explores Media Bias in American Thinker Op-Ed | Main | Whitewashing BDS »
February 06, 2013
Ha'aretz Admits 'Land Grab' Story Unfounded
There's good news and bad news about the latest Ha'aretz article which contains unreliable information. First, the background. Last week, Ha'aretz ran a page-four article with the startling headline (in print):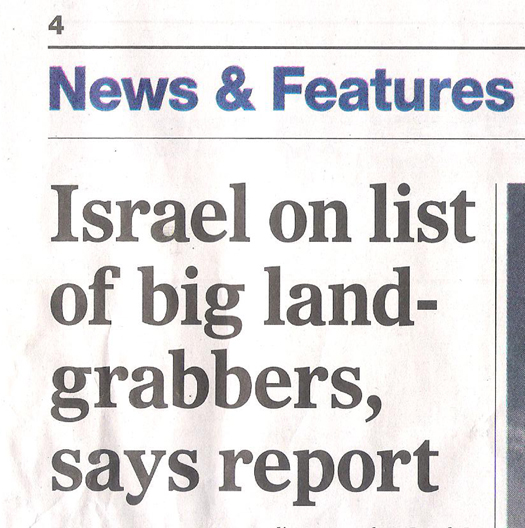 The online version appeared as follows:
According to reporter Zafrir Rinat:
Wealthy countries, and private companies from those countries, have been increasingly buying up land in poor areas for their own economic purposes, a new study says. And Israel turns out to be one of the leading land grabbers.

The study, conducted by Italian and American researchers and published in the journal of the U.S. National Academy of Sciences, warns that such land grabbing could cause environmental and economic damage to poorer countries.

The purchased land is generally used to grow crops for either food or biofuel. But the sales usually occur without the local population being consulted, and with no thought to the environmental or economic implications for the host country. . . .

The leading land grabbers are the United States, Britain and China. But smaller countries also make the list, among them Israel. Israel makes the list due to large-scale purchases of agricultural lands in Colombia, where sugar cane for biofuel is grown, and in the Democratic Republic of Congo, where jatropha, another plant used in biofuel, is grown.
Today, to its credit, Ha'aretz follows up with a story acknowledging that the study's findings are highly questionable.

Rinat reports today:
The authors of a study examining the phenomenon of "land grabbing" – land purchases in poor countries by wealthy ones – will reexamine their conclusion that Israel is one of the top-ranked culprits. They decided to do so after learning that their assessment was based on imprecise data about an alleged Israeli deal in the Democratic Republic of Congo. . . .

According to the study, Israel ranked among the top six land- and water-grabbing countries. The main source of information on which the researchers based their work was a database called Land Matrix, which provides information about land transactions. . . . .

The Land Matrix database contained information about a large land purchase supposedly made by Israelis in the Democratic Republic of the Congo. The size of the deal put Israel near the top of the land-grabbing list. The land involved in the deal is to be used to grow jatropha trees to produce biofuel. But a later look at the Land Matrix database failed to turn up any information about such a deal.

An Israeli contacted one of the researchers who conducted the study, Dr. Maria Cristina Rulli of the Polytechnic Institute of Milan. After reviewing the database, she admitted that the information about the deal was no longer there. She said she and her colleagues had checked Land Matrix on two occasions and found the deal that had been attributed to Israel listed there, though it had recently been removed.

Therefore, she said the research team will reexamine the data, and that they will modify their findings accordingly regarding Israel's place on the list of land-grabbing countries in the next scientific publication dealing with land grabbing.
That Ha'aretz followed up with a story acknowledging that the study's findings were unfounded is the good news.
The bad news is that the original article charging that Israel is one of the world's leading "land grabbers" remains online in its original form, without even a link to the new article. Stay tuned for an update.
Posted by TS at February 6, 2013 05:17 AM
Comments
Haaretz is known for lying to promote their anti Israel agenda.
What of the biggest lies was in 2002 when Israel went into Jenin to stop Palestinian homicide bombers from killing Israeli civilians.
Amira Hass wrote an article about Israel going into Jenin in 2002. Hass wrote one of the biggest blood libels against Israel and operation defensive shield and Hass refused to refute it after it was shown to be a lie by the Palestinians.
Let me put exactly what Hass said.
http://www.zcommunications.org/what-kind-of-war-is-this-by-amira-hass
'What kind of war is this?'
AMIRA HASS
Haaretz, April 2002
It is still impossible to know how many people are buried under the ruins in the Jenin refugee camp, where the smell of decomposing bodies mingles with the stench of garbage and the scent of geraniums and mint.
Lies Lies Lies and more Lies by Amira.
There was no decomposing bodies. This was all Pallywood lies.
Amira again caught lying as she did when she was sued for her lies in Hebron.
When Amira's lies were exposed as Palestinian lies, Amira refused to apologize.
This is why Camera is so important to rebuke these Haaretz radicals and their lies against Israel.
Posted by: Ken Kelso at February 6, 2013 11:12 AM
Guidelines for posting
This is a moderated blog. We will not post comments that include racism, bigotry, threats, or factually inaccurate material.
Post a comment