« July 2012 | Main | September 2012 »
August 31, 2012
Tribune Papers Don't I.D. Muslim Rioters
In the best-selling "Harry Potter� novels intimidated magicians refer to the central villain, Voldemort, as "He Who Must Not Be Named.� Tribune Newspapers—including The Chicago Tribune, Los Angeles Times and Baltimore Sun—seemed equally intimidated in coverage of French riots last summer. They did not print journalism's first "w�.
Without who, what, when, where, why and how journalism is less than gossip. Yet a Tribune Newspapers article headlined "French president pledges public security focus after riots� on The Los Angeles Times Web site August 14, linked from The Chicago Tribune site and appearing in the August 15 print edition of The Baltimore Sun under the head "French president vows crackdown after rioting� never really said who shot at police.
More than a dozen police were injured and several buildings damaged or destroyed, The Los Angeles Times' Kim Willsher reported from Paris.
"French police said rioting youths opened fire on them amid violent clashes … on the outskirts of Amiens, which is troubled by high rates of unemployment and crime.� The disturbance, "apparently sparked by police spot checks on residents, followed outbreaks of violence last week in the southern city of Toulouse, when about 150 police and riot squad officers were sent to suburban housing estates [public housing projects] after reports of fighting between gangs of youths and bursts of gunfire.�
In Amiens, cars were stolen from their occupants and police and fire personnel obstructed "by barricades of burning cars and garbage cans ….�
Readers were told that "disaffected youth� live in "gritty suburbs� called banlieue. The banlieue "are often home to families with immigrant roots, where the number of failing schools and jobless young is especially high.�
"Disaffected youths,� "rioting youths� and "gangs of youths.� But no specific identification. "Families with immigrant backgrounds.� Immigrants from where? This too apparently must not be mentioned.
However, a reference to "more widespread rioting in 2005� in projects near Paris and to neighborhoods that "have become almost no-go areas for police� might tip off readers with decent memories. The 2005 rioters reportedly were mostly young Muslim men whose families had emigrated from Arab countries, former French possessions, in North Africa.
Another hushed clue was the mention of previous violence in Toulouse. Again, unassisted by Tribune papers, readers might recall that in March a French Muslim of Algerian descent with reported jihadist and anti-Israel motives murdered three children and a teacher at a Jewish school and, separately, two French soldiers.
The Tribune dispatch said that according to Interior Minister Maneul Valls, Amiens and 14 other "security priority zones� had been targeted for increased patrols because "acts of incivility were structurally deep-rooted� and the zones "had become havens for the 'black market economy, the trafficking of drugs and arms' as well as violence, thefts and gangs.�
It's one thing for a political appointee in a country with difficulty absorbing large numbers of Muslim immigrants (an estimated five million or more, eight to nine percent of France's 65 million people) to talk about "structurally deep-rooted acts of incivility.� It's another for major news media to refuse—while referring to socio-economic causes—to simply identify who did what to whom.
Posted by ER at 03:15 PM | Comments (0)
August 30, 2012
The New York Times Omits Crucial Information in Report of Corrie Civil Case
The New York Times continues to reveal its unreliability in reporting on the Israeli-Palestinian conflict, omitting crucial information in its coverage of the verdict in the civil case of activist Rachel Corrie's death.
The Times piece, "Court Rules Israel is Not at Fault in the 2003 Death of an American Activist" on Aug. 29, 2012 by correspondents Jodi Rudoren and Danielle Ziri spans six columns, yet mentions just once in passing that Corrie had "joined the International Solidarity Movement in January 2003," without providing any further information on the organization's politics, goals and activities.
According to NGO Monitor, a group that monitors non-governmental organizations active in the Israeli-Palestinian conflict, the International Solidarity Movement (ISM)
encourages activists to take "direct action� that often places them in danger and in direct confrontations with Israeli Defense Forces during military operations. An article in Mother Jones described ISM as, "Embracing Palestinian militants, even suicide bombers, as freedom fighters,� and "entering military zones to interfere with the operations of Israeli soldiers.�
NGO Monitor quotes statements made by ISM leaders revealing their ruthlessness. For example,
in response to Corrie's death, ISM co-founder Thom Saffold said, "It's possible they [the protesters] were not as disciplined as we would have liked. But we're like a peace army. Generals send young men and women off to operations, and some die.�
ISM bills itself as a "a Palestinian-led movement committed to resisting the Israeli occupation of Palestinian land using nonviolent, direct-action methods and principles." But according to NGO monitor,
in a 2002 article, ISM co-founders Adam Shapiro and Huwaida Arraf wrote, "The Palestinian resistance must take on a variety of characteristics, both non-violent and violent...In actuality, nonviolence is not enough...Yes, people will get killed and injured,� but these deaths are "no less noble than carrying out a suicide operation. And we are certain that if these men were killed during such an action, they would be considered shaheed Allah.�
Rudoren and Ziri went into detail describing Corrie's protest activities and quoted her lawyer that "It's a black day for activists of human rights and people who believe in values of dignity." But they couldn't find any space among the hundreds of words to inform readers of what the ISM actually stands for and that it intentionally places young impressionable Westerners like Rachel Corrie in harm's way, sacrificing their lives to serve a radical agenda.

Posted by SS at 02:13 PM | Comments (5)
August 29, 2012
NPR's Discussion "October Surprise?� Unsurprisingly Indulged Anti-Israel Polemicist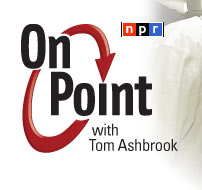 National Public Radio's widely syndicated program, On Point, hosted by Tom Ashbrook, continues its tradition of tolerating egregious anti-Israel distortions in Middle East segments. (examples –– here, here, here, here, here and here).
The Aug. 20, 2012 discussion, "October Surprise?,� was balanced and free of anti-Israel propaganda until about midway through the discussion, when Ashbrook accepted, with unwarranted respect, a caller's anti-Israel rant. The three guest panelists, who should have known better, ignored the remarks as if they heard nothing untoward. The panel consisted of David Rothkopf (CEO of an international advisory firm, author of a recent Foreign Policy magazine article, "The Drums of August: Israel is not bluffing.�); R. Nicholas Burns (former under secretary of state for political affairs and ambassador to NATO); Roger Cohen (New York Times columnist whose most recent commentary prior to the program was headlined: "Israel's Iran Itch.�).
The wording of Ashbrook's introduction, "Talk again of an Israeli strike against Iran, the U.S. pulled in quick and a big October surprise in campaign season. We'll ask what's bluster and what's real,� obviously was intended to arouse the interest and concern of listeners as to the impact upon America of Israel's potential actions to thwart Iran's nuclear weapons program. While reiterating this theme throughout the discussion, Ashbrook occasionally conceded that a nuclear-armed Iran might pose an existential threat to Israel.
The inflammatory, irrational charge of the day, only mildly questioned by Ashbrook, occurred at about 22 Minutes (per the audio player – see below), and was made by "Richard from Groton, Connecticut�:
"The mere fact that you could be having a serious conversation about Israel taking an action knowing that it would have an affect on our presidential election is just remarkable. It just goes to show how much Israel does or at least leaves the impression that they can control American foreign policy. I think it's time for us to stand up and say, 'No. We are a country, we are sovereign, they can't control us.' If they do something like this and create that situation where they are effectively holding the American election hostage – that we are going to say, 'forget it – you are no friend to us.'�

ASHBROOK: "Well, that may be too big a characterization of what's going on. But do you think there is that kind of leverage here, Richard, or not – or is that an exaggerated notion.�
Ashbrook's gentle questioning encouraged the caller to expand his polemical message.
Caller: "I don't think it's an exaggerated notion at all. The gentleman, who not too long ago resigned from the Israeli lobby, has written some pieces on the amount of influence they have over our Congress. It made me very concerned. So, no, I believe that – look at our foreign policy over the past 30 or 40 years. We have sided with Israel every time when it was not always in our best interest. Some times it was; very often it was against our national interest.�
ASHBROOK: "Richard, we'll pick it up and I appreciate your call.�
What "control [of] American foreign policy�? Ashbrook failed to ask the panel to comment on the caller's distortions. Why not point out that over the past 40 years U.S. administrations have differed with Israel governments on many major issues, including Saudi arms sales, the Osirak reactor bombing, the Reagan plan, the failure of Palestinian leaders to uphold Oslo-related agreements, the legality of Jewish communities in the disputed territories and the status of Jerusalem as Israel's capital? Failure to do so lets the caller's false accusation stand.
Likewise, Ashbrook does not scrutinize the caller's claim, "The gentleman, who not too long ago resigned from the Israeli lobby, has written some pieces on the amount of influence they have over our Congress.� The host neglects to ask whom the caller refers to, let alone request that "Richard of Groton" detail the alleged Israeli influence "over our Congress." Again, listeners are left with mere innuendo.
Given Ashbrook's loaded wording contained in both his discussion title and introduction – and his theme throughout the broadcast – implying that Israel might be cynically planning to manipulate the American election – it may be a plus that only one anti-Israel caller was aired. Click here to listen to the entire Aug. 20, 2012 broadcast.
Comments (which should be respectful and concise) can be submitted to Ashbrook and On Point via: e-mail to [email protected], Twitter or Facebook or phone 617-353-0909; mail: On Point Radio, 890 Commonwealth Avenue, 3rd Floor, Boston, MA 02215. Contact NPR President/CEO Gary E. Knell at [email protected] or call him at 202-513-2000. Contact NPR Ombudsman Edward Schumacher-Matos by e-mail form or call him at 202-513-3246. NPR Listener Care can be reached at 202-513-3232. Contact the Corporation for Public Broadcasting (provides tax dollars to NPR) by e-mail form or call the Comments Line at 800-272-2190. Contact CPB Ombudsman Joel Kaplan by e-mail form.
Posted by MK at 04:08 PM | Comments (1)
Where's the Coverage? Israeli Desalination Breakthrough

Israel's Ministry of Foreign Affairs issued a release on August 9, 2012, "Freshwater from the sun," detailing a new development in nanotechnology paired with the use of solar energy that could help solve water shortages in under-developed and under-resourced regions including Africa. The research was undertaken at the Zuckerberg Institute for Water Research at Ben Gurion University of the Negev and central Arava R&D.
Ynet News covered the subject as did The Algemeiner, writing:
The new innovation uses solar energy panels to power the pumps of a desalination unit that generates clean water for crops. More importantly, the technology utilizes unique nanofiltration membranes that enable farmers to decide which minerals should be retained from the water to feed various types of crops, a method which requires much less energy.
According to experts, water is going to be an increasingly scarce resource. Bloomberg quotes Dow Chemical Chief Executive Officer Andrew Liveris saying "Water right now is a strain on this planet more than carbon. We mismanage water terribly. It's going to be a big issue."
Even so, few in the media have seen fit to report on Israel's breakthrough technology. A Google News search for "Zuckerberg Institute for Water Research" turned up only five mentions -- and none of them in a mainstream media outlet.
Though criticism of Israel is ubiquitous in the media, including on the front pages of America's leading newspapers, when it comes to good news about Israel… Where's the coverage?

Posted by SC at 12:02 PM | Comments (6)
August 28, 2012
A Tale of Two Columns
On Tuesday, August 28, 2012, The New York Times ran an editorial, "Iran's Nuclear Quest," that begins, "Iran appears to have installed a few hundred more centrifuges at its deep underground site known as Fordow, thus enhancing its ability to produce uranium enriched to 20 percent, a purity that can be converted relatively quickly to bomb-grade fuel."
Though noting, "Tehran's nuclear ambitions are clearly dangerous to Israel and the region," editors quote one official as saying Iran's nuclear enrichment, in violation of numerous United Nations Security Council resolutions, is "not a game-changer."
So who is singled out for the lion's share of scorn from The Times? You guessed it -- Israel:
…The [American] administration argues that Iran is not on the verge of producing a weapon and that the United Nations inspectors will provide warning before it gets to that point.

Washington's caution is well-placed, especially when set against the overheated statements of Benjamin Netanyahu, the Israeli prime minister, that time is running out. He has never warmed to the idea of negotiations between Iran and the United States and other major powers. The speculation now is that he is escalating his warnings before the United States election in a cynical gambit to get President Obama's agreement to act against Iran soon.
The most Times editors have to say about Iran's activities is that the fruitlessness of sanctions and negotiations is "disappointing."
Contrast this with an Op-Ed in The Wall Street Journal on the same day, "Nuclear-Weapon States Aren't Created Equal," written by Warren Kozak. Kozak has this to say about Iran's nuclear ambitions:
So as the debate continues this August on how to contain an Iran run by a totalitarian theocracy, the world also notes that the regime in Tehran doesn't just threaten its opponents but has repeatedly acted on those threats -- taking over embassies (1979-81), killing hundreds of American Marines in Lebanon (1983) and Jews in Argentina (1992 and 1994), killing even more Americans in Iraq and Afghanistan (2003 to the present), and killing its own citizens who dared to protest a fraudulent presidential election (2009).

Iran's response to sanctions? It turns up the speed of its nuclear accelerators, test-fires its rockets and raises the volume of its threats.

[…]

People rightly grow anxious when the irrational mind with greater and greater global ambitions takes control of this deadly weaponry. And this anxiety increases further when those irrational minds have proven time and again their determination to create havoc.
And, about Israel, he writes:
In spite of a world-wide chorus of detractors accusing Israel of everything from apartheid to genocide, the sound mind understands that this nation, the only stable democracy in the Middle East, is also one its few rational actors.

Israel has never threatened the existence of its neighbors or threatened to wipe another country off the map. It has never slaughtered its own population. It has never held large "Death to (fill in the country) rallies" in its public squares. In fact, Israel's public demonstrations have consisted of peace rallies, musical concerts, gay-pride rallies and public mourning of its victims of terror.
As CAMERA has noted in the past:
Despite the unbalanced editorials, many people continue to subscribe to The New York Times -- sometimes because of the popular crossword puzzles! For anyone in this category, there are New York Times crossword puzzle books. Buy one of those.
Posted by SC at 02:27 PM | Comments (1)
New York Times Public Editor Admits to NYT's Bias
In his farewell New York Times column (Sunday Review section, Aug. 26), Public Editor Arthur Brisbane admitted to the open secret of The Times' "progressivism� that makes news developments look "more like causes than news subjects�:
Across the paper's many departments, though, so many share a kind of political and cultural progressivism — for lack of a better term — that this world view virtually bleeds through the fabric of The Times.
Although Brisbane doesn't mention the newspaper's reporting on Israel, it's clear that the prevailing bias has colored Times' coverage of Israel as has been repeatedly reported by CAMERA.
Hopefully, Brisbane's replacement will also have the courage of his convictions to write the truth and editors will listen and promote objective coverage.
The Brisbane column is online.
Posted by MK at 02:09 PM | Comments (0)
UPDATE: Michigan State University Student Beaten in Anti-Semitic Attack
Michigan State University Sophomore Zachary Tennen

In the early hours of Sunday, August 26th, Michigan State University Sophomore Zachary Tennen, 19, was beaten unconscious at a party, ClickOnItDetroit reports.
According to a piece in MSU's The State News, Zach was approached by two college-aged men, who asked him if he was Jewish. When Zach answered their question in the affirmative, the men attacked him. Zach released a statement to the East Lansing Police Department in which he described the severity of the attack: When he awoke from his beating, his jaw was broken and his lips had been stapled shut.
Recounting the incident to Franklin, Michigan's Local 4 reporter Roger Weber, Zack explained that his attackers "were making Nazi and Hitler symbols and they said they were part of the KKK.�
The Algemeiner reports that the men pointedly delivered the traditional Nazi salute and said "Heil Hitler� before launching their attack.
Almost more disturbing than the attack itself is Zach's claim that approximately 20 other college-aged party-goers stood by and watched the scene unfold without interfering or contacting law enforcement. After regaining consciousness, Zach took a cab to the hospital, where he was treated for his injuries, and filed a police report.
Outraged, Zach and his parents plan to involve the Anti-Defamation League and the FBI in the case, and have been working with the university.
The Michigan State University's Office of Student Affairs and Services has released a statement, saying:
Michigan State University's Student Affairs and Services office has reached out to the family of the student assaulted in East Lansing to provide the academic and other support the student needs. MSU will work with the student and his professors to ensure he can fulfill his academic requirements, as we would with any student in need. As the incident occurred off campus in East Lansing, all questions about the police investigation need to go the East Lansing Police Department.
No one has yet been charged with a crime.
UPDATE: On August 28th, Cindy Hughey, Executive Director of MSU Hillel, sent an e-mail update to Hillel's listserv:
Dear Friends of MSU Hillel,

As you are all aware, an incident occurred last Saturday night regarding one of our Jewish students being assaulted at a house party off campus. Reports and stories have been flying around and we have been trying our best to respond to the situation in an appropriate and responsible manner. At this point in time, the East Lansing Police do not believe that this terrible incident was in fact a hate crime. Witnesses have identified a suspect, who is not an MSU student and lives in the Detroit area. This suspect is being sought by the police for questioning. The FBI and ADL has also been involved. The story that the students mouth was stapled shut has been confirmed untrue by Sparrow Hospital.

There are many conflicting stories and we are trying our best to support Zach, our students and community during this difficult time. I believe the East Lansing Police Department and the MSU Administration has been very responsive to Zach and his family and I could not be more pleased. We hope to hear more about the investigation in the next few days.

Thank you for your continued support of Hillel and our Jewish community at The Michigan State University."
Posted by srm at 01:29 PM | Comments (5)
The Secular Beatification of Rachel Corrie

Following an Israeli court ruling that the 2003 death of activist Rachel Corrie, who was crushed by a bulldozer, was accidental, Brendan O'Neill analyses the troubling mindset of comfortable Westerners who travel to Gaza and the West Bank to interfere with Israeli military operations. In The secular beatification of Rachel Corrie sums up everything that is wrong with modern solidarity with Palestine O'Neill observes that "Palestinian solidarity has become creepily anthropological."
Decked out in Arafat-style keffiyehs (a PC form of blacking up), and possessed of a conviction that it falls to white-skinned, iPhone-armed westerners to expose Israel's "genocidal� crimes to the world media, solidarity activists who travel to Palestinian territories are becoming more and more like secular versions of the crusaders of old. They are effectively going to Palestine to find themselves, to try to give meaning to their potentially shallow lives through imagining that they can "save� an entire people and halt a "genocide� by standing in front of a tank or writing some blog posts about how tragic are the lives of cute Palestinian children. It is a peculiar form of solidarity that reduces an entire foreign people to the level of child-like victims who need the likes of St Rachel to save them.
Posted by SS at 11:01 AM | Comments (2)
August 22, 2012
Where's the Coverage? Palestinian Authority Incitement against Jews and Israelis

On August 20, 2012, Israeli Foreign Minister Avigdor Lieberman wrote a letter to officials of the Quartet of Mideast mediators -- the U.S., the U.N., the EU and Russia. This was widely covered by the media.
The independent Palestinian Ma'an News Agency reported that Israeli Prime Minister Benjamin Netanyahu "rebuked" Lieberman and "swiftly distanced himself from Lieberman's comments."
This was corroborated by an AP story which appeared in The Washington Post saying Netanyahu "sought to quickly disassociate himself from the letter." That article also noted:
Abbas' spokesman, Nabil Abu Rdeneh, rejected Lieberman's statement, calling it an "incitement to violence" that "doesn't contribute in any way to an atmosphere of peace." He urged Israel and the international community to condemn the letter.
In addition, according to Ma'an:
Senior PLO official Hanan Ashrawi on Wednesday said the Israeli government was waging a campaign of "distortion, hatred and incitement" which created "a culture of impunity, racism and exclusivity."
Incitement, distortion, hatred, racism, violence. That letter must have been horrible. Terrible. Outrageous. Let's see... After four pages that outline steps Israel has taken to promote peace, Lieberman gets to the most controversial part of the letter:
In recent years, we have seen that Mr. Abbas speaks with a moderate and pleasant voice to the international community, but in fact, has been personally acting to undermine attempts to renew the peace process, despite Israeli gestures and confidence building measures. He has continued in damaging behavior towards Israel, including extreme cases of encouraging a culture of hatred, praising terrorists, encouraging sanctions and boycotts, and calling into question the legitimacy of the existence of the state, as can be seen for example in his last speech at the General Assembly of the U.N. In my view, in his deeds and his behavior, Mr. Abbas does not represent the general Palestinian interest (for example, he has repeatedly postponed the democratic process of elections in the PA), nor even the interest of his constituents in the West Bank.

The Palestinian Authority is a despotic government riddled with corruption. This pattern of behavior has led to criticism even within his own constituency. Due to Abbas' weak standing, and his policy of not renewing the negotiations, which is an obstacle to peace, the time has come to consider a creative solution, to think "outside the box," in order to strengthen the Palestinian leadership. This is crucial, so that the Israeli gestures to strengthen the economy, stability and strength of the PA will not be turned into a boomerang against Israel.

Despite Mr. Abbas' delays, general elections in the PA should be held, and a new, legitimate, hopefully realistic Palestinian leadership should be elected. The PA elections were due to be held in 2010 and have since been postponed several times. As of today, no new date has been set for elections.
Is this letter unnecessary, ill-advised meddling? Probably so. Is it helpful? Probably not. But, does it create "a culture of impunity, racism and exclusivity"? Is it an "incitement to violence"?
By contrast, the PA frequently honors terrorists. Israel National News reported:
The Palestinian Authority, which has said it honors its Oslo Accords commitment to stamp out terror and incitement, is building a mausoleum in Ramallah to honor 11 terrorists who killed eight civilian hostages and three IDF soldiers in the 1975 attack on Tel Aviv's Savoy Hotel. Israel recently transferred their bodies to the PA as a "good will" measure.

[…]

PA Chairman Mahmoud Abbas told Washington officials earlier this year that the PA has ceased incitement and does not encourage terror, despite hundreds of documents that have exposed an escalation in incitement and terror in the school system and in official PA events.

The terrorists in the Savoy Hotel attack reached a Tel Aviv beach by boat from Lebanon and took eight hostages in the hotel before soldiers carried out a counterterrorist operation the following morning, killing seven of the terrorists.

As a "good will measure" to bolster the standing of Abbas and encourage cooperation with Israel, the Israeli government two months ago transferred the bodies of 91 terrorists, including the Savoy Hotel terrorist cell, to the Palestinian Authority. In return, the PA now is honoring them.
Palestinian Media Watch regularly documents instances where Palestinian leadership honors terrorists. Recently:
- Abbas' party, Fatah, recently held a youth soccer tournament named after three terrorists who murdered a 45-year-old father of seven in a drive by shooting in 2009.
- Official Palestinian television broadcast a performance by the Dalal Mughrabi dance group, named after the terrorist who led a bus-hijacking in 1978 that killed 37 civilians, including 12 children.
- A PA summer camp for children divided its campers into three groups named after the terrorists Dalal Mughrabi, Salah Khalaf (who planned many terror attacks including the murders of 11 Israeli athletes at the Munich Olympics) and Abu Ali Mustafa (who planned numerous terror attacks as part of the "Intifada").
Palestinian Media Watch has further documented numerous instances of PA dehumanization and vilification of Jews and Israelis:
Using media, education, and cultural structures that it controls, the PA has actively promoted religious hatred, demonization, conspiracy libels, etc. These are packaged to present Israelis and Jews as endangering Palestinians, Arabs, and all humanity. This ongoing campaign has so successfully instilled hatred that fighting, murder and even suicide terror against Israelis and Jews are seen by the majority of Palestinians as justified self-defense and as Allah's will.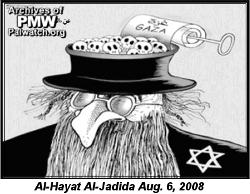 On July 23, PMW posted an article about a Palestinian Authority TV show where the host asked an artist to discuss one of his paintings "dealing with the Palestinian nation's problems such as the Gaza massacres." The painting shows an ogre impaling children on his bayonet and eating them. Two baby ogres are also shown eating children. The three monsters wear yarmulkes with Stars of David.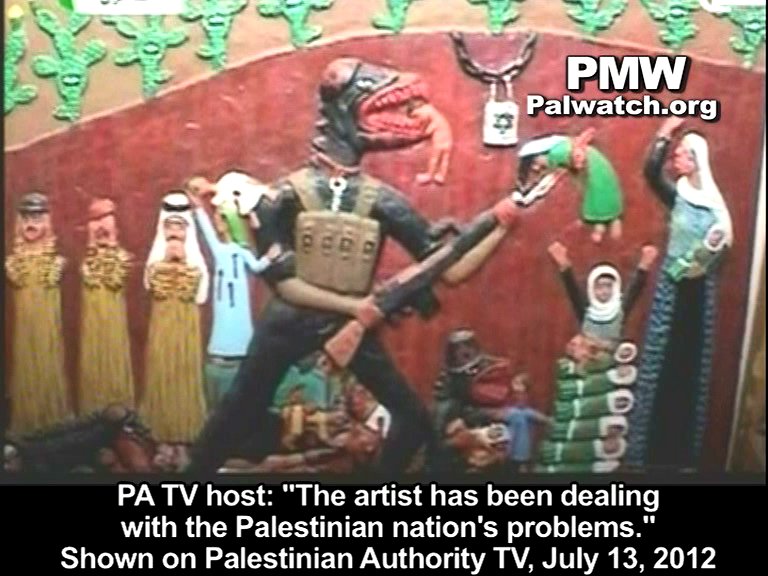 There are many similar examples. Are they part of a campaign of "distortion, hatred and incitement"? Do they create "a culture of impunity, racism and exclusivity"? Is this an "incitement to violence"? And if so... Where's the coverage?

Posted by SC at 05:34 PM | Comments (3)
August 21, 2012
Karsh: "The War Against the Jews"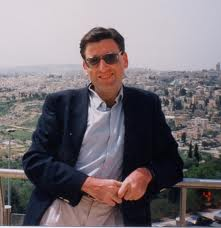 Professor Efraim Karsh
In a powerful essay in the July 2012 edition of Israel Affairs, Professor Efraim Karsh lays out the political landscape in which Israel today finds itself. The Jewish nation-state was reconstituted with the aim of putting the past behind, with all its irrational bigotries directed at the individual Jew, of creating normal inter-national relationships. But the world's "millenarian obsession" with the Jews has, in Karsh's unflinching review, continued. That obsession is reflected on the one hand in grossly unwarranted U.N. scrutiny and censure of Israel, in irrational linkages of Israel to Nazis and apartheid racism, and on the other in global indifference to the perpetrators of slaughter in Africa, Asia and the Middle East.
He offers no answers to the onslaught, but his essay stands as a reminder that myopic media focus on everything Israel does and says -- as well as media bias and falsification of the realities -- are an enormous part of the problem.
Karsh's account, for instance, runs directly counter to the overarching message of New York Times coverage which is that, but for myriad Israeli shortcomings, the lambs would lie down with the lions.
Posted by AL at 01:05 PM | Comments (1)
August 15, 2012
Where's the Coverage? The Real Persecution of Christians in the Middle East

You may have seen CAMERA's recent advertisement in The Wall Street Journal calling for CBS to correct on-air the falsehoods contained in the "Christians in the Holy Land" story broadcast on 60 Minutes on April 22, 2012. Not only was the story replete with inaccuracies, but it completely ignored the true suffering of Christians under Arab and Muslim regimes.
Case in point: Iran. Major media outlets have said precious little about the widespread persecution of Christians under the rule of Iran's Ayatollahs. Jordan Sekulow, executive director of the American Center for Law and Justice (ACLJ), told The Jerusalem Post:
Iran continues to persecute Christians simply because of their religious beliefs. Sadly, this nation is one of the world's worst offenders when it comes to abusing religious and human rights.

Iran would prefer that the outside world never know what's happening to these pastors -- the imprisonment, the torture, and the executions.
The ACLJ is following the cases of at least three Christian pastors who have been imprisoned in Iran: Youcef Nadarkhani, Benham Irani and Farshid Fathi. The organization reported:
Pastor Youcef Nadarkhani, who has spent 1022 days in prison for his faith under the threat of execution, is only one of many Christians persecuted in Iran for their faith. Recently, the ACLJ learned that Iranian Christian Pastor Farshid Fathi, who was arrested on December 26, 2010, lost his appeal and is now serving six years for his faith in the notorious Evin prison.

[…]

Roughly thirty miles away, another Christian Pastor languishes in jail. Pastor Behnam Irani ... was not formally charged with apostasy, the verdict sentencing him includes text that describes the pastor as an apostate and reiterates that apostates "can be killed."
And yet, a Google News search for "Farshid Fathi" turned up few mentions and none in major media outlets. Even fewer turned up under a search for "Benham Irani" and of notable mainstream media outlets, only The Wall Street Journal allotted any space to "Youcef Nadarkhani."
If the press is concerned with the plight of Christians in the Middle East, it is curious that there is so little attention to these cases. One might easily ask of, say, CBS… Where's the coverage?

Posted by SC at 01:48 PM | Comments (3)
August 13, 2012
"The Turkish Lobby Played a Long Game – And Won"
"Valley of the Wolves Palestine" poster. Photo: DVZ.
In his article "The Turkish Lobby Played a Long Game – And Won" CAMERA Analyst Dexter Van Zile documents how the Turkish government successfully blocked the production of a movie about the Armenian Genocide. Ironically, Turkish filmmakers have demonized Israel in the United States in a franchise of their own – The Valley of the Wolves. After summarizing the hypocrisy, Van Zile asks, "What's wrong with this picture?�
Posted by at 12:15 PM | Comments (0)
August 10, 2012
Hezbollah MP Walid Sakariya Didn't Get the Waltz-Mearsheimer Memo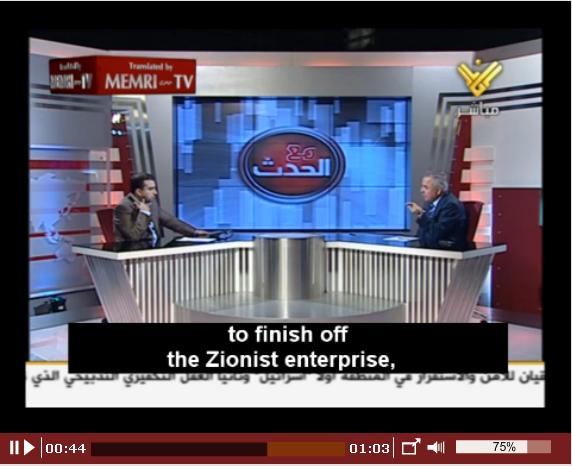 MEMRI has provided a useful clip from al Manar TV (Aug. 7, 2012) in which Hezbollah MP (and former military commander) Walid Sakariya tells the host that "The nuclear weapon is meant to create a balance of terror with Israel, to finish off the Zionist enterprise..."
He also expressed the hope that Iran would share its nuclear weapons with Syria... and who knows, maybe Hezbollah too.
Apparently, MP Sakariya does not subscribe to the hypothesis of former Columbia University professor Kenneth Waltz that Iranian nuclear weapons should be welcomed because they will bring stability to the region.
Unlike PBS News hour host Judy Woodruff, MP Sakariya is not impressed with University of Chicago professor John Mearsheimer's assertion that nuclear weapons are "weapons of peace" lacking any offensive capability.
Posted by SS at 12:01 PM | Comments (1)
August 09, 2012
NPR, Walt, and Sanitized Images
In broadcast on pro-Israel voters, NPR cites Stephen Walt's (above) Harvard credentials, but doesn't note that his views on the subject are highly controversial
The latest quarterly review of NPR's Middle East coverage, carried out by former foreign editor John Felton, has been posted since at least July 19. In it, he points out several instances in which reporters gave insufficient descriptions of sources quoted on air. About some of the sources, he wrote: "As with all 'analysts' quoted by NPR reporters, listeners deserved to hear a little more background, if only to help them judge the analysts' credibility."
Well, it appears that not all NPR reporters got the memo. How do we know this? On the July 29 "All Things Considered" broadcast about pro-Israel voters, host Guy Raz gives extensive air time to Stephen Walt, and introduces him as "Harvard professor Stephen Walt, author of the book The Israel Lobby." No mention that the book is highly controversial, that Harvard's Kennedy School removed its logo from Walt's paper and added a strong disclaimer, and that critics have noted numerous factual problems with it.
Raz also interviews Peter Beinart, identifying him as "the editor of Open Zion, a blog about Israel and Palestine featured on the Daily Beast." Again, listeners are given no indication that Beinart is also a controversial figure, and that critics have charged that his blog, far from open, is a one-sided attack on Israel.
But not all sources receive such uninformative identifications. For instance, there's "Gary Bauer, chairman of the conservative public policy group American values." (Emphasis added.) He's joined by Matthew Brooks, identified as the director of the Republican Jewish Coalition. Unlike The Israel Lobby book, or the Open Zion blog, the RJC requires no additional explanation. Its perspective and outlook is immediately transparent.
As for the content of Walt's statement, it's quite rich that Walt, who has spoken on NPR about his "Israel lobby" paper/book and related topics more than half a dozen times in the last few years (Sept. 16, 2009; May 18, 2009; Jan. 6, 2009; Sept. 20, 2007; Sept. 4, 2007; July 6, 2006; April 21, 2006), dismisses growing pro-Israel sentiment on the basis that "the average American has a somewhat sanitized view of the country," thanks to the efforts of pro-Israel groups like AIPAC "to portray a very favorable image of Israel to the American people."
As if Americans didn't just read in the New York Times that "Israel today is a religious, capitalist state. Its religiosity is defined by the most extreme Orthodox interpretations"; or they didn't just see the AP's report that the U.S. views Israel as a "spy threat," or they hadn't heard on PBS that Israel's behavior in Gaza "is a collective war crime," or read in the Christian Science Monitor that Israel is imposing censorship on Gaza, and they had not heard on Fox that Israel has taken over Palestinian land and water, has annexed its history and culture, and negated the Palestinians' humanity.
And yet, "Harvard professor Stephen Walt, author of the book the Israel Lobby" believes that the pro-Israel lobby dictates a positive media image of Israel. Just who, exactly, enjoys an undeservedly favorable media image?
Posted by TS at 12:49 PM | Comments (0)
Dignity for Journalists, Hamas Style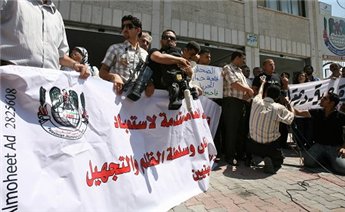 Journalists in Gaza protest Hamas' treatment of the media (date unknown) (Photo from Maan)
In 2007, Hamas official Mahmoud Abu Marzook promised Los Angeles Times readers that Gaza under Hamas will be a place where journalists "will be treated with dignity." In line with earlier examples of Hamas' version of dignified treatment of journalists, the International Federation of Journalists reports that Hamas is harassing elected officials of the Palestinian Journalists' Syndicate.
Will Western journalists, including those at the Christian Science Monitor, look out for their colleagues in Gaza and report on this latest case of the harassment of journalists? Or is censorship in Gaza only interesting if Israel can be blamed, justifiably or not?
Posted by TS at 11:48 AM | Comments (0)
August 08, 2012
Where's the Coverage? Palestinian Authority Arrests Non-Muslims for Eating During Ramadan

Over the weekend, The New York Times published an Op-Ed by Avraham Burg entitled, "Israel's Fading Democracy," in which the author argues:
Israel today is a religious, capitalist state. Its religiosity is defined by the most extreme Orthodox interpretations.

[…]

With the elevation of religious solidarity over and above democratic authority, Israel has become more fundamentalist and less modern, more separatist and less open to the outside world.
CAMERA recently documented The New York Times' slanted editorial policy which overwhelmingly features "obsessive hectoring and criticism of Israel." But this problem is not limited to The Times. Currently, "The Economist" is hosting an online debate, Is Israel succumbing to Jewish fundamentalism? The fact that such a question is even entertained in the media is nothing short of Orwellian, given that Israel is the only liberal democracy in the region where residents are free to practice their religion as they see fit or to practice no religion at all.
Contrast Israel's freedom of religion with the restrictive policies of its neighbors.
In June, Saudi Arabia beheaded a man for witchcraft and the state reportedly executed two people last year on similar charges. The BBC reported:
The BBC's Arab Affairs Editor, Sebastian Usher, says there is a very strong prohibition of some practices from the country's powerful conservative religious leaders.
Last month, the State Department called on Iran to release Pastor Yousef Nadarkhani who is facing execution for converting from Islam to Christianity. He has been in prison for almost three years already.
In Egypt, recent sectarian riots forced many Christian families from their homes and shops which were looted and burned by Muslim mobs. The ancient Coptic community is unhappy with the post-revolution Muslim Brotherhood government which they feel under-represents them and, as reported in The Jerusalem Post:
Christians complain school books discriminate against them as they include verses from Koran that both Muslim and Christian students are required to study, but make no reference to the Bible.
Several weeks ago, hundreds of Gaza Christians protested the kidnapping and forced conversion of several members of their community. As described by The Gatestone Institute:
According to Christian families, the world does not seem to care about their plight. "We only hear voices telling us to stay where we are and to stop making too much noise," said a Christian man living in Gaza City. "If they continue to turn a blind eye to our tragedy, in a few months there will be no Christians left in Palestine. Today it's happening in the Gaza Strip, tomorrow it will take place in Bethlehem."
And indeed, oppression of Christians is taking place under the Palestinian Authority. According to the official PA newspaper, six people have been arrested and one sentenced to a month in prison for eating in public during Ramadan, the month when, under Islamic law, eating is prohibited from sunrise until sunset. And, in an interview on PA TV, Sheikh Yusuf Ida'is, the Chairman of the PA Supreme Court for Shari'ah Law, said:
Our streets are Islamic, praise Allah. Any person caught committing this sin in public during Ramadan has to be imprisoned until the end of Ramadan, as an example to others.
So, while the media are obsessed with criticizing Israel, even to the point of promoting absurd stories of religious fundamentalism, they routinely ignore the rising tide of true religious fundamentalism throughout the rest of the Middle East.
Where's the sanity? Where's the decency? Where's the coverage?

Posted by SC at 05:10 PM | Comments (6)
Washington Post Columnist Issues Timely Challenge
The Washington Post's Colbert I. King reminds readers of the threat the Iranian government poses to Israel, including the possibility of nuclear destruction, and the shame in turning a blind eye to those who would repeat the horrors that haunt the 20th century. According to King, "the leaders of today's Iran� echo the Third Reich, yet there is a "global ho-hum response to the most virulent form of state-sponsored anti-Semitism since Nazi Germany� ("Echoes of the Third Reich," August 4).

The commentary describes Iran as "the greatest threat to Jews to emerge in the past 70 years� and cautions that its aggressiveness is not limited to Israel. Today's international focus on the Islamic Republic's potential acquisition of nuclear weaponry is, according to King, "too narrow a view� of Iran's fanaticism and globally sponsored antisemitism. Iran's fingerprints can be "found in attacks on Jews in Bulgaria, India, Thailand, and Georgia" and "contending that Iran's threat is mainly to Israel is to ignore reality…�
On the importance of recall, King writes, "I do, as a non-Jew, recognize vicious anti-Semitism when I see it. The Iranian government is as anti-Semitic as the Third Reich.�
The columnist quotes Iranian leadership, which echoes Adolf Hitler's call for destruction of the Jews. In a recent address in Tehran to ambassadors of Islamic countries, Iranian President Mahmoud Ahmadinejad stated, "Any freedom lover and justice-seeker in the world must do its best for the annihilation of the Zionist regime in order to pave the path for the establishment of justice and freedom in the world.� Similarly, in what King calls setting "the standard of hatred� for Jews, Iranian Vice President Mohammad Reza Rahimi alleged—at a U.N.-sponsored conference on the illegal drug trade—that the Talmud teaches to "destroy everyone who opposes the Jews.�
Stressing that the Iranian threat is not only an issue of Jewish or Israeli concern, King issued a moral challenge: "We did not stop the greatest atrocity of the 20th century. What of the next?� Without exaggeration but with rare and necessary directness, King asked, "if we are to honor the pledge of 'never again,' will we be up to preventing the potential genocide of the 21st century?� -- Erin Dwyer, CAMERA Washington research intern

Posted by ER at 04:45 PM | Comments (2)
"Meet Taner Akcam, Anti-Denialist"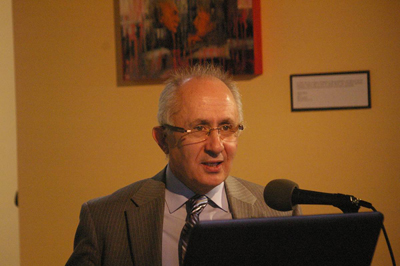 CAMERA's Christian Media Analyst Dexter Van Zile's article, "Meet Taner Akcam, Anti-Denialist", published in The New English Review states:
Turkish Prime Minister Recep Erdogan has a problem.

His name is Taner Akcam.

Akcam, a native of Turkey who currently teaches history at Clark University in Worcester, Mass., is calling on Erdogan and the government he leads to acknowledge the crimes perpetrated against Armenians and other minority populations in the early 1900s by the Committee for Union and Progress (or "Young Turks�) in its effort to create a homogenous Turkish state from the ashes of the Ottoman Empire.
Read the entire article here.
Posted by at 11:11 AM | Comments (0)
August 07, 2012
The AP Spy Story Decoded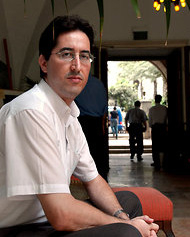 Shamai Leibowitz, spied on Israel for the National Security Agency until he was sentenced to 20 months in prison for leaking secret transcripts (Photo by AP)
Let's decode AP's alarmist article on how Israel spies on its American ally.
Number of paragraphs in the article: 37
Number of paragraphs dealing with Israel spying, or suspected spying, on U.S.: 25
Number of paragraphs dealing with American spying on Israel: 4
Placement of paragraphs dealing with American spying on Israel: paragraphs 19-23
Number of paragraphs dealing with specific incidents of Israeli spying on the U.S.: 15
Number of paragraphs dealing with specific incidents of American spying on Israel: 0
Language describing Israeli spying on U.S.: "meddling," "counterintelligence threat," "intrusions in homes," "highly sophisticated, professional spy services," "espionage incidents," "trying to steal American secrets"
Language describing U.S. spying on Israel: "The tension exists on both sides," "kept tabs on Israel," "spying," "listening to intercepts"
Number of words in an Oct. 31, 2008 secret memorandum (released by WikiLeaks), sent under Secretary of State Condoleezza Rice's name, requesting intelligence on topics including "Israel's decision-making process for launching military operations and determining retaliation for terrorist attacks"; details on Israel Defense Forces operations against Hamas, "including targeted assassinations and tactics/techniques used by ground and air units"; and everything about information technologies used by "government and military authorities, intelligence and security services": 5000
Number of words in the AP document about that secret memorandum: 0
Daniel Pipes saves us the trouble of tracking known cases of the U.S. spying on Israel. For additional details on American spying on Israel, see here.
Posted by TS at 02:08 PM | Comments (0)
BBC: Israel Blaming Jihadists for Jihad Attack!
Writing a day after deadly attack in Egypt's Sinai Peninsula and across the border in Israel, BBC's Jonathan Marcus explained that
Sunday night's attack on an Egyptian military post in the Sinai Peninsula marks a step change in the violence that has dogged the area for some time.

Israel is already pointing the finger at jihadist extremists.
Those crazy Israelis.
Posted by at 01:41 PM | Comments (1)
August 05, 2012
AFP Headlines: Some Drones Kill Militants; Others Kill "Gazans"
If a drone strike kills militants, should the headline convey the target's profession? Judging by this past month's coverage, for AFP the answer depends on who is doing the shooting.
Below is a screenshot showing search results on Google News for AFP stories mentioning drones and killings. The headlines about US strikes make clear that the casualties were "militants." But the headline for today's strike in Gaza by an Israeli drone does not — even though, as the article points out, both Israeli and Palestinian sources agree on this point.
Posted by at 01:44 PM | Comments (2)
August 02, 2012
Distorted Quotes to Defend Distorted Maps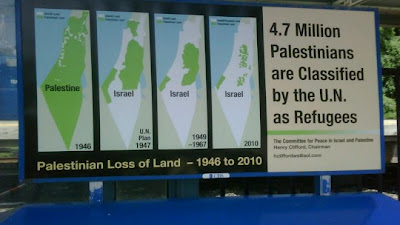 Henry Clifford branches out from distorted maps (above) to distorted quotes
Henry Clifford, the man who brought distorted Israel/Palestine maps to the Metro-North Railroad stations in New York State, is now defending those maps with bogus and distorted Zionist quotes. Writing in the Journal News, he claims that Zionist leaders wrote or said the following:
* False Quote: David Ben-Gurion: 'We will expel the Arabs and take their place." The original text of this letter shows that Ben-Gurion actually wrote the opposite: "We do not want to and we do not have to expel the Arabs and take their place. . . "
* Distorted Quote: Theodor Herzl: "We shall have to spirit the penniless population (the Arabs) across the border . . . while denying it any employment in our country."
As Efraim Karsh has ably shown, this is a truncated quote. The more complete quote is:
When we occupy the land, we shall bring immediate benefits to the state that receives us. We must expropriate gently the private property on the estates assigned to us. We shall try to spirit the penniless population across the border by procuring employment for it in the transit countries, while denying it any employment in our country. The property owners will come over to our side. Both the process of expropriation and the removal of the poor must be carried out discretely and circumspectly … It goes without saying that we shall respectfully tolerate persons of other faiths and protect their property, their honor, and their freedom with the harshest means of coercion. This is another area in which we shall set the entire world a wonderful example … Should there be many such immovable owners in individual areas [who would not sell their property to us], we shall simply leave them there and develop our commerce in the direction of other areas which belong to us.
Thus, Herzl spoke of trying to move out poor inhabitants by finding them employment in other countries, and he spoke of the benefits that he believed locals would receive. He also indicated that those who could not be convinced to sell their land could simply stay.
* Out of Context: Ben-Gurion: "I favor partition because when we become a strong power we will abolish partition and spread throughout Palestine." In fact, in the meeting in question Ben-Gurion stressed that expansion would occur via "mutual understanding and Jewish-Arab agreement." The relevant part of the actual protocol reads:
Mr. Ben-Gurion: The starting point for a solution of the question of the Arabs in the Jewish State is, in his view, the need to prepare the ground for an Arab-Jewish agreement; he supports [the establishment of] the Jewish State [on a small part of Palestine], not because he is satisfied with part of the country, but on the basis of the assumption that after we constitute a large force following the establishment of the state – we will cancel the partition [of the country between Jews and Arabs] and we will expand throughout the Land of Israel.

Mr. Shapira [a JAE member]: By force as well?

Mr. Ben-Gurion: [No]. Through mutual understanding and Jewish-Arab agreement. So long as we are weak and few the Arabs have neither the need nor the interest to conclude an alliance with us... And since the state is only a stage in the realization of Zionism and it must prepare the ground for our expansion throughout the whole country through Jewish-Arab agreement – we are obliged to run the state in such a way that will win us the friendship of the Arabs both within and outside the state. (from Efraim Karsh, "Falsifying the Record: Benny Morris, David Ben-Gurion and the 'Transfer' Idea," Israel Affairs, V4, No. 2, Winter 1997, p52-53)
* Distorted/Truncated Quote: Moshe Dayan: "There is not one single place built in this country that did not have a former Arab population." In the full quote, Dayan makes clear that the much of the land were purchased, not that the Palestinians were dispossessed:
We came to a region of land that was inhabited by Arabs, and we set up a Jewish state. In a considerable number of places, we purchased the land from Arabs and set up Jewish villages where there had once been Arab villages. You don't even know the names [of the previous Arab villages] and I don't blame you, because those geography books aren't around anymore. Not only the books, the villages aren't around. Nahalal was established in the place of Mahalul, and Gvat was established in the place of Jibta, Sarid in the place of Huneifis and Kfar Yehoshua in the place of Tel Shaman. There isn't any place that was established in an area where there had not at one time been an Arab settlement.
* Questionable, Unverified Source: Clifford claims that Ben-Gurion wrote: "If I were an Arab leader I would never make terms with Israel. That it natural, we have taken their country." In fact, according to Nahum Goldmann, Ben-Gurion allegedly said this to him. Goldmann was an adversary of Ben-Gurion, and he came out with this alleged quote, verbatim, in his book published two decades later (The Jewish Paradox, 1978), five years after Ben-Gurion died. There was no recording of the quote, and Ben-Gurion was no longer around to dispute it.
And, finally, here's a real Ben-Gurion quote that Clifford chose not to share:
In our state there will be non-Jews as well — and all of them will be equal citizens; equal in everything without any exception; that is: the state will be their state as well. ...The attitude of the Jewish State to its Arab citizens will be an important factor—though not the only one—in building good neighbourly relations with the Arab States. If the Arab citizen will feel at home in our state, and if his status will not be the least different from that of the Jew, and perhaps better than the status of the Arab in an Arab state, and if the state will help him in a truthful and dedicated way to reach the economic, social, and cultural level of the Jewish community, then Arab distrust will accordingly subside and a bridge to a Semitic, Jewish-Arab alliance, will be built... (Ba-Ma'Araha Vol IV, Part 2, pp. 260, 265, quoted in Fabricating Israeli History, Efraim Karsh, p.67)
Posted by TS at 09:54 AM | Comments (3)
August 01, 2012
Hosni Mubarak "Staunch Ally of Israel"
A report by Isabel Kershner and Elisabeth Bumiller discussing the controversial letter allegedly sent by newly-elected Egyptian President Mohamed Morsi to Israeli President Shimon Peres provides another example of how The New York Times' distorted view of Israel and the Middle East seeps into its news reporting.
Contrasting the tense relationship between Israel and Egypt's new Muslim Brotherhood political leadership, Kershner and Bumiller write,
Since the ouster of President Hosni Mubarak, a staunch ally of Israel, there has been no high-level dialogue between the Israeli and Egyptian political leadership...
A reality check is in order here. The former Egyptian president maintained the peace agreement with Israel and cooperated on isolating Hamas-ruled Gaza. For that he deserves praise. But a staunch ally? The New York Times has set the bar so low here it would challenge an expert limbo dancer. Under Mubarak's long rule, anti-Israel and anti-Jewish invective flourished in Egypt, including its state-controlled media. Economic relations stagnated and tourism was in one direction only — from Israel to Egypt. Mr. Mubarak himself set an example by never visiting Israel in an official capacity in 30 years as president. He visited Israel only once — a non-state visit — to attend Yitzhak Rabin's funeral.
With staunch allies like that, who needs tentative allies?
Posted by SS at 03:49 PM | Comments (4)