« Sheik Challenges Hezbollah, Some News Fit to Print | Main | "The Guardian and Glenn Greenwald: The anti-imperialism of fools" »
July 27, 2012
CNN Fixes 'Israeli Tourist Bomber' Headline
Last week CNN commendably caught and fixed a bad headline about the Burgas terror attack which had stated: "Israeli tourist bomber had fake U.S. ID." The simple reading of that headline is that an Israeli tourist was the bomber.
The headline is no longer available online, not even cached, though you can still find it if you do a Google search for the headline, as seen below: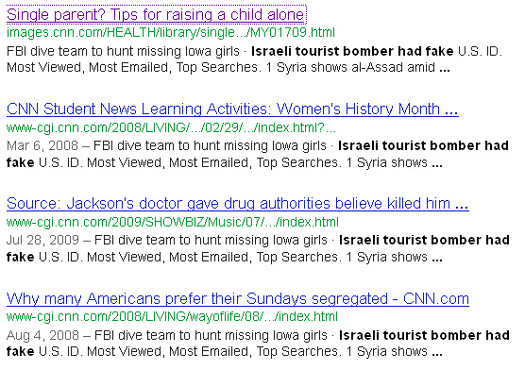 The new headline is: "Bulgarian bus attack is work of suicide bomber, minister says"
CNN is to be commended for removing the misleading headline in such a timely manner, and we urge the network to likewise change photo captions and a headline misidentifying terrorists as "political prisoners."
Posted by TS at July 27, 2012 01:32 PM
Comments
Guidelines for posting
This is a moderated blog. We will not post comments that include racism, bigotry, threats, or factually inaccurate material.
Post a comment