« The World Is Flat and Some Israeli Told Me So | Main | Will Promoting Positive Jewish Achievements Reduce Negative Sentiment Towards Israel? »
May 03, 2012
Anti-Semitic Rant Passes Without Challenge at Methodist Convention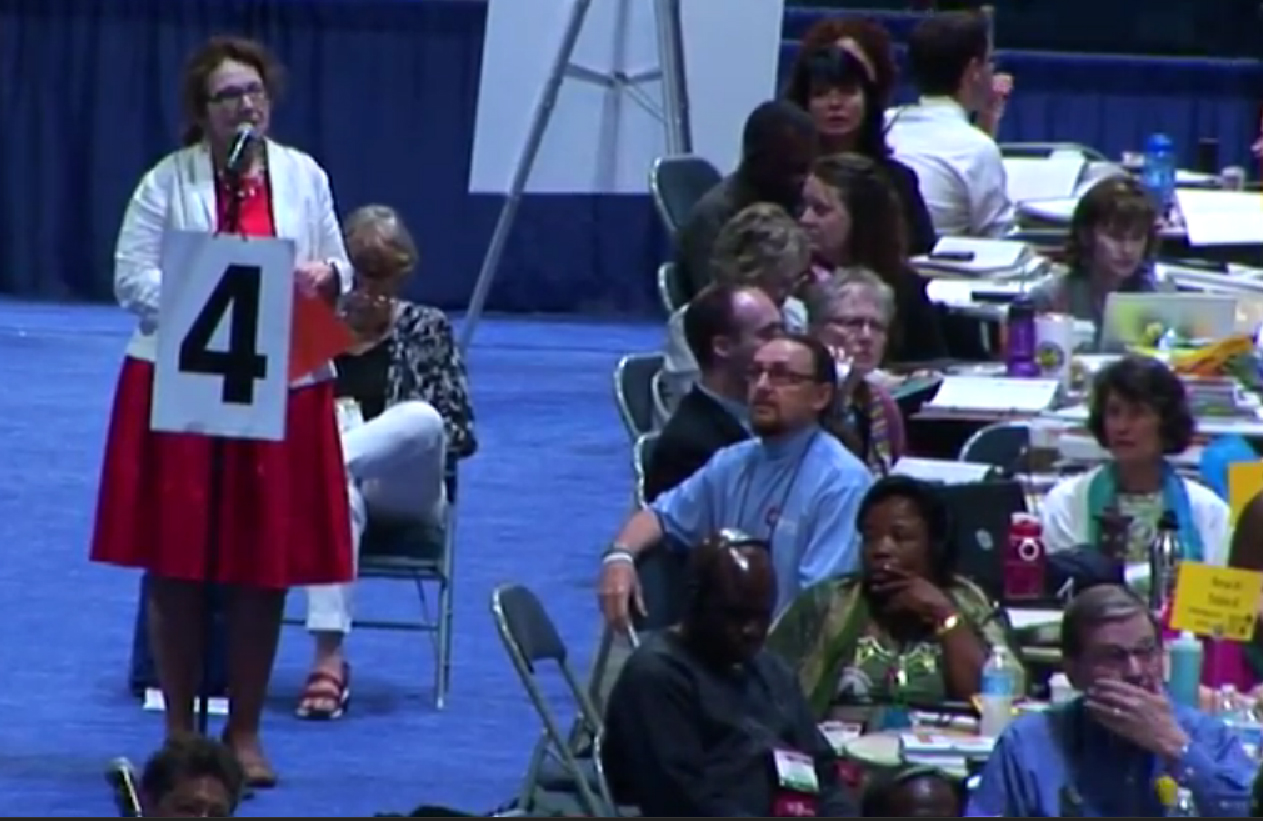 Methodist Margaret Novak Likens Israel to Nazi Regime
For the past several days, the United Methodist Church has been meeting in Tampa, Florida for its General Convention that is held every four years. At this convention, the delegates approved a resolution calling for a boycott of Israeli products made in the West Bank.
The assembly also rejected a resolution that would require the denomination's Board of Pensions and Health Benefits to sell its stock in three companies that do business with Israel – Caterpillar, Hewlett Packard and Motorola.
Snapshots readers can watch the proceedings regarding these two resolutions here and here.
The defeat of the divestment proposal was a bitter pill to swallow for many of the activists that descended on the UMC's General Convention. Jewish Voice for Peace was out in force at the assembly, as were a number of anti-Israel activists from inside the denomination.
As is to be expected at the national assembly of any mainline church in the United States, the proceedings bespoke of a monomaniacal obsession on the alleged sins of the Jewish state and absolute silence about the misdeeds of other countries in the region.
Search the legislation before the assembly for resolutions regarding Coptic Christians in Egypt or Assyrians in Iraq and you will find nothing.
One of the more outrageous moments of the assembly took place after it became apparent that the proposal to demand that the UMC sell stock in the three companies mentioned above was not going to pass. A woman who introduced herself as Margaret Novak said the following to the gathered assembly:
I would just ask us all to imagine we were United Methodists in the 1930s and 40s [and] that our Board of Pensions held stock in the very successful manufacturing firms in Germany that bid and received the bids to manufacture the ovens for the concentration camps.

At what point would we decide it was time to divest?

How much evidence would we ask for before it was time to stop the wholesale destruction of people?

(Note: Novak's statement can be seen here. Her statement starts a 5:47 minutes into the video and lasts until 6:37.)
The moderator did not call her out of order, but merely asked if her speech was for or against the non-divestment resolution then before the assembly. (She was against.)
Margaret Novak compared Israeli policies in the West Bank to the destruction of Jews in Europe. She made this statement in front of several hundred people and the moderator of the assembly let her statement pass unchallenged.
Novak's comparison between current Israeli policies and that of the Nazi regime falls under the working definition of antisemitism issued by the European Forum on Antisemitism. This definition warns against "Drawing comparisons of contemporary Israeli policy to that of the Nazis."
Novak's suggestion that the Israelis are perpetrating a genocide ("wholesale destruction of people") is defamatory. The population of the Palestinians has grown fourfold in the decades since the 1948 War.
Will someone from the UMC's leadership condemn Novak's remarks before the General Convention comes to an end on Friday May 4, 2012 or will they pass unnoticed?
This is a reasonable question to ask. The UMC has been the source of some ugly rhetoric in the past. For more information about this problem go here and here.
James E. Winkler, General Secretary of the United Methodist General Board of Church and Society (GBCS), can make it right. He can issue an unequivocal apology for the ugly anti-Semitism that was allowed to pass unchallenged at the UMC's General Assembly on May 2, 2012.
It is also reasonable to ask if Jewish Voice for Peace is going to condemn Novak's rant. As stated above, JVP was out in force at the assembly.
And will the Methodist activists, operating under the banner of UM Kairos Response condemn Novak's statement?
Such rhetoric simply cannot pass unnoticed at the UMC General Convention.
Will Winkler act? Will Jewish Voice for Peace respond? Will UMKairos Response?
Posted by dvz at May 3, 2012 03:00 PM
Comments
Margaret Novak is an apologist for the Palestinian Nazis.
http://www.israelnationalnews.com/News/News.aspx/151758
PA Religious Official Publicly Calls for Genocide of Jews
PA's principal religious leader presents the killing of Jews by Muslims as a religious Islamic goal.
Elad Benari
1/16/2011
There have been many PA religious and other officials who have openly called for the genocide of the Jews. Jews have been called aids, cancer, apes and pigs by these wicked hatemongers.
Poll after poll over the years have shown many Palestinian Arabs support mass murder of Jews in suicide bombings, shootings and other terror attacks.
Here's some good info for Novak who the Nazis are.
http://www.ynetnews.com/articles/0,7340,L-4165965,00.html
UNESCO says won't fund Palestinian magazine praising Hitler
12/23/11
Posted by: Barry Rosen at May 3, 2012 11:43 PM
Winkler is the leader of UMC anti-Semitism. He isn't about to stop it.
Posted by: mike barker at May 4, 2012 08:48 AM
Just thought you'd want to know: this woman isn't just some run-of-the-mill kook. She has been on the United Methodist Commission on Communications for years, been vice president, and is one of the most important laypeople in her annual conference and the Western Jurisdiction. When she spoke, lots of people knew her as a leading UM layperson, and not just a nut who got elected to GC because nobody else was willing to go (she was, in fact, the only lay delegate from Yellowstone AC).
Posted by: David Fischler at May 4, 2012 11:45 AM
I would suggest that far and away the most offensive element in that woman's speech was to compare the three international firms that also do business with Israel with the manufacturers of the ovens used in the Holocaust. She should be hounded for saying something so extremely sick.
Posted by: Rob Harris at May 4, 2012 03:21 PM
David, Is there a method to provide directly her local and regional constitucency background on the issues she is so clearly mistaken about.
CAMERA has a large reach of concerned activists and the talking points to counter her vicious lies. It seems we need a viable tactic to discredit her information, now that we have had this internal discussion.
Posted by: gary acheatel at May 11, 2012 10:41 AM
Do some Methodists not read the Bible? We are to support and not divide Israel. They are our people to whom we are grafted in. God's chosen. Ignorance is no excuse...Prepare, you deceived, to meet your God. Meanwhile, just read!
Posted by: Dr. B. Bill at December 2, 2012 07:06 PM
Guidelines for posting
This is a moderated blog. We will not post comments that include racism, bigotry, threats, or factually inaccurate material.
Post a comment