« Gallup Poll: Americans Strongly Support Israel | Main | AP Gets it Right on Holy Site »
February 23, 2012
New York Times and the Nexus of Extremism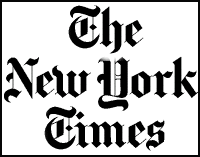 Israeli Apartheid Week. The conference-to-dismantle-Israel. The New York Times.
One of these things doesn't go with the others. At least, the newspaper of record shouldn't seriously overlap with two of the more hateful and extremist events on the Israel hater calendar.
And yet, it does. The ADL points out that "pinkwashing" will be a theme of Apartheid Week this year. Those who charge Israel with "pinkwashing" insist that Israeli tolerance, or anyone who is proud of Israel's liberal gay rights record, is merely part of a "deliberate strategy" to make Israel seem less-than-evil. In other words, you can't be proud of Israeli tolerance without being a propagandist.
It's an outrageous, weak and transparently hateful argument. But that didn't stop the New York Times from legitimizing the idea by turning over some of its coveted Op-Ed space to a column devoted to promoting the idea.
The Op-Ed was written by CUNY professor Sarah Schulman. Not surprisingly, Schulman is also a speaker at the upcoming "One State" Conference advocating for wiping the Jewish state off the map.
So why is the New York Times promoting hateful and silly arguments by an extremist dedicated to the elimination of Israel? Maybe for the same reason, whatever it may be, that the newspaper had published twice as many Op-Eds critical of Israel as it does columns critical of Israel's adversaries over the course of 19 months.
Posted by at February 23, 2012 03:49 PM
Comments
Posted by: Ed Frias at February 24, 2012 10:25 AM
Cuba is an apartheid state. Blacks are discriminated against in every way. Blacks are not in the legislature, not in top military positions, but are in the lowest of the low economic stratums.
If these people want to do some good, then they need to BDS Cuba.
Posted by: Ronaldo at February 24, 2012 01:02 PM
Guidelines for posting
This is a moderated blog. We will not post comments that include racism, bigotry, threats, or factually inaccurate material.
Post a comment