« CAMERA Op-Ed "A Conference Of Falsehoods" | Main | Presbyterian Peacemakers Called Out for Anti-Semitism »
February 06, 2012
CAMERA in Ynet: 'Are Journalistic Ethics Dead?'
In an Op-Ed today in Ynet, Tamar Sternthal, director of CAMERA's Israel office, addresses the questions surrounding Hazem Bader's Jan. 25 AFP photo:
In recent days, two dramatic photographs alleged to be depicting Israeli army brutality have gone viral. One, which circulated on Facebook, purportedly showed an Israeli soldier stepping on a Palestinian girl and pointing an AK-47 at her head. It was exposed as Bahraini anti-Israel street theater.

The second, by Agence-France Presse photographer Hazem Bader, was not confined only to the free-for-all Internet. Although it too is of dubious authenticity, it appeared in mainstream news outlets which claim to uphold journalistic codes of conduct. . . .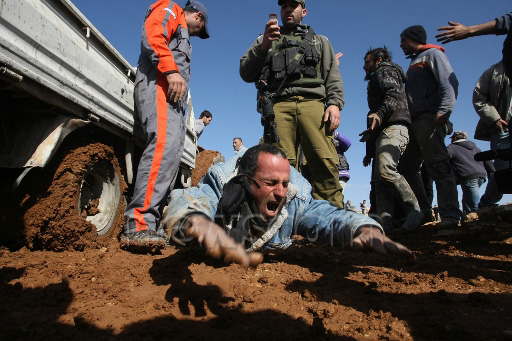 Posted by TS at February 6, 2012 07:04 AM
Comments
If you follow the link to the CAMERA article and look closely at the pictures it is immediately obvious that he is faking it. The tires are completely covered with dirt and mud. If he had been run over his pants would be extremely dirty where the tire had been.
This begs the question: is Agence-France Presse so incompetent that they can't spot these blatant giveaways that the man wasn't run over, even after having them pointed out? Or are they so evil that they are willing to lie to smear Israel, and won't even admit their "mistake" when called on it?
I'm leaning towards evil. Based on the fact that AFP changed the story and then said they would not further comment, I would imagine they are well aware the scene was entirely staged.
Posted by: anon at February 6, 2012 01:38 PM
I looked at the pictures in the Ynet Op-Ed. Did anyone else notice how clean Mahmud Abu Qbeita is, after he supposedly got run over by the vehicle?
Compared to the vehicles and the shoes of the people standing around in the photos, his clothes seem spotless. If he were run over while on his back, the front of his clothes, especially his pants, should at least be as dirty as the shoes of the other people. And the picture of him lying on his chest under the truck (2nd photo in article on CAMERA's main page) show the back of his clean pants. His hair should at least be muddy, but appears relatively clean.
This incident is staged as poorly as the old cowboy movies, where the hero shoots, you hear the gun shot seconds later, and the villain falls down in theatric antics.
PS Aren't AFP the same folks who filmed the "death" of the Dura boy at the start of the 2000 Intifada? Just asking...
Posted by: Ben N at February 6, 2012 04:38 PM
Ben -- the Dura film was France 2.
Posted by: gi at February 8, 2012 10:42 AM
@gi -- Thanks!!!
I got confused, since they were both French.
They say that when you reach a certain age, something is the first to go, but I can't remember what it is. :-D
Posted by: Ben N at February 8, 2012 11:47 AM
TIME FOR OUR YOUNG PEOPLE TO LEARN THAT FRANCE WAS ALLIED WITH HITLER DURING W W II, WITH CONCENTRATION CAMPS INSIDE PARIS. AND SHOT AT AMERICAN TROOPS UNDER GEORGE PATTON, (HISTORY'S GREATEST GENERAL) WHEN PATTON AND IKE EISENHOWER TRIED TO BROKER PEACE TO PULL FRENCH FROM NAZIS, BUT WITH DIFFICULTY. THE FRENCH SHOT AND KILLED AMERICAN TROOPS IN RESISTING USA PEACE MOVES.
Posted by: JERRY BORIS at February 19, 2012 11:11 PM
Guidelines for posting
This is a moderated blog. We will not post comments that include racism, bigotry, threats, or factually inaccurate material.
Post a comment