« New York Times and the Nexus of Extremism | Main | Wall Street Journal Updates Discredited AFP Photo Caption »
February 24, 2012
AP Gets it Right on Holy Site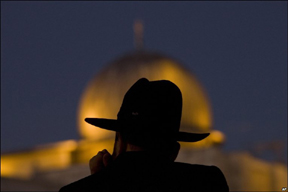 The Associated Press today reported that the Temple Mount "is the most sacred site in Judaism and is Islam's third-holiest site."
Now that wasn't so hard, was it?
All too often, journalists wrongly describe the Western Wall as the holiest site in Judaism.
Even worse, reporters have been known to use biased language describing the site the third holiest in Islam without likewise noting that it is the holiest place for Jews.
Hopefully AP will continue to opt for its short and sweet, accurate and fair formulation.
Posted by at February 24, 2012 12:42 PM
Comments
It is a pity that no reference was made to the deliberate destruction of the archaeology of the Temple Mount by the Palestinian authorities. They used JCB earthmoving machines to remove material that archaeologists would have sifted through using tiny paint brushes. They dumped the material in the Jerusalem municipal rubbish dump where it was mixed with domestic waste, making it irrecoverable. They have no respect for the history of any other religion and propagate lies about Islam having been the first and only occupier of the site. They are a disgrace to history, to archaeology, honesty and integrity.
Posted by: G Bernstein at March 1, 2012 11:30 AM
Posted by: Yisrael Medad at March 1, 2012 01:43 PM
Posted by: Rob Harris at March 1, 2012 03:42 PM
Guidelines for posting
This is a moderated blog. We will not post comments that include racism, bigotry, threats, or factually inaccurate material.
Post a comment