« Ohh, Friedman Meant to Say "Engineered"! | Main | ELCA Adds Disclaimer to Blog Entry on Bethlehem Call »
December 21, 2011
Vaclav Havel, Friend of Israel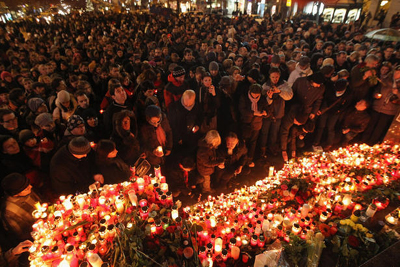 Crowds commemorate the death of Vaclav Havel
At a time when anti-Israel activists are broadening their assault on Israel to also target not only the country but also its foreign supporters, it's worth noting the principled pro-Israel stand taken by Vaclav Havel.
Havel, the celebrated Czech intellectual, dissident and politician who died last Sunday, was a founding member of the Friends of Israel Initiative, founded "out of a sense of deep concern about the unprecedented campaign of delegitimization against Israel waged by the enemies of the Jewish State and, perversely, supported by numerous international institutions."
John Mearsheimer would slur Havel as a "New Afrikaner." Other haters would opt for calling him an "Israel Firster." Considering his support for the first clause of the Friends of Israel statement, he'd surely be slurred by some radicals as a sort of "Pinkwasher."
But to most of the world he was a hero of the Velvet Revolution, "a friend to ... all who strive for freedom and dignity" and "an inspiration." And though it was not his most notable achievement, it is notable nonetheless: He was also a Friend of Israel.
Posted by at December 21, 2011 11:11 AM
Comments
Guidelines for posting
This is a moderated blog. We will not post comments that include racism, bigotry, threats, or factually inaccurate material.
Post a comment