« Karsh on 'The Paper for Thinking People' | Main | Sloppy Headlines Day at Ha'aretz »
December 26, 2011
Ha'aretz's Creative Headline of the Day
Ha'aretz's creative headline writer is at it again. While headlines are meant to convey the essence of the article as faithfully as possible, Ha'aretz's creative headline writer (HCHW) tends to craft headlines which best convey his/her political agenda. At times, the actual content of the article is at odds with said agenda, but our stalwart headline writer finds creative solutions to this problem.
And thus a page-one headline today reads (in the print edition):
With IDF's blessing, right-wing American group holds Hanukkah party at Anatot army base.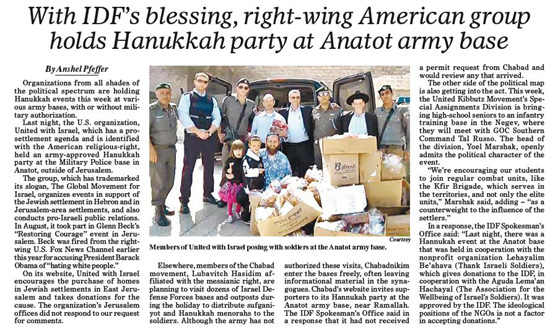 While Anshel Pfeffer's article says just that, it's not the main point of the article. The main point of the news story can be gleaned from its very first paragraph. (Note to Ha'aretz headline writer: As is taught in Journalism 101, the most important part of the story generally appears at the top of the article. Less important information appears further down. In professional lingo, this is called the inverted pyramid.) Anshel's first paragraph, ignored by HCHW, reads:
Organizations from all shades of the political spectrum are holding Hanukkah events this week at various army bases, with or without military authorization. (Emphasis added.)
And, about those left-wing groups, ignored by the politically-blinded HCHW, Anshel writes further along:
The other side of the political map [ie, the left] is also getting into the act. This week, the United Kibbutz Movement's Special Assignments Division is bringing high-school seniors to an infantry training base in the Negev, where they will meet with GOC Southern Command Tal Russo. The head of the division, Yoel Marshak, openly admits the political character of the event.

"We're encouraging our students to join regular combat units, like the Kfir Brigade, which serves in the territories, and not only the elite units," Marshak said, adding - "as a counterweight to the influence of the settlers."
For whatever reason, this article did not appear in Ha'aretz's Hebrew edition.
Posted by TS at December 26, 2011 05:37 AM
Comments
Haaretz should change its name to Gazaretz.
Posted by: Ed Frias at December 26, 2011 09:30 AM
"Haaretz should change its name to Gazaretz."
uh no - not exactly - maybe try getting facts straight before making silly rhetorical comments based on bias rather than any actual factual reality.
"The Harvard International Journal of Press/Politics found that Haaretz reporting was more favorable to Israelis than Palestinians, and more likely to report stories from the Israeli side."
Posted by: bethany at December 28, 2011 02:40 AM
Guidelines for posting
This is a moderated blog. We will not post comments that include racism, bigotry, threats, or factually inaccurate material.
Post a comment