« Excellent video on Palestinian and Jewish Refugees | Main | Israeli PM Declines to 'Bibiwash' NYT »
December 16, 2011
Friedman Scores Points -- With Stephen Walt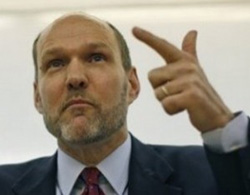 Tom Friedman and Stephen Walt
Tom Friedman's screed claiming that standing ovations for Israeli Prime Minister Netanyahu when he spoke before a joint session of Congress were "bought and paid for by the Israel lobby" has stirred a firestorm of negative reaction.
Well, not only negative reaction. There've also been kudos from some quarters. Stephen Walt, co-author of the infamous The Israel Lobby and U.S. Foreign Policy, really likes the column. Bizarrely, he titles his Foreign Policy blog post: "Why Tom Friedman is a true friend of Israel."
"Bizarrely" because Walt, a maligner of the Jewish state who blames the pro-Israel community (defined as a vast collection of groups and individuals of many faiths who defend or support the Jewish state) for distorting American policy to serve Israel, seems to believe he can credibly comment on who is a "true" friend of Israel.
His effusive praise for Friedman is, though, certainly a telling measure of how extreme the views of the New York Times writer have become.
Surely unrelated -- but noteworthy: Word of the sudden departure of Times CEO Janet Robinson included reference to the plunging value of the company's stock. Seems that stock has declined more than 80 percent since December 2004 and is down nearly 25 percent this year alone.
Maybe Walt will discover the devlishily clever Israel Lobby is behind this too, undermining Tom Friedman's platform for promoting their special form of friendship for the Jewish state.
Posted by AL at December 16, 2011 12:39 PM
Comments
Haven't we all had it up to our eyeballs with the New York Times? Around the year 2000 there was a spontaneous Jewish boycott of the Times and a number of my neighbors cancelled their subscriptions.I let my subscription lapse years ago and haven't missed it.The last boycott really got their attention.On general principles you don't feed your enemy.Isn't it time to hit them where they will feel it?
Posted by: Matt L at December 22, 2011 04:59 PM
Guidelines for posting
This is a moderated blog. We will not post comments that include racism, bigotry, threats, or factually inaccurate material.
Post a comment