« Max Blumenthal's Latest Hoax Quote | Main | Academic Study: Reuters Publishing Pro-Palestinian Propaganda »
December 08, 2011
Atlantic Year in Photos Distorts Syrian Casualties
The Atlantic's 2011: Year in Photos includes the following photo and caption: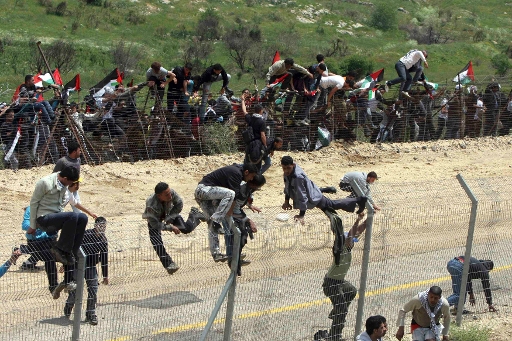 Palestinian protesters infiltrate the Israel-Syria border on May 15, 2011, near the Druze village of Majdal Shams, Israel. Reportedly at least 12 were killed and several injured when IDF soldiers open fired on protesters attempting to cross the Syria-Israel border adjacent to Majdal Shams in Northern Israel. (Jalaa Marey/JINI/Getty Images)
Four infiltrators, not 12, were killed after crossing the fence dividing Syrian and Israel. See, for example, the New York Times and Al Jazeera.
Unfortunately, in 2011, there's no need to falsely inflate fatalities among Syrian protesters. In total, more than 4,000 were reportedly killed. Not by Israel, but by Assad's own forces. While the Atlantic chose to include a photo representing the killing of four Syrian protesters at the hands of Israeli forces, it does not include a single image representing the many thousands of Syrian civilians killed by their own repressive regime.
Update/Clarification 12/12/11: The Atlantic has commendably corrected the inflated figure in a timely and thorough manner. Also, as noted by the Atlantic in a comment posted below, the error originated with Getty, not with the Atlantic as stated in this original blog post. Stay tuned for information about a correction from Getty.
Posted by TS at December 8, 2011 04:43 AM
Comments
Is it possible the operative word "NOT" was inadvertantly left out in last line.
Perhaps should have read:
"It does NOT include a single image........"
Posted by: David Pakter at December 11, 2011 05:48 AM
David,
Yes, good catch. It's fixed. Thanks.
Posted by: TS at December 11, 2011 06:31 AM
There seems to have been an error on the part of CAMERA. Our photo blogger, Alan Taylor, drew his caption verbatim from Getty Images. Please note that the caption you attribute to Getty is, in fact, the caption this photo bears at Reuters. (The same photo, by Jalaa Marey, appears on both wire services with different captions affixed.)


Although we relied on Getty for information, we have gone on to research the incident in question and have reworked the quote to clear up any confusion. The new version of the caption can be viewed here: http://www.theatlantic.com/infocus/2011/12/2011-the-year-in-photos-part-2-of-3/100204/
Posted by: The Atlantic at December 12, 2011 10:15 AM
Guidelines for posting
This is a moderated blog. We will not post comments that include racism, bigotry, threats, or factually inaccurate material.
Post a comment