« Time Still Unaware of Flotilla Attack on Israeli Troops | Main | Tel Aviv Law Lecturer Rewrites Report on Police Incompetence »
December 11, 2011
At Ha'aretz, Palestinian Terrorist Morphs into 'Activist'
Last week, Ha'aretz considered slain Palestinian Isam al-Batash of the Gaza Strip a "terrorist" or "militant." Today, the paper calls the same man an "activist." The Dec. 8 headline and lede paragraph about the killed member of the Al Aqsa Martyrs Brigade who was preparing an attack in southern Israel read: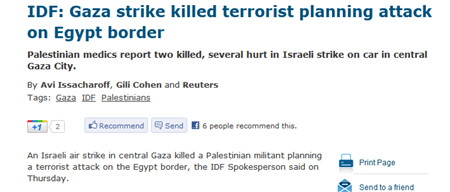 Today's story carries details about al-Batash's identity and terrorist involvements, describing him as:
Isam al-Batash, a Palestinian activist who was planning to carry out a terrorist attack into Israel from Egyptian territory. Batash, known for being a member of the Al-Aqsa Martyrs' Brigades and most recently to the Ayman Jude faction - a splinter group that broke away from Fatah - was killed in an air strike along with aide and family member Ala al-Batash. . . .

The decision to assassinate Isam al-Batash on Thursday was made after taking into account that there would be an escalation following the attack. However, the conclusion was reached that the attack was necessary in order to disrupt an attack being planned along the border with Egypt.

Batash funded and organized a team, probably a mixture of Bedouins from Egypt, to carry out an attack in northern Eilat. (Emphasis added.)
Despite the fact that we now have more, not less, information about al-Batash's terror plans, Ha'aretz has inexplicably downgraded him from a "terrorist" to an "activist." Why?
See today's subheadline:
Hat tip: Matthew Mainen
Posted by TS at December 11, 2011 03:13 AM
Comments
Well I must say so,your website is highly centered in a particular region of the middle East,and further to justify that"particular region".I don't mind what you choose to concentrate on but,construct the title some what like,"The Benefit of Israel","Israel's key to success blog",I don't think your editorial comprises of middle eastern news and blogs,it is more of a regionally influential blog and news,but opinion is opinion-Thank you
Posted by: Ahad Khan at December 11, 2011 06:23 AM
Thank you for your opinion. Ahad. I'm not sure what you're referring to by our "editorial." In the post that you commented on we presented a factual analysis concerning Ha'aretz's labeling of one man -- first "terrorist," and "militant" and then "activist."
If you see factual inaccuracies or violations of journalistic codes of ethics that you believe we should follow up on, please do notify us.
Posted by: TS at December 11, 2011 06:42 AM
Guidelines for posting
This is a moderated blog. We will not post comments that include racism, bigotry, threats, or factually inaccurate material.
Post a comment