« Civil Rights Investigation against Columbia University | Main | Media in the Service of King Abdullah »
October 03, 2011
Should Fareed Zakaria Have Challenged Erdogan's False Accusation ?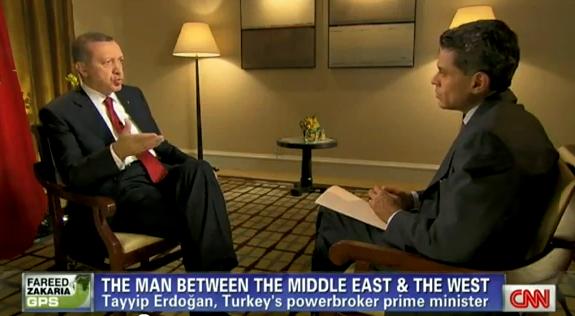 As CAMERA reported, CNN's Fareed Zakaria issued a correction of the incendiary statement made on his show by Turkish Prime Minister Recep Erdogan accusing Israel of killing hundreds of thousands of Palestinians. Zakaria says the problem was a faulty translation of Erdogan's statement. While it is commendable that Zakaria issued the correction, by defining the problem as a faulty translation, he sidesteps his own responsibility as interviewer and host to directly challenge what at the time appeared to be a defamatory accusation.
Erdogan's statement, as it was translated and broadcasted, accuses Israel of perpetrating massive and indiscriminate killing. Zakaria offered no challenge to Erdogan. If he had, Erdogan could have clarified or corrected what he said or Zakaria could have exposed his statement as libelous.

There are three possible explanations as to why Zakaria did not challenge Erdogan at the time. None of these explanations presents Zakaria in a favorable light.
1) He did not want to confront the Turkish Prime Minister while interviewing him. If that is true, then Zakaria's reputation as an incisive interviewer who challenges his guests is diminished.
2) He did not know that Israel has not killed hundreds of thousands of Palestinians. If that is true, then his reputation as a maven of international politics has been dealt a blow.
3) He wasn't paying attention or didn't consider it important enough to challenge Erdogan. If that is true, then his competence and integrity as a journalist are open to question.
Rather than simply blame it on mistranslation, Zakaria should have been more forthcoming and admitted an error of judgement.

Posted by SS at October 3, 2011 03:13 PM
Comments
Or another reason is that Zakaria is vehemently anti-Israel and wasn't upset by the disinformation that Erogan was presenting. The more he can show Israel in a bad light the happier Zakaria happens to be. Remember he is supposed to be an adviser to Obama on international affairs and Obama is not Israel's friend.
Posted by: Independent Patriot at October 3, 2011 07:45 PM
The more American media employ commentators or interviewers with a third world background, the more we'll be hearing shocking interview results.
It's partly education, anti-Israel bias and a phony sympathy with the "oppressed."
Unless we challenge these with vigor, we'll be getting more and more of the non-traditionally American views.
Posted by: Scorpio at October 4, 2011 03:48 PM
I have listened to Zakaria in the past with an open mind, I must admit, I will have a much more discerning ear in the future, as well as with ABC and CNN.
Posted by: Shirley at October 6, 2011 05:33 PM
This extremely long segment basically allowing Erdogan to push the lie that the Turkey/Israel thaw is due to Israel's behaviour rather than a decision by Erdogan himself to change the direction of his country's foreign and domestic policy toward Islamism was unforgiveable. I have taken Fareed Zakaria off my DVR list for good.
Posted by: Barbara at October 7, 2011 10:37 PM
Unfortunately I have noticed Fareed Zacharia is not what one could call a friend to Israel. His excuse was flimsy and convenient for him! I never bother to listen to him anymore. He is biased against Israel. He could have easily been supportive,but instead chose to go along with Erdogan's vitriole and trumped up charges against the only true democracy in the region. Shame on him!
Posted by: shelley ventura-cohen at October 9, 2011 08:35 PM
Fareed has been pushing for Anti Israeli and Pro Iranian agenda for some time now. He chooses his guests carefully who will show Israel in bad light. Not sure if he truly believes that Iran's Government is good or it is because he is supporting his fellow Muslims? Only Zakarika knows the truth about himself.
Posted by: Ashit at March 11, 2012 08:37 PM
Guidelines for posting
This is a moderated blog. We will not post comments that include racism, bigotry, threats, or factually inaccurate material.
Post a comment