« Should Fareed Zakaria Have Challenged Erdogan's False Accusation ? | Main | CNN Misidentifies Arson Suspect as Settler »
October 09, 2011
Media in the Service of King Abdullah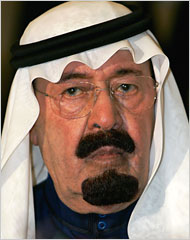 Writing in Ha'aretz, James Kirchick of the New Republic notes a media cover up which transforms Saudi Arabia's King Abdullah in a progressive reformer promoting feminism:
To fully appreciate the king's liberalism, witness his latest announcement, made before the Shura council of advisers. "We refuse to marginalize the role of women in Saudi society," the king declared. And so he took the bold step of granting his women (the possessive pronoun is crucial; neither Saudi women, nor men, are "citizens" in the true sense of the word ) the right to vote - in meaningless municipal elections, in 2015, and only if they receive the permission of a male relative.

That last condition has gone practically unreported in the international media, which have covered these latest developments with the sort of gravity that is reserved for actual, people-driven upheavals in the rest of the Arab world. Indeed, one could be mistaken for thinking that King Abdullah is a genuine reformer, given all the favorable attention he has received of late.

Last December, Businessweek praised the king as a "vigorous and progressive leader." A writer for the Global Post website, prompted by the king's recent announcement, says that Abdullah is leader of the "progressive faction of the ruling family" (presumably, that's the one that favors mere lashings, as opposed to decapitation, for homosexuals ). Reuters claimed that the king had "lived up to his reformist reputation" with his "liberal shift."

The same press that lauds a man whose regime bans the construction of Christian churches and prohibits the entry of Jews into the kingdom sees Benjamin Netanyahu and Avigdor Lieberman as the real fanatics of the Middle East.

To be sure, in the desert despotism of Saudi Arabia, words like "progressive" and "reformer" are relative. But they lose their meaning when applied to individuals who are religious fundamentalists. (Emphases added.)
Posted by TS at October 9, 2011 04:57 AM
Comments
Guidelines for posting
This is a moderated blog. We will not post comments that include racism, bigotry, threats, or factually inaccurate material.
Post a comment