« Anti-Shalit Screed on Fatah-Affiliated Web Site | Main | Released Terrorist at Luxury Hotel Dupes AP »
October 23, 2011
Ha'aretz Lost in Translation, IX

In the wake of the Shalit prisoner release, Ha'aretz's Lost in Translation malady has struck again. An Oct. 19 article on earlier prisoner exchanges makes clear in Hebrew that the released Palestinian prisoners from the Shalit deal are from the most infamous terror attacks, well-known to Israelis (CAMERA's translation):
The names of the 1,233 prisoners released in recent years mean little to most Israelis. But the prisoners from the Shalit deal are known to the public according the names of the attacks in which they participated: Sbarro, Dolphinarium, Park Hotel, Moment Cafe, and more, among the most severe attacks ever in Israel, and that is the difference [between this release and earlier releases]. (Emphasis added.)
But the English translation of this article, read mostly by foreigners -- journalists, diplomats, and policymakers, among them -- reads the exact opposite. Incredibly, contrary to the Hebrew original, it states that the released Palestinian prisoners from the Shalit deal are unknown to Israelis. The English reads:
The names of most of the prisoners freed since July 2007 mean little to most Israelis, as do the names of the prisoners freed on Tuesday.
Furthermore, the Hebrew (online) subheadline and first paragraph both refer to the earlier releases as Israeli "gestures," meaning that Israel was not bound to do so, but nevertheless did out of goodwill. In contrast, the English version eliminates the word gesture, replacing it with the longer and more vague "various political reasons."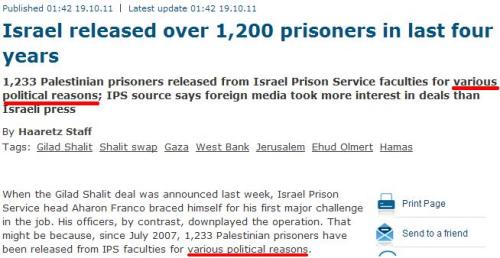 In the English version, the word "gesture" appears only further down, in the fourth paragraph.
Read a version of this blog entry in Hebrew at Presspectiva, CAMERA's Hebrew-language site.
Posted by TS at October 23, 2011 05:47 AM
Comments
We in Holland do not know about the release of 1233 prisoners since July 2007 ! This is once again a proof of admitting information by our Dutch media, like the NOS daily Journaal and other TV stations and the newspapers. Sometimes also Dutch media distort the news and never correct false information. The biggest example is the Al Durah case. Well informed Dutch people know via the German TV channel ARD, about the real fact. ARD showed the documentary "Der Tot, das Kind und die Wahrheit", The death, the child and the truth, in which is is proven that the child on the video-clip could not have been killed by israeli fire..
Posted by: Mary van de Cremer at October 25, 2011 09:01 AM
Guidelines for posting
This is a moderated blog. We will not post comments that include racism, bigotry, threats, or factually inaccurate material.
Post a comment