« CNN Misidentifies Arson Suspect as Settler | Main | Another Example of the WCC's Double Standard »
October 09, 2011
CNN Ignores Attack on Jaffa Synagogue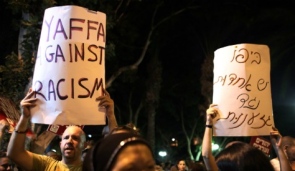 A Molotov cocktail was thrown at the synagogue reportedly during a demonstration (pictured here) against the desecration of Arab graves (Photo by Daniel Bar-On)
While we're on CNN's coverage of attacks on holy sites in Israel, an article today on desecrations of Muslim and Christian graves in Jaffa ignores a Molotov cocktail attack on a synagogue in the very same city. Thus, Dan Morgan and Kevin Flower report:
Less than a week after the arson of a mosque in northern Israel, dozens of Christian and Muslim graves were vandalized in an Arab section of the Israeli city of Jaffa.

More thahan 100 graves were vandalized in the Muslim cemetery of al-Kazakhana and at a nearby Christian cemetery in the Ajami neighborhood of Jaffa, according to residents and a CNN producer who visited the locations.

Some of the graves were spray painted with graffiti while others were smashed.
Meanwhile, CNN completely ignores last night's attack on the Ba'al Hanes synagogue, a rather relevant incident in the context of an article about attacks on sacred sites in Jaffa. As Ha'aretz reports:
About 200 Arabs and Jews gathered in Jaffa on Saturday night to protest the desecration at the cemetery and calling for an end to violence and racism. At one point during the demonstration, a Molotov cocktail was thrown at the roof of Rabbi Meir Ba'al Hanes synagogue in Jaffa. The building was empty at the time and there were no reports of casualties. Firefighters, police and medical teams were rushed to the scene.
Posted by TS at October 9, 2011 08:44 AM
Comments
what about the desecration of the age-old Jewish cemetery on the Mount of Olives in Jerusalem --which goes on regularly??
Posted by: Elliott A Green at October 9, 2011 12:59 PM
Guidelines for posting
This is a moderated blog. We will not post comments that include racism, bigotry, threats, or factually inaccurate material.
Post a comment