« Update on Julio Pino Outburst | Main | When Did the Latest Violence Start? »
October 30, 2011
Another Palestinian Prisoner Lies About Past Violence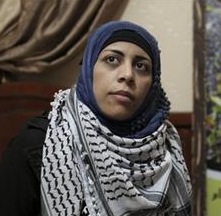 Wafa al-Biss
Earlier we documented how released prisoner Hamuda Saleh lied to the AP about his terror acts, saying he was imprisoned for belonging to Hamas, while his violence also included premeditated murder, planting a bomb, and shooting at people.
Now Maurice Ostroff notes at the Commentator that released prisoner Wafa al-Biss falsely told Reuters that she planned to blow herself up at the Rafah crossing, when in fact her real target was a crowded section of Soroka Hospital in Beer Sheva.
Posted by TS at October 30, 2011 06:06 AM
Comments
Why dont we buy a couple of 50,000 watt radio stations and make a point to those other than ourselves???
Posted by: Mitch E Marks at October 31, 2011 12:39 PM
Guidelines for posting
This is a moderated blog. We will not post comments that include racism, bigotry, threats, or factually inaccurate material.
Post a comment