« Egypt Ascending the Pyramid of Hate, Part 2 | Main | New York Times Makes Rocket Attacks Disappear with Smoke, Mirrors, Euphemism »
October 31, 2011
Anachronistic Ha'aretz Editorial Misreports Gaza Blockade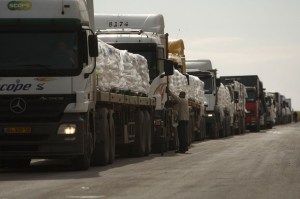 Ha'aretz editorial writers are apparently not up-to-date with developments of the last year and a half concerning the blockade of Gaza, even though those developments have been reported repeatedly in their own news pages. Today's editorial, "End the Gaza Blockade," avers:
Like any political power seeking to shore itself up, Hamas is interested in improving the living standards of the inhabitants of Gaza. To that end, it should bring about the lifting of Israel's continuing blockade, which among other things includes arbitrary restrictions on the entry of consumer goods, and a situation of being almost totally cutoff from the outside world - even from the Palestinians in the West Bank and East Jerusalem. (Emphasis added.)
In fact, as reported by Ha'aretz's own Amos Harel and Avi Issacharoff:
The distress faced by Gaza residents remains acute, however, although the idiotic Israeli prohibition on the entry of goods - which included rigorous monitoring of certain types of products - was rescinded over a year ago. . . .

The gradual change began in January 2010. Maj. Gen. Eitan Dangot, coordinator of government activities in the territories, decided to reverse procedures: Instead of a short list of goods permissible for entry to Gaza, Israel drafted another list of products that have possible dual uses (that is, civilian goods that can also be used for military use, such as in the construction of bunkers ) and are not allowed into Gaza.

The international criticism leveled against Israel following the Gaza flotilla incident of 2010 led to a government decision whose effective meaning on the ground was tantamount to the lifting of the siege. The hubris that characterized the attempt to impose economic sanctions on the Strip eventually began to fade.

In a little over a year, Israel authorized the import to Gaza of construction materials for 163 projects, funded partly by international organizations. "Top Hamas officials go around all day long with scissors, cutting ribbons to dedicate clinics, water-purification stations, and large factories," explains one senior IDF officer, Lieut. Col. "Kobi," who works with the branch responsible for the coordination of government policy in the territories.
In other words, the Ha'aretz feature demonstrates that contrary to the Ha'aretz editorial, there has not been any "arbitrary restrictions on the entry of consumer goods" for over a year.
Even Amira Hass, who can hardly be considered sympathetic to Israeli policy vis-a-vis Gaza, confirmed that the "arbitrary restrictions on the entry of consumer goods" has been abolished. In September, she wrote:
The cabinet decided to abolish the list [of permitted items] on June 20 last year, in the aftermath of the raid on the Turkish flotilla to Gaza. However, there is still a list of banned items, consisting of products that can also be used as weapons. (Emphases added.)
As for the "siutation of being almost totally cutoff from the outside world," perhaps Ha'aretz editorial writers have not heard that Gaza shares a border with Egypt, which is now open, and allows for, among other things, the travel of released Palestinian prisoners and their family members to Saudi Arabia for the Haj. As Al-Masry Al-Youm reported Saturday:
The number of people having entered Egypt since 28 May through the Rafah crossing has reached more than 145,000.
To view this article in Hebrew, visit our Israeli site, Presspectiva.
Posted by TS at October 31, 2011 04:00 AM
Comments
Guidelines for posting
This is a moderated blog. We will not post comments that include racism, bigotry, threats, or factually inaccurate material.
Post a comment