« September 2011 | Main | November 2011 »
October 31, 2011
New York Times Makes Rocket Attacks Disappear with Smoke, Mirrors, Euphemism
Readers of the New York Times today are unwitting witnesses to a remarkable vanishing act. Reporters Isabel Kershner and Fares Akram take the reality of hundreds of rockets and mortars fired at Israel from Gaza in 2010 and 2011 and, with deft slight of hand, make it disappear:
Hamas has largely maintained the fragile cease-fire that went into effect after Israel ended its three-week military offensive in Gaza in early 2009. The smaller factions in Gaza are less committed, but are under pressure from Hamas to comply.
"Less committed to a ceasefire" is apparently the newspaper's new euphemism for "committed to incessant and indiscriminate rockets attacks."
In 2010, Palestinians fired 365 rockets and mortar shells toward Israel, according to Israel's count. And through September of this year, another 566 rockets and mortar shells were launched by Gaza-based groups, including Hamas, according to Shabak monthly reports.
That's nearly 1,000 projectiles in less than two years. Or, if you're a New York Times journalist abandoning facts and precision for euphemism, it's just an imperfect commitment to a cease-fire.

Posted by at 02:49 PM | Comments (4)
Anachronistic Ha'aretz Editorial Misreports Gaza Blockade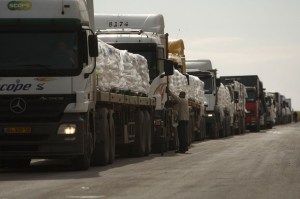 Ha'aretz editorial writers are apparently not up-to-date with developments of the last year and a half concerning the blockade of Gaza, even though those developments have been reported repeatedly in their own news pages. Today's editorial, "End the Gaza Blockade," avers:
Like any political power seeking to shore itself up, Hamas is interested in improving the living standards of the inhabitants of Gaza. To that end, it should bring about the lifting of Israel's continuing blockade, which among other things includes arbitrary restrictions on the entry of consumer goods, and a situation of being almost totally cutoff from the outside world - even from the Palestinians in the West Bank and East Jerusalem. (Emphasis added.)
In fact, as reported by Ha'aretz's own Amos Harel and Avi Issacharoff:
The distress faced by Gaza residents remains acute, however, although the idiotic Israeli prohibition on the entry of goods - which included rigorous monitoring of certain types of products - was rescinded over a year ago. . . .

The gradual change began in January 2010. Maj. Gen. Eitan Dangot, coordinator of government activities in the territories, decided to reverse procedures: Instead of a short list of goods permissible for entry to Gaza, Israel drafted another list of products that have possible dual uses (that is, civilian goods that can also be used for military use, such as in the construction of bunkers ) and are not allowed into Gaza.

The international criticism leveled against Israel following the Gaza flotilla incident of 2010 led to a government decision whose effective meaning on the ground was tantamount to the lifting of the siege. The hubris that characterized the attempt to impose economic sanctions on the Strip eventually began to fade.

In a little over a year, Israel authorized the import to Gaza of construction materials for 163 projects, funded partly by international organizations. "Top Hamas officials go around all day long with scissors, cutting ribbons to dedicate clinics, water-purification stations, and large factories," explains one senior IDF officer, Lieut. Col. "Kobi," who works with the branch responsible for the coordination of government policy in the territories.
In other words, the Ha'aretz feature demonstrates that contrary to the Ha'aretz editorial, there has not been any "arbitrary restrictions on the entry of consumer goods" for over a year.
Even Amira Hass, who can hardly be considered sympathetic to Israeli policy vis-a-vis Gaza, confirmed that the "arbitrary restrictions on the entry of consumer goods" has been abolished. In September, she wrote:
The cabinet decided to abolish the list [of permitted items] on June 20 last year, in the aftermath of the raid on the Turkish flotilla to Gaza. However, there is still a list of banned items, consisting of products that can also be used as weapons. (Emphases added.)
As for the "siutation of being almost totally cutoff from the outside world," perhaps Ha'aretz editorial writers have not heard that Gaza shares a border with Egypt, which is now open, and allows for, among other things, the travel of released Palestinian prisoners and their family members to Saudi Arabia for the Haj. As Al-Masry Al-Youm reported Saturday:
The number of people having entered Egypt since 28 May through the Rafah crossing has reached more than 145,000.
To view this article in Hebrew, visit our Israeli site, Presspectiva.
Posted by TS at 04:00 AM | Comments (0)
October 30, 2011
Egypt Ascending the Pyramid of Hate, Part 2
According to the Assyrian International News Agency (AINA), a Coptic Christian student, Ayman Nabil Labib, (pictured above), was murdered for refusing to cover the tattoo of a cross on his wrist when instructed to do so by one of his instructors. According to statements, the instructor incited two Muslim students in the classroom to attack Labib, who was 17 at the time of his murder.
For details go here.

Posted by dvz at 08:40 PM | Comments (0)
When Did the Latest Violence Start?
In the latest round of rocket fire and Israeli army strikes against rocket-launching cells, many media outlets have published chronologically challenged reports. Take, for instance, the following CNN report:
According to the second paragraph:
The violence began when two Islamic Jihad commanders were among seven militants killed Saturday by Israeli strikes targeting a training camp in Rafah, Gaza, a spokesman for the militant group and medical sources reported.
In fact, the violence began Wednesday, when Palestinians fired a rocket which landed near Ashdod, setting off sirens as far north as Rishon Letzion. Some schools in southern Israel were closed Thursday, keeping 3000 children home and close to their shelters. As the AFP reported last Thursday:
The Israeli air force carried out three raids early Thursday on the Gaza Strip after a rocket was launched from the Hamas-controlled territory at southern Israel, witnesses said.

The raids targeted areas east and west of Khan Yunes in the south of the Strip, and a base of Hamas's armed wing the Al-Qassam Brigades was hit, they said.

An Israeli army spokesman confirmed that aircraft had "attacked three terrorist sites in the Gaza Strip as well as an arms factory in the south of the territory."

A rocket was fired from the Gaza Strip late Wednesday at an area near Ashdod in southern Israel, without causing any casualties, a militaryspokeswoman said earlier.

The firing of the Grad rocket and the subsequent air raids were the first incidents since Israel and Hamas reached an agreement last week under which Israel agreed to release 1,027 Palestinian prisoners in exchange for its captured soldier Gilad Shalit.
This wouldn't be the first time that CNN misreported what started the violence.
Posted by TS at 07:01 AM | Comments (3)
Another Palestinian Prisoner Lies About Past Violence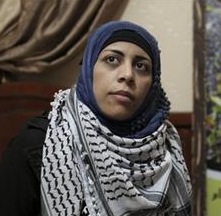 Wafa al-Biss
Earlier we documented how released prisoner Hamuda Saleh lied to the AP about his terror acts, saying he was imprisoned for belonging to Hamas, while his violence also included premeditated murder, planting a bomb, and shooting at people.
Now Maurice Ostroff notes at the Commentator that released prisoner Wafa al-Biss falsely told Reuters that she planned to blow herself up at the Rafah crossing, when in fact her real target was a crowded section of Soroka Hospital in Beer Sheva.
Posted by TS at 06:06 AM | Comments (1)
October 28, 2011
Update on Julio Pino Outburst
As we noted yesterday, a Kent State University associate professor of history shouted "death to Israel� at an on-campus event co-sponsored by several recognized student groups and CAMERA.
This outburst of hate speech by Professor Julio Pino, which employs violent language, puts student supporters of Israel, and especially Israeli students enrolled at KSU, in the untenable position of feeling unsafe in the classroom.
Moreover, the professor violated several provisions of the university's Employee Code of Conduct.
Although the director of university media relations responded dismissively to complaints about the incident, KSU President Lester A. Lefton later released a statement criticizing Pino's actions. "I find his words deplorable, and his behavior deeply troubling,� he said. Pino's call "for the destruction of the state from which our guest comes (as do some of our students, faculty and community members) is a grotesque failure� to model university values, Lefton added.
This is a good first step. However, Lefton did not mention the professor's violations of university policies, including those requiring all employees to
• "maintain a professional demeanor�;
• "exhibit a high degree of maturity and self-respect and foster an appreciation for other cultures, one's own cultural background, as well as the cultural matrix from which Kent state university exists�;
• "demonstrate respect for all campus and external community members�;
• "respect the differences in people, ideas, and opinions�;
• not "threaten, accost, demean� or use "abusive language�;
A KSU document on "Conduct and Discipline� likewise maintains that "Employees should be aware that the university does not tolerate certain acts and behaviors which are unproductive and detrimental to the university,� including immoral conduct, discourteous treatment of the public, and any other failure of good behavior.
Professor Pino also distributed literature calling for the boycott of the State of Israel, in apparent violation of a university policy restricting such solicitation to "a non-work area.�
KSU has in place disciplinary procedures meant to deter employees from violating university policies. These procedures should be implemented in response to Professor Pino's grave violation of policies and student rights.
In a statement to Ha'aretz, he asserted: "What I spoke was for the sake of the children of Palestine, and no other reason. The only politics I have are, 'There is no God but God, and Mohammed is His Messenger.' Peace be upon you.� The statement seems to express that he stands by his comments unrepentantly, and believes he has a right to disregard university policy, and students' sense of safety, in favor of his own political beliefs.
Posted by at 02:59 PM | Comments (8)
October 27, 2011
Ha'aretz Double Standard: Ir Amim V. Elad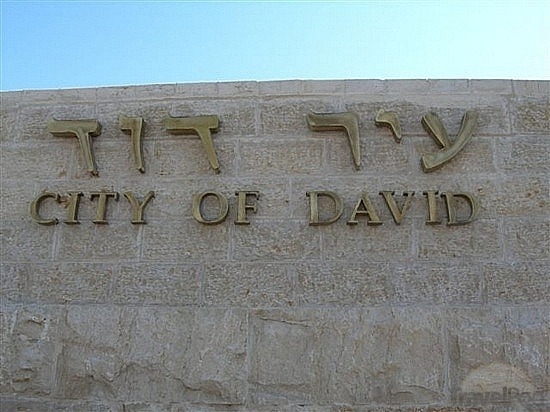 Today's Ha'aretz brings another example of the newspaper's double standard in identifying various organizations. The article, about a High Court ruling concerning the Elad organization's operation of the City of David national park in Jerusalem, states:
The court made the ruling at yesterday's hearing of a petition by the Jerusalem organization Ir Amim and others against the running of the park by Elad, which is identified with the right wing.
While Elad is identified with the right wing, Ir Amim is completely non-partisan? Hardly.
Posted by TS at 06:00 AM | Comments (1)
October 26, 2011
Professor Calls for "Death to Israel"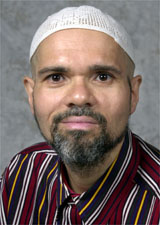 Julio Pino
Tenured Professor Julio Pino disrupted a CAMERA-sponsored event with Ishmael Khaldi, a Bedouin-Muslim Israeli, former diplomat and current advisor to Israel's Foreign Minister, at Kent State University last night.
According to a student-run news website:
Standing at the back of the auditorium, Pino asked Khaldi how he and his government could justify providing aid to countries like Turkey with blood money that came from the deaths of Palestinian children and babies. The crowd fell into an awkward silence as the two continued to exchange words from across the auditorium.

"It is not respectful to me here," Khaldi said.

Pino responded by saying "your government killed people" and claimed Khaldi was not being respectful to him.

"I do respect you, but you are wrong," Khaldi said. "It's a lie.�

The exchange ended as Pino stormed out of the auditorium shouting "Death to Israel!�
In 2002, Pino published a eulogy in the campus paper praising Palestinian terrorist Ayat al-Akras, who murdered two Israelis, Rachel Levy and Chaim Smadar.
Pino has been accused of having ties to terrorists and had his home raided in 2009 by the U.S. Secret Service.
Posted by abs at 01:27 PM | Comments (10)
October 24, 2011
Shahira Amin: Just Looking Out for Gilad
In the Jerusalem Post today, Egyptian journalist Shahira Amin once again denies that her interview with a stressed, malnourished, and exhausted Gilad Shalit minutes after Hamas handed him to Egyptian officials was coerced. Unbelievably, she goes even further, arguing that her (forced) interview was an attempt to humanize Shalit and all Israelis before the anti-Israel Arab public, stating:
My motive was: I felt that at this time of high anti-Israeli sentiment in Egypt and the Arab world (especially after the killing of the Egyptian border guards) it was important to try and diffuse tensions by showing Arab viewers that people on both sides were paying the price for this conflict. I felt it would earn Schalit the compassion he deserves.
Aah, so it's Gilad's welfare that she had in mind all along. I guess she didn't get that memo from the British Red Cross about the media's responsibility towards prisoners under International Humanitarian Law.
No matter. At least we can all rest assured that, as Amin soothes her readers,
I am all for peace. I was raised abroad and always had Israeli friends in my class growing up as a kid so I feel no contempt for Jews and Israelis. All my stories have been about promoting peace and tolerance.
Of course Amin only had Gilad Shalit's best interests at heart because, after all, some of her classmates growing up were Jews!
Posted by TS at 08:20 AM | Comments (0)
Released Terrorist at Luxury Hotel Dupes AP
AP's Tara Todras-Whitehill caught up with some of the released West Bank terrorists enjoying their free stay at a luxury Gaza hotel late last week. Her article was accompanied by a number of photographs of the smiling releasees. Among them, was this:
In this photo taken Thursday, Oct. 20, 2011, freed Palestinian prisoner Hamuda Saleh, age 38, who was originally from the West Bank city of Nablus, prays near the pool at a hotel in Gaza City. Palestinian prisoners exiled to the Gaza Strip in a dramatic swap for a captive Israeli soldier last week are contemplating the rest of their lives after years behind bars. Some say they want to put their violent pasts behind them and move on with their lives, now that the celebrations marking their release have faded. In 1989 Saleh claims he was sentenced to multiple life sentences for being part of the 'Ezz Al-Din Al Qassam' militia, the military wing of Hamas.
Based on Ms. Todras-Whitehill's caption, Saleh would have been just 16 when he was supposedly sentenced to multiple life terms for his membership in Ezz Al-Din Al Qassam (but no specific terror act), a scenario which did not seem plausible. Indeed, a check of the Prison Service's list of prisoners released in the Shalit deal shows that Hamuda Said Abdul Rahim Saleh has been in prison since July 7, 2000, not since 1989. And his sentence was 22 years, not multiple life terms. (Also he was born in 1976, making him younger than 38.) We are still looking into his crime, but given that the rest of the information that he supplied to the AP was false, a dose of skepticism is in order regarding his claim that "being part of the 'Ezz Al-Din Al Qassam milita" was the sole reason for his imprisonment.
Todras-Whitehill does not specifically say that Mr. Saleh was one of those who claims he'd like to put his violent past behind him, but if he was, obviously that claim would be suspect as well.
UPDATE, 3:30 PM, EST: AP revises the photo caption to include the Prison Service information. Specifically, Mr. Saleh's violent crimes involved premeditated murder, planting a bomb and shooting at people.
Posted by TS at 07:05 AM | Comments (1)
October 23, 2011
Ha'aretz Lost in Translation, IX

In the wake of the Shalit prisoner release, Ha'aretz's Lost in Translation malady has struck again. An Oct. 19 article on earlier prisoner exchanges makes clear in Hebrew that the released Palestinian prisoners from the Shalit deal are from the most infamous terror attacks, well-known to Israelis (CAMERA's translation):
The names of the 1,233 prisoners released in recent years mean little to most Israelis. But the prisoners from the Shalit deal are known to the public according the names of the attacks in which they participated: Sbarro, Dolphinarium, Park Hotel, Moment Cafe, and more, among the most severe attacks ever in Israel, and that is the difference [between this release and earlier releases]. (Emphasis added.)
But the English translation of this article, read mostly by foreigners -- journalists, diplomats, and policymakers, among them -- reads the exact opposite. Incredibly, contrary to the Hebrew original, it states that the released Palestinian prisoners from the Shalit deal are unknown to Israelis. The English reads:
The names of most of the prisoners freed since July 2007 mean little to most Israelis, as do the names of the prisoners freed on Tuesday.
Furthermore, the Hebrew (online) subheadline and first paragraph both refer to the earlier releases as Israeli "gestures," meaning that Israel was not bound to do so, but nevertheless did out of goodwill. In contrast, the English version eliminates the word gesture, replacing it with the longer and more vague "various political reasons."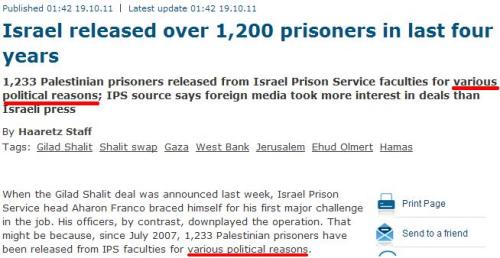 In the English version, the word "gesture" appears only further down, in the fourth paragraph.
Read a version of this blog entry in Hebrew at Presspectiva, CAMERA's Hebrew-language site.
Posted by TS at 05:47 AM | Comments (1)
October 21, 2011
Anti-Shalit Screed on Fatah-Affiliated Web Site

The images of the newly released Gilad Shalit, malnourished, weak and pale, clearly having suffered deprivation during his five years of imprisonment, stirred sympathetic reporting in many media outlets.
But MEMRI notes that an article on a Fatah-Affiliated Website by journalist Sami Foda, charges:
"[Gilad Shalit is] a young man who spent his time in bars and brothels, playing games and pampering himself. He enjoyed the pleasures of a land not his own. He went around robbing, stealing, torching, raping, trampling, and desecrating the soil of this land that is not his own. He viciously strove to shed the blood of the martyrs, killed innocent people, shelled the homes of innocent people with tanks, destroying them without shame, mercy, or pangs of conscience, a stupid murderer who did not mind killing our elderly, our men, our youth, and our women, and even our poor children, [so] pure and innocent.
Will commentators quick to urge that Israel make concessions to the Fatah-dominated Palestinian Authority report on and deplore the screed?
Posted by AL at 06:01 PM | Comments (5)
UN Spews More Bias
The other day we pointed out just what a sad joke the UN has become, with its overt, anti-Israel bias and twisting of the truth regarding the Arab-Israeli conflict. Now, the unhinged UN Special Rapporteur to the Palestinian Territories Richard Falk, notorious for the anti-Semitic imagery on his blog posts and anti-American conspiracy theories, is at it again, spewing more bias and distorting the facts to twist the roles in the Israeli-Palestinian conflict.
Perhaps to take the spotlight off the increasingly militant proclamations of the Palestinians -- like those who are calling for kidnapping another Gilad Shalit, or for those who incite Gaza schoolchildren to become martyrs and who vow to continue to carry out terrorist attacks-- Falk has twisted the story to paint the victims as Palestinian children and the villains as Israeli settlers.
Prolonged occupation deforms the development of children through pervasive deprivations affecting health, education, and overall security,� UN Special Rapporteur to the Palestinian Territories Richard Falk said in a statement to a General Assembly committee. "The insecurity of Palestinian children is aggravated in the West Bank, including east Jerusalem by settler violence and night time raids and detentions by Israeli occupation forces, house demolitions, threatened expulsions, and a host of other practices,� he added.
There have already been calls for Falk's resignation. But even if he did take a break from his anti-Israel agenda, the UN is filled with way too many like him.
Posted by rh at 07:43 AM | Comments (2)
Released Prisoner Profile: Wafa Bis
Wafa al-Bis is still hoping to fulfill her childhood dream of becoming a shahid (martyr) by killing as many Israelis as she can.
She tried 6 years ago, in June 2005, while on her way to Soroka Hospital in Beersheva from Jabaliya. Bis was undergoing treatments by Israeli doctors on humanitarian grounds for disfiguring burns she had sustained in a cooking accident.
Did she appreciate the kindness and consideration she was shown at the Israeli hospital? On the contrary, she wanted to blow up as many Israelis as possible and what better place than at a hospital, where the bedridden make ideal, sitting targets? Not much likelihood they could escape.
Laden with 10 kg. of explosives sewn into her underwear, she came waddling through a checkpoint only to be stopped by Israeli soldiers suspicious of her unusual gait. She tried to detonate the explosives then and there, but a malfunction occurred and she was arrested instead. She later explained :

My dream was to be a martyr. I believe in death. I wanted to blow myself up in a hospital, maybe even in the one in which I was treated. But since lots of Arabs come to be treated there, I decided I would go to another, maybe the Tel Hashomer, near Tel Aviv. I wanted to kill 20, 50 Jews …even babies...''
Flash forward 6 years: After serving half of a 12-year term in an Israeli prison, she was one of the 477 Palestinians released as the first part of a prisoner deal to free Israeli soldier Gilead Shalit. Greeted by dozens of cheering Palestinian schoolchildren in Gaza, she incited them to become suicide bombers:

I hope you will walk the same path we took and God willing, we will see some of you as martyrs.
She plans to disregard Israel's warning about returning to terrorism. She says:
We will pursue our struggle and (Israeli Prime Minister Benjamin Netanyahu) knows that. Arrests will not deter us from our strong battles and confrontation in the face of Zionist arrogance in the land of Palestine.
Posted by rh at 07:05 AM | Comments (0)
October 20, 2011
Palestinian Prime Minister Admits What New York Times Won't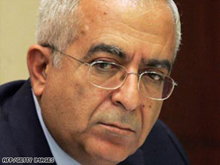 Unlike the New York Times editorial board, which blames only Israel for the lack of peace talks even though the country has repeatedly urged Palestinian leaders to restart talks, the Palestinian Prime Minister is at least willing to admit that his side has some responsibility in the matter.
"My own assessment is that conditions are not ripe, at this juncture, for a meaningful resumption of talks," Fayyad told a black-tie dinner hosted by the American Task Force on Palestine.

"All it is likely to produce under current conditions is defensiveness on the part of the parties ... leading to a positioning game ... to try to establish a position where it is the other' party's fault," he added.
Will the Times, which increasingly seems to pick its Mideast stories based on how closely they hew to the editorial board's political positions, cover Fayyad's statement?
Posted by at 05:16 PM | Comments (1)
An Answer to Jeffrey Goldberg's Question
Since Snapshots is in the question-answering mood — see our most recent post, "An Answer to the New York Times' Question" — let's take a stab at a question posed by Jeffrey Goldberg on his blog today.
Responding to a stunningly surreal article on the Guardian website about the Gilad Shalit prisoner exchange, Goldberg asks the Guardian: "Shouldn't your editors do a better job of masking prejudice on your website?"
The piece he's talking about, by Deborah Orr, slams Netanyahu, and Israel, and Zionists, and implicitly Jews, for trading over a thousand prisoners for Gilad Shalit. Why? Because, Orr argues, it is evidence that those guilty parties believe the "obscene idea that Israeli lives are more important than Palestinian lives." Later in the piece, she substitutes "the lives of the chosen" for her earlier reference to "Israeli lives."
Hamas's hard-line negotiating position is proof of "Zionist" racism? What can one really say about an idea so obviously shaped by blind hatred rather than rationality? It is, in Goldberg's words, "almost-comical nastiness."
So turning back to his question: Shouldn't Guardian editors do a better job at masking prejudice?
No. The Zeitgeist that produces Orr's piece is the same one that colors the newspaper's distorted treatment of Israel in general, and its better for people know it.
Modern haters tend to realize that masked prejudice has more power to influence than the unmasked variety. And if an observer tries to remove the mask, or even just tries to rebut a hateful slur, they're frequently attacked for "using the anti-Semitism card." Better, then, for the hater to remove his or her own mask. If Guardian editors want to make their anti-Israel bigotry more apparent, let them. Hopefully the reasonable public will take note.

Posted by at 12:51 PM | Comments (0)
October 19, 2011
An Answer to the New York Times' Question
Never ones to miss an opportunity to attack Israel, the New York Times editorial board took advantage of Gilad Shalit's release to yet again slam the country in an editorial today.
In it, the writer poses the following question:
One has to ask: If Mr. Netanyahu can negotiate with Hamas -- which shoots rockets at Israel, refuses to recognize Israel's existence and, on Tuesday, vowed to take even more hostages -- why won't he negotiate seriously with the Palestinian Authority, which Israel relies on to help keep the peace in the West Bank?
The answer is quite simple. Israel hasn't engaged in serious negotiations with the Palestinians because Mahmoud Abbas has refused to participate in such negotiations, disregarding a chorus of world leaders who have urged him to talk peace. Abbas has blocked talks with preconditions that even his violent predecessor, Yasir Arafat, didn't insist on.
Posted by at 11:33 AM | Comments (3)
UN Shows Its Bias Again, on Shalit Prisoner Exchange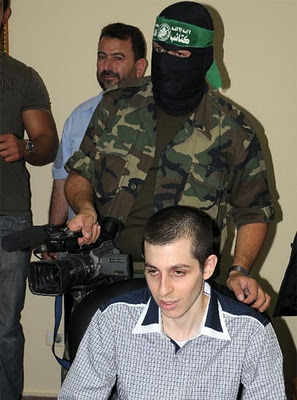 Gilad Shalit, the Israeli soldier who was kidnapped and held in isolation for five years by Hamas terrorists, was finally released in exchange for over 1000 brutal terrorists, many of whom are guilty of the most barbaric slaughter of Israelis. The young captive arrived in Egypt, gaunt, pale and nervous, but before being released to his nation and family, the Egyptian intermediaries and terrorist captors subjected him to yet more stress, barraging him with questions in a television interview as masked Hamas terrorists stood by. Gilad was obviously uncomfortable, struggling for breath as he must have feared that one wrong answer could undermine the entire deal and land him back with his cruel captors.
Did this concern UN representatives? Unsurprisingly not. The only concern voiced was that some Palestinian terrorists who were released in the prisoner exchange may have been deprived of their rights by not having been given a choice on where to go. Navi Pillay, UN High Commissioner for Human Rights, made that clear.
"It was with a sense of great relief that we have received news of the agreement to exchange prisoners. We do however have concerns regarding reports that hundreds of Palestinian prisoners from the West Bank may be released to the Gaza Strip or abroad,� Pillay's spokesman Rupert Colville told Reuters in response to a query. "If in some cases this has been without the free and informed consent of the concerned individuals, this may constitute forced transfer or deportation under international law,� he added. "We are not sure to what extent they consented to this.�
Considering the barbaric crimes for which these terrorists had been incarcerated, their complete lack of repetance, and the Palestinian reception of the prisoners, which include calls for kidnapping "a new Gilad Shalit" and shouts of "Khaybar, Khaybar ya Yahud" (invoked as a reference the ethnic cleansing of Jews by Islamists), the concern of the UN human rights council is truly ludicrous and twisted, raising questions about the council's true goals and motives. Clearly, there is no concern about the human rights or well-being of Israeli victims and captives. The concern is limited to the terrorists' rights. The right to recidivism? Ensurance that the terrorists have full freedom to return to their previous comfortable and familiar bases of operation? Ensuring that the terrorists' ability to attack Israelis remains unimpeded?
No wonder the UN and its so-called "human rights council" has lost any relevancy and has become such a hideous joke.
Posted by rh at 01:32 AM | Comments (2)
October 18, 2011
Egypt Ascends the Pyramid of Hate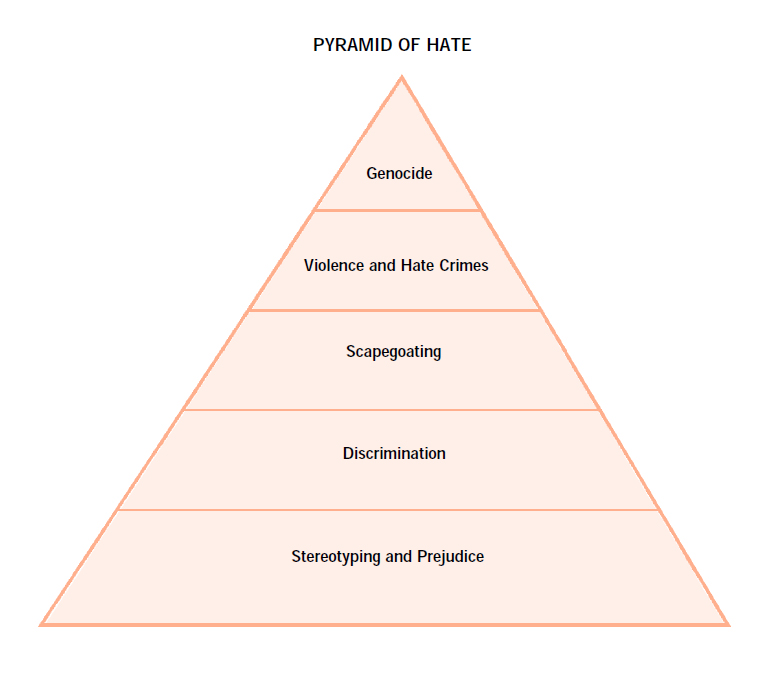 Take a look at the image above.
It's a "Pyramid of Hate� used to educate middle school students in the United States about the process of demonization that precedes mass killings. The image is part of an anti-hate curriculum created by "Partners Against Hate� or PAH for short.
PAH is an initiative funded by the U.S. Department of Justice and supported by a number of organizations including the Anti-Defamation League, the Center for the Prevention of Hate Violence, the Legal Conference on Civil Rights Education Fund. PAH charged with reducing hate crimes in the U.S. The goal of lesson plan in which this pyramid appears is to "examine the escalating nature of hate and to consider the difficulty of stopping the progression once it begins.�
The pyramid describes in a graphic way, the process by which societies fall prey to the impulse to engage in acts of mass violence against minorities.
At the bottom of the triangle, we see preexisting hostility toward the target population. On the next level, we see discrimination and above that, we see scapegoating. Above that are violence and hate crimes, and at the very top we see genocide.
Also included in the lesson plan are questions designed to elicit discussion from the students. One of the questions asks "What are some factors that make it more likely that hate will escalate? (e.g., hate behaviors are tolerated, the media reinforces stereotypes, friends and family agree with and reinforce each other's prejudices)�.
Looking at this pyramid in light of what has happened in Egypt in the past few months is, or at least, should be, a deeply disconcerting experience, in part because it highlights just how vulnerable Egypt's Coptic Christians are to further acts of violence. While its unlikely that Egypt's Copt's will endure a full-scale genocide like the one endured by Jews in Europe, it's entirely reasonable to conclude that we will see ethnic cleansing of Christians in Egypt on a mass scale in Egypt, just as we have in Iraq.

First, Coptic Christians are clearly the target of pre-existing hostility in Egypt. Talk to Coptic Christians living in the United States and they will tell you that Christians are regarded as dirty, unclean by their fellow Egyptians who are Muslim. To be sure, not every Muslim in Egypt feels this way about Copts, but the notion that Christians are unclean is pervasive in Egypt.
Secondly, Coptic Christians are the target of discrimination in Egyptian society and much of this discrimination is sanctioned and imposed by the state. They have been denied the right to build their churches without the permission of the Egyptian President. They have been barred from positions of responsibility in the Egyptian government. The are denied the right to display crosses on their churches or ring bells in their steeples for fear of offending Muslim sensibilities.
We also see violence and scapegoating. Christian women and girls have been kidnapped, raped, and forcibly converted to Islam. We see churches bombed, set on fire and Christians attacked in their homes during what can accurately be described as pogroms.
Coptic Christians have been scapegoated for the violence they have endured on October 9. Writing for Al-Masry Al-Youm Ahmed Zaki Osman reports that a number of columnists are suggesting that "Coptic religious leaders, clergy and intellectuals are responsible not only for the Maspero violence but also for threatening national unity.�
This is all very troubling, but what is even more troubling is the role Muslim religious leaders have played in fueling Egypt's ascent up the pyramid of hate. Attacks on churches in Egypt often take place after Friday prayers during which imams denounce Christians as infidels. Writing about acts of oppression against Christians that took place during the month of September, Raymond Ibrahim reports that:
In a circulated video, the grand mufti of Al Azhar, Ali Goma'a, referred to Christians as "infidels"; in the same vein, Wagdi Ghoneim, a popular cleric and former U.S. imam, called Copts "Crusaders" on Al Jazeera television, insisting that they do not deserve equal rights with the Muslims in Egypt; Abu Shadi, a representative of the Salafis, told Tahrir News that the Copts must either convert to Islam, pay jizya [an increased tax for not being a Muslim], and assume an inferior status, or die.
Just how much further will Egypt ascend up the pyramid of hate?
Posted by dvz at 10:51 AM | Comments (11)
October 17, 2011
Khalidi Lobs Another Canard into the Echo Chamber
When Columbia professor Rashid Khalidi repeatedly promoted a hoax quote meant to impugn Israel, he left some of the world's largest newspapers holding the bag. The New York Times, LA Times and others eventually published corrections to the falsehood Khalidi had them print.
Fact checkers hoping to avoid a repeat might want to check out Martin Kramer's incisive deconstruction of the professor's latest misinformation campaign.
Khalidi, it seems, has taken to claiming that a man named Edward Gottlieb, "one of the founders of the modern public relations industry" and "the father of the American iteration of Zionism,� commissioned Leon Uris to write his famous novel Exodus in order to positively advertise Israel.
After investigating, Kramer concluded:
In sum, the Gottlieb "commission� never happened. Uris's biographers dismiss it, Gottlieb's most knowledgeable associate denies it, and no documents in Uris's papers or Israeli archives testify to it. It originated as a boast by Gottlieb to another PR man, made almost thirty years after the (non-)fact. And given its origin, it's precisely the sort of story a serious professional historian would never repeat as fact without first vetting it (as I did).

Yet it persists in the echo chamber of anti-Israel literature, where it has been copied over and over.
Posted by at 03:00 PM | Comments (2)
October 16, 2011
Occupy Wall Street Protests: Anti-Jewish/Anti-Israel -- or Not?
Crowds participate in the Occupy Wall Street campaign
The ADL reports the tenor of the Occupy Wall Street protests is unclear -- noting some commentators describe attending numerous benign gatherings, free of anti-Semitism, while others cite the rabid anti-Jewish ravings seen on the internet.
Whether anti-Jewish rhetoric is on the fringe or more commonplace, it's clear publicity about the presence of bigots raises concern -- including with certain extreme left, anti-Israel elements among OWS advocates.
An interview with anti-Israel radical Arun Gupta on the RT network (Russian Television) illustrates the effort to dispel any stigma of anti-Semitism. Gupta, who contributed, for instance, to a volume of anti-Israel essays about the 2010 effort to land a flotilla in Gaza (Midnight on the Mavi Marmara) along with Noam Chomsky, Rashid Khalidi and Norman Finkelstein, among others, understands crude attacks on Jews are repugnant to most Americans, including, needless to say, Jewish Americans,some of whom might be active with OWS.
Gupta ducked discussion of one troublesome matter -- reports the far-left, anti-Israel Adbusters magazine was an originator of the anti-Wall Street effort. Adbuster editor Kalle Lasen publishes a lot of crude material, some of it anti-Jewish and a lot of it anti-Israel, including an article comparing Gaza and the Warsaw Ghetto and various others.
Posted by AL at 08:52 PM | Comments (6)
Hamas Sees Shalit Deal as Victory,Vows More Kidnapping
While there are mixed feelings in Israel about the prisoner exchange deal to release Gilad Shalit--setting free over 1000 Palestinian prisoners -- Hamas leader Khaled Meshaal proclaimed the deal "a great victory" and already, a spokesman for Izzadin Kassam, the armed wing of Hamas, announced that Shalit "will not be the last soldier kidnapped by Hamas as long as Israel keeps Palestinian prisoners detained."
Meanwhile Israel at least partially acceded to Hamas' demand that it not target any of the realeased prisoners. Israel agreed not to target anyone unless they are involved in new terror attacks.
Among the terrorists said to be released are those involved with the planning and execution of the Sbarro attack, the Dolphinarium disco attack, the Passover massacre at the Park Hotel, the Moment Cafe attack, Ramallah lynching, among others.
While bereaved families of the terror victims are appalled and outraged, and more and more are petitioning the court not to release these unrepetant terrorists, still others are fighting against the petition not to release the prisoners.
Posted by rh at 05:41 PM | Comments (1)
October 12, 2011
Open Letter to the Founder of USA Today Concerning C-SPAN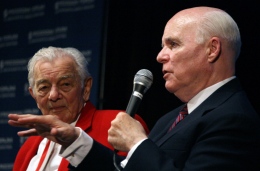 Al Neuharth and Brian Lamb (photo: Rob Nielsen, Univ. of S. Dakota, Oct. 6, 2011)

Al Neuharth
USA Today
7950 Jones Branch Drive
McLean, VA 22108
(public relations office: 703-854-5304)
Dear Mr. Neuharth,
Concerning your commentary in USA Today, Friday, October 7, 2011 – "C-SPAN founder lets you judge the news� – regarding Brian Lamb, founder and CEO of C-SPAN, you wrote:
Many or most TV cable news personalities put their own slant on things. From right-wingers on Fox to left-wingers on MSNBC, they often mislead you with slanted stuff. One longtime major exception, who thinks you should get news straight so that you can make your own judgments, was honored here Thursday night at my alma mater, the University of South Dakota. He's the founder, chairman and chief executive officer of C-SPAN, Brian Lamb. For more than 32 years, C-SPAN has given you fair and unfiltered coverage of top government and political news. When Lamb started C-SPAN in 1979, he had a staff of four. Now the staff numbers 275. Among its innovations is gavel-to-gavel coverage of the U.S. Congress. Lamb is the 25th winner of the Al Neuharth Annual Award presented for "A Lifetime of Excellence in Journalism."
However, there's a major problem at C-SPAN of which you were apparently unaware. The problem was addressed recently by the Washington Director of CAMERA, Eric Rozenman, writing to Washington Post Columnist Thomas Heath regarding Heath's generous praise for C-SPAN founder Brian Lamb:
However, you apparently were unaware of a disturbing development at C-SPAN. Over the past three years or so, its daily public affairs television program, "Washington Journal,� has become a soap box for antisemitic, anti-Zionist viewers. They regularly abuse the call-in portion to voice not merely criticism of Israeli policy, but rather to assert anti-Jewish and anti-Israeli conspiracy theories, reiterate classic antisemitic stereotypes, and incite hostility against Jews and the Jewish state.

"Washington Journal� hosts generally sit mute during such rants. Rather than challenge unsubstantiated allegations or terminate the calls, they typically let them continue unimpeded. Sometimes the hosts ask follow-up questions that illicit more bigoted fulminations. Callers violating C-SPAN's ostensible "one-call-per-30-days� rule regularly get through. Occasionally, if unconvincingly, they attempt to disguise their voices and location; at other times they do not bother. Hijacking the announced subject for off-topic tirades often is tolerated. No other country or minority group is regularly subjected to such vituperation on "Washington Journal� – only Israel and Jews.

A sample of the remarks in question, from CAMERA's "C-SPAN Watch� feature on our Web site, www.camera.org :

* America was "Jewed� into war in Iraq;
* The Jews "are Satan�;
* Israel was behind 9/11;
* The Jews control Congress, the banks and the news media;
* We should be bombing Israel, not Libya;
* The Talmud teaches that all Gentiles must be killed;
* Hitler was a self-hating Jew; and
* Israel and American Jews want to drag American into war against peaceful Iran.

C-SPAN executives, including Brian Lamb, have stone-walled CAMERA requests to discuss remedying this problem, perhaps by instituting a 5-second delay. Mr. Lamb and his colleagues have refused to answer letters, phone calls or e-mails on the subject.

"Washington Journal� has become a magnet for anti-Jewish, anti-Israel calls, airing literally hundreds in the past three years. By tolerating them, it has encouraged more of the same.

Regular transmission of antisemitic bigotry has become the otherwise highly-reputed C-SPAN's dirty little secret. This blot on the network's record is no longer little, and if it is to be removed, should no longer remain secret. I trust you will return to this topic in a pending column. Please don't hesitate to contact me, and, in the meantime, I trust that you will consult "C-SPAN Watch� at our Web site.

Likewise, Mr. Neuharth, we trust that you will return to this topic in a forthcoming commentary.
Sincerely,
CAMERA

Posted by MK at 05:44 PM | Comments (0)
Another Example of the WCC's Double Standard
One of the most troubling aspects about the witness offered by the World Council of Churches about life in the Middle East is the double standard it uses to assess the actions of Israel and its neighbors.
It has become axiomatic that when the WCC feels it necessary to condemn Israel, it speaks loudly and unequivocally about the terrible things done by the Jewish state. There is no confusion about what the WCC is trying to say.
By way of comparison, when one of Israel's neighbors does something obviously wrong, the WCC descends into pious incomprehensibility that leaves readers wondering exactly who did what to who?

This phenomenon is highlighted in two posts the WCC's Twitter feed. A few hours ago, the World Council of Churches (which goes by @oikoumene on twitter, reposted a "tweet� from the Ecumenical Accompaniment Program in Palestine Israel (@eappi) condemning Israel for demolishing "36 structures including 12 homes, displacing 35 people and affecting at least 207 others.� Such are tweets par for the course for the EAPPI, one of two WCC bureaucracies dedicated to assailing Israeli policies regarding the Palestinians. (The other is the Palestine Israel Ecumenical Forum.)
Given that Twitter messages are limited to 140 characters, it is unreasonable to demand that the World Council of Churches provide any background about the home demolitions. It's possible (and entirely likely) that the homes were built illegally, without a permit.
The fact is, people lost their homes.
This is sad and tragic.
Underneath this tweet is another one declaring that the World Council of Churches "prays for #peace & nonviolence especially in #Egypt, #Philippines, #Zimbabwe�.
The tweet then provides links to two articles describing the violence in Egypt that killed more than 24 people – the vast majority of them Coptic Christians – on Oct. 9, 2011.
What is remarkable about this tweet is the lack of any condemnation of the Supreme Council of the Armed Forces – which governs Egypt – for failing to protect the lives and property of Coptic Christians in their homeland. Coptic Christians have been subjected to mob violence on a regular basis in Egypt and the best the WCC can do is offer up bland prayers for peace in Egypt and throw in a reference to violence in the Philippines to boot.
Coptic Christians were run over and had their bodies crushed by armored personnel carriers during Sunday's violence. Television stations were ransacked by security personnel seeking to confiscate footage of this outrage.
Eyewitnesses have reported seeing bodies of Coptic Christians dumped into the Nile River.
Before Sunday's violence, Egyptian soldiers were caught on tape beating a Coptic Christian in a manner reminiscent of the attack on Rodney King in Los Angeles in 1992.
Churches have been regularly burned in Egypt.
Coptic Christians are demonized on Egyptian television and on the internet by Muslim extremists, accused of kidnapping Muslim women and forcing them to convert to Christianity, when in fact it is Coptic women and girls who have been raped and abducted and forced to convert to Islam by their neighbors.
Coptic Christians are leaving Egypt in droves.
Events like this are happening on a regular basis in Egypt and the WCC, founded in the aftermath of the Holocaust, which began with events like those described above cannot bring itself to express the horror that such actions should elicit.
But when Palestinians have their homes demolished – which is tragic – the WCC throws itself into a high dudgeon.
There are a number of targets in Egypt worthy of the WCC's ire. The Supreme Council of the Armed Forces that has governed Egypt since Mubarak's ouster in February deserves condemnation. So does the Muslim Brotherhood and their Salafist rivals in Egypt who have incited hostility toward Coptic Christians in such a manner so as to make violence against Christians in Egypt an inevitability.
Egypt – home to the largest population of Christians in the Middle East – is careening toward catastrophe and the World Council of Churches cannot speak in a forthright manner about what is happening. Neither can the National Council of Churches in the U.S., nor any of the mainline Protestant churches in the U.S. that have assailed Israel so frequently and so vociferously in the past few years.
B'Nai Brith and the American Jewish Committee have condemned the outrage, while Christian organizations have remained largely silent. The historical record indicates that when and if these Christian institutions do issue statements, they will likely be appeasing and mollifying, written so as not to offend the sensibilities of Muslim interfaith partners.
The record shows quite clearly that the sensibilities of Jews have not mattered much to these institutions when they felt it was time to condemn Israel for its actions.
In its defense, the WCC and other institutions will assert that expressing outrage over events in Egypt will make life unsafe for Christians in that country.
The conclusion is pretty obvious: The easiest way to silence the prophetic voice of Christian institutions in the West is to threaten violence against Christian populations in the Middle East. The Soviet Union used this strategy with great effectiveness during the Cold War. Now it's being done today by non-state actors in the Middle East.
This is more than a scandal or stumbling block to Christian-Jewish relations.
It is also a scandal of Christian-Muslim relations.
If the WCC is to be an honest dialogue partner with Muslim leaders, it has an obligation to speak forthrightly about the mistreatment of Christians in Muslim majority countries in the Middle East and the rest of the world.
The WCC owes Muslims the truth, not silence, about the horrors done in the name of Islam.
Sadly, it appears that the truth is one thing the WCC cannot offer.

Posted by dvz at 01:06 PM | Comments (11)
October 09, 2011
CNN Ignores Attack on Jaffa Synagogue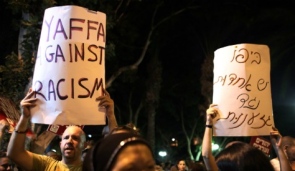 A Molotov cocktail was thrown at the synagogue reportedly during a demonstration (pictured here) against the desecration of Arab graves (Photo by Daniel Bar-On)
While we're on CNN's coverage of attacks on holy sites in Israel, an article today on desecrations of Muslim and Christian graves in Jaffa ignores a Molotov cocktail attack on a synagogue in the very same city. Thus, Dan Morgan and Kevin Flower report:
Less than a week after the arson of a mosque in northern Israel, dozens of Christian and Muslim graves were vandalized in an Arab section of the Israeli city of Jaffa.

More thahan 100 graves were vandalized in the Muslim cemetery of al-Kazakhana and at a nearby Christian cemetery in the Ajami neighborhood of Jaffa, according to residents and a CNN producer who visited the locations.

Some of the graves were spray painted with graffiti while others were smashed.
Meanwhile, CNN completely ignores last night's attack on the Ba'al Hanes synagogue, a rather relevant incident in the context of an article about attacks on sacred sites in Jaffa. As Ha'aretz reports:
About 200 Arabs and Jews gathered in Jaffa on Saturday night to protest the desecration at the cemetery and calling for an end to violence and racism. At one point during the demonstration, a Molotov cocktail was thrown at the roof of Rabbi Meir Ba'al Hanes synagogue in Jaffa. The building was empty at the time and there were no reports of casualties. Firefighters, police and medical teams were rushed to the scene.
Posted by TS at 08:44 AM | Comments (1)
CNN Misidentifies Arson Suspect as Settler
Before there was even a suspect, the BBC blamed the Tuba Zanghariya mosque arson attack, in northern Israel, on a settler. Now, it has been reported that a suspect has been arrested, and that he is not a settler, but a youth from northern Israel who studies in the West Bank yeshiva of Yitzhar.
But that hasn't stopped CNN from falsely reporting:
Israeli media sources said he is a Jewish yeshiva student from the northern West Bank.
Posted by TS at 07:57 AM | Comments (4)
Media in the Service of King Abdullah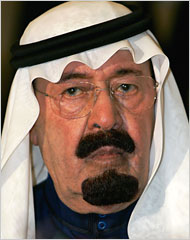 Writing in Ha'aretz, James Kirchick of the New Republic notes a media cover up which transforms Saudi Arabia's King Abdullah in a progressive reformer promoting feminism:
To fully appreciate the king's liberalism, witness his latest announcement, made before the Shura council of advisers. "We refuse to marginalize the role of women in Saudi society," the king declared. And so he took the bold step of granting his women (the possessive pronoun is crucial; neither Saudi women, nor men, are "citizens" in the true sense of the word ) the right to vote - in meaningless municipal elections, in 2015, and only if they receive the permission of a male relative.

That last condition has gone practically unreported in the international media, which have covered these latest developments with the sort of gravity that is reserved for actual, people-driven upheavals in the rest of the Arab world. Indeed, one could be mistaken for thinking that King Abdullah is a genuine reformer, given all the favorable attention he has received of late.

Last December, Businessweek praised the king as a "vigorous and progressive leader." A writer for the Global Post website, prompted by the king's recent announcement, says that Abdullah is leader of the "progressive faction of the ruling family" (presumably, that's the one that favors mere lashings, as opposed to decapitation, for homosexuals ). Reuters claimed that the king had "lived up to his reformist reputation" with his "liberal shift."

The same press that lauds a man whose regime bans the construction of Christian churches and prohibits the entry of Jews into the kingdom sees Benjamin Netanyahu and Avigdor Lieberman as the real fanatics of the Middle East.

To be sure, in the desert despotism of Saudi Arabia, words like "progressive" and "reformer" are relative. But they lose their meaning when applied to individuals who are religious fundamentalists. (Emphases added.)
Posted by TS at 04:57 AM | Comments (0)
October 03, 2011
Should Fareed Zakaria Have Challenged Erdogan's False Accusation ?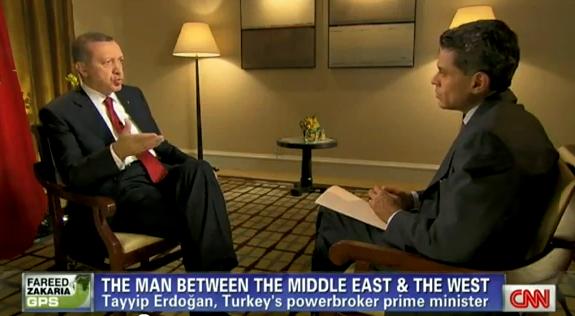 As CAMERA reported, CNN's Fareed Zakaria issued a correction of the incendiary statement made on his show by Turkish Prime Minister Recep Erdogan accusing Israel of killing hundreds of thousands of Palestinians. Zakaria says the problem was a faulty translation of Erdogan's statement. While it is commendable that Zakaria issued the correction, by defining the problem as a faulty translation, he sidesteps his own responsibility as interviewer and host to directly challenge what at the time appeared to be a defamatory accusation.
Erdogan's statement, as it was translated and broadcasted, accuses Israel of perpetrating massive and indiscriminate killing. Zakaria offered no challenge to Erdogan. If he had, Erdogan could have clarified or corrected what he said or Zakaria could have exposed his statement as libelous.

There are three possible explanations as to why Zakaria did not challenge Erdogan at the time. None of these explanations presents Zakaria in a favorable light.
1) He did not want to confront the Turkish Prime Minister while interviewing him. If that is true, then Zakaria's reputation as an incisive interviewer who challenges his guests is diminished.
2) He did not know that Israel has not killed hundreds of thousands of Palestinians. If that is true, then his reputation as a maven of international politics has been dealt a blow.
3) He wasn't paying attention or didn't consider it important enough to challenge Erdogan. If that is true, then his competence and integrity as a journalist are open to question.
Rather than simply blame it on mistranslation, Zakaria should have been more forthcoming and admitted an error of judgement.

Posted by SS at 03:13 PM | Comments (6)
Civil Rights Investigation against Columbia University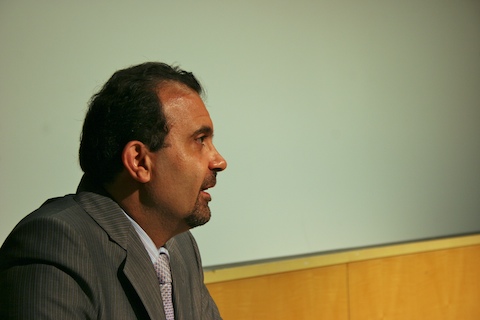 The US Department of Education's Office for Civil Rights (OCR) has opened an investigation of Columbia University upon the request of The Institute for Jewish and Community Research (IJCR). The OCR is investigating allegations that university faculty "steered" a Jewish student away from taking a class.
In January, the student got some troubling guidance from Barnard's Middle East studies department chair. The young woman told the chair that she was interested in taking a course on the Arab world with Prof. Massad, who is notorious for his animosity towards Zionism. Massad, whether fairly or not, has been repeatedly accused of anti-Semitism. The chair looked at the young woman, whose Orthodox background is apparent in her modest attire. Then, as the student tells the story, the chair told her that she would not be "comfortable� in Massad's class and that she should instead consider a course on Ancient Israel.
According to Professor Kenneth Marcus, the Director of IJCR and the former head of OCR, Columbia violated the Jewish student's civil rights under Title VI of the Civil Rights Acts of 1964 by deterring the student from taking the class.
By suggesting that a Jewish student may feel uncomfortable in Professor Massad's class, Columbia faculty are implicitly acknowledging allegations that Massad creates a hostile environment for Jewish and pro-Israel students. But instead of creating classroom environments where all student feel welcome, Columbia seems to think segregation of Jews might be the solution.
Posted by abs at 02:28 PM | Comments (3)
BBC Blames 'Settlers' for Arson Attack, in Northern Israel (Updated)
At some media outlets, you can count on Jewish settlers being blamed for any wrongdoing, whether or not they were they were involved. There was the time, for instance, that the New York Times falsely blamed a settler for the assassination of Prime Minister Rabin. Today, a BBC subheadline blames an arson attack in the Galilee, in northern Israel, not in the West Bank, on "settlers."

Update: The BBC has amended it's prejudicial wording. The subheadline now reads: "A mosque in northern Israel is torched and sprayed with graffiti in a suspected attack by Jewish extremists, triggering protests."
Posted by TS at 09:28 AM | Comments (1)
CNN Corrects Mistranslation of Erdogan
CNN's Fareed Zakaria last night aired the following correction, noting that the network mistakenly translated a statement by Turkish Prime Minister Recep Tayyib Erdogan in a Sept. 25, 2011 interview concerning the number of Palestinians killed by Israelis:
One note about last week's interview with Turkish Prime Minister Erdogan before we get on with the show. The translation heard on the show had Mr. Erdogan saying that hundreds of thousands of Palestinians had been killed by Israel. That's how Mr. Erdogan own official translator translated his boss' words. We had an outside translator to check the translation, and that's how she translated it, as well. There was critical reaction to the remarks, including from Israeli Prime Minister Netanyahu who told the "Jerusalem Post" that Israel, quote, "Certainly has not taken the lives of hundreds of thousands of Palestinians," unquote. That prompted us to seek a new translation and a re-examination of the tape shows that Mr. Erdogan actually said, quote, "Hundreds, thousands, tens of thousands of Palestinians were killed," unquote. Not, "hundreds of thousands." We hope this clarifies the matter, and we regret the error.
The Jerusalem Post's article about the mistranslation is here.
Here is the Sept. 26 interview:

Posted by TS at 07:12 AM | Comments (3)