« Reuters Conceals Questions About Credibility of "Expert" Falk | Main | Apartheid Palestine – Not in Washington Post or New York Times »
September 14, 2011
The Central Obstacle to Peace: The Ongoing Rejection of Jewish Sovereignty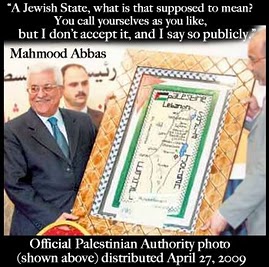 Israel's Deputy Foreign Minister Danny Ayalon has released a new YouTube video, which demonstrates, in historical detail, that the essence of the Arab-Israeli conflict is the ongoing rejection of Jewish sovereignty and self-determination in the land of Israel.
Posted by at September 14, 2011 12:23 PM
Comments
This is a wonderful video that provides a simple explanation of Israel's position. It should be widely disseminated to many segments of our society-- including high school and college students.
Posted by: Joel Ziegler at September 15, 2011 07:57 PM
Posted by: Anonymous at October 31, 2011 01:16 AM
Guidelines for posting
This is a moderated blog. We will not post comments that include racism, bigotry, threats, or factually inaccurate material.
Post a comment