« Free Speech 'Authority' Levels Baseless Charge | Main | Updated: CNN Conceals Islamic Jihad Casualties »
August 26, 2011
New York Times Calls Attack Against Israel "Terrorist"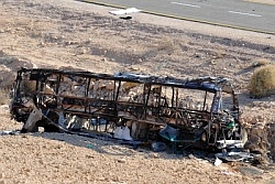 CAMERA has repeatedly criticized the New York Times for not -- even twisting themselves into knots to avoid -- labelling obvious terrorist attacks as "terrorist". (See, for example, "The New York Times and Itamar", "Double Standards on International Terrorism at the New York Times and AP", "New York Times Apologetics for Terror", In New York Times, Hamas Attacks are "Armed Resistance'", "New York Times Whitewashes Palestinian Terrorist Groups Again", among other critiques.)
The newspaper, however, has begun to correctly refer to the most recent, multi-pronged terrorist attacks near Eilat as just that -- "terrorist attacks".
On August 20, 2011, an article by Heba Afify and Isabel Kershner began:
A cross-border terrorist attack and an Israeli retaliation that left three Egyptian officers dead are threatening to undermine a decades-old cold peace between the two countries that had already begun to fray since the revolution that ousted President Hosni Mubarak of Egypt.
And later:
The Israeli military said its aircraft hit terrorists preparing to launch rockets at Israel from three separate locations on Friday afternoon and evening.
An article today by Fares Akram about retaliatory strikes by Israel mentioned "terrorist attack" several times:
The recent round of violence started a week ago, with a terrorist attack on southern Israel in which eight Israelis were killed.
Israeli officials said the perpetrators and planners of the terrorist attack were originally from Gaza, and Israel has retaliated with strikes that have killed at least 23 Palestinians.
And:
Israel's first retaliatory strike in Gaza killed leaders of the Popular Resistance Committees, a pro-Hamas group that Israel said was behind the terrorist attack.
Hopefully, this marks the beginning of more accurate reporting by the Times.
Posted by RH at August 26, 2011 10:37 AM
Comments
Guidelines for posting
This is a moderated blog. We will not post comments that include racism, bigotry, threats, or factually inaccurate material.
Post a comment