« Assad Murders, WCC Tweets | Main | Extremist Trends in Tahrir Square »
August 05, 2011
Nabi Saleh and a Photographer's Charge Against the IDF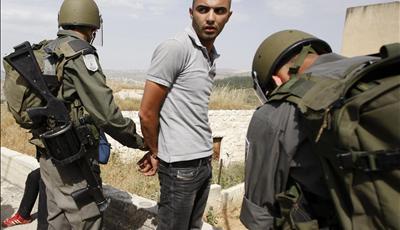 Israeli border police officers stand next to a detained Palestinian protester during clashes at a weekly protest in the West Bank village of Nabi Saleh, May 27, 2011 REUTERS/Mohamad Torokman
The West Bank village of Nabi Saleh has become the focal point for what Palestinian activists there are calling the start of "something big...Like a third intifada.� The initial cause of the weekly protests was the seizure of a spring, and while Palestinians acknowledge that Israel's Civil Administration "was ready to offer the spring back to the village in exchange for an end to the demonstrations," they refused, escalating the confrontations and adopting a much more ambitious goal -- "to bring down the occupation." (See "Nabi Salih, A Growing Movement")
Photographers gather every week in Nabi Saleh to record the clashes and B'Tselem has equipped Palestinian activists with cameras to document alleged abuses on the part of Israeli soldiers in the area. CAMERA has highlighted one instance in which a B'Tselem photographer abused the project, staging a scene in Nabi Saleh.
Now, an American-Israeli photographer charges Israeli soldiers with deliberately targeting him and other photographers in Nabi Saleh with tear gas and stun grenades. He accuses the soldiers of directing a sustained attack against the photographers for 3-5 minutes. No one was hurt, and no photographs or videos of the incident have been released. The IDF Spokesman's Office claims that "full information on this incident was not submitted" making it impossible to examine the complaint. Meanwhile, an organization called the International News Safety Institute is lumping together this complaint against Israeli soldiers with one against NATO forces in Libya which carried out an airstrike on the Tripoli headquarters of the state television station, killing three members of the press and wounding 21.
Posted by RH at August 5, 2011 01:00 PM
Comments
The photographer, according to the Jeruzalem Post, was there with a group of other journalists, who were all attacked. All these journalists with (photo0 cameras being attacked for 3 to 5 minutes, and not one photo has been produced? Sounds fishy.
Posted by: Ron at August 8, 2011 06:14 AM
Guidelines for posting
This is a moderated blog. We will not post comments that include racism, bigotry, threats, or factually inaccurate material.
Post a comment