« EAPPI's Narcissistic Grandstanding | Main | Is there a debate over Sabeel in the Netherlands? »
August 10, 2011
In Memory -- Bernadine Healy Fought Exclusion of Israel from ICRC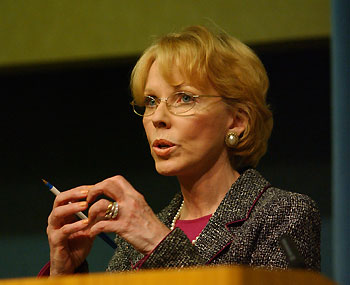 A fearless and outspoken former president of the National Institutes of Health and the American Red Cross, Dr. Bernadine Healy died August 6, 2011 of brain cancer. At the helm of the Red Cross, Dr. Healy championed efforts to end the exclusion of Israel's Magen David Adom from membership in the International Red Cross, cutting US funding to the international body.
Two months after assuming command of the American Red Cross in September 1999, Healy flew to Geneva to address a large assembly of the International Red Cross movement. And, in the eyes of international officials, she charged in like a bull in a china shop.

''She comes in and makes a speech in which she harangues the assembled membership about the inequity of the exclusion of M.D.A. and how the American Red Cross is going to make inclusion happen now, whether we liked it or not,'' said Christopher Lamb, an executive of the international federation. ''She spoke about the movement, describing everyone as cowards and failures and people who didn't understand.''
Lawrence Eagleburger wrote in a Washington Post op-ed column
that Healy simply refused to turn ''a blind eye on a moral wrong.'' And persuaded by her passion, the American Red Cross board went right along with her. It agreed to start withholding its $4.5 million annual dues to the international federation; that money is 25 percent of the federation headquarters' budget.
On June 21, 2006, Israel was finally admitted as a full member to the ICRC. Dr. Healy's unequivocal leadership years earlier gave crucial impetus to that outcome.
She will be remembered for many achievements, among them her moral clarity and courage.

Posted by AL at August 10, 2011 06:13 PM
Comments
Dr. Bernadine Healy was a brilliant and outstanding physician, scholar and public servant. She was not only a highly principled person, but she had the ability and initiative to fight for what she consider right and proper. Her death is a loss of our Country, as well as to the medical profession and her colleagues.
Posted by: Albert J Miller, M.D. at August 11, 2011 05:19 PM
The principled stand taken by Dr. Healy should be business as usual, but unfortunately, when someone does the right thing, it is the exception and is celebrated for its uniqueness.
Posted by: Steve Eisenberg at August 11, 2011 06:15 PM
May her memory be a blessing.
Posted by: Anonymous at August 11, 2011 09:21 PM
I remember when Dr. Healy was the Director of NIH and she courageously addressed issues of women's health by developing and implementing the Women's Health Initiative..she was also courageous in addressing the problem of sexual harassment and discrimination at NIH. Of course what Dr. Healy did when she was the head of the Red Cross in responding to the exclusion of the MDA also shows her fairness and integrity. I remember her as a great physician and leader.
Posted by: Sandra at August 13, 2011 10:22 PM
Can I submit without URL?
Posted by: Gina F. at August 26, 2011 12:38 PM
Was she the one who was fired by the Red Cross for criticizing the Islamic Red Crescent? Or I am thinking of somebody else? Please advise.
Posted by: Gina F. at August 26, 2011 12:41 PM
Gina,
1) You can submit without a URL.
2) During her tenure as president of the American Red Cross, Dr. Healy's support of Israel's efforts to have its Magen David Adom join the international Red Cross and Red Crescent societies caused a lot of bad feeling among international Red Cross/Red Crescent members who wanted to keep Israel out. This may have been part of why Dr. Healy was forced out. She had said, however, that she was forced out in part over differences about what to do with nearly $500 million that the Red Cross raised following the 9/11 terrorist attacks.
Posted by: rh at August 26, 2011 01:15 PM
I was blessed to meet Dr Healy as a cardiology fellow at Johns Hopkins in the late 70's. As with so many others she had a strong and everlasting effect on my life. We believed so much in her that we raised money for her campaign for the US senate.We have seen one of the world's great physicians pass.
Posted by: Joseph M. Vinci M.D. at September 21, 2011 05:20 PM
Guidelines for posting
This is a moderated blog. We will not post comments that include racism, bigotry, threats, or factually inaccurate material.
Post a comment