« NPR Counter-Terrorism Series Omits Inconvenient Truths | Main | Study: NY Times' Israel Obsession Half a Century Old »
July 25, 2011
Ayalon Video Sparks Furious Reaction by Palestinians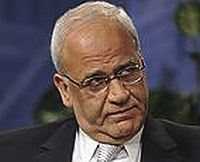 Saeb Erekat
Israeli Deputy Foreign Minister Danny Ayalon's video explaining the origin and inaccuracy of the terms "West Bank", "occupied territories" and "67 Borders" has sparked an enraged reaction by Palestinians. In a somewhat hysterical sounding press release, Palestinian negotiator Saeb Erekat expressed the Palestinian leadership's "shock" and outrage over the video, and stated that
With this video, the Israeli government has left no doubt on its pro-conflict agenda. Now, the international community knows the Israeli government is committed to denying the Palestinian people their inalienable right to self-determination and on continuing their illegal and colonial enterprise in the occupied Palestinian territory.
He called on the international community to
to demand an official explanation from the Government of Israel regarding this video, which openly expresses hostility towards the Palestinian people and their legitimate national rights to independence and self-determination.
For his part, politician Danny Ayalon reacted to the Palestinian press release by pointing to what he called Erekat's false claims and asserting that
For too long the Palestinian narrative of international law and rights has gone unchallenged, and this over the top reaction to a public diplomacy video proves that they are acting like spoilt children who have had their way for too long.
Posted by rh at July 25, 2011 02:06 PM
Comments
This approach to public diplomacy has been missing for far too long from the Israeli arsenal. I wish that the GoI would release a video per week that confronts the fallacies that people accept as facts in the Middle East.
Posted by: Korzib at July 26, 2011 12:02 AM
Minister Ayalon, in the spirit of FLAME's "You deserve a factual look at ... " calls it as it is. Kudos to him! Some people just refuse to let honest facts get in the way of their spin on the truth!
Posted by: Oscar Pockle at August 4, 2011 09:49 PM
Did you really expect any other reaction from Saeb Erekat He is and always has been anti-Israel and supports terrorism irrespective of what he may say every now and then to the media

Posted by: Spencer at August 5, 2011 01:14 AM
Guidelines for posting
This is a moderated blog. We will not post comments that include racism, bigotry, threats, or factually inaccurate material.
Post a comment