« Federman "Fact-Checks" Netanyahu, Promotes Hamas | Main | One thing in Arabic, Another in English … at MIT? »
May 31, 2011
Border-Line Projection at the NY Times
On Friday, the New York Times published an editorial accusing others of twisting President Obama's words:
Only a few minutes after President Obama finished his carefully balanced speech on the Middle East last week, Republican presidential candidates and lawmakers began twisting his words to suggest that he was calling for an epochal abandonment of Israel. . . .

Tim Pawlenty wrongly said Mr. Obama had called for Israel to return to its 1967 borders. . . .
That accusation is a bit rich considering that the New York Times was one of the major media outlets to first come out with fast and furious reports distorting Obama's words.
As reported earlier by CAMERA, many mainstream media outlets, the New York Times among them, claimed that Obama called for an Israeli withdrawal to "1967 borders," when his language correctly referred to "1967 lines." (The difference is significant; No border existed between Israel and the West Bank before the 1967 war. The lines, established April 3, 1949 by Article III of the Israel-Jordan Armistice Agreement, are not borders but armistice lines, temporary boundaries to be replaced in the future by a negotiated, internationally recognized border.)
See, for instance, this article by Mark Landler and Steven Lee Myers, which, in the headline and repeatedly throughout the text inaccurately refers to "1967 borders" or "pre-1967 borders."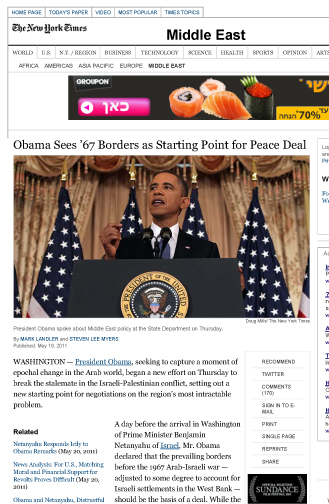 The Times' Helene Cooper was also a repeat offender, repeatedly distorting the President's words.
Before pointing the finger at others, the New York Times should take a careful look at its own coverage.
(Hat tip: Mordy)
Posted by TS at May 31, 2011 06:33 AM
Comments
Guidelines for posting
This is a moderated blog. We will not post comments that include racism, bigotry, threats, or factually inaccurate material.
Post a comment