« Comcast Decides Not to Carry Al Jazeera | Main | Explicit Hamas, Vague Hamas »
May 10, 2011
Extremists Can Tweet, Too, Jason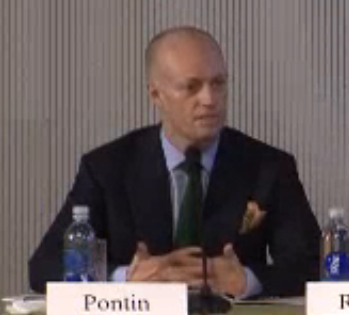 Jason Pontin, editor-in-chief and publisher of MIT's Technology Review
Given his position as editor-in-chief and publisher of Technology Review, a magazine published by the Massachusetts Institute of Technology (MIT), it would seem reasonable that Jason Pontin would bring a journalist's sensibility and curiosity to a panel about Egypt that he moderated at the school's Center for International Studies (CIS) on April 29, 2011.
He didn't.
Pontin had an opportunity to ask some important questions about the direction Egypt is headed because he was moderating a panel with Ahmed Maher and Waleed Rashed, both part of the April 6th Youth Movement which played a crucial role in the ouster of Egyptian President Hosni Mubarak. The internet played a crucial role in their strategy. (Video of the 90-minute event can be seen online here.)
With his obsession on how activists used Facebook and Twitter to achieve Mubarak's ouster, Pontin failed to ask some of the most basic questions about where the revolution is headed.
For example, Pontin failed to ask how Salafists and the Muslim Brotherhood are using the technologies the April 6th Youth Movement used to achieve Mubarak's ouster.
It's not pretty.
Even a cursory examination of Facebook, You Tube, and Twitter will reveal that these technologies are being used to foment hostility toward Christians in Egypt – and the rest of the Middle East. For example, if you search Twitter with the hashtag #freemysister, you will see numerous postings about the alleged kidnapping of Coptic converts to Islam by the Coptic church in Egypt. These accusations are, by most accounts, ridiculous. Nevertheless, these accusations have been used to incite anti-Coptic violence in Egypt. Churches are set on fire because of these accusations – broadcast on the very same technology used to initiate Mubarak's ouster. This is a crucial issue, but it didn't come up at all during the panel discussion.
The reality that Pontin seemed to miss altogether is that extremists can use the internet too. It's not as if access to the internet is limited to charismatic young activists intent on ousting a dictator. Just to drive the point home, an offshoot of Al Qaeda recently posted the names, addresses, phone numbers and photos of Coptic Christians living in Canada in a clear effort to intimidate this community into silence.
This reality was not addressed in any way shape or form during the panel. In fact, in nearly 90 minutes of discussion, the Muslim Brotherhood was not even mentioned, nor was their any mention of the Salafists who recently took over a mosque in Cairo and have been attacking Christian churches and Christian residences in Egypt.
To make matters worse, when an American Copt raised four substantive questions about the rights of Coptic Christians in Egypt and the prospects for continued peace between Egypt and Israel, (at about 1 hour and 10 minutes into the panel) Pontin narrowed the discussion down to two of the four questions. Why?
A careful viewer with even a passing knowledge of what's going on in Egypt would come away from the panel with some very troubling questions about exactly what is going on in Egypt these days.
First off, the presenters stated that only about 30 or 40 percent of the Egyptian population has access to the Internet and that approximately 30-40 percent of the Egyptian people are illiterate.
In an environment such as this, people who control radio and television have great influence – as do another group of people – the clerics from the Muslim Brotherhood and Salafists who control mosques throughout the country. Maybe mosques are too primitive and low-tech to warrant Pontin's interest, and maybe he's bored with traditional mass media but mosques, television, and radio still play a crucial role in the political communication in Egypt.
Another questioner raised a troubling issue that went unnoticed by Pontin. At about 1 hour and 20 minutes into the event a member of the audience asked the panel about the passage of a referendum determining how elections will proceed in the country.
The questioner, an Egyptian who clearly supported the revolution, reported that while political activists who worked to achieve Mubarak's ouster opposed the passage of the referendum, it still passed by a wide margin, with approximately 77 percent of the vote. (Activists opposed the passage of the referendum because in their opinion, it called for elections too soon after Mubarak's ouster, giving the Muslim Brotherhood, which is better organized than the other political groups in the country, a compelling advantage.)
This raises a serious question that Pontin, with his obsession with Facebook and Twitter, did not follow up on: Have the pro-democracy activists who initiated the campaign leading to Mubarak's ouster lost control of the events they set into motion? Regular and accelerating attacks on Coptic Christians seemed to suggest they have.
Is it really too much to ask that Jason Pontin – a journalist – raise these issues at MIT?
Should Maher and Rashed speak to American audiences in the future, one can only hope that whoever moderates their appearances does a better job of promoting discussion about what is actually happening in Egypt.
Sadly, as moderator, Pontin was clearly not up to the task.

Posted by dvz at May 10, 2011 08:39 PM
Comments
Guidelines for posting
This is a moderated blog. We will not post comments that include racism, bigotry, threats, or factually inaccurate material.
Post a comment