« Who Do You Believe? | Main | New York Times Gaza Correspondent Designates Fighters as Civilians »
April 13, 2011
The Open Letter Slamming SJP's "Apartheid Card"
We mentioned this story a few days ago. Below is the open letter that the Vanguard Leadership Group, an honor society for top students at historically black colleges and universities, placed in several campus newspapers.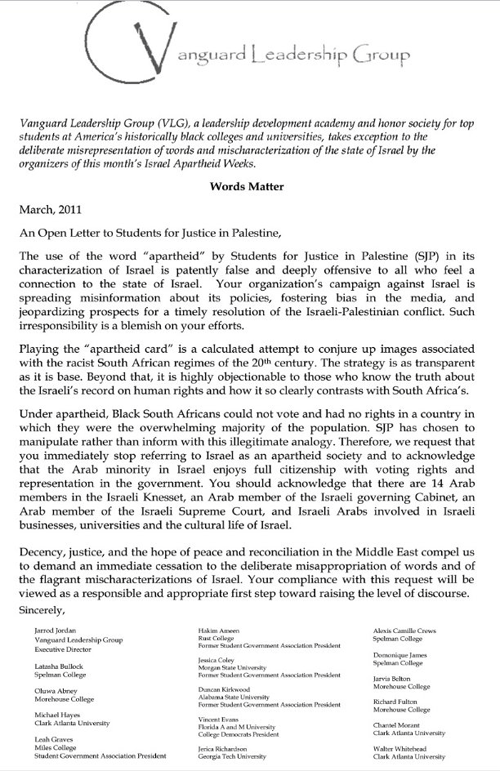 Posted by at April 13, 2011 12:17 PM
Comments
Thank you. G-d willing yours will only be the first voice in what should be growing sanity. The portrayal of Israel as an apartheid State is ludicrous. Anyone who wants to fight apartheid should look for where it really exists! There are so many injustices in this world--lets focus our attention there. If you politically disagree with Israel--that is your right--but it should be done based on FACT, not fiction designed to illicit tear-jerk responses.
Posted by: Ellen at April 17, 2011 12:09 PM
We commend you for being so forthcoming and telling the truth about Israel. Apparently, truth about Israel in the media is a rare commodity.
May your work gain a widespread audience so that others may learn the truth.
Sol and Thelma Borodkin
Posted by: Sol and Thelma Borodkin at April 17, 2011 11:48 PM
I commend the Vanguard Leadership Group for your courage, insight and articulate defense of Israel: as an open society, actively working to include all minorities as full participants and beneficiaries of Israel's democracy.I feel enormous gratitude for your bold action and in some unique way, an acknowledgement that my personal role in the civil rights movement, along with so many other Jewish and Christian students and adults in the 60's and 70's, has come full circle: young African American leaders who have reached a level of social activism that goes beyond their own struggle for justice, and demonstrates the mature reality, borne from our youthful dreams of equality for all. Thank you, Jeffrey Reiss
Posted by: Anonymous at April 18, 2011 05:43 PM
Congratulations on your forthright stance towards this disgusting libel.
You have certainly justified your name -
Vanguard Leadership indeed!!!
best wishes
(and Happy Easter)
Posted by: Jill at April 19, 2011 01:19 PM
Kudos to each and every one of you who stands on the side of true justice. Thank you for speaking out on behalf of the only country in the Middle East that welcomes people from every part of the globe, contrasting that with Islamic countries that discriminate against all non-Muslims, gays, and women and are responsible for the slaughter of more than 270 million people in 1400 years, and the destruction of their cultures.
Bless all of you, and know that I also speak out for Christians who are at the mercy of Islamists worldwide.

Posted by: Tabitha at April 19, 2011 06:51 PM
Guidelines for posting
This is a moderated blog. We will not post comments that include racism, bigotry, threats, or factually inaccurate material.
Post a comment