« A BBC Petition | Main | "There is no humanitarian crisis in Gaza." »
April 17, 2011
Helen Thomas, Keynote Speaker at Anti-Israel Protests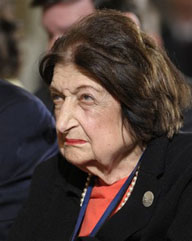 Ha'aretz reports today:
A series of protests against Israeli policy and its support by AIPAC are planned in May to coincide with the AIPAC conference in the U.S. capital and Prime Minister Benjamin Netanyahu's speech there. The protests, under the heading "Move over AIPAC," will include demonstrations opposite the building where Netanyahu will speak and Congress, and a series of lectures and meetings with critics of Israel, including veteran journalist Helen Thomas who lost her place in the White House press room after saying Jews should leave Palestine and go back to Poland, Germany and the United States. Thomas will give the keynote address at the Move Over AIPAC conference, and will receive an award from the women's pacifist organization Code Pink, one of the hundred left-wing American organizations behind the conference.
Also, Thomas is very "happy" that she just received U.S. government press credentials, which gives her access to the Senate and House press galleries, as well as other Capitol Hill events, including some White House press briefings.
Posted by TS at April 17, 2011 03:41 AM
Comments
Please no more pictures of Helen Thomas .But seriously i am puzzled how is Helen Thomas finding the people willing to listen to her. By now we all know what to expect. So why bother?
Posted by: Mietopol at April 18, 2011 12:06 AM
Ms Thomas has a one sided view or re-collection of ancient history. On this Passover the Jews were liberated, and brought to the land of Israel. Israel was not in Poland or Germany. This occurence happened many years before the Arabs ever were seen in those areas of Israel. She is not intelligent enough to be honest, and has a lopsided rememberance of history. Get a clue, and go back and study the old, and new testament, not just the Koran.
Posted by: robert blatt at April 18, 2011 02:31 PM
Ms. Thomas is a Christian Arab. It is ironic that she is supporting an essentially jihadist effort to destroy Israel. As we know, Islamists are now also targeting indigenous Christians in the Middle East.
Posted by: Shlomo at April 20, 2011 10:54 AM
Guidelines for posting
This is a moderated blog. We will not post comments that include racism, bigotry, threats, or factually inaccurate material.
Post a comment