« Wall Street Journal to Vogue: Dictators Are So Last Year | Main | NYT Buries, Distorts NPR Exec's Anti-Jewish Comments »
March 10, 2011
Ha'aretz Rewrites Knesset Bill to Outlaw Protests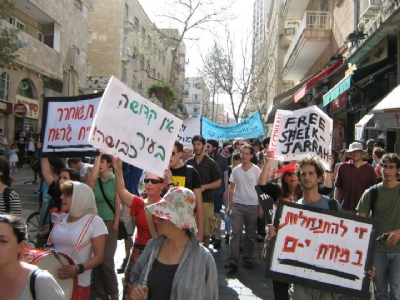 A news brief in Ha'aretz yesterday shockingly claims that a Knesset bill "would ban anti-occupation protests." The brief reads:
Several prominent local artists including poet Meir Wieseltier, singer Rona Kenan, actor Yossi Pollak and photographer Alex Levac have joined a campaign against a bill that would ban anti-occupation protests. The campaign, organized by the Coalition of Women for Peace, includes several short clips featuring the artists expressing their opposition to the bill. If the bill is passed, said Wieseltier, "The country will become a genuine repressive state, not just for those under occupation, but also for its citizens - even for Tel Avivians." (Maya Sela )
What?! Israelis opposed to Israel's presence in the West Bank and eastern Jerusalem would be banned from organizing street protests? They would no longer be permitted to voice their opposition in the media or elsewhere, effectively shutting down Ha'aretz's opinion pages? Surely, if such a bill were in the works, it would be making top news headlines from Ha'aretz to the New York Times to Newsweek and the BBC. But it's not. Because there is no such bill.
In fact, the so-called "bill that would ban anti-occupation protests" is more often referred to as the "boycott law." As Jonathan Lis of Ha'aretz correctly reported two days before Sela's sloppy and inciting item:
The Knesset plenum on Monday approved in its first reading a "boycott law," which would levy harsh punitive fines on Israelis who call for academic or economic boycotts against Israeli institutions. . .

The draft law also calls for imposing sanctions against foreign nationals and organizations that call for anti-Israel boycotts, as well as against states that pass legislation giving such boycotts the force of law.

Elkin said prior to the vote that while in the United States it is considered illegal to boycott Israel - punishable by up to five years in prison and a fine of $1 million - the Israeli legal system cannot punish an Israeli who urges an American company to boycott his own country.
Posted by TS at March 10, 2011 05:56 AM
Comments
So really its about boycotting those who choose to boycott you.
If this law is passed the slippery slope to facism just got paved.
Posted by: sass at March 10, 2011 05:01 PM
Guidelines for posting
This is a moderated blog. We will not post comments that include racism, bigotry, threats, or factually inaccurate material.
Post a comment