« WSJ Relocates Israel's Capital | Main | Gil Troy Addresses "Narrative Imbalance" on Jerusalem »
May 11, 2010
How Long Will Goldstone Keep Lying?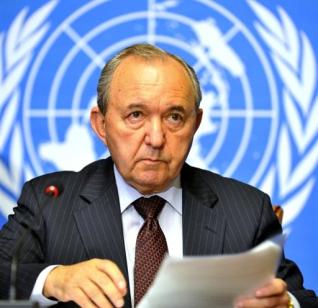 Wednesday of last week Yediot Achronot published a promotional piece for a bigger upcoming article which ran in the weekend magazine. The subject: Richard Goldstone's past as an apartheid era South African judge who sentenced prisoners to death.
Ha'aretz was apparently perturbed by the upcoming negative publicity concerning His Honor and decided to preempt with an antidote of its own. Akiva Eldar conducted a phone interview with Goldstone which was published, no less, than on page 2 of the newspaper. The concerned Eldar permitted Goldstone to speak out against the articles attacking him, and in the process, allowed him to justify once again his report following Cast Lead.
According to the Hebrew version of the article, but for some inexplicable reason not the English version, Goldstone reportedly repeats his tired claim:
There were no facts which contradicted any important detail in the report. There were many marginal arguments, but no one -- not the government of Israel and not any other party -- discredited the main findings. (CAMERA's translation.)
Marginal arguments? Not one source discredited him? Is he for real?
Again and again long lists of documentation concerning problems with the content of the report, the method of collecting testimonies, and also concerning the opinions of the commission members which were expressed prior to the report's publication.
How much longer will we continue to hear the absurd claim that nobody has challenged the report's findings? And what would need to happen for us to expect that a senior journalist like Akiva Eldar would do his homework and ask difficult questions of his interviewee? OK, why would Eldar challenge him if, at the end of the interview (again, only in the Hebrew version), Goldstone strokes the journalist in return, saying that he is sad about what appears to be an attack on Israeli democracy and calls "to close Ha'aretz"?
Ha'aretz did a service for Goldstone, and Goldstone did a service for Ha'aretz. Outstanding journalism.
To see this blog entry in Hebrew at Presspectiva, CAMERA's new Hebrew-language site, click here.
-- By YG
Posted by TS at May 11, 2010 07:06 AM
Comments
HaAretz has started to become a mirror image of The Guardian. HaAretz is trying to manipulate the perception that a reader has of this or that situation. And to a mind set which in English is termed Looney Lefty. (To differentiate from rational Lefty - which is me).
Not only that immoral and opportunistic sorry excuse for a judge is subject to its manipulative presentation of all news associated with him but also the Kamm Affair. Their presentation is directed into inconsequential matters while the basic fact that the attorney general decided that the IDF was not illegally circumventing instructions was not displayed prominently.
And their reporter is on extended paid holiday in London funded by HaAretz through subscribers.
What a disgrace.

Posted by: Clap Hammer at May 12, 2010 03:03 AM
Goldstone is a pathetic self-hating Jew, emblematic of a generational problem whereby many "educated" Jews of his era felt so desperately the need for approval and acceptance by largely Christian society that they go to great lengths to bash Israel and Jews as an attempt to show how really "non-Jewish" they are and thereby hopefully cloy for acceptance.
People like him, Noam Chomsky, Roger Cohen, etc. some day will realize how weak and pathetic their lives as "Christian wannabes" have been, how wonderful and distinguished a relion,culture and tradition Judaism is, and how they have disgraced and harmed it. They bear a guilt and shame worse than non-Jewish anti-Semites.
Posted by: Alf Neuman at May 13, 2010 06:06 PM
Posted by: bav at May 30, 2010 03:08 AM
Guidelines for posting
This is a moderated blog. We will not post comments that include racism, bigotry, threats, or factually inaccurate material.
Post a comment