« Ethan Bronner Reveals the Deal on Journalism in the Middle East. | Main | Abbas on Hamas Threat in West Bank »
May 04, 2010
Ha'aretz, Holier Than the Pope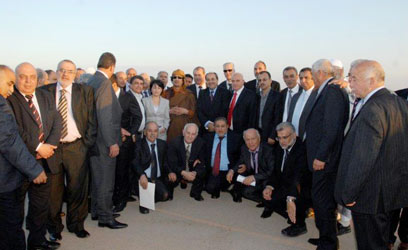 Ha'aretz's reaction to the visit of an Israeli Arab delegation with Libyan leader Muammar Gadhafi revealed just how tenuous the media outlet's grip on reality is. The delegation's harsh condemnation by those on the right of the Israeli political spectrum was apparently too much for the editors of Ha'aretz, who promptly spoke out to defend the Arab delegation and to attack those who dared criticize it.
An April 30 editorial ("Arab MK's Libya Trip a Path to Mideast Peace") stated:
Hysteria gripped the right wing in the Knesset after an Arab delegation of MKs and dignitaries visited Libya. . . .The tongues of Habayit Hayehudi and National Union, two parties that could unite under the name "the Racist Union," were abruptly unleashed as though they were dealing with an unparalleled act of treason. . .

Libya is not on the list of enemy states. . . Libya signed the Arab League's peace initiative, holds the League's rotating presidency, and its ruler Muammar Gadhafi maintains excellent relations with the U.S. administration.
Following the depiction of Libya as one of the most important and enlightened countries in the world, the editorial writer explains to us, the ignorant readers, the motive and the justice of the Israeli Arab visit:
Israel does not enjoy abundant diplomatic ties, either with Arab states like Egypt and Jordan, which signed peace agreements with it, or Libya, which still sees it as an enemy. So every chance to invite Israeli Arab representatives, especially those in official Israeli institutions, must be seen as the opening of another window, or at least as curiosity to hear about the way things are in Israel. . . .

Their trip to Libya - or to any other Arab state - is an inseparable part of their cultural and ethnic background and their desire to explain their views and position about the Israeli reality, even if these views weren't forged in the right wing's school.
These explanations appear all the more pathetic in light of two columns by Israeli Arabs in Ma'ariv and Ha'aretz. Let's hear what the Israeli Arab public has to say about the visit to Libya.
Salman Masalha ("Libya trip exposes wretchedness of representatives of Israeli Arabs") wrote:
This week's visit to Libya by an Israeli Arab delegation signifies a loss of both political and moral orientation. The group, which included representatives of all Arab political parties, sectors and communities, exposed the depth of political confusion among those who pretend to represent Israel's Arab citizens. The visit did nothing to gain respect for either the delegation members or their constituency.

But wonder of wonders, all of a sudden they all came together to fly off and enjoy the hospitality of none other than Muammar Gadhafi, the man who more than anyone else represents the ugly side of the Arab regimes, the tribal autocracy. . .

It must be said loud and clear: Not only are such trips by Arab representatives to kowtow before Arab despots an insult to the intelligence, they also harm the just struggle of this country's Arab minority. Just by going to such places and saying what they say there, they are deepening mainstream Israeli society's rejection of the Arabs - the rejection against which they have been fighting a just fight for years. By not resisting the temptation to accept the invitations of Arab dictators, whoever they happen to be, they become tools of those dictators. . . .

All of a sudden, all these MKs forgot that they have sworn an oath of loyalty to the State of Israel in the Knesset, and whom and what they are supposed to represent. They forgot that "all its citizens" means Jewish citizens, too.

Delegations like these reveal the civil, political and national immaturity of this country's Arab leadership. They point up the chronic emotional, social and political abandonment suffered by Arab citizens and their leaders.

This trip to Libya has exposed the wretchedness of the people who claim to represent and lead Israeli Arab society. Arab citizens deserve a better type of leadership - one that is serious and mature. (Emphases added.)
In Ma'ariv, Ahmed Feead Mahameed ("March of Folly to Gadhafi," translation by CAMERA) wrote:
The leader of Libya has sat on his tyrannical throne by force for more than forty years. He does not hesitate to try his opponents in a kangaroo court and to kill them by firing squad, or imprison all who dare to criticize his rule. Ironically, members of the [Israeli Arab] delegation requested to learn the laws of democracy from this very man and to express their discontent about the Israeli "oppression" of Arab citizens.

. . . Not one fair-minded person would claim that Gadhafi could serve as a role model or be identified as a knight for sound, quality government. And thus, the question arises: what is the logic behind the Arab MK's trip to Libya?

. . . It would have been better had the delegation honored the will of its voters and worked for their interests. Instead of travelling to Libya, Syria and other Arab countries only to grovel before their leaders, it would have been preferable for the leaders of the public to visit the Arab towns and the residents that voted for them, and to think together with them what can be done to improve their quality of life -- and there is plenty to improve. The effort to improve the quality of life for the Arab public will succeed only if it is done in cooperation with the State of Israel, as opposed to provocation.
Ha'aretz, in its obsession with attacking all "right-wing" criticism and in its imperative to defend "oppressed Arabs" living in Israel, entirely misses the point and only proves that it operates on an agenda and not any journalistic standards. As Mahameed says, "The Arab public in Israel wants to continue to live in Israel and does not give up on Israel." Believe it or not, dear Ha'aretz editors, the Arab public in Israel has expectations of its representatives, expectations about their daily lives and the challenges and problems that they face. Not everything is related to the Middle East conflict or Israel's place in the Arab world. They, unlike you, understand very well how their representatives should behave and they have, unlike you, a well developed sense of criticism that knows how to differentiate good from bad and does not operate on autopilot.
(To see this blog entry in Hebrew at Presspectiva, CAMERA's new site, click here.)
-- By YG
Posted by TS at May 4, 2010 04:48 AM
Comments
Guidelines for posting
This is a moderated blog. We will not post comments that include racism, bigotry, threats, or factually inaccurate material.
Post a comment