« On the Need to Confront Lies | Main | Gaza Opens Olympic Size Swimming Pool »
May 23, 2010
Another Inaccurate Report from Gaza MD Officials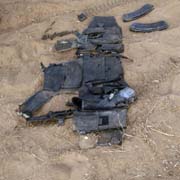 Weaponry found on the two Gaza fighters killed Friday (photos from IDF)
Continuing a pattern earlier seen here and here, Gaza medical officials continue to feed the media inaccurate information about casualties. The Palestinian Maan News Agency reports:
Two teenage Gaza residents were killed by Israeli forces as they snuck out of the Strip allegedly looking for work, Palestinian medics said on Friday.
Yet, the report also says that both the Israeli military and Islamic Jihad agree that the two were armed fighters involved in a clash:
An Israeli military spokeswoman said the two dead were identified as armed by troops, and killed in an exchange of fire with Israeli forces "right next to Nirim," an Israeli moshav in the western Negev.The spokeswoman thus confirmed reports by the operations room of the de facto government, which said "two resistance fighters were killed on the scene."

De facto government officials had described "fierce fighting" in the Khan Younis area, and Islamic Jihad said its Al-Qassam fighters clashed with Israeli forces but reported no injuries. . . .

The Al-Quds statement said that at 1:40 in the afternoon "a group of affiliates fought back Israeli forces that had suddenly approached the area east of Al-Faraheen in the Khan Younis district," and reported an exchange of fire.

The IDF released additional photos of the weaponry found on the two fighters.
Posted by TS at May 23, 2010 02:41 AM
Comments
Guidelines for posting
This is a moderated blog. We will not post comments that include racism, bigotry, threats, or factually inaccurate material.
Post a comment