« April 2010 | Main | June 2010 »
May 31, 2010
A Simple Test of Ethical Journalism on Gaza Naval Operation
When you open up (or direct your browser to) your favorite newspaper on Tuesday morning, will its story on the violence aboard the Mavi Marmara accurately and prominently describe the contents of the videos shown here? If not — if, for example, the violent attacks on Israeli soldiers that prompted return fire are described only as an Israeli claim — your newspaper is not doing its job, betraying readers who expect accurate, full accounts of important stories.
Posted by at 06:17 PM | Comments (2)
Portrait of a Cutting Edge Humanitarian Activist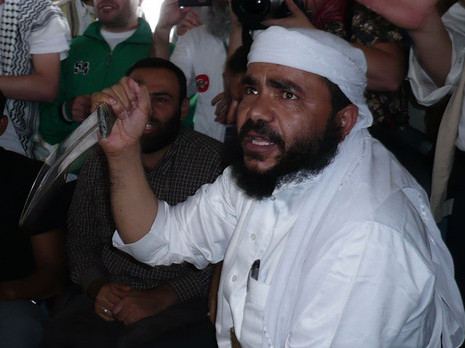 One of the combatants on Mavi Marmara, from NRG
Posted by TS at 02:43 PM | Comments (0)
From Paintball to Real Bullets
Ron Ben Yishai of Ynet describes the unfolding of the battle on the Marvi Marmama, how the Israeli forces came equipped with paintball guns and finally resorting to lethal force after the violent attacks from the ship's passengers, including the use of live fire and throwing a soldier from the top deck to a lower deck 30 feet below.
Posted by TS at 02:18 PM | Comments (0)
More Footage of Passenger Violence on Ship Mavi Marmara
Below is IDF footage, with descriptions, of attacks against Israeli troops boarding the Mavi Marmara:
Posted by at 11:06 AM | Comments (0)
Reuters Corrects: The Wounded Was Israeli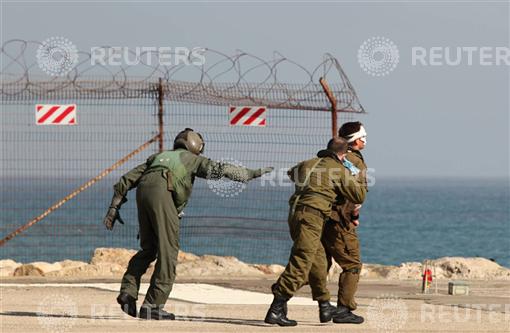 Following communication with CAMERA, Reuters commendably corrected an erroneous headline for the photo pictured here which appeared in the photo service available to clients. The erroneous headline misidentified an Israeli soldier, wounded in the violent confrontation on the Gaza flotilla today, as a pro-Palestinian activist. The erroneous headline, along with the caption which contained the correct information appear below:

When notified about the error, Reuters promptly corrected:
Posted by TS at 08:17 AM | Comments (0)
NY Times Misses the Boat on Israeli Warnings
The New York Times' developing story today on the Gaza flotilla confrontation misses the boat on at least two key points.
1) Regarding the warning that the Israeli navy gave to the Free Gaza boats, Isabel Kershner writes selectively:
On Sunday, three Israeli Navy missile boats had left the Haifa naval base in northern Israel a few minutes after 9 p.m. local time, planning to intercept the flotilla. After asking the captains of the boats to identify themselves, the navy told them they were approaching a blockaded area and asked them either to proceed to Ashdod or return to their countries of origin.

The activists responded that they would continue toward their destination, Gaza.
Here is a video clip of the naval warning:
Notice that it also included an offer to the activists to land in Ashdod and have the aid delivered by land to Gaza, under the activists' supervision. Kershner's report does not relay the Israeli offer to transfer the aid to the Gaza population.The so-called human rights activists' rejection of that offer was likewise not reported.
2) Kershner also reports without clarification the Turkish claim that Israel's forcible boarding of the ships was a violation of international law:
"Israel launched this operation in international waters and to a ship flagged white, which is unacceptable under any clause of the international law,� the head of the Turkish Grand National Assembly's Foreign Affairs Commission, Murat Mercan, said on the Turkish station NTV.
Yet, according to the San Remo Manual, it is permissible under rule 67(a) to attack neutral vessels on the high seas when the vessels "are believed on reasonable grounds to be carrying contraband or breaching a blockade, and after prior warning they intentionally and clearly refuse to stop, or intentionally and clearly resist visit, search or capture.�
Posted by TS at 07:17 AM | Comments (0)
Free Gaza 'Peace Activists' Turn Violent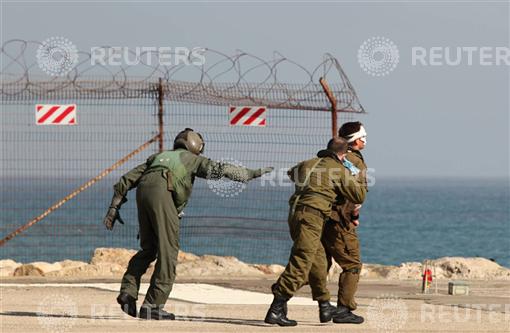 An Israeli soldier, injured while intercepting the Gaza flotilla, was evacuated by his comrades today (Alex Rozkovsky/Reuters)
The Free Gaza flotilla, described by the Wall Street Journal and others in the media as peace activists, has been overtaken by the Israeli navy -- and all was not peaceful.
1) The IDF reports:
During the boarding of the ships, the demonstrators onboard attacked the IDF Naval personnel with live fire and light weaponry including knives and clubs. Additionally one of the weapons used was grabbed from an IDF soldier. The demonstrators had clearly prepared their weapons in advance for this specific purpose.
Several Israeli military personnel were wounded.
2) Also, from the IDF, two pistols were found on the "peace activists," stolen from IDF troops. The activists reportedly opened fire on the troops.
3) As the Los Angeles Times reports:
Video images released by the protesters appeared to show passengers beating commandos with clubs as the soldiers rappelled onto the vessel's deck. A live video feed, which showed bloodstains and injured people, was abruptly cut.
4) MEMRI provides an Al Jazeera clip of the activists chanting intifada songs and praising "martyrdom," not the usual melodies sung by your garden variety peace activists.
5) Of course, let's not forget who these peace activists are, from ISM to IHH. Many have endorsed violence in the past.
6) A broadcast today from Israel's Channel 10 carries clips from Turkish CNN, showing the activists using clubs and other weapons against the Israeli forces:
Posted by TS at 04:53 AM | Comments (9)
CIF Watch Exposes Guardian's Manipulation of Document
The Jerusalem Post reports on a study my media monitors CIF Watch which find that Chris McGreal's report on an alleged Israeli offer to sell nuclear arms to apartheid South Africa manipulated a key document:
In an analysis, CIF Watch shows that McGreal quoted from a part of the type-written document that was edited by hand soon afterwards – including a sentence that implies nuclear weapons were available – and said that McGreal injected his own opinion to infer that Israel was ready to supply the apartheid regime with nuclear weapons.

The paragraph McGreal used, written by a civil servant, states in its original form, prior to hand-written editing and deletions: "[South African Defense] Minister [P.W.] Botha expressed interest in a limited number of units of Chalet [said to be the Jericho missile] provide [sic] the correct payload could be provided, Minister Peres said that the correct payload was available in three sizes. Minister Botha expressed his appreciation and said that he would ask for advice.�

CIF Watch points out that words "provide� and "could be provided� were crossed out in the by-hand edit, and that "provide� was replaced by the words "subject to.� The latter part of the paragraph was also deleted, so that the only part of the paragraph that remained was the first part of the first sentence, which now read: "Minister Botha expressed interest in a limited number of units of Chalet subject to the correct payload.�

Ignoring the edit and using the entire original draft to back his claim, McGreal, in his Guardian article, asserted, based on the deleted wording: "The 'three sizes' are believed to refer to the conventional, chemical and nuclear weapons.�

CIF Watch said that this was McGreal's own opinion: "The person who 'believes' this last sentence is not identified, nor are his qualifications to draw this inference given, nor is any source provided for the inference. Plainly, McGreal does not have enough confidence in it to say "I believe it� and give his grounds.
See also criticism on the McGreal piece by Avner Cohen.
Posted by TS at 04:21 AM | Comments (0)
Another false divestment report?
Yesterday Israeli papers reported that the German Deutsche Bank divested from the Israeli company Elbit, but could this be another false tale of BDS success? A Reuters report suggests that this is the case.
Posted by TS at 03:44 AM | Comments (0)
May 30, 2010
Gaza Flotilla Updates
Don't miss these critical updates about the delayed Gaza flotilla, due to arrive today:
1) Mere Rhetoric: Israel Publishes Travel Guide for Pro-Hamas Freedom Flotilla
2) Elder of Zion: Today's Free Gaza Lies (on the amount of aid they are bringing)
3) CAMERA: Radical, Pro-Hamas 'Flotilla' Seeks Media Win
Posted by TS at 02:37 AM | Comments (0)
May 28, 2010
Wall Street Journal Misleads Readers on Gaza Flotilla
Ha'aretz's Amos Harel and Avi Issacharoff correctly note that the pro-Palestinian activists attempting to sail to Gaza are engaged mostly in "a battle of public relations that is meant to strike a blow at Israel."
The flotilla is organized to a large extent by prominent members of the International Solidarity Movement, including ISM co-founder Huwaida Arraf, who has described suicide bombings as "noble" and argued that Palestinian so-called resistance "must" include violence.
Despite this, the Wall Street Journal's Charles Levinson refers to the anti-Israel activist's ships as a "flotilla of peace activists." This language is not only prejudicial and subjective, but, in light of the above, is also grossly misleading to readers.
In fact, although Levinson, like Harel and Issacharoff, refers to the PR implications of the voyage, his reference to the group as "peace activists" is, in effect, an abandonment of impartiality in favor of participation in the very PR he describes in the article.
The Wall Street Journal notes that readers can comment about articles by emailing [email protected].
Posted by at 03:48 PM | Comments (1)
Who Owns Jerusalem?

Dr. Jacques Gauthier, an expert in international law, has devoted twenty-five years of study to the subject of who holds primary rights to and ownership of Jerusalem. His conclusion, laid out in a 1,300 page PhD dissertation with 3000 footnotes?
The Jewish right to the city is foremost and has been ratified in international law.
An interview on Canada's CTS network summarizes his argument and conclusion here.

Posted by AL at 01:14 PM | Comments (0)
Anti-Israel "Flotilla" Activists Refuse to Help Gilad Shalit
The Jerusalem Post reports:
The Schalit family on Thursday asked for assistance from international left-wing activists due to arrive in the Gaza Strip later in the day.
If the left-wing activists pressure Hamas to allow international organizations to bring letters and food packages to Gilad Schalit, the kidnapped soldier's family has agreed to support the international expedition's attempt to dock, Army Radio reported Thursday.
Lawyer Nick Kaufman presented the offer to the organization "Free Gaza," one of the organizers of the flotilla headed for Gaza, which promptly refused the offer.
"We are disappointed that the organizers of the flotilla have refused to also provide basic humanitarian assistance to our son, who has been held in Gaza four years in contradiction of international law," said the Schalit family.
Posted by at 10:09 AM | Comments (1)
May 25, 2010
Eldar Admits: Not Private Palestinian Land After All
Days after Ha'aretz's Amira Hass acknowledged that she printed misinformation supplied by her Palestinian source, her colleague Akiva Eldar admits that he was wrong on so-called Palestinian private land. He writes today:
In a column on June 6, 2009, I wrote that work in the vicinity of El Matan was being carried out on private land belonging to the village of Tulat. I want to clarify that the work is being done on state land that is under the jurisdiction of the settlement of Ma'aleh Shomron. It was not my intention to claim that the synagogue there was built on private land belonging to any particular resident of the village of Tulat, and it was certainly not my intention to harm the inhabitants of El Matan.

The term "state land" refers to approximately 1 million dunams that the state has expropriated in the West Bank under a law dating from Ottoman times. A large part of this land was earmarked for building settlements exclusively for Jews.
It is pretty safe to assume, given Ha'aretz's repeated refusals to correct factual errors, that this acknowledgment of error came as a result of legal action. (It is also worth nothing that besides the June 2009 article, Eldar had earlier written about allegedly private Palestinian land in the area of Tulat and El Matan back in September 2006.)
Other settlements built on so-called private Palestinian land, which later turned out to be either state land or privately owned Jewish land, include Ma'aleh Adumim and Revava.
Posted by TS at 06:06 AM | Comments (1)
Eldad Yaniv Mismaps Zionism and Settlements
"Zionists are not settlers. Zionists are not racists" is the online headline of an Op-Ed in Ha'aretz today by Israeli attorney Eldad Yaniv, author of the National Left Manifest, who unfortunately errs about Zionism and settlements.
In an effort to separate Zionism from a history of settlement, Yaniv fumbles:
[In an earlier Op-Ed Israel Harel] claims that Ofra is the equivalent of the prestate "tower and stockade" settlements, that today's settlements in the territories are a continuation of the pioneering enterprise of that time.

But when David Ben-Gurion and the Jews in Palestine encouraged settlement under the nose of the British, they were building Jewish sovereignty and creating a Jewish majority in places that the world had designated for a Jewish state.
In fact, many Jewish settlements founded during the time of David Ben-Gurion were located in areas designated by the 1947 United Nations Partition Plan as part of a future Arab state. They include Nahariya, Matzuva, Hanita, Eilon, Yehiam, Kfar Hahoresh (in the Galilee), Nitzanim, Yad Mordechai, Kfar Darom, Nirim (in the Gaza Strip area), Ben Shemen, Hartuv, Kfar Menachem, Kedma, Galon, Gat, Revadim, and many, many more (in the central region).
Take a look at this map from Martin Gilbert's Atlas of the Arab-Israeli Conflict, clearly depicting the Jewish settlements sitting within areas designated by the U.N. as part of a future Arab state:
Posted by TS at 05:04 AM | Comments (3)
May 24, 2010
Michael Scheuer's Rants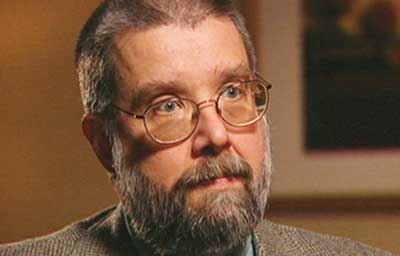 Michael Scheuer's years as a CIA officer seem to have gained him a pass from some members of the media who would otherwise shun him for the anti-Jewish and anti-Israel bigotry he openly espouses. Editors, bookers and producers should take a look at Scheuer's own blog called non-intervention.com where he churns out hate-filled commentary like this, which attracts like-minded posts from readers:
Obama is completely owned by the Israelis, just as his predecessors were. U.S. taxpayers continue to see their money channeled to the war-wanting Israeli theocracy, even as the number of jobless and homeless increase domestically. Our soldier-children are still on the hook to die for Israel — without a declaration of war — if Netanyahu divines that his holy book tells him that Israel's God-given deed for all of Palestine needs protecting by attacking Iran. (NB: Odd isn't it, how Washington routinely uses the separation-of-church-and-state tenet to attack U.S. Christians, but believes it is inapplicable when the U.S. federal government financially supports or militarily defends overseas theocracies like Israel and Saudi Arabia?)
Earlier this year, Scheuer did get in hot water with an appearance on C-SPAN's Washignton Journal that caught the attention not only of CAMERA but of commentator Jeffrey Goldberg who wrote: "Words fail. Scheuer is a Jew-hating crank."
The blogosphere may be a ready platform for racists to spew and spread their message, but it's also obviously a way for responsible outlets to check out who they're considering as guest speakers.
Posted by AL at 05:00 PM | Comments (1)
Eldar Not to Be Confused with the Facts
In a May 21 article ironically entitled "Don't confuse us with facts," Ha'aretz's Akiva Eldar writes:
a new study about psychological obstacles to solving the conflict shows that the average Israeli doesn't want to know the facts. . . .
If that's the case, then Akiva Eldar, a veteran reporter for Ha'aretz, considered by some the New York Times of Israel, is no better than the average Israeli. In this very article, Eldar continues to cling to the fantasy that "a Muslim from Ramallah or a Christian from Bethlehem has no chance of getting a permit to pray at Al-Aqsa or the Church of the Holy Sepulchre."
Eldar goes on to offer more details about the study:
People, [Professor] Bar-Tal explains, have a natural tendency to simplify the world and to insulate themselves from facts that confuse them: "Long-term ideological beliefs make many people close themselves -- consciously or not -- to information that threatens those beliefs."
Indeed. How long will Eldar continue to believe -- despite all evidence to the contrary -- that all Muslims and Christians from the West Bank are prohibited from reaching Jerusalem's holy sites?
Posted by TS at 07:17 AM | Comments (1)
Peres' Office Responds to Guardian Report
A front-page article in the Guardian today claims to reveal how apartheid-era documents prove that Israel offered to sell nuclear weapons to the apartheid regime of South Africa. The office of President Peres, who was named by the Guardian as the leading Israeli official involved in the alleged affair, issued the following statement:
There exists no basis in reality for the claims published this morning by The Guardian that in 1975 Israel negotiated with South Africa the exchange of nuclear weapons. Unfortunately, The Guardian elected to write its piece based on the selective interpretation of South African documents and not on concrete facts.

Israel has never negotiated the exchange of nuclear weapons with South Africa. There exists no Israeli document or Israeli signature on a document that such negotiations took place.

The Office of the President regrets The Guardian's decision to publish such an article without requesting comment from any Israeli officials.

The Office of the President intends to send a harsh letter to the editor of The Guardian and demands the publication of the true facts.
In 2006, Chris McGreal, the author of today's Guardian report, published a series of distorted and erroneous articles accusing Israel of being an apartheid state and of having had uniquely close ties to apartheid South Africa.
Posted by TS at 06:10 AM | Comments (0)
May 23, 2010
Ilana Hammerman, Between Heaven and 'Land of Judea'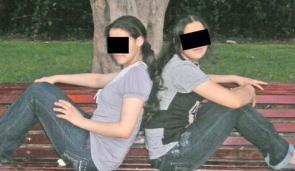 Palestinians Aya and Yasmin in Tel Aviv (photo by Ilana Hammerman)
Ilana Hammerman, writing in Ha'aretz, describes her illegal escapades with three young Palestinian woman from the West Bank whom she smuggles into Israel for a day of fun.
Hammerman portrays herself as especially knowledgeable about checkpoints and restrictions on movement for Palestinians in the West Bank. She describes her deliberations as to how best evade authorities and sneak the women in -- "I checked the map and mentally reviewed the conditions at the checkpoints that I know in the Land of Judea." She rules out the Tarqumiya and Bethlehem checkpoints, and eventually settles on Al Khader.
Yet her depiction of an exchange between the girls and a cop in Jaffa exposes a serious gap in her self-declared knowledge concerning freedom of movement issues. Consider the following:
The man heard the girls speaking Arabic and asked where they were from. I couldn't say that they were from Jaffa, because when I tried to win his sympathy beforehand, I told him that I just wanted them to see and feel the sea for the first time in their lives. They're from East Jerusalem and Israeli residents, I said. He showed his official police ID to me patiently and demanded that we show him our IDs and the girls' entry permits. At that moment, Lin's cell phone rang again: It was her fiance, calling for the umpteenth time to check in on her. I heard her mumble something and she hurriedly hung up. I picked up the word mashakil ("problems" ) despite all the stress - the Arabic word that I'm most familiar with.

Anyway, I somehow managed to get the policeman to let us go with a warning and admonition that this was "the last time" he would do so, as if we'd met this way many times before. (Emphasis added)
This account is distorted (at best) or fictitious (at worst). Either way, it's highly implausible. Why? Because Arabs from eastern Jerusalem, residents of Israel, can travel freely throughout the state of Israel, including to the Jaffa port. They don't need a permit.
Posted by TS at 08:02 AM | Comments (3)
Gaza Opens Olympic Size Swimming Pool
The Palestinian Maan News Agency reports that an Olympic-sized swimming pool has opened in the Gaza Strip.
This development raises a key questions that reporters should keep in mind:
1) News reports constantly remind us about the cement shortages in the Gaza Strip. Given the reported shortage, which is allegedly delaying the building of critical infrastructure such as sewage projects, schools, and homes, how is cement available to build an Olympic-sized pool?
2) Given the reported shortages of water in the Gaza Strip, is an Olympic swimming pool really the best use of this precious resource?
3) This week a flotilla of aid ships from Greece and Cyprus, carrying some 10,000 tons of basic supplies, including construction material, is scheduled to reach the Gaza Strip this week. Will the hundreds of Freedom Flotilla passengers have a chance to take a dip in the pool after they deliver the desperately needed construction supplies? (BTW, in the last week, Israel reportedly delivered 14,000 tons of supplies into the Gaza Strip.)
Posted by TS at 04:56 AM | Comments (2)
Another Inaccurate Report from Gaza MD Officials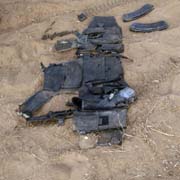 Weaponry found on the two Gaza fighters killed Friday (photos from IDF)
Continuing a pattern earlier seen here and here, Gaza medical officials continue to feed the media inaccurate information about casualties. The Palestinian Maan News Agency reports:
Two teenage Gaza residents were killed by Israeli forces as they snuck out of the Strip allegedly looking for work, Palestinian medics said on Friday.
Yet, the report also says that both the Israeli military and Islamic Jihad agree that the two were armed fighters involved in a clash:
An Israeli military spokeswoman said the two dead were identified as armed by troops, and killed in an exchange of fire with Israeli forces "right next to Nirim," an Israeli moshav in the western Negev.The spokeswoman thus confirmed reports by the operations room of the de facto government, which said "two resistance fighters were killed on the scene."

De facto government officials had described "fierce fighting" in the Khan Younis area, and Islamic Jihad said its Al-Qassam fighters clashed with Israeli forces but reported no injuries. . . .

The Al-Quds statement said that at 1:40 in the afternoon "a group of affiliates fought back Israeli forces that had suddenly approached the area east of Al-Faraheen in the Khan Younis district," and reported an exchange of fire.

The IDF released additional photos of the weaponry found on the two fighters.
Posted by TS at 02:41 AM | Comments (0)
May 21, 2010
On the Need to Confront Lies
Melanie Phillips in a recent interview touches on a topic near to the heart of many readers of this blog:
Jew-hatred, as I prefer to call it, can surely never be eradicated. But the lies that currently fuel it — lies about Israel's behavior, the history of the Middle East, and so on — should be publicly confronted and exploded. Similarly, the ways in which the blood libels about the Jews pouring out of the Arab and Muslim worlds are poisoning minds not just in that world but in the West should also be prominently discussed ...
Doing so, she argues, opens the door to reaching those who aren't by nature bigoted against Israel, but have been indoctrinated with unchallenged falsehoods.
Posted by at 11:36 AM | Comments (1)
May 18, 2010
All the News That's Fit to Print at the New York Times?
Update: The Times did publish an article on the subject the day after this post went up. The piece did not make it into its internet listing until today. The fact that it took several days for the paper to publish this account contrasts with the focused coverage of Israel's decision to deny radical anti-Israel activist Noam Chomsky entrance to the West Bank. However, that said, it is worth reading the posted piece to notice the tone, which gives weight to the Hamas argument of the importance of upholding the law and not allowing unapproved building on state land. Is this balanced tone different from how the Times handles the plethora of articles on Israeli demolitions of Palestinian homes? Even the article's title suggests ambivalence.
Original Posting
The New York Times relentlessly shines a bright light on any Israeli practice that it finds objectionable. With all its coverage of Israeli demolitions of Palestinian homes, it is curious that a recent news item about Hamas demolishing the homes of Gazan residents apparently did not make it into its coverage.
A Reuter's report recorded the responses of several Palestinians whose homes were destroyed by Hamas,
Issa Al-Sdodi, an employee of the previous Fatah-led administration, said Hamas policemen accompanied by bulldozers knocked down his three-storey house without advance notice. "I put my savings into building it and now my family of 10 is homeless," Sdodi told Reuters.

Fatheya al-Ghezawi, 52, sat in the sand with her daughter near the rubble of her home, which had housed her family of 15.

She said she fled Gaza city last year after the house she had been renting was destroyed by Israeli forces. "This time, it wasn't the Jews. It is Islam against Islam," Ghezawi said.
The Associated Press reported on May 16, 2010

Hamas police wielding clubs beat and pushed residents out of dozens of homes in the southern Gaza town of Rafah on Sunday before knocking the buildings down with bulldozers, residents said.
Some 30-40 homes were reportedly knocked down after being declared illegal by the Hamas government.
Apparently the "paper of record" did not feel this was newsworthy as an on-line search of New York Times news items on the Middle East did not turn up any report on the Hamas demolitions. It did however, give extensive coverage to anti-Israel activist Noam Chomsky being denied entry into the West Bank, to a Palestinian youth who was shot by a settler during a stone throwing incident, to a story critical of Israel's maintenance of mine fields at its borders, to a story of two Arab "activists" arrested for collaborating with Hezbollah and to yet another story about how there are American Jews who do not support Israeli policy.
Posted by SS at 04:51 PM | Comments (1)
May 17, 2010
Hass' Mea Culpa
In a rare acknowledgment of error, Ha'aretz's Amira Hass today acknowledges that an earlier report she wrote was mistaken, thanks to her Palestinian source who lied:
A mistaken report needs to be corrected. Two weeks ago I wrote about a young man who claimed he was expelled from the West Bank to Gaza. He was born in Gaza but had lived in the West Bank since he was 7, he said. The military spokesman's office informed me that it was not familiar with the case, but I've heard that line before - for example, in reference to Palestinians who were used as "human shields" during Operation Cast Lead. The fact that the army says it doesn't know about an incident doesn't mean such an incident hasn't taken place.

But this time, it turns out that there was no evasive maneuver here, and there was a real reason this case was unfamiliar to the Israel Defense Forces: The young man has lived with his family in Israel for many years. And it was from Be'er Sheva, not the West Bank town of Dahariya, that he was expelled. For him, the lie he told reporters, myself included, is perhaps a fraction of a lie. After all, the distance between Dahariya and Be'er Sheva is small, the borders are artificial, the lifestyle is similar, relatives live on both sides of the Green Line. But as far as I am concerned, his tale is a full-fledged lie that piggybacked on the great media interest, the first of its kind, in the situation of Gaza natives who live in the West Bank.

Over the last few months, all sorts of rumors were disseminated, but were easy to spot right away as being totally unfounded: the rumors that 20 Palestinians were expelled as a single group to Gaza, that a Shin Bet questionnaire was distributed in four homes of native Gazans, that dozens of deported Palestinians were gathered in a protest tent in Gaza. These false rumors came on the heels of a Haaretz report about an amended military order, No. 1650, that is aimed at preventing infiltration into the West Bank.
Posted by TS at 05:51 AM | Comments (1)
Former PLO Ambassador Calls Arab Journalist 'Traitor'

Abu Toameh: Accused of being a 'traitor' for reporting on Palestinian corruption and violence
The Australian reports that Ali Kazak, a former PLO Ambassador to Australia, has labeled Israeli Arab journalist Khaled Abu Toameh a "traitor" for reporting on Palestinian corruption and violence::
Ali Kazak, a former ambassador for the Palestine Liberation Organisation, circulated an email this week accusing Abu Toameh of being an "Israeli propagandist" on the "Israeli payroll" and warning people not to be misled by him.

Kazak told The Australian: "Khaled Abu Toameh is a traitor." These are dangerous words in the context of the Israeli-Palestinian conflict, and Kazak admits that many Palestinians are murdered in the West Bank and Gaza for being traitors.

He says he doesn't agree with it but: "Traitors were also murdered by the French Resistance, in Europe; this happens everywhere." . . .

Toameh responds: "It is absurd that this gentleman is calling me a traitor while the PLO whom he claims to represent is conducting security co-ordination with Israel and helping Israel crack down on Hamas and is even imprisoning Palestinians without trial in the West Bank. . . .

". . . When he calls me a traitor he is actually sending a message to extremists that they need to kill me simply because I am demanding reform and democracy."
This is not the first time that Abu Toameh, who writes for the Jerusalem Post, was threatened for covering stories that the Palestinian Authority would prefer to remain quiet. The Israeli Arab journalist also covered a major Palestinian corruption scandal earlier this year which was largely ignored or downplayed by the Western media.
For more on Palestinian intimidation of the media, see here, here and here.

Posted by TS at 03:12 AM | Comments (5)
NY Times Public Editor Weighs in On Jerusalem Terminology
Clark Hoyt, public editor of the New York Times, discusses the labeling of Jewish neighborhoods in Jerusalem located over the 1949 armistice line (Green Line) as settlements:
No subject arouses reader passion more consistently than the Israeli-Palestinian conflict, and The Times navigates a semantic minefield with almost every story on the subject. When Cooper wrote this month about a lunch that Obama had with Elie Wiesel, the Nobel laureate and Holocaust survivor, she said the president was trying to mend fences with American Jews upset at the administration's stance against construction of "Jewish settlements in East Jerusalem.�

Nathan Dodell of Rockville, Md., said it was "tendentious and arrogant� to use the word "settlements� four times in the article when the Israeli prime minister, Benjamin Netanyahu, has explicitly rejected it in relation to East Jerusalem. Obama has used the term himself to refer to construction in East Jerusalem, and Cooper told me, "I called them settlements because that's the heart of the dispute between the Israelis and the United States: settlement construction in Arab East Jerusalem, which the Palestinians want for an eventual Palestinian state.�

But to Dodell, she was taking sides. He asked why she didn't use a neutral term like "housing construction.�

Settlement is a charged word in this context, because it suggests something less than permanent on someone else's land. Israel argues that all of Jerusalem is its undivided capital, a claim not recognized by the United States and most of the world. Articles by Times reporters in Jerusalem do generally use words like "housing� instead of "settlement.� Still, Ethan Bronner, the bureau chief, said it would be unwise to adopt a hard and fast rule, because some areas of the city taken by Israel in 1967 had long been Jewish neighborhoods while others, built more recently, had the feeling of settlements.

I think Cooper should have found a more neutral term.
(Hat tip: Yisrael M.)
Posted by TS at 03:01 AM | Comments (1)
May 16, 2010
New Revelations about Old City in Ha'aretz Editorial
Ha'aretz: The Jewish Quarter is a "disputed area disputed area . . . on the agenda during negotiations with the Palestinians"
Ha'aretz readers were treated to an eye-opening editorial on Thursday about the Israeli government's alleged incitement concerning Jerusalem. The prime example of governmental incitement, according to the esteemed Ha'aretz editors, is the following:
The greatest achievement of all, however, belongs to Education Minister Gideon Sa'ar, who has doubled the number of schoolchildren visiting the Temple Mount and the City of David, from 200,000 two years ago to 400,000 since the start of the current school year. Under a new program drafted by the Education Ministry on the minister's orders, students are obligated to visit Jerusalem at least three times during their 12 years of school.

In theory, there is nothing wrong with this. Yet the visits tend to focus on sites like the Old City's Jewish Quarter, the Western Wall tunnels, Zion Gate and the archaeological excavations of the Temple Mount's southern wall - all disputed areas that are on the agenda during negotiations with the Palestinians, and are also associated with new Jewish settlement in East Jerusalem. Moreover, the tours, which are led by guides from the extreme right-wing organization Elad, blatantly ignore the Palestinians' existence and bear the clear stamp of religious nationalist indoctrination.
Got that? At Planet Ha'aretz, the Temple Mount, where the First and Second Jewish Temples stood thousands of years ago, as well as the Old City's Jewish quarter, including the Western Wall, and the southern wall of the Temple Mount, where Jews slowly ascended the steps to reach the Temples and bring their sacrifices, are not associated with the heart and core of Jewish history and religious identity, but rather "with new Jewish settlement in East Jerusalem." Equally eye-opening is the revelation that the Jewish Quarter is a "disputed area . . . on the agenda during negotiations with the Palestinians."
No wonder the editorial was approvingly reproduced by the American Task Force for Palestine.
As Gil Troy points out:
Unfortunately, if Jews celebrate their eternal ties to Jerusalem - or dare question Palestinian ties - they are deemed racist. Yet those who question Jewish ties to Jerusalem get human rights awards and EU grants, especially if they are Jewish. This narrative imbalance is another form of asymmetrical warfare.
Posted by TS at 04:23 AM | Comments (0)
National Geographic Parting With the Truth
Uri Goldflam blogs at CIC Scene about the "inaccuracies and downright lies" in the April 2010 National Geographic article "Parting the Waters." Goldflam writes:
To drive the message [about Israel allegedly stealing Palestinian water] home – a picture of the dried up, sunburnt village, a deserted greenhouse and a line about the swimming pools at the Jewish settlements. Nice work NG.

Indeed, Auja does dry up every summer. The picture below shows why:

Sign at Auja

A 2,000-foot-deep well doesn't affect top-water. But this does. The blue and white sign reads: Jerusalem Water Undertaking, Ramallah and Al-Bireh District. Well no. 3/ Ein Samia. The water of Ein Samia is captured and transferred – to Ramallah. Ein Smia is the source of the Auja stream that feeds the village Auja. If you guessed that the well is Palestinian – you guessed right.
Goldflam raises additional worthy points, and readers should also know that Palestinians -- not only Jewish settlers -- also having swimming pools, a fact ignored by NG.
Posted by TS at 03:54 AM | Comments (0)
May 12, 2010
Muslim Student Supports Gathering Jews in Israel to Murder Them
During an exchange following a speech by David Horowitz at the University of California in San Diego, a member of the Muslim Student Association, when questioned whether she supported Hezbollah leader Hassan Nasrallah's stated desire to gather all the Jews in Israel in order to facilitate murdering them, responded that she was "For it."
The student had initially posed a question to veteran political activist Horowitz, to which Horowitz responded by saying,
I'm a Jew. The head of Hezbollah has said that he hopes that we [Jews] will gather in Israel so he doesn't have to hunt us down globally. For or against it?
The student responded,

For it.
If one wonders what sort of environment fosters such banal hatred, consider this response from a commenter named A. Casavantes who claims to be her teacher at the university. A. Casavantes writes,
This girl is actually my student; I know her to be an intelligent, moral young woman who believes in peace. I do not support any organization that advocates violence against any specific group, nor do I believe that my student would do so. As a peace loving, Catholic teacher, I'm saddened that this speaker--her elder--manipulated the conversation in this fashion to make her look like someone she isn't, out of an egotistical desire to prove his own point, rather than engaging in a constructive dialogue. A perfect example of why the peace process is limping foward so painfully.
Apparently in the moral universe inhabited by A. Casavantes, people who unflinchingly assert they support the mass murder of Jews should be engaged in constructive dialogue, while those who expose their views deserve criticism.

Posted by SS at 11:50 AM | Comments (4)
Gil Troy Addresses "Narrative Imbalance" on Jerusalem
In a recent blog post, McGill professor Gil Troy does a good job trying to explain, for those who might not understand, Eli Wiesel's (and others') passionate feelings about Jerusalem.
While doing so, he mentions a "narrative imbalance" about the holy city:
Unfortunately, if Jews celebrate their eternal ties to Jerusalem — or dare question Palestinian ties — they are deemed racist. Yet those who question Jewish ties to Jerusalem get human rights awards and EU grants, especially if they are Jewish. This narrative imbalance is another form of asymmetrical warfare.
Although he was speaking generally, that pithy description could very well be describing the Economist. As we recently noted, an editor's attempt to defend the magazine's recent distorted article on Jerusalem in fact served to deepen the magazine's one-sided understanding of Jerusalem:
Rather than address the article's unfair double standards, or CAMERA's complaints about the consistent Palestinian denial of Jewish heritage in the Holy Basin, the editor chose instead to underscore Palestinian propaganda points. He insisted that promoting "Israeli claims to its holy places" and educating Jewish youngsters about Jerusalem's Jewish history is "worthy of comment" – apparently more so than anything Palestinians have done to deny Jewish heritage. His response went into considerable detail about Israeli "ideologues" supposedly in cahoots with the government and involved in "Temple-related activity":

Temple-related activity has increased in recent years sponsored by official and semi-official agencies promoting Israeli claims to the eastern part of the city and its holy places. These include the Western Wall Heritage Foundation, a government-run association, which seeks to "preserve and develop the Western Wall and its Tunnels, and to develop educational frameworks that make Jews everywhere feel closer to Jerusalem" and...to the Temple Mount. Its e-learning website includes an interactive programme in which "the child 'builds' the Temple on the Temple Mount". Visitors to its tunnels...are similarly treated to models of a reconstructed Temple in place of the existing mosques...

The implication that it is an affront to Palestinians, and therefore wrong, to expose Jewish students to a historical reproduction of the Jewish Temple, to teach them how the Temple was constructed, or to encourage a Jewish connection to Judaism's holiest site is extremely disturbing. Are Jews not entitled to be connected to their heritage and central religious tenets?

Similarly, the editor's implied criticism of the Elad Association's stated dedication to "continuing King David's legacy and strengthening Israel's current and historic connection to Jerusalem" through archeological excavations, among other initiatives, demonstrated a lack of regard for Jewish heritage.

By conveying the attitude that it is somehow sinister to strengthen Jewish knowledge about and connection to Jerusalem, the editor reflected the article's double standards, where Palestinian rights and connection to the Holy Basin are a given, but Jewish rights and connection to the area are considered a threat.
Posted by at 10:30 AM | Comments (0)
May 11, 2010
How Long Will Goldstone Keep Lying?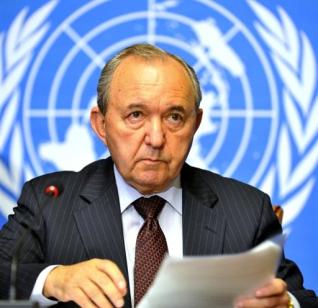 Wednesday of last week Yediot Achronot published a promotional piece for a bigger upcoming article which ran in the weekend magazine. The subject: Richard Goldstone's past as an apartheid era South African judge who sentenced prisoners to death.
Ha'aretz was apparently perturbed by the upcoming negative publicity concerning His Honor and decided to preempt with an antidote of its own. Akiva Eldar conducted a phone interview with Goldstone which was published, no less, than on page 2 of the newspaper. The concerned Eldar permitted Goldstone to speak out against the articles attacking him, and in the process, allowed him to justify once again his report following Cast Lead.
According to the Hebrew version of the article, but for some inexplicable reason not the English version, Goldstone reportedly repeats his tired claim:
There were no facts which contradicted any important detail in the report. There were many marginal arguments, but no one -- not the government of Israel and not any other party -- discredited the main findings. (CAMERA's translation.)
Marginal arguments? Not one source discredited him? Is he for real?
Again and again long lists of documentation concerning problems with the content of the report, the method of collecting testimonies, and also concerning the opinions of the commission members which were expressed prior to the report's publication.
How much longer will we continue to hear the absurd claim that nobody has challenged the report's findings? And what would need to happen for us to expect that a senior journalist like Akiva Eldar would do his homework and ask difficult questions of his interviewee? OK, why would Eldar challenge him if, at the end of the interview (again, only in the Hebrew version), Goldstone strokes the journalist in return, saying that he is sad about what appears to be an attack on Israeli democracy and calls "to close Ha'aretz"?
Ha'aretz did a service for Goldstone, and Goldstone did a service for Ha'aretz. Outstanding journalism.
To see this blog entry in Hebrew at Presspectiva, CAMERA's new Hebrew-language site, click here.
-- By YG
Posted by TS at 07:06 AM | Comments (3)
WSJ Relocates Israel's Capital
Gerald Seib, Washington bureau chief for the Wall Street Journal, has relocated Israel's capital to Tel Aviv. In a May 4 column, he writes:
None of this means there aren't real strains between Washington and Tel Aviv over settlements in the West Bank, or over the value of a robust Arab-Israeli peace process to the broad American effort to knit Arab states into a coalition opposing Iran.
In fact, the strain between Israel and the United States over settlements in the West Bank has taken place between Washington and Jerusalem, where the Prime Minister's office is located, not to mention the Knesset, the Supreme Court, and the Foreign Ministry.
The Boston Globe has in the past corrected this very same error (see below), and so should the Wall Street Journal.
Error (Boston Globe, 7/14/03): The refugees and many other Palestinians publicly say there can be no peace with Israel until Tel Aviv recognizes the refugees' right to return.

Correction (7/17/03): Because of an editing error, a story on a Palestinian protest in Monday's World pages incorrectly suggested that Tel Aviv is the capital of Israel. The capital is Jerusalem.
Posted by TS at 05:41 AM | Comments (0)
Ha'aretz's Marcus: Golan, "Simply a Lovely Area," Devoid of Jewish History
While Op-Ed writers are certainly entitled -- and should -- voice their opinions for or against Israel's relinquishing of the Golan Heights to Syria, they are not entitled to misrepresent history. Ha'aretz's Yoel Marcus did just that in his column today, "Peace with Syria is more urgent," in which he erases thousands of years of Jewish history in the Golan Heights. He writes:
The price tag is clear. It's the Golan Heights. But unlike the places to be discussed in proximity talks and direct negotiations with the Palestinians, the Golan is not a holy site. Neither Abraham our patriarch nor Sarah our matriarch are buried there, and returning it for peace would not involve all those messianic emotions with which the Greater Land of Israel people are imbued. It's simply a lovely area.
Simply a lovely area, and not for example, an area that Moses allotted to half the tribe of Menashe in the earlier biblical period. Also before 953 BCE, the city of Golan was set aside as a city of refuge for alleged murderers awaiting trial and served as a Levitical city for the family of Gershon. In the first Temple Period, the city was seized from Jewish control by the Aramean king, but reconquered by King Joash in 784 BCE. The region was then conquered by the Assyrian emperor, who exiles the Jews, who returned again to the Golan during the Second Temple Period.
In 30 BCE 30-20 King Herod gradually acquires all of Bashan from Emperor Augustus. Jews from Palestine and Babylonia settle in Bashan and again declare the area a part of the Land of Israel. In 67 CE, Josephus commands the Jewish army in the region during the Great Jewish Revolt. Gamla, the chief city in the Golan, is the last stronghold against the Roman Legions. Jewish settlement, however, continues and even thrives following the failed revolt.
Modern archeological finds dating from the Talmudic period include remnants of 25 synagogues and Jewish artifacts from more than 100 sites in the region. Jewish settlements are completely wiped out following the Islamic conquest until Jewish resettlement takes hold in the 1880s.
A lovely place, yes, with a few thousand years of Jewish history to boot. See here for CAMERA's complete Golan timeline.
Posted by TS at 04:08 AM | Comments (4)
May 09, 2010
Globes Interviews Asserson of BBC Watch
The Globes interviews attorney Trevor Asserson, founder of BBC Watch, who has recently published his seventh study about BBC's coverage of the Palestinian-Israeli conflict. Among the study's findings is the following:


According to the study, out of 22 days on which the diary [of Jeremy Bowen, head of the BBC's Mideast division] was published [during Cast Lead], only two days included balanced reports. "A soldier in the IDF spokesperson's unit told me that during an inspection of humanitarian aid going into Gaza, they found night vision equipment that was meant to help Hamas see IDF soldiers. It was hidden among the food. They called Bowen and said to him, 'Look, that's why Israel is suspicious of the humanitarian aid.' He refused to broadcast it. He said there was no story. There can be no explanation for that other than that he is biased."
For CAMERA's material on BBC, see here.
Posted by TS at 05:44 AM | Comments (1)
May 06, 2010
Abbas on Hamas Threat in West Bank
Hamas fighters relax in PA building after Gaza takeover
Too often, the media fail to acknowledge that Israeli wariness about possible changes to the West Bank status quo is, to a great extent, tied to concerns over the what could become of the territory after those changes. Hamas took over the Gaza Strip after Israel withdrew, and turned the territory into a large rocket launching pad. It would be catastrophic if the same happened in the West Bank.
Although indirectly, Palestinian leader Mahmoud Abbas brought this issue to the foreground yesterday, and news organizations took note:
The Palestinian president on Thursday accused Hamas of smuggling large amounts of weapons into the West Bank as part of the militant group's efforts to undermine his administration.

President Mahmoud Abbas' his swipe at his Hamas rivals comes at a sensitive time, with the Palestinians divided between rival governments and U.S.-brokered indirect peace talks with Israel getting under way. Abbas said his security forces have confiscated most of the smuggled weapons.

Hamas seized control of the Gaza Strip from Abbas' forces three years ago, and the two factions have been at odds since. Israel fears Hamas could also stage a violent takeover in the West Bank, and those security concerns, along with the Palestinian factions' failure to reconcile, are likely to be key issues in the new round of peace talks.

In a newspaper interview published Thursday, Abbas accused Hamas of undermining efforts to reconcile the two factions by challenging his administration's power in the West Bank.

"What they are doing is smuggling weapons and explosives and storing them in the West Bank," he told the London-based Arabic paper Sharq al-Awsat. "On a daily basis, we find caches of weapons and big amounts of explosives."
Read the entire AP piece here.
Posted by at 05:15 PM | Comments (1)
May 04, 2010
Ha'aretz, Holier Than the Pope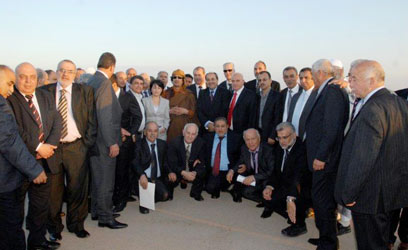 Ha'aretz's reaction to the visit of an Israeli Arab delegation with Libyan leader Muammar Gadhafi revealed just how tenuous the media outlet's grip on reality is. The delegation's harsh condemnation by those on the right of the Israeli political spectrum was apparently too much for the editors of Ha'aretz, who promptly spoke out to defend the Arab delegation and to attack those who dared criticize it.
An April 30 editorial ("Arab MK's Libya Trip a Path to Mideast Peace") stated:
Hysteria gripped the right wing in the Knesset after an Arab delegation of MKs and dignitaries visited Libya. . . .The tongues of Habayit Hayehudi and National Union, two parties that could unite under the name "the Racist Union," were abruptly unleashed as though they were dealing with an unparalleled act of treason. . .

Libya is not on the list of enemy states. . . Libya signed the Arab League's peace initiative, holds the League's rotating presidency, and its ruler Muammar Gadhafi maintains excellent relations with the U.S. administration.
Following the depiction of Libya as one of the most important and enlightened countries in the world, the editorial writer explains to us, the ignorant readers, the motive and the justice of the Israeli Arab visit:
Israel does not enjoy abundant diplomatic ties, either with Arab states like Egypt and Jordan, which signed peace agreements with it, or Libya, which still sees it as an enemy. So every chance to invite Israeli Arab representatives, especially those in official Israeli institutions, must be seen as the opening of another window, or at least as curiosity to hear about the way things are in Israel. . . .

Their trip to Libya - or to any other Arab state - is an inseparable part of their cultural and ethnic background and their desire to explain their views and position about the Israeli reality, even if these views weren't forged in the right wing's school.
These explanations appear all the more pathetic in light of two columns by Israeli Arabs in Ma'ariv and Ha'aretz. Let's hear what the Israeli Arab public has to say about the visit to Libya.
Salman Masalha ("Libya trip exposes wretchedness of representatives of Israeli Arabs") wrote:
This week's visit to Libya by an Israeli Arab delegation signifies a loss of both political and moral orientation. The group, which included representatives of all Arab political parties, sectors and communities, exposed the depth of political confusion among those who pretend to represent Israel's Arab citizens. The visit did nothing to gain respect for either the delegation members or their constituency.

But wonder of wonders, all of a sudden they all came together to fly off and enjoy the hospitality of none other than Muammar Gadhafi, the man who more than anyone else represents the ugly side of the Arab regimes, the tribal autocracy. . .

It must be said loud and clear: Not only are such trips by Arab representatives to kowtow before Arab despots an insult to the intelligence, they also harm the just struggle of this country's Arab minority. Just by going to such places and saying what they say there, they are deepening mainstream Israeli society's rejection of the Arabs - the rejection against which they have been fighting a just fight for years. By not resisting the temptation to accept the invitations of Arab dictators, whoever they happen to be, they become tools of those dictators. . . .

All of a sudden, all these MKs forgot that they have sworn an oath of loyalty to the State of Israel in the Knesset, and whom and what they are supposed to represent. They forgot that "all its citizens" means Jewish citizens, too.

Delegations like these reveal the civil, political and national immaturity of this country's Arab leadership. They point up the chronic emotional, social and political abandonment suffered by Arab citizens and their leaders.

This trip to Libya has exposed the wretchedness of the people who claim to represent and lead Israeli Arab society. Arab citizens deserve a better type of leadership - one that is serious and mature. (Emphases added.)
In Ma'ariv, Ahmed Feead Mahameed ("March of Folly to Gadhafi," translation by CAMERA) wrote:
The leader of Libya has sat on his tyrannical throne by force for more than forty years. He does not hesitate to try his opponents in a kangaroo court and to kill them by firing squad, or imprison all who dare to criticize his rule. Ironically, members of the [Israeli Arab] delegation requested to learn the laws of democracy from this very man and to express their discontent about the Israeli "oppression" of Arab citizens.

. . . Not one fair-minded person would claim that Gadhafi could serve as a role model or be identified as a knight for sound, quality government. And thus, the question arises: what is the logic behind the Arab MK's trip to Libya?

. . . It would have been better had the delegation honored the will of its voters and worked for their interests. Instead of travelling to Libya, Syria and other Arab countries only to grovel before their leaders, it would have been preferable for the leaders of the public to visit the Arab towns and the residents that voted for them, and to think together with them what can be done to improve their quality of life -- and there is plenty to improve. The effort to improve the quality of life for the Arab public will succeed only if it is done in cooperation with the State of Israel, as opposed to provocation.
Ha'aretz, in its obsession with attacking all "right-wing" criticism and in its imperative to defend "oppressed Arabs" living in Israel, entirely misses the point and only proves that it operates on an agenda and not any journalistic standards. As Mahameed says, "The Arab public in Israel wants to continue to live in Israel and does not give up on Israel." Believe it or not, dear Ha'aretz editors, the Arab public in Israel has expectations of its representatives, expectations about their daily lives and the challenges and problems that they face. Not everything is related to the Middle East conflict or Israel's place in the Arab world. They, unlike you, understand very well how their representatives should behave and they have, unlike you, a well developed sense of criticism that knows how to differentiate good from bad and does not operate on autopilot.
(To see this blog entry in Hebrew at Presspectiva, CAMERA's new site, click here.)
-- By YG
Posted by TS at 04:48 AM | Comments (0)