« February 2010 | Main | April 2010 »
March 29, 2010
HRW Still Ducks Garlasco and Stork Questions
The revelations in September 2009 that Human Rights Watch military investigator Marc Garlasco is an avid collector of Nazi memorabilia and author of a book on the subject prompted notable defensiveness and stonewalling by an organization devoted to challenging the conduct of others -- and expecting corrective action. A March 28, 2010 story in the Times Online by Jonathan Foreman revisits the issue:
The vehemence of Human Rights Watch in defending Garlasco surprised many. But it made sense for two reasons. Though HRW relishes complaints from infuriated dictatorships, it is not used to its personnel and methods being questioned at home. And it coincided with a series of less-well-publicised criticisms of the group. Suddenly, when its own practices came under scrutiny, it became very touchy.

On September 14 last year the organisation suspended Marc Garlasco with pay "pending an investigation�. But as the months went by, HRW said nothing about the investigation — and nothing about Garlasco's status.
Finally, the organization removed his name from the staff list on their Web site on March 5, 2010. Foreman notes Garlasco is far from the only dubious staff member, citing the case of Joe Stork. As CAMERA originally reported on Feb 19, 2009, deputy head of HRW's Middle East department Joe Stork is a radical who spoke at a conference on "Zionism and Racism" in Saddam Hussein's Iraq in 1976 and who, in a volume based on that conference,
refers to the "Zionist colonization of Palestine� (p 209), the "Zionist settler-colonial enterprise� (p 214), the "infamous Balfour declaration� (p 214), and the "Zionist theft of the property and productive resources� (p 218). (Zionism, Imperialism and Racism, A.W. Kayyali, editor, Croom Helm Ltd.,1979)
Posted by AL at 11:01 AM | Comments (1)
March 24, 2010
PA Harasses Christian Television Station
The Palestinian Authority appears to be harassing a Christian television station in the West Bank. According to an article in the Jerusalem Post, the PA had, for a while, shut down a station but allowed it to operate again in the face of protests from its owner Samir Qumsieh. It allowed the station to reopen again while it works on its licensing problems.
Qumsieh is a Palestinian Christian whose cousin travels the Unites States condemning for its human rights abuses but says nary a word about the misdeeds of the PA or other Arab leaders in the region.
Samir appears to be made of much sterner stuff than his cousin, speaking truth to power in a very difficult situation.
Samir's ongoing problems with the PA would seem to undermine the story of Palestinian innocence his cousin tells in the U.S.
Don't expect this story to generate much outrage in the so-called peace and human rights activists in the mainline Christian community in the U.S.
For these folks, Israel is the only country in the Middle East, worthy of condemnation.
Attacking Israel is fun for these activists in this community; pointing out the misdeeds of Arab and Muslim leaders in the region, not so much.
If one organization does muster the common sense to speak out against the bureaucratic harassment of Samir Qumsieh's station by PA officials, it will likely be the National Council of Churches, which issued a statement in support of the Coptic Christians who were murdered by Muslim extremists in Egypt a while back. The World Council of Churches issued a similar statement, but don't count on this organization for a full-throated condemnation of the PA's decision. In a recent statement about the murder of 300 Christians in Nigeria, the WCC could not even be bothered to mention that the perpetrators of this violence were Muslim. In the WCC's worldview, upholding universal principles of human rights means attacking Israel and the U.S. but remaining silent about abuses when they are perpetrated by Muslims.
Now if Samir can figure out a way to blame Israel for his woes, his message should get some traction.
H/t: Solomonia
Posted by dvz at 11:52 AM | Comments (1)
Another Day, Another Lousy Ha'aretz Headline
Ha'aretz has a problem with settler-related headlines that fail to match the information in the stories they accompany. Two days ago it was the settler clash that didn't happen.
Today we have: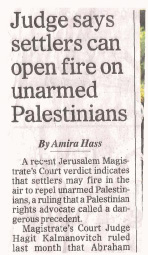 So while the headline claims "Judge says settlers can open fire on unarmed Palestinians," a rather shocking and reprehensible ruling, the first paragraph indicates that the judge ruled that "settlers may fire in the air to repel unarmed Palestinians. . . " Though the merits of the actual ruling could certainly be debated, firing in the air is hardly tantamount to opening fire "on" unarmed Palestinians.
Posted by TS at 09:17 AM | Comments (0)
March 22, 2010
Pollster: Ha'aretz Misrepresented Obama Poll
It seems that we have a Ha'aretz trifecta today (see here and here). In the third strike, the Jerusalem Post reports today ("Haaretz fiddled with Obama poll"):
Haaretz misled readers to give the impression that an overwhelming majority of Israelis see US President Barack Obama as "fair and friendly� toward the country, the newspaper's pollster, Tel Aviv University professor Camil Fuchs, said on Sunday.

Both the English and Hebrew editions of Friday's Haaretz led with the headline "Poll: Most Israelis see Obama as fair, friendly toward Israel.�

The English edition elaborated near a picture of Obama that "69% say Obama is fair and friendly.�

The story itself gives no numbers, but the lead says "A sweeping majority of Israelis think his treatment of this country is friendly and fair.�

The English edition contains no graphic distributing the actual numbers, either online or in print.

The print and online versions of the newspaper's Hebrew edition included a graphic indicating that just 18 percent of respondents considered Obama "friendly� toward Israel, 3 percentage points fewer than the 21% who called the president "hostile� to the Jewish state.

Ten percent did not know, and 51% defined Obama's approach to Israel using the Hebrew word "inyani,� which can be translated as "matter-of-fact� or "businesslike,� but not as fair.

Fuchs, who chairs Tel Aviv University's statistics department, said he received many reactions from people around the world who were surprised by the poll's headline. He distanced himself from the headline and criticized the way his poll was presented.

"What can I do? Only the editor writes the headlines,� Fuchs said.

"When they write the number 69 together, it is correct but misleading. They could just as easily have combined the hostile and inyani categories and gotten a different large number.�

Fuchs was disturbed to hear that the English edition did not include the full distribution of the numbers. He also disagreed with the translation of the word "inyani.�

When told it had been translated as "fair,� he responded: "I definitely would not have translated it as fair. They must have a problem with English.�

The story has been removed from Haaretz's online print edition archive. An edition of the story that remains online has been rewritten with no reference to the issue in the original headline. It instead focuses on the 27% of respondents who said Obama is anti-Semitic. . .

Oops.
Posted by TS at 05:11 AM | Comments (0)
Revelation for Gideon Levy
In his column yesterday, Gideon Levy misleads:
And we must not forget that this huge building project in Jerusalem [Ramat Shlomo] is for Jews only; not one Palestinian neighborhood has been built in 43 years of occupation. Should that not be called apartheid?
Who need new neighborhoods when Palestinian building -- the expansion of pre-existing neighborhoods -- continues at an impressive pace? Consider this map from the Jerusalem Institute for Israel Studies ("Jerusalem: Facts and Trends 2005-2006," page 60):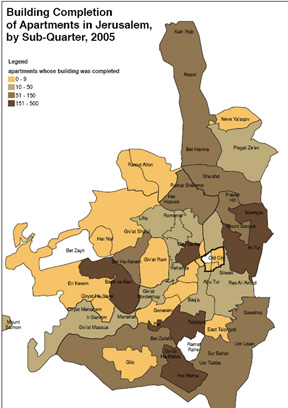 Should it not be called apartheid to prohibit Jews from building in certain neighborhoods, as Levy would like?

Posted by TS at 04:47 AM | Comments (2)
Lousy Headline of the Day
Ha'aretz's yesterday top page 2 headline was:
The article itself reads:
A 16-year-old Palestinian was killed yesterday near Nablus when Israeli soldiers fired rubber-coated bullets on demonstrators as riots continued throughout the West Bank. Another youth was critically injured in the same incident.

The clash occurred near the village of Iraq Burin, south of Nablus. Villagers own land that borders the nearby settlement of Bracha. In recent weeks demonstrations have taken place in the area by villagers, who have also pelted soldiers with stones.

A similar altercation took place yesterday around noon. Palestinian sources say settlers from Bracha tried to attack villagers. Sources in the Israel Defense Forces, however, say no settlers were present. They say the IDF force tried to prevent Palestinians from advancing toward the settlement. (Emphasis added.)
Got that? According to Ha'aretz's very own story, Palestinians claim that settlers attempted to attack Palestinians, while the army disputes this, saying that no settlers were present. But the Ha'aretz headline writer took it upon him/herself to take an even more extreme position than the Palestinians'. While Palestinians claim that settlers attempted to attack Palestinians, the headline writer says a clash did indeed occur.
Posted by TS at 03:43 AM | Comments (0)
March 19, 2010
Israelis Racist Against White Males?
Hardly ten days after the New York Times bureau chief in Jerusalem told Chris Matthews that purported Israeli "racism" is part of why Bill Clinton, Hillary Clinton and Joe Biden are, according to bureau chief Ethan Bronner, more popular in Israel than Barack Obama, a poll showed overwhelming public support in Israel for the American president. (UPDATE: Was AP duped by Ha'aretz? See our latest post on the poll here.)
As AP notes today,
Some Israelis have misgivings about Obama, who is cooler to Israel than his immediate predecessors and has made a big effort to reach out to the Muslim world.

But a Dialog survey of 499 people on Wednesday and Thursday showed that seven out of 10 Israelis share a favorable view.
The title of that AP story: "Israelis view Obama favorably, mixed on Netanyahu." So should Bronner say on his next TV appearance that Israelis are racist against white males?

Posted by at 10:30 AM | Comments (2)
March 18, 2010
Hamas Leader's Anti-Semitic Rant Ignored
Chances are, you don't know of Hamas's latest anti-Semitic rant. That's because, with rare exception, the Western media did not report what senior Hamas leader Mahmoud Zahar said about the Jews to a Palestinian conference on March 15, 2010:
You who are opening Hurva are heading towards ruin. Wherever you have been you've been sent to your destruction. You've killed and murdered your prophets and you have always dealt in loan-sharking and destruction.

You're destined to be destroyed. You've made a deal with the devil and with destruction itself – just like your synagogue.
The virtual media blackout of this of extreme Palestinian incitement is consistent with media's tendency to disproportionately focus on controversial Israeli actions while downplaying or ignoring Palestinian's share of responsibility for exacerbating the conflict.
Posted by at 01:44 PM | Comments (2)
So Much for the "Blockade" -- Gaza Gets More Help Than Haiti
Writing in YNET, Jacob Shrybman makes a telling point. The inhabitants of the Gaza Strip, who are allegedly the targets of a "blockade" have gotten more aid than Haiti, which in January was the scene of a devastating earthquake.
Shrybman writes:
A USAID and DOD report calculating the aid sent to the quake-raved Haiti noted that, as of last month, all US government programs provided just over $700 million in aid, nearly $200 million less than to the terrorist-controlled Gaza Strip.
The piece is well worth reading in full.
Posted by dvz at 10:19 AM | Comments (0)
March 17, 2010
Media Outlets Ignore Palestinian TV's Incitement to Violence Against Israel
Palestinian Chairman Mahmoud Abbas
Media outlets largely ignore the incitement to violence against Israel perpetrated by official Palestinian Authority TV, which is controlled by Palestinian Chairman Mahmoud Abbas. Prominent newspapers, like the New York Times and Washington Post, which heavily cover Palestinian-Israeli matters, say nothing about PA TV's incendiary broadcasts, the content of which clearly violates existing Israeli-PA agreements on ending incitement and is an impediment to peace.
Following CAMERA's recent report on the media's failure to cover PA TV's anti-Israel, anti-Jewish incitement, the phenomenon continues apace. Palestinian Media Watch (PMW) provides a translation of a March 11, 2010 PA TV report praising the March 11, 1978 terror attack in which 37 Israelis were murdered in a bus hijacking. The sister of the terrorist leader was interviewed:
This is a day of glory and pride for our Palestinian people and a blow to the Zionists... we must unite, and our rifles must unite, against the enemy who steals our land.
A PA broadcast aimed at Israeli Arab children teaches them to deny the legitimacy of Israel and to imagine a world without Israel. The broadcast segment refers to the land of the State of Israel only as "occupied territories� or "1948 territories� or "occupied Palestine.� PMW provides a video clip and translation of the Friday, February 26, 2010 PA TV news report in which the host addresses Israeli Arab children:
Soon, if it works out, we will be among you in the 1948 territories [PA euphemism for Israel] - the occupied territories... Our friends from the 1948 territories - the occupied territories - they write wanting us to [broadcast] there with them. Many of them have come here, Bissu [name of co-host, in cat costume], trying to be friends [of the program] and they are truly dear friends and regular [viewers]... There are also [children] from Lod [Israeli city] and also Ahmad from Nazareth [Israeli city] and there are so many. There's Adnan from Be'er Sheva [Israeli city]. Dear children: We will definitely always remain in contact with you, because you have the right, and this program is definitely yours too, just as it belongs to every Palestinian child, since you are part of occupied Palestine.
PMW provides a video clip and translation of a Thursday, February 11, 2010 PA TV news report of a Palestinian mother celebrating her son's death in an Israeli air strike against combatants:
We had always hoped for his Martyrdom (Shahada), knowing he wanted to die as a Martyr (Shahid). Every time he went out, we would say to him, 'May Allah be with you.' We knew that he wanted to die as a Martyr. Praise to Allah, he sought Martyrdom, and he achieved it. My message to every mother is to sacrifice her child for Palestine. Second woman: By Allah, we welcome every Martyr as if he were a groom among us [evidently referring to an Islamic belief, promoted by the PA and Hamas, that Islamic martyrs will marry 72 virgins in paradise].
Posted by MK at 06:08 PM | Comments (0)
March 16, 2010
Washington Post trio on US-Israel clash mostly accurate
A news article, an editorial and an opinion column in The Washington Post's March 16 edition got the U.S.-Israeli confrontation over housing construction in eastern Jerusalem mostly right.
"U.S. pushes Netanyahu to accept 3 demands,� by diplomatic correspondent Glenn Kessler, disclosed that the Obama administration is pressing Prime Minister Benjamin Netanyahu to "reverse last week's approval of 1,600 housing units in a disputed area of Jerusalem, make a substantial gesture [perhaps a prisoner release] toward the Palestinians, and publicly declare that all of the 'core issues� in the Israeli-Palestinian conflict, including the status of Jerusalem, be included in upcoming talks ....� The Post quotes an anonymous senior U.S. official as saying Israeli failure to concede would put the U.S.-Israel relationship in doubt.
"The quarrel with Israel; Will the administration's attacks on the government of Binyamin Netanyahu advance the peace process?� editorializes that "President Obama's Middle East diplomacy failed in his first year in part because he chose to engage in an unnecessary and unwinnable public confrontation with Israel over Jewish settlements in the West Bank and Jerusalem .... So it has been startling — and a little puzzling — to see Mr. Obama deliberately plunge into another public brawl with the Jewish state.� It notes that "the president is perceived by many Israelis as making unprecedented demands on their government while overlooking the intransigence of Palestinian and Arab leaders,� elevating Arab claims and undermining diplomatic prospects.
"A square for a murderer,� by Post syndicated columnist Richard Cohen, contains numerous flaws. One is an unwarranted assumption about "the legitimacy of Palestinian aspiration.� Having repeatedly rejected offers of a West Bank and Gaza Strip state in exchange for peace, maybe such a state is not the "Palestinian aspiration.� A second is misunderstanding of "the calamity that befell Palestinians in 1948.� Arab leadership, including that of the Palestinian Arabs, imposed their 1948 calamity by choosing war over acceptance of the U.N. partition plan and losing. But Cohen hits the bull's-eye on a central point: Palestinian leaders who insist on naming a public square for Dalal Mughrabi, leader of the 1979 Coast Road Massacre in which 38 Israelis, including many women and children, were butchered by Palestine Liberation Organization terrorists, as the current leaders just did, might not be disposed to negotiating genuine peace.
Posted by ER at 04:28 PM | Comments (2)
March 12, 2010
Three Institutions, Three Different Stories
The recent nighttime attack that resulted in the death of as many as 500 Christians in Nigeria has become something of a Rorschach Test.
The New York Times gave the attack front page coverage and addressed the religious angle in a forthright manner. In an article published on March 11, 2010, reporter Adam Nossiter stated unequivocally that the attack was "an especially vicious expression of long-running hostilities between Christians and Muslims." He even included a quote from a Christian in Nigeria who stated that "Some people want to be rulers every where. It's the Muslims. They said they are born to rule."
America magazine, published by the Jesuits in the U.S., has taken a different tack. The magazine published an article (subscription required) that acknowledged that the attack was an instance of "interreligious violence," but downplayed the religious enmity that motivated the attack:
Archbishop John Onaiyekan, of the Nigerian capital, Abuja, warned against describing the violence as a religious conflict. He told Vatican Radio that the violence was rooted not in religion but in other differences. "International media will say that Christians and Muslims are killing each other,� he said. "But this is not the case because people don't kill for religion, but for social, economic, tribal and cultural reasons.

"The victims are poor people who don't have anything to do with all this and are not responsible,� Archbishop Onaiyekan said. "It is a classic conflict between pastoralists and farmers, except that all the Fulani are Muslims and all the Berom are Christians.�
The World Council of Churches has issued two letters and a press release in response to the attack.
None of these documents acknowledge that the attacks were perpetrated by Muslims.
Posted by dvz at 02:11 PM | Comments (0)
March 11, 2010
USA Today Fair and Balanced on Jerusalem
Readers searching for informative, fair and balanced reporting of the Arab-Israeli conflict over Jerusalem could find it March 11 in USA Today. An article ("Biden says Palestinians merit own 'viable' state�) compiled from wire service reports by apparently knowledgeable editors was remarkable for what it included. After reporting U.S. opposition to Israeli plans for new Jewish housing in eastern Jerusalem, USA Today informed readers that:
"East Jerusalem has had a presence of Jews and Arabs for centuries. It is the site of ancient Temple Mount and Western Wall, built well before the time of Jesus Christ and is Judaism's holiest spot. It is also the site of the 8th-century Al-Aqsa mosque, revered by Muslims as holy.
"Today the area is roughly 57 percent Arab and 43 percent Jewish, according to surveys. Occupied by Jordanians for 20 years, East Jerusalem was captured by Israel in 1967 in its war against the armies of Egypt, Syria and Jordan.�
In two paragraphs, five sentences total USA Today included much of the context essential for readers to begin to understand the clash between Arabs and Israelis, Muslims and Jews over Jerusalem, in particular over Temple Mount and eastern Jerusalem. This includes the antiquity and sanctity of Jewish claims, the multi-state threat Israel faced in 1967, and the sizeable Jewish minority in east Jerusalem neighborhoods today. Such context is conspicuous by its absence from much news media coverage of the topic.
Kudos to USA Today.
Posted by ER at 04:21 PM | Comments (0)
An Answer to the Question of "Vastly Different Approaches"
Walter Russell Mead
As we noted in an early Snapshots blog post, Danny Seaman wonders "why ... the media adopt such vastly different approaches" when reporting on Israel, as compared to the rest of the conflict-filled world.
Walter Russell Mead has similar questions about the world's treatment of Israel. In his blog at The American Interest Online, Mead writes that he is "genuinely puzzled why people who in other contexts have quite interesting things to say manage to trip up in such foolish and self-defeating ways when the I-word comes up."
But he seems to have some theories.
I am always nervous around people who stridently insist that racism has disappeared in mainstream American life and only lingers on in weirdo subcultures; I feel the same way about people who say that anti-Semitism is no longer a significant feature of western culture. I am especially leery when people who loudly and implausibly assert that anti-Semitism isn't a problem anymore make harsh and unbalanced criticisms about the world's only Jewish state.

I'm not trying to grade the incommensurable suffering of people around the world, but if we compare the attention and care that the international community has extended to the Palestinians with our attention and support for other victims in other places, a disturbing pattern emerges. Whatever the wrongs of Israel's occupation policy — and I agree that there are some — the Palestinians, especially in the West Bank but even in Gaza, live much better than many people in the world whose suffering attracts far less world attention — and whose oppressors get far less criticism. I would much rather be a Palestinian, even in Gaza, than a member of a minority tribe in the hills of Myanmar, or almost anyone in the Eastern Congo or Darfur. Millions of children in Pakistan and Indonesia have less food security, less educational opportunity and less access to health services than Palestinians who benefit from UN services (to which the United States is historically the largest single contributor) that poor people in other countries can only dream of.

The disproportionate reactions to Israel's treatment of Palestinians constitutes a genuine scandal and pretty much proves that anti-Semitism did not die when Hitler shot himself underneath Berlin. Russia treats its Chechens much worse than Israel treats its Arabs yet there are plenty of self righteous German leftists who want to disinvest from Israel but favor closer relations with Putin's Russia.
Mead has promised a series of posts about the issue, and more specifically about mythologizing on the "Israel Lobby," and is delivering.
Posted by at 11:55 AM | Comments (0)
March 10, 2010
EUobserver's Misobservation on Palestinian Civilian Casualties
EUobserver.com bills itself as "[e]ditorially independent, open-minded and balanced" and "the trusted source of EU related news and information across the European Union."
It was therefore disappointing to see this wildly inflated figure for Palestinian civilian casualties given in a photo caption on the site.
While the number of Palestinian civilians killed in Operation Cast Lead last year is disputed, not even Palestinian sources put the number at 1,400. The Palestinian Center for Human Rights, whose statistics on Palestinian civilian casualties are grossly inflated, placed the figure at 1,167. A report by the Arab League on the Gaza Strip violence stated that at least 850 of those killed were civilian.

Hamas claims that the total number of Palestinian casualties from Operation Cast Lead, including combatants and civilians, was 1,444. Israel says the total number of Palestinian casualties, civilian and combatant, is 1,166, of which 709 were identified terrorists belonging to Hamas and other terror groups. Israel's figure for the number of civilian Palestinian casualties is 295.
In September, the International Herald Tribune corrected a nearly identical error. Will EUobserver now likewise correct? The good news is that the site promises that it "promptly corrects factual errors and welcomes comments and information that may call for correction." The bad news is that there are only two posted corrections, the most recent one dated April 23, 2008.
Posted by TS at 04:29 AM | Comments (0)
March 04, 2010
The Media's "Vastly Different Approaches"
In his Jerusalem Post column about foreign media coverage of the Arab-Israeli conflict, Danny Seaman asks an important question:
Why are headlines of war crimes and editorials on UN resolutions run-of the-mill during Israel's military operations to defend its citizens, yet when other countries' forces unintentionally kill civilians it is a case of "apology accepted�? The reality of war is brutal anywhere – so why does the media adopt such vastly different approaches?
Check out the rest of his piece here.
Posted by at 01:29 PM | Comments (0)
March 03, 2010
NYT's Dowd Dazzled by Saudis

Not that anyone expects deep thoughts from Maureen Dowd on the Middle East, but her March 3 column ("Loosey, Goosey Saudi") was a notable collection of inanities about social reform in Saudi Arabia.
True, she says, King Abdullah may be "premodern" as indicated by his maintaining a harem; at the same time, he's nothing short of a "social revolutionary." What are the dazzling innovations that prompt such enthusiasm?
Well, she'll get to that, but first a detour into a few paragraphs of Israel-bashing. Yes, in a column about Saudi Arabia, why wouldn't a columnist include Prince Saud al-Faisal denigrating religious practice in Israel. He tells readers that: "The religious institutions in Israel are stymieing every effort at peace." Dowd embellishes this with her own insights about alleged flaws in the Israeli rabbinate and Jewish prayer, areas she finds wanting.
As far as the exciting social reforms underway:
The kingdom just announced a new law that will allow female lawyers to appear in court for the first time, if only for female clients on family cases. Last month, the king appointed the first woman to the council of ministers. Last year, he opened the first co-ed university. He has encouraged housing developments with architecture that allows families, and boys and girls within families, to communicate more freely.
As many of the comments posted under Dowd's column aptly observe, her enthusiasm for such meager progress is ironic, to put it politely, given the rights and social standing of women in nations throughout the world (and in Israel, of course). Saudi women remain the property of men, sequestered, covered and subject to the authority of males in much of the activity of ordinary life.
Underscoring the tragedy such oppression brings to some women a Saudi Gazette story by Adnan Shabrawi the same day Dowd's column appeared reported the prison term handed down to a Saudi woman who, having accepted a ride in a car, was taken to a house near Jeddah and gang-raped all night by five men. In addition to jail, she is also to be lashed 100 times. The charge against her is "adultery."
Posted by AL at 05:09 PM | Comments (0)
March 02, 2010
The Mystery of Akiva Eldar and the HRW "Sockpuppet"
From NGO Monitor blog:
On February 23, 2010, Akiva Eldar, a reporter for Haaretz, emailed NGO Monitor with a number of "questions� allegedly related to compliance with Israel's Amuta (non-profit) laws. The questions appeared to be part of a fishing expedition designed to find some mud in order to discredit NGO Monitor's research and analysis. The fishing was the basis for Eldar's email, including a question regarding a response received by an unnamed individual who had emailed NGO Monitor regarding a donation in the United States. The evidence shows that Mr. Eldar received the email response sent from NGO Monitor to one "Steven Levy.�

This is where the plot thickens. On December 3, 2009, "Levy� emailed NGO Monitor, inquiring about tax-deductable donations in the US, and NGO Monitor replied. The email lists an IP-address 99.57.91.90, which belongs to Ernest Ulrich. Ernest Ulrich is listed as a consultant for Human Rights Watch's human resources department. (HRW has been caught using crude sockpuppets in the past to disguise the fact that its employees were sending letters to newspapers to attack critics.)

So now we have some more interesting questions. Who is "Steven Levy� and what is his relationship with both HRW and Akiva Eldar? What does Ernest Ulrich do at HRW? Which officials of HRW are in charge of such "dirty tricks�, and how is this bogus "investigation� related to the New Israel Fund, Haaretz, and other political NGOs? Presumably, Akiva Eldar will provide the answers when his article is published.
Posted by TS at 08:05 AM | Comments (0)
Hamas Extends Hospitality to British Journalist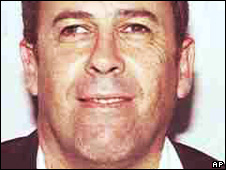 Journalist Paul Martin will be held under Hamas' care for another two weeks
Here's another example of how Hamas treats journalists "with dignity." The BBC reports:
The Palestinian Islamist movement Hamas has said it is extending the detention of a British journalist being held in the Gaza Strip.

It announced Paul Martin would be held for a further 15 days.
Posted by TS at 03:01 AM | Comments (0)
Media Whitewashes Dubai Police Chief's Statement
Police Chief Tamim: Passport personnel will be trained about Jewish features and names
Western media report statements by Dubai Police Chief Dahi Khalfan Tamim dealing with the new prohibition of anyone suspected of being Israeli from entering the UAE, but as blogger Elder of Ziyon points out (here and here), Tamim's remarks also included blatant Jew-hatred. Elder reports:
But his Arabic remarks went way beyond any English-language news agency that quoted him into naked Jew-hatred. From an Arabic interview in the Khaleej Times:

Dahi Khalfan Tamim, Commander in Chief of Dubai Police, said Israel is a rogue state, and that goes beyond international legitimacy and laws. Its leaders have sick mentalities, and they need psychologists, saying that its use of passports shows great arrogance and contempt for the world.

(Tamim said hat) the leaders of "Israel" have blood on their hands the blood of others throughout history, pointing out that the "Israeli" people are human beings like any other people who want to be loved and open to others but that the successive governments, the Governments of bloodshed and assassinations, and wars and the Governments of the occupation and aggression, are not interested in peace in the world at all.

He added that the vanity which haunts the "Israeli" mentality stems from the time of Pharaoh, and their hate comes up to this day and age.

He said that the entire world should study the mentality of the "Israeli" leaders throughout history. Their sick psyches needs to be analyzed by psychology professors, who need to examine why they launch crises, and why they brought on themselves hate from others, since the time of Moses, peace be upon him.

He said we will train our personnel in the passport of the forms and features of the Jewish people and their names, noting that no one can hide their features of Jewishness. He asked the appropriate departments to prepare nationality and residency sessions to familiarize the staff with [Jewish] forms and names, especially since most Jews hold dual passports [with Israel.]

He pointed out that the number of Jews, compared with the Europeans, is nothing, and even within Palestine itself.
Posted by TS at 02:45 AM | Comments (1)