« More Detail on Olmert's Offer | Main | Palestinian Group Blasts Hamas; Washington Post Misses News »
December 09, 2009
Judge Rules Against "Fact" TV Show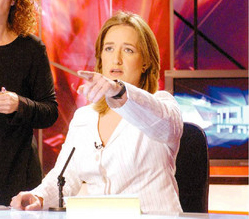 Ilana Dayan, of "Uvdah" ("Fact"), likely to appeal
Ha'aretz reports an important development in the story of Captian R, an Israeli soldier accused (and later cleared) of having "confirmed the kill" of a Palestinian girl in 2004:
Captain R., now Major R., won a legal victory yesterday. Not just a victory - a knockout. It was the culmination of an affair that began in the fall of 2004, when R., then a company commander in the Givati Brigade, became embroiled in the death of Palestinian teenage girl, Ayman al-Hams, in Rafah - an incident that became known as the "confirmed kill affair."

Just over a year later, R. was completely exonerated by a military tribunal, after his lawyers dismantled the military prosecution's case, highlighting serious shortcomings in the way the prosecution, and particularly the military police investigators, had conducted themselves.

Yesterday marked another milestone in the affair, after R. won his libel suit against investigative journalist Ilana Dayan for her presentation of the incident on her Channel 2 show "Fact."

Jerusalem District Court Judge Noam Sohlberg also awarded R. NIS 300,000 in damages.

Sohlberg's 131-page ruling will become a landmark decision in the history of journalism in Israel, due to the case's extensive publicity and Dayan's prominence.
Posted by TS at December 9, 2009 02:23 AM
Comments
Interesting how the Ha'aretz report you link tries play down the importance of little things like inserting images unrelated to the event into the broadcast to make it look more damning.
Journalistic integrity? What's that?
Posted by: Joshua Calvert at December 9, 2009 02:52 PM
Guidelines for posting
This is a moderated blog. We will not post comments that include racism, bigotry, threats, or factually inaccurate material.
Post a comment