« When Organ Harvesting Is Under the Radar | Main | Palestinian Kairos Document -- "The Tail Wagging the Dog" »
December 27, 2009
Guardian Remaps Israel -- Modi'in Is a Settlement
As if to prove our point about the Guardian, which so "frequently distorts the conflict," Rachel Shabi's article today ("Gaza ceasefire in jeopardy as six Palestinians are shot") refers to the "huge Israeli settlement at Modiin."
With some 70,000 people, Modiin can be considered huge, but it is not a settlement. It is fully situated within Israel's pre-1967 boundaries, or the Green Line.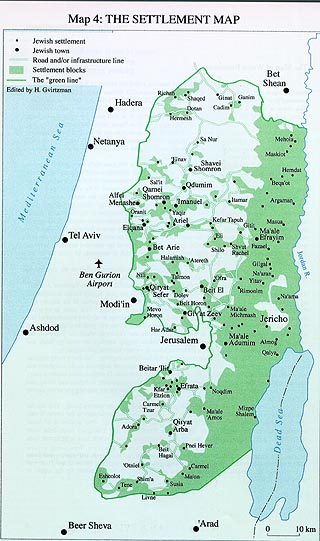 Map source:
BESA
Posted by TS at December 27, 2009 08:19 AM
Comments
The municipality of Modi'in includes the two villages of Maccabim and Re'ut. (The merger took place several years ago, when the Israeli government decided to combine many municipalities as a cost-saving measure.) Half of Maccabim is over the Green Line.
So while I think that it would be a gross exaggeration to say that Modi'in is a "huge settlement," it is undeniably true that the municipal boundaries of Modi'in, and some of its residents, do live over the Green Line.
Reuven
Posted by: Reuven M. Lerner at December 28, 2009 01:12 AM
Guidelines for posting
This is a moderated blog. We will not post comments that include racism, bigotry, threats, or factually inaccurate material.
Post a comment