« September 2009 | Main | November 2009 »
October 30, 2009
FBI kills Muslim radical -- Washington Post's 1-Sentence Story
"Radical Muslim sect leader killed in FBI raid� declared the headline above The Washington Times' top "Nation� page article on October 29. The lead paragraph noted that "the FBI ... fatally shot the [Detroit] leader [Luqman Ameen Abdullah] of a radical Muslim sect who preached a violent, separation theology and, authorities said, once remarked that law enforcement would have to shoot him before it could arrest him.�
USA Today also played the news atop its "Nation� page on the 29th, under the headline "Radical Muslim leader killed in raid; FBI charges 10 men in Mich. Tied to possible jihad scheme.�
The New York Times also covered the shooting in an article headlined "F.B.I. Raid Kills Islamic Group Leader in Michigan� on page A-20 of the newspaper's October 29 edition. It added that "the Ummah's top leader nationally is Jamil Abdullah al-Amin, formerly known as H. Rap Brown, the [1960's and '70s] black power activist, who is serving a life sentence for murdering a sheriff's deputy in Georgia in 2000.�
The Washington Times and New York Times assigned their own reporters to the story. USA Today, a Gannett Corp. newspaper, used coverage by three reporters for the Detroit Free Press, also part of the Gannett chain, and from Associated Press.
And The Washington Post? It squeezed the AP dispatch about the killing of Abdullah into a one-sentence news brief, the last of five items in a "Digest� on that day's "Politics & The Nation� page, A-3. The Baltimore Sun, which also briefed wire service coverage of the killing, gave it four paragraphs in a similar digest.
The Post recurrently minimizes, comes late to, and/or softens coverage of domestic Islamic radicalism, non-violent as well as violent. CAMERA has pointed this out previously, for example in the case of Virginia's Esam Omeish. Yet such extremism — including the under-reported phenomenon of religious conversion and radical recruitment in prisons — remains newsworthy. Though variety in newspapers' news judgement may ensure broader coverage, in cases like that of Luqman Ameen Abdullah, The Washington Post should follow the leaders.
Posted by ER at 04:11 PM | Comments (0)
October 28, 2009
Inserting Anti-Israel Messages Into Grand Opera Productions
Scene from Flimm's staging of MoĂŻse et Pharaon (Moses and Pharaoh) at Salzburg Opera Festival
The tentacles of those who would defame Israel reach out to just about everywhere in the news and entertainment media. The glorious world of grand opera is not immune to this dynamic of distortions and falsehoods. An example from early this year was a performance of composer John Adams' opera The Death of Klinghoffer.
A more recent example of this dynamic is a politicized version of the opera Moses and Pharaoh composed by Gioachino Rossini, the great 19th century Italian opera master, and first performed in 1827. The recent production of the opera was staged in August 2009 at the prestigious Salzburg (Austria) Opera Festival by the Festival's director, Jurgen Flimm. The November 2009 issue of Opera News magazine (published by the Metropolitan Opera Guild) described the anti-Israel message of Mr. Flimm's production:
In interviews, Flimm had announced that the biblical story couldn't be told today without mentioning the ongoing conflict between Jews and Arabs. So instead of watching dancers during the ballet music, we had to read quotations from the Bible on the closed curtain, demonstrating the vindictiveness of the Hebrew god. When the "ballet" was over and the curtain rose again, the stage was covered with dead children — probably an allusion to the Gaza war. To balance the message, the Israelites arrived for the finale with suitcases filled with ashes. No Red Sea had to be crossed; they simply disappeared through a back door.
Posted by MK at 10:31 AM | Comments (0)
Amnesty Water Report Falsehood #1
We will keep a running list of Amnesty International's falsehoods in its new report "Troubled Waters -- Palestinians Denied Fair Access to Water." Keep checking back for updates.
Here is the first:
An Amnesty news report accompanying the report ("The Day the Bulldozers Came") alleges:
The village of Beit Ula, where Mahmoud [al-'Alam] lives, is not connected to the Palestinian water network.
Fact: The Applied Research Institute - Jerusalem, a Palestinian outfit, has a 17-page town profile of Beit Ula, which states on page 13:
Beit Ula has been connected to the water network since 1974. Provided by the Palestinian Water Authority (PWA), almost 70% of town households are connected to the network.
Posted by TS at 08:23 AM | Comments (2)
Amnesty's Water Report: Will the Facts Trickle Out?
Yesterday Amnesty International issued a report condemning Israel's water policies and charging the Jewish state with discriminatory practice vis-a-vis allocation to its Palestinian neighbors ("Troubled Waters: Palestinians Denied Fair Access to Water"). The report is based solely on Palestinian sources.
NGO-Monitor, Israel's Foreign MInistry, and the Water Authority have responded, blasting Amnesty for the report's flaws.
CAMERA is reviewing the report and will provide updates as they are available. In the meantime, we were struck by this promotional video for the report, which juxtaposes photographs of sprinklers and swimming pools in Israeli communities with images of barren Palestinian water reservoirs and children carrying water vessels. Yet, there is no shortage of swimming pools in the Palestinian West Bank. As Ha'aretz's Avi Issacharoff wrote on Aug. 8, 2007:
Nowadays, every city in the West Bank has a pool or a recreational complex: Bethlehem has one similar to Al-Khaluf [a clover-leaf-shaped pool in Dura, near Hebron], while Ramallah has more than 10. One of Jenin's swimming champs committed a suicide bombing at Jerusalem's Sbarro restaurant in August 2001. Nablus has a pool reserved for women, and an Olympic pool. Another pool and recreation complex sits between Nablus and Tubas.

Al Khaluf draws more than 2,500 people on an average weekend day, [lifeguard Ahmed] Rajoub says. ("West Bank swimming pools help Palestinians brave the heat")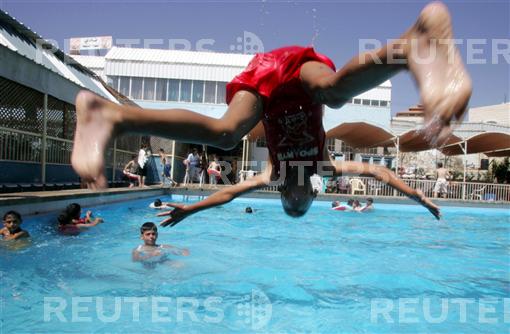 A Palestinian boy jumps into the swimming pool in Hebron (Photo by Nayef Hashlamoun/Reuters)
For more on water issues concerning Israel and the Palestinians, see earlier CAMERA reports here.

Posted by TS at 07:38 AM | Comments (0)
Where's Hamas?
For those of you who relate better to visual information as opposed to verbiage, check out Elder of Ziyon's graphic representation of the Goldstone Report's conclusions and recommendations sections. He used a program called Wordle to demonstrate the relative use of each word. Can you find Hamas?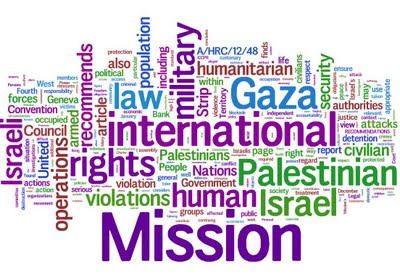 So much for the media canard that the report condemns both Israel and Hamas.
Posted by TS at 07:07 AM | Comments (0)
Guardian vs Ha'aretz On Right of Reply
Isi Leibler compares the Guardian versus Ha'aretz with respect to granting a right of reply. The Guardian comes out looking good.
Posted by TS at 04:10 AM | Comments (0)
October 27, 2009
Letters to Goldstone Belie his Claims on Bill Moyer's Journal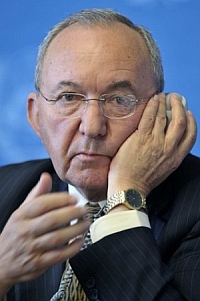 Justice Richard Goldstone--whose deeply flawed report on Israel's Dec.-Jan. military operation in Gaza has come under harsh criticism-- has repeatedly attempted to defend himself by attacking his critics.
As we've noted previously, in a Jerusalem Post Op-Ed he asserted that "there has been no attempt by any of [the report's] critics to come to grips with its substance." And he repeated this on the October 23rd broadcast of Bill Moyers' Journal (PBS):
You know, the response has not been to deal with the substance of those allegations. I've really seen or read no detailed response in respect of the incidents on which we report.
But even if he can claim "not to have seen" the accumulating body of material by NGO's, bloggers, media watchdog groups, fellow lawyers, etc. that is readily available on the web addressing the substance of the report, Goldstone has received numerous letters detailing the report's flaws. And they are increasingly entering the public domain.
Telfed, an organization of Israelis from South Africa has posted several of these on its Web Site. And today, the Israeli daily, Ma'ariv, publishes a letter to Justice Richard Goldstone from Dr. David Zangen, who, as the chief medical officer of the IDF brigade that fought in Jenin during Israel's 2002 Operation Defensive Shield, defended the IDF from false charges of a massacre there. (See Movie Review: Jenin, Jenin/Road to Jenin)
Dr. Zangen warns Goldstone about the excessive credulity with which questionable Palestinian testimony was accepted at face value, comparing it to similar but false testimony that charged Israel with perpetrating a massacre in Jenin -- a charge that was subsequently acknowledged to be false. Below is the letter in English:
Dear Judge Goldstone,

My name is Dr. David Zangen, I am a consultant in Pediatric Endocrinology and diabetes at Hadassah University Hospital in Jerusalem. Over 50% of my patient population is Palestinian from Jerusalem, the West Bank and Gaza. I speak Arabic and initiated the first training program for Palestinian physicians in the field of Pediatric Endocrinology. The trained physicians were fully respected and were included as first authors on our studies that are published in world leading professional journals.

But, at the same time I happened to be the chief medical officer of my brigade during the Defensive Shield Operation in Jenin 2002. I was responsible for the medical treatment of our soldiers but also for enabling the hospital in Jenin to provide full medical services to the civilian population and I was personally involved in numerous medical treatments that Palestinians (including warriors) received from Israeli physicians. During and after the operation the director of Jenin hospital was a source to what has been falsely called the "Massacre in Jenin where 5000 people were massacred" this same person Dr. Abu Rali has also claimed that one part of the Jenin hospital was destroyed by Israeli tank missiles "12 tank rockets were shot at the hospital …" etc

You should know, honored Judge that these statements have been proved and documented as straight lies not only by Israeli sources but also by the Human Rights Watch and the UN organizations counting only 52 dead people on the Palestinian side (23 on the Israeli side). These organizations and photographs of Jenin hospital following the operation showed no evidence for any destruction at the hospital buildings etc.

This Dr. Abu Rali a director of a hospital, a physician, lies and incites in the service of the Shahids. It is hard to believe that a director of a hospital can give such an obvious false testimony. I can't understand it and you can't understand it but unfortunately this is what has happened. Even persons who would usually be considered reliable sources become advocates of straight lies. Tragically, moral misbehavior of doctors in the Palestinian Authority is not new. The Pediatrician George Habash sent his terrorists to kill children in Israeli schools and so did the Hamas leader the pediatrician Dr. Rantisi…and so continues to do the Pediatrician encouraging the sending of rockets from Gaza on innocent Israeli schools Dr Mahmud Zaher.

Please judge Goldstone, you should really be careful when such straight liars serve as the basis for your report. I am sure that you mean well but being an eye witness both to the events in Jenin and to the subsequent media and initial false UN reporting I do understand what happened to you. How a person of such stature and integrity could become associated with such a faulted report.

Look Judge Goldstone at your report on the Al Fakhura event on January 5-6th 2009 (paragraphs 651-688). You do report how Israel was accused for directly bombing the UNRWA school. It took 2 weeks to withdraw from this accusation but you, honored Judge, went back to get your testimony only from the same people who spread the blood libel of bombing the school. Moreover when analyzing the scene you claim that you could not verify the numbers of 24 dead and 40 wounded but these numbers are not considered exaggerated. Finally in the Factual findings part you already determine that 24 people were killed and 40 injured!

Did you by any chance try to validate any of these invented and inciting details? Did you look at the Al Jazeera or BBC reports from the same very date of the event? Did you try to validate your "factual findings" conclusions by getting at least Emergency Room charts on the people admitted to their trauma department on this very day? Did you go over the I.D.'s of the "dead" people and the place or cemetery where they were supposedly buried?

Well you didn't!

In all the scene of "40 dead and 40 wounded" filmed by Al Jazeera and other channels reporters and screened at the same day all over the world you could not see bodies or blood spots in the streets beside two or three casualties and one footage of a single wall damaged by a bomb. As a physician who was at terrible suicide events with smaller number of casualties I can testify how it looks like for hours following the event….The media documentation of the Al Fakhura event does not verify and definitely does not go along with the fantasy and lies of your witnesses.

As a judge I must be sure that you did not mean to hurt Israel, I try to believe that you came to Gaza without prejudice…but a judge is expected to look at least for some evidence and verification (media, ER registration, burial places etc….) of the testimonies and not accept impossible "facts". You have let yourself to be misled by fabrications made by either terrorists or even doctors such as Dr. Abu Rali from Jenin.

I and my colleagues in Israel are proud of the medical service that is given equally to every human being regardless of his origin; we are also proud to belong to a nation that has the imprint of having higher moral standards than others.

The price that we pay for this status is very high. The Palestinians and other Muslims around the world, either common people or even respected doctors, use straight lies as part of the war against us. The Western world media criticizes us and tries to find where we were not behaving up to the extremely high moral standards that we made ourselves.

I call on you Judge Goldstone take this Al Fakhura event, look at the media coverage from the very same date…see the events in the context…try to live one day with the responsibility for the existence of this small nation of 6 million Jews threatened constantly by 300 million Muslims. I call on you to try and not draw conclusions from such lies and misleading witnesses even if they come from so-called professionals. In the modern world propaganda and lies are definitely a part of the war and as a judge you should not serve as a tool for augmenting hatred and conflicts.

We look for peace , we love peace and we do try our very best to fight for our right to exist in the highest possible moral standards even at the cost of our lives.

David Zangen M.D.
Posted by rh at 11:23 AM | Comments (2)
Kenneth Roth Admits to Human Rights Watch Disporportionate Focus on Israel
Kenneth Roth, the executive director of Human Rights Watch, has finally admitted to disproportionately focusing on Israel. Oddly enough, he made the admission in the third paragraph of his Op-Ed in Ha'aretz, just after rejecting the allegation that his organization disproportionately focuses on Israel.
Confused? (Perhaps that what Roth wanted?) Have a look at the relevant paragraphs:
Critics of Human Rights Watch's work on Israel raise three main points. First, they say we disproportionately focus on Israel, and neglect other countries in the Middle East. Second, they claim our research methodology is flawed - relying on witnesses with an agenda. Third, as recently expressed by our founding chairman Robert Bernstein, they argue that we should focus on "closed" countries such as China rather than "open" societies like Israel.

I reject all three claims.

Human Rights Watch currently works on seventeen countries in the Middle East and North Africa, including Iran, Egypt, Libya and Saudi Arabia. Israel accounts for about 15 percent of our published output on the region. The Middle East and North Africa division is one of 16 research programs at Human Rights Watch and receives 5 percent of our total budget. Israel is a small fraction of what we do.
Got that? HRW works on seventeen Middle Eastern and North African countries. These include not only the most obvious offenders mentioned by Roth — Iran, Egypt, Libya and Saudi Arabia — but also other far-from-skilled practitioners of human rights like Yemen, Iraq, United Arab Emirates, Algeria, Lebanon, Bahrain. (You can learn some more about those countries' records here.)
Let's do the math together:
• One divided by seventeen is .058, or roughly six percent.
• The 15 percent of HRW's published output from the region that Roth admits is devoted to Israel is toweringly greater than than the six percent that would go to Israel were all countries in proportion.
And there we have disproportion.
Add to this the fact that the other countries in the region include, for example, this country as described by the US State Department:
Citizens did not have the right to change their government. The government restricted civil liberties, including freedoms of press, speech, assembly, association, and some religious practices. Domestic violence against women and children persisted, as did discrimination on the basis of gender, religion, nationality, and sect, especially against the Shia majority population. Trafficking in persons and restrictions on the rights of expatriate workers remained problems.
And this one:
During the year the following significant human rights problems were reported: no right to change the government peacefully; beatings; judicially sanctioned corporal punishment; impunity, particularly on the part of the religious police; denial of public trials and lack of due process in the judicial system; political prisoners; incommunicado detention; restrictions on civil liberties such as freedoms of speech (including the Internet), assembly, association, movement, and severe restrictions on religious freedom; corruption; and lack of government transparency. Violence against women and discrimination on the basis of gender, religion, sect, and ethnicity were common. The sponsorship system limited the rights of foreign workers and remained a severe problem.
And this one:
The government restricted citizens' right to change their government. Domestic and international NGOs reported cases of torture, arbitrary arrest, prolonged detention, and the continuance of poor prison conditions. Impunity, denial of due process of law, and limited judicial independence remained problems. Infringements on citizens' privacy rights continued. The government harassed religious activists and opposition political party members and restricted to varying degrees freedom of speech, press, assembly, association, and movement. Legal and societal discrimination existed against women, converts from Islam, and persons of Palestinian origin. Restrictions on labor rights and abuse of foreign domestic workers remained problems.
The list could go on, making clear that HRW's obsessive criticism of Israel is not only out of proportion to the country's position as one among seventeen other regional states, but also well out of proportion to the countries' human rights records.
(The organization's disingenuous attempts to defend its record are hardly new. See, e.g., here.)
Posted by at 09:32 AM | Comments (8)
Will the Real J Street Please Step Forward
J Street has long insisted on its identity as a "pro-Israel" organization (a tag that has stuck in certain circles), so its move to drop the term "pro-Israel" from its campus groups gives pause. The Jerusalem Post reports:
"We don't want to isolate people because they don't feel quite so comfortable with 'pro-Israel,' so we say 'pro-peace,'" said American University junior Lauren Barr of the "J Street U" slogan, "but behind that is 'pro-Israel.'"
J Street's big tent approach has drawn in unconventional "pro-Israel" advocates such as the former national political director at the Arab American Institute and heads of other pro-Arab organizations, such as AMIDEAST. So its hardly surprising that J Street also seeks to attract their like-minded counterparts at universities.
Posted by TS at 06:10 AM | Comments (0)
Aftonbladet Scandal Updates
On Oct. 15, the European Edition of the Wall Street Journal published an Op-Ed by CAMERA's Executive Director Andrea Levin on the Aftonbladet affair. Yesterday, the Local, Sweden's English-language newspaper, reprinted the Op-Ed.
In a separate development, the Kuwaiti Arab Times reports that Palestinian organs are being harvested -- in Jordan. The AFP article on organ trafficking in Jordan stated:
According to a recent government study of 130 cases in which kidneys were sold, nearly 80 percent of 'donors' were Palestinians from Baqaa in northwest Amman, the largest refugee camp in the country.
Judging by Aftonbladet's Aug. 17 article, the paper has a particular interest in organ trafficking issues, especially concerning Palestinians. Given that the Jordanian story is verifiable and 17 years more current than Donald Bostrom's original article based on an alleged 1992 case, we look forward to an Aftonbladet report on trafficking in the Hashemite kingdom as well as in Egypt, India and Pakistan.
We also still await a response from Aftonbladet editor Jan Helin to our Sept. 11 letter outlining flaws in Bostrom's Aug. 17 article.

Posted by TS at 05:22 AM | Comments (1)
Ha'aretz Keeps Up J Street Promotional Beat
Here is today's installment of Ha'aretz's daily J Street promotional beat. Ha'aretz has avoided all of the tough questions about J Street, and consistently berates Ambassador Michael Oren for not engaging the "pro-Israel lobby." Today's article then goes on to quote confab participant "Angela Godfrey-Goldstein of the Israel Committee Against House Demolitions," failing to mention that ICAHD director Jeff Halper calls for a one state solution.
Other "reporting" today in the service of bolstering J Street include two photographs (one small one on the front page and a huge one of page 2) of a man holding up a sign that says "J St Nazis." The caption reads: "Bob Kunst of Shalom International protesting J Street in Washington yesterday, across from where the lobby's first national conference was held." The article also contains a paragraph about Kunst's one-man protest, thereby giving prominent coverage to a J Street critic who uses extremist language without articulating any intelligent argument. By giving Kunst highly visible coverage and ignoring critics who have raised serious concerns of substance, Ha'aretz attempts to paint any criticism of the organization as unfounded.
One of the points raised by serious critics involves Jim Gerstein, who Ha'aretz reporter Natasha Mozgovaya today identifies as "[p]ollster and political adviser." It is no surprise that Gerstein is repeatedly quoted in favor of J Street, both in today's Ha'aretz and in many other media reports. He is afterall a former J Street vice president who happens also to carry out polls for the organization, a conflict of interest you won't read about in Ha'aretz.
Furthermore, it is extremely hypocritical of Ha'aretz to fault Ambassador Oren for failing to engage J Street, when Ha'aretz itself has been known to take an anti-dialogue stand, refusing to respond to CAMERA's concerns about the accuracy of its some of its reports.
Posted by TS at 04:23 AM | Comments (2)
October 25, 2009
Reminder: Arabs Serve in IDF
Here's a good reminder from the BBC to the media outlets that have had difficulty recognizing that Arabs do serve in Israel's army. (Los Angeles Times and Washington Post, take note.)
Posted by TS at 04:25 AM | Comments (0)
October 22, 2009
Israel Hailed by British Colonel for Upholding Human Rights
Col. Richard Kemp, the former commander of British forces in Afghanistan, made a remarkable statement during his testimony before the United Nations Human Rights Council.

"The IDF," he said, speaking on behalf of UN-Watch, "did more to safeguard the rights of civilians in a combat zone than any other army in the history of warfare" (Oct. 16, 2009).

In fact, he said it twice. Watch his testimony below:

Col. Kemp's testimony has been largely ignored by mainstream news reporters, but was quoted in an Op-Ed in The New York Times by Robert L. Bernstein, the founder of Human Rights Watch and its chairman emeritus who distanced himself from Human Rights Watch's Israel-bashing agenda.
Posted by sas at 11:22 AM | Comments (1)
October 21, 2009
AFP, Unlike NY Times, Recognizes Hamas TV Incitment
Yesterday, we pointed out that Agence France-Presse excluded key information from an article describing Western reaction to the Goldstone Report. But at least when it comes to describing Hamas televisions's children's programming, AFP trumped the New York Times.
The New York Times Magazine, if you recall, recently published an article about Palestinian Sesame Street that whitewashed Hamas's Al Aqsa TV by ignoring it's most abhorrent and dangerous content — its virulent incitement to hatred and violence against Jews and Israel. The article suggested that the station's ideological lessons don't go beyond discouraging the use of English, promoting the Koran, and harshly criticizing Denmark. (Yes, Denmark.)
To AFP's credit, its own story about Palestinian Sesame Street published today was much more honest in its brief reference to Al Aqsa Television. The reporter noted that the man in charge of Sesame Street "is particularly keen to send the famous Muppets to Gaza, where the station run by the Islamist Hamas has stirred international outrage with its cartoon characters seen as glorifying violence against Israel."
Yes, one can raise questions about AFP's language here. For example, the article says that the characters are "seen as" glorifying violence; but in a separate article today, AFP didn't feel the need to append "seen as" to its subjective description today of certain Israeli leaders as "hawkish" and "hardline." Not very consistent. But still, the piece generally got it right about Hamas TV, which the New York Times, with its red herring about Denmark, deplorably failed to do.
(We'll avoid any puns here about Danish love for herring vs. the Times use of a red herring.)
Posted by at 01:59 PM | Comments (0)
Swedish Hypocrisy
Swedish Prime Minister Fredrik Reinfeldt
Swedish blogger Ilya Meyer points out Swedish Prime Minister Fredrik Reinfeldt's two divergent approaches to defamatory news articles published in the now-notorious Swedish newspaper, Aftonbladet.
Regarding the anti-Israel, anti-Jewish blood libel published by Aftonbladet in August 2009:
Swedish Prime Minister Fredrik Reinfeldt repeatedly stated that the Swedish constitution and Swedish law prevented him from making any comment on the article, as this would constitute undue government interference in the press and illegal press censorship.
In fact, the government took Swedish Ambassador Elisabet Borsiin-Bonnier to task for criticizing the article, insisting her statements did not have government backing. Prime Minister Fredrik Reinfeldt insisted he could not make any comments on the article as this would violate freedom of the press.
But Meyer demonstrates the Prime Minister's about face in statements made on October 20, 2009 in response to an article in Aftonbladet by a Swedish right-wing party accusing Muslims of being a threat to the nation.
"We must increase tolerance in society." Swedish Prime Minister Fredrik Reinfeldt, October 20, 2009....

"I acknowledge that there are tensions in Swedish society," said Swedish PM Fredrik Reinfeldt ...on October 20.
Meyer asks a few pointed questions:
Did Reinfeldt lie to the nation and the world in August when he said that Swedish law forbade him from commenting on an article that insulted Jews, Israelis and Judaism? He had, after all, gone on record as confirming that it was the Swedish constitution that prevented him from commenting on the article. Or is he breaking the law now by commenting very publicly on another article in the very same newspaper, with the only difference that this time it is Muslims who quite rightly feel targeted?
Posted by rh at 12:40 PM | Comments (0)
Newsflash: Goldstone Report Does NOT Condemn Hamas
In what has become a virtually universally accepted formulaic description of the Goldstone Report, journalists write over and over again that the document condemns both Israel and Hamas for war crimes.
But it is Hamas official Moussa Abu Marzook, speaking on Al-Arabiya, who disillusions all those duped by this claim. Palestinian Ma'an News Agency reports:
Speaking on Al-Arabiya, Moussa Abu Marzouq reiterated the party's stance on the UN-mandated Goldstone report, which says there is evidence of war crimes in the actions of Israel and Gaza factions during Israel's Operation Cast Lead in December and January.

"It was all Palestinian factions who launched projectiles,� Abu Marzouq said, "including Fatah,� indicating that the report does not single out Hamas.
Tipped off by Abu Marzook, Elder of Zion blogger reexamines the Goldstone Report, and concludes,
Sure enough, the report does everything possible not to explicitly name Hamas as being in violation of any humanitarian laws. . . . . The only recommendations in the report to "Gaza authorities" are to release political detainees and to "continue to enable the free and independent operation of Palestinian non-governmental organizations.
It's worth reading Elder's entire analysis, but here's a highlight:
Going back to the section that is about Qassam rocket attacks against Israel, here is the first time the word "Hamas" is written in the body of the report, para. 1608:

On 20 April 2009, a member of Hamas called on other armed groups to stop firing rockets "in the interests of the Palestinian people�

Unbelievably, Hamas is only mentioned as a force that wants to stop rocket fire!
Posted by TS at 06:01 AM | Comments (0)
October 20, 2009
No FYI From AFP on HRC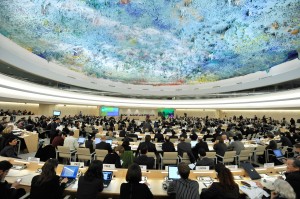 In an Agence France-Presse story about Israel's reaction to the Goldstone Report, the wire service reported on the position taken by Israel's allies. Sort of.
The Oct. 20 story states:
Israel was dealt a heavy diplomatic blow with the adoption by the UN Human Rights Council of the report that accused both Israel and the Hamas rulers of the Gaza Strip of war crimes.

Israel's closest allies, the United States, Britain and France urged it to investigate war crime allegations raised by the fact-finding missions headed by Richard Goldstone, a former international war crimes prosecutor.
But glaringly absent from this description is some obviously relevant facts, which would help readers understand the position of "Israel's closest allies."
The United States, a member of the Human Rights Council, actually voted against the resolution, as did Hungary, Italy, Netherlands, Slovakia, and Ukraine. And neither Britain nor France voted in favor of the resolution. (Among those voting in favor of the resolution were such paragons of human rights as China, Cuba, Egypt, Jordan, Pakistan, Russia and Saudi Arabia.)
Moreover, the US representative to the HRC, Douglas M. Griffiths, relayed to the council the American view that the Goldstone Report itself is "flawed," and strongly criticized the HRC's resolution.
Similar criticisms were raised by the UK, and France noted that it did not vote in favor of the resolution in part because its concerns weren't taken into account.
Important context is also missing from AFP's statement that Goldstone "has faced a storm of personal attacks inside Israel since the report's publication." Purported "personal attacks" notwithstanding, AFP failed to inform readers that there is no shortage of substantive criticism of Goldstone's report.
AFP readers deserve to know this, but the wire service's shaky coverage of the Middle East conflict continues to hamper understanding.
Posted by at 02:53 PM | Comments (0)
Jewish-Arab Fertility Gap Closes
The Jewish Week published a piece by Yoram Ettinger on the downplayed, but highly significant, demographic shift occurring among Israelis and Palestinians. Israel's Jewish population, in contrast to the populations of other developed countries, has experienced an increase in fertility in recent years. Meanwhile, Palestinian society has seen a steady decline in fertility to the point that the fertility gap has almost closed between the two groups.
Recognition of this demographic shift could have significant repercussions on the Arab-Israeli peace process. For decades an underlying assumption was that for its own good, Israel was compelled to divest itself of the West Bank because the rapidly increasing Palestinian population would eventually outnumber the Jewish population and lead to an untenable situation for the democratic state.
Ettinger has played an important role in upsetting this conventional wisdom. In 2005, he co-authored with Shahaf, Sohar, Passig, Shvout, Faitelson, Zimmerman, Seid and Wise, a study showing that the official Palestinian population figures in the West Bank and Gaza were based on unrealistic growth rate forecasts. The actual Palestinian population in 2004 was closer to 2.4 million for the West Bank and Gaza rather than the 3.8 million official figure.
Israeli Arab birthrates have also diminished. As a result, Ettinger calculates that Jewish births have increased from 69 percent of all Israeli births in 1995, to 75 percent in 2009.
The decline in Arab births in the West Bank, Gaza and Israel corresponds to the decline throughout the Arab and Muslim world. Modernity has begun to take hold in many of these countries, driving down birthrates. The Palestinian population has become urbanized and better educated. These factors drive down birthrates almost everywhere.
Scrutiny of the population claims in Israel and the West Bank should be extended to the population of Palestinian refugees in the neighboring countries. UNRWA, the UN organization charged with looking after Palestinian refugees, has a vested interest in a consistently growing population as this helps establish the level of international aid apportioned to UNRWA. Could it be that a similar systematic exaggeration of numbers has occurred among the recipients of UNRWA services as well?
It remains to be seen whether this new demographic reality will herald a shift in strategic thinking within Israel or for that matter the Arab world. The demographic shift, however, does not change the underlying reality of an increasingly crowded land with limited space serving as home to two hostile peoples who both continue to multiply.
Posted by SS at 02:43 PM | Comments (0)
Tough Questions for J Street
As the Oct. 25 J Street conference approaches, Lenny Ben-David asks tough questions of J Street founder Jeremy Ben-Ami. These questions, and other concerns about an organization purporting to be pro-Israel, have gone unasked by media outlets like Ha'aretz, which has recently run, not one, but two articles about Israeli ambassador Michael Oren's unanswered rsvp to J Street's conference invitation.
The New York Times' feature on J Street also went for puff instead of tough.
"Michael Oren ducks the question of J Street" reads the Ha'aretz headline. Let's see if Jeremy Ben-Ami also ducks the many questions surrounding J Street.
Posted by TS at 07:23 AM | Comments (1)
HRW Founder Joins Group's Critics
Human Rights Watch founder Richard Bernstein today joins the organization's critics. He writes in the New York Times:
When I stepped aside in 1998, Human Rights Watch was active in 70 countries, most of them closed societies. Now the organization, with increasing frequency, casts aside its important distinction between open and closed societies.

Nowhere is this more evident than in its work in the Middle East. The region is populated by authoritarian regimes with appalling human rights records. Yet in recent years Human Rights Watch has written far more condemnations of Israel for violations of international law than of any other country in the region.

Israel, with a population of 7.4 million, is home to at least 80 human rights organizations, a vibrant free press, a democratically elected government, a judiciary that frequently rules against the government, a politically active academia, multiple political parties and, judging by the amount of news coverage, probably more journalists per capita than any other country in the world — many of whom are there expressly to cover the Israeli-Palestinian conflict.

Meanwhile, the Arab and Iranian regimes rule over some 350 million people, and most remain brutal, closed and autocratic, permitting little or no internal dissent. The plight of their citizens who would most benefit from the kind of attention a large and well-financed international human rights organization can provide is being ignored as Human Rights Watch's Middle East division prepares report after report on Israel.
For more on how HRW has lost its way, see here and here.

Posted by TS at 04:08 AM | Comments (1)
October 19, 2009
Goldstone Pulls a Carter
Nearly two years ago, after the publication of Jimmy Carter's Palestine: Peace Not Apartheid, CAMERA wrote:
In line with this defense, the former president repeatedly has argued that his critics, who supposedly have no grounds to criticize the factual accuracy of the book, have resorted to name-calling and ad hominem attacks.
In the Washington Post, for example, Carter stated that "most critics have not seriously disputed or even mentioned the facts ..."
This, despite the body of criticism by CAMERA and others dealing precisely with factual problems in his work.
Today Judge Richard Goldstone pulls a Jimmy Carter. Goldstone begins his Op-Ed today in the Jerusalem Post:
Five weeks after the release of the Report of the Fact Finding Mission on Gaza, there has been no attempt by any of its critics to come to grips with its substance. It has been fulsomely approved by those whose interests it is thought to serve and rejected by those of the opposite view. Those who attack it do so too often by making personal attacks on its authors' motives and those who approve it rely on its authors' reputations.
No attempt by critics "to come to grips with its substance"? In fact, here are analyses by CAMERA, NGO Monitor and the new site Understanding the Goldstone Report of the factual problems in Goldstone's report.
By denying the existence of his critics' substantive points, Goldstone (like Carter before him) does not have to answer them. Who exactly is failing to come to grips with substance?
Posted by TS at 08:31 AM | Comments (2)
October 14, 2009
Journalists Flee Iran
The New York Times' Nazila Fathi writes that Iranian journalists are fleeing their country for fear of government retribution for sending photographs and articles of the post-election demonstration to foreign media outlets.
Her colleague, Robert Mackey, blogs about the plight of Canadian-Iranian journalist Maziar Bahari, who has been in solitary confinement for 115 days.
Posted by TS at 09:34 AM | Comments (0)
October 11, 2009
Amira Hass Gets Lifetime Award
President Obama isn't the only one receiving awards based on as-yet-unattained accomplishments. On Oct. 20, the International Women's Media Foundation will reward Ha'aretz's Amira Hass the 2009 Lifetime Achievement Award.
According to IWMF's press release:
[Hass] has demonstrated her ability to defy boundaries of gender, ethnicity and religion in her pursuit of the truth in her reporting. In covering the Palestinian Occupied Territories, her goal has been to provide her readers with detailed information about Israeli policies and especially that of restrictions of the freedom of movement.
Presumably, her "ability to defy boundaries" includes her two illegal entries into the Gaza Strip this year. Likewise, her "pursuit of the truth" apparently include her understatement concerning the amount of industrial fuel that Israel permits into the Gaza Strip, her misrepresentation of the Gaza Strip's medical situation, and her false description of certain West Bank roads as "Jewish only."
(Hat tip: MK)
Posted by TS at 06:50 AM | Comments (6)
Kid-Friendly Palestinian TV Thrives!
The latest New York Times whitewash on Palestinian incitement, this time a New York Times Magazine article by Samantha Shapiro, insists:
Children make up a majority of the population in the Palestinian territories, and they have played an iconic role in the Palestinian national struggle. But there is very little programming created with them in mind.
In actuality, there has been Hamas' kid-friendly Farfur character, whose resemblance to Mickey Mouse stops when he opens his mouth and calls on kids to pick up AK-47s. After his "martyrdom" at the hands of Israelis, Farfur was followed by his cousin Nahoul, a giant Jihadi bee who promised to carry on his rodent relative's commitment to "Islam, heroism, martyrdom, and the mujahideen."
And just eight days before Shapiro's article claiming that the Palestinian children's entertainment needs have been largely ignored, Nassur the bear made an appearance on Hamas TV, saying: "We want to slaughter [the Jews] so that they leave our land, right?�

Posted by TS at 05:54 AM | Comments (0)
Guardian Erases Israeli Nobel Prize Winners
National Review Online reports:
The British paper The Guardian – which one would just dismiss as an irrelevant left-wing rag, except that it is the overwhelming paper of choice for British teachers and for news staff at the BBC, the world's largest broadcasting network, who are "inspired� by Guardian stories on a daily basis in their broadcasts – is no friend of Israel and the Jews, as I have noted before.

But now it has wiped Israel off the Nobel Prize map, much as Iranian despot Mahmoud Ahmadinejad would like to wipe Israel off the real map.

To accompany their story about Barack Obama winning the 2009 Nobel Peace Prize, The Guardian posted on their website what they claimed was "every peace prize winner ever,� stating that the information came from the website Nobelprize.org. But guess whose names The Guardian took off the list, KGB-style, hoping no-one would notice? All three Israelis who have won the peace prize: Menachem Begin, Yitzhak Rabin and Shimon Peres.

Following outrage in Britain, including online articles on the websites of the conservative-leaning Daily Telegraph and Spectator (why are most anti-Semites on the Left these days?), The Guardian slipped the Israeli names back on to their list.
For more on the Guardian's Israel problem, see here.
Posted by TS at 04:10 AM | Comments (0)
October 09, 2009
How Will Ateek Respond?
Rev. Dr. Naim Ateek, founder of Sabeel Ecumenical Liberation Theology Center at Old South Church in Boston, October, 2007 (CAMERA)
Soon after the beginning of the Second Intifada in September 2000, Anglican Priest Naim Ateek, founder of Sabeel Ecumenical Liberation Theology Center, issued statements in both English and Arabic that praised Palestinians for fighting against Israel after Ariel Sharon's visit to the Temple Mount.
In English, Ateek wrote "it was right for our Palestinian Muslim brothers and sisters to stand up in defense of their holiest place al-Haram al-Sharif, when it was being threatened and desecrated." In Arabic he wrote, "We salute our Palestinian Mulsim brethren for their defense of their holiest place." (In fact, Mecca is Islam's holiest place.)
The phrase, "standing up in defense of their holiest place," may seem like a pretty benign affirmation of nonviolent action, unless one takes into account the fact that several Israelis had been killed by Palestinians after Sharon's visit to the Temple Mount. This was no non-violent protest.
In sum, Ateek affirmed Palestinian propaganda used to justify violent acts against Israelis. An odd choice for a man who calls himself a "peacemaker."
Now it looks like Ateek is faced with a similar scenario. Palestinian leaders are falsely accusing Israel of "besieging" the mosque. If history is any predictor, this is a prelude to increased violence.
What will Ateek do?
Will he affirm Palestinian propaganda and incitement?
Or will he speak truth to power and condemn leaders in the West Bank for lying about Israel?
Will he encourage the Palestinian people to remain calm?
Or will he remain silent?
If Naim Ateek truly is a man of peace, now is the time for him to step up and tell his Palestinian Muslim brothers and sisters to refrain from violence, not to riot, and to not throw stones at Israelis.
What will he and the other leaders in the Palestinian Christian community say in do in the days ahead?
Will they stand up and oppose the anti-Israel incitement, or will they remain silent, wait until the violence spirals out of control and then condemn Israel when it responds with force?
Naim Ateek has been portrayed as the "Desmond Tutu of Palestine."
We may soon find out in the days and weeks ahead whether he truly deserves this moniker or not.
Posted by dvz at 11:55 PM | Comments (0)
Mapping the Global Muslim Population
The Pew Forum on Religion and Public Life has published a comprehensive breakdown of the world Muslim population.
The study highlights some interesting facts on the Muslim population and confirms lower estimates of the US Muslim population at around 2 to 2.5 million.
More than half of the world Muslim population resides in South and Southeast Asia. Four countries - Indonesia, Pakistan, India and Bangladesh - account for 44 percent of the world's 1.57 billion Muslims.
The Middle East and North African region contains 20 percent of the world Muslim population, but has the highest proportion of Muslims in its population. Over 90 percent of inhabitants of Middle Eastern and North African states are Muslim.
Considering the difficulties Europe is having adjusting to its increasing Muslim population, it is interesting to note how low the proportion of Muslims are in most European countries. Muslims are now 3 percent of the UK's population. In France and in the Netherlands, the figure is about 6 percent and in Sweden and Norway, around 1 percent. Russia, it turns out, has the largest Muslim population among European states, with over 16 million, making up nearly 12 percent of the population.
Posted by SS at 02:48 PM | Comments (0)
Muslim Leaders' Old Battle Cry Heard Again:Defend Al Aqsa Mosque From the Jews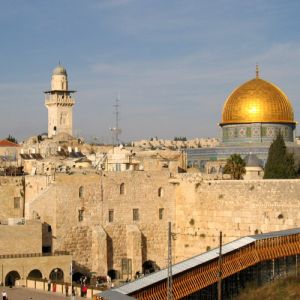 Palestinian and Muslim leaders are again reverting to their trusted and successful anti-Israel incitement methods, calling on Muslims to defend the al Aqsa Mosque from the Jews. Since 1929, this same specious claim-- that Jews are trying to take over Muslim holy sites --has been used successfully as a call to Jihad. Read "The Battle Over the Temple Mount."
Posted by rh at 08:40 AM | Comments (0)
October 08, 2009
Ex-Congressman (and Felon) James Traficant Bashes Israel and Jews
Released after serving seven years in a federal prison for racketeering and bribery, James Traficant is touring the media circuit including an appearance (Sept. 29, 2009) on Hannity (Fox News Network) with Sean Hannity. While Mr. Traficant regularly engages in anti-Jewish and anti-Israel rants, Sean Hannity is not among those interviewers who fail to challenge the sort of bizarre condemnations that Traficant traffics in.
Here is an excerpt from the Hannity/Traficant interchange:
TRAFICANT: I believe they (Jews and Israel) control the Senate and the House Foreign Affairs Committee.

HANNITY: That's insane.

TRAFICANT: And they're controlling our foreign policy.

HANNITY: That's -- Congressman, that's conspiratorial.

TRAFICANT: Well, that your opinion.

HANNITY: Conspiratorial nut-job stuff.
Click here to read a transcript of the Hannity/Traficant interchange.
Press the play button below to view the Hannity/Traficant interchange (9 minutes):
Posted by MK at 06:00 PM | Comments (0)
October 07, 2009
Washington Post Confuses Gaza with N. Ireland
The Washington Post's October 7 lead "The World" pages article "What to Do With Hamas? Question Snarls Peace Bid; Islamist Group's Resilience and Obstinacy Frustrate Many" was informative enough to make the Daily Alert news summary distributed by the Conference of Presidents of Major Jewish Organizations. But two flaws weakened the report by The Post's Jerusalem Bureau Chief, Howard Schneider.
The Post notes that Hamas (the Palestinian Islamic Resistance Movement) is "unlikely" to accept international conditions for inclusion in negotiations, including renunciation of violence, adherence to previous Israeli-Palestinian agreements and recognition of Israel. But U.S. envoy George "Mitchell faced a similar dilemma during the Northern Ireland peace process, when there was opposition to inclusion of the Irish Republican Army in the talks ...." The analogy fails: the IRA wanted to "liberate" Northern Ireland from the United Kingdom; destroying England and the English people was not its raison d'etre. Hamas' reason for being is to destroy Israel and slaughter the Jewish people; a Gaza Strip and West Bank "Palestine" is only a stepping stone. Since the article cites Hamas and its representatives to this effect, why suggest the Northern Ireland/IRA case is "similar"?
The Post uncritically transcribes the Hamas narrative, writing that "just as the 'peace culture' that followed the signing of the Oslo accords in the early 1990s gave way to an intifada, or uprising in 2000, Hamas officials say the current upbeat mood in the West Bank will at some point erode --- leaving groups that support armed action in favor." The "peace culture" or brief euphoria that followed the 1993 Israeli-Palestine Liberation Organization Declaration of Principles was destroyed by "armed action" --- terrorist attacks on buses, restaurants, shopping malls and other civilian targets --- launched in 1994 by Hamas, Palestinian Islamic Jihad, and PLO-related groups. As many Israelis were murdered by Palestinian terrorists from 1993 to 1998 as were killed in the 15 years before Oslo.
The 2000 intifada, on the other hand, was the Palestinian leadership's violent rejection of that year's Israeli-U.S. offer of a West Bank, Gaza Strip and eastern Jerusalem country in exchange for peace with Israel as a Jewish state.
"What to Do With Hamas? Question Snarls Peace Bid" highlights some key obstacles to Israeli-Palestinian diplomacy. But it clouds one and trips over another.

Posted by ER at 03:36 PM | Comments (0)
What the New York Times Can Learn from Aladdin Elaasar
Egyptian author Aladdin Elaasar says that it is difficult for Muslims and Arabs to speak out against anti-Semitism. "Those who dare to sing anything other than the official tune," he notes, "can find themselves accused of apostasy, tarnishing the image of their country, arrested, tortured and dismissed from their jobs."
That doesn't stop him from trying, though. In the Oct. 6 Jerusalem Post , Elaasar tackles the phenominon head on. He writes:
Since the establishment of the State of Israel, many Arab regimes have taken a hard-line against it, conveniently recycling crude anti-Semitic images for their public. ...

Amazingly, fundamentalist groups find themselves using similar rhetoric to that of state-owned media across the Arab world. The result has been the demonization and dehumanization of the Jewish people, and Israelis in particular, in the eyes of many who belong to the Muslim faith. Hate speech has found its way into state-sponsored textbooks, brainwashing generations since the early forties.
Ironically, two days before the publication of this piece by an author who had much to lose for exposing anti-Jewish and anti-Israel incitement, another journalist with no such fears essentially whitewashed the phenomenon Elaasar sought to reveal.
Writing in the New York Times Magazine, Samantha M. Shapiro summarized Palestinian children's programing as follows:
On the Palestinian Broadcasting Corporation, the Palestinian Authority's official channel, the longest-running children's program is a slow-moving talk show hosted by a young woman who sometimes reads storybooks aloud into the camera or watches, in real time, as an artist painstakingly paints a parrot. The official Hamas channel, Al-Aqsa television, has several children's shows, and Al-Aqsa's director of children's programming, Abu Amr, told me the network is considering starting a station devoted entirely to children. Al-Aqsa TV's most famous (and infamous) children's program is "Tomorrow's Pioneers,� in which Saraa, a Palestinian girl, and several animal characters teach ideological lessons: why it is bad to speak English and good to memorize the whole Koran; how the Danes are infidels who should be killed. Occasionally an animal character will die as a martyr for Palestine.
Well actually, the program is infamous because of the very "demonization and dehumanization of the Jewish people, and Israelis particular" that Elaasar described.
As CAMERA's most recent article notes:
Hamas TV repeatedly shows images of Mickey Mouse and other cartoon characters "resisting" the evil Zionists, being slaughtered by them and urging revenge. More than "how the Danes are infidels" Hamas TV preaches the need for Palestinian children to eliminate the filthy Jews. In one episode, for example, a bear puppet teaches his young audience that "we want to slaughter" the Jews, and that if they don't leave Israel peacefully, "we'll have to slaughter them." (See the chilling video here.) In a different episode, the puppet told the children that he will be a jihad fighter and carry a rifle. Another of the show's characters, a Bugs Bunny look-alike, once bragged that he will "finish off the Jews and eat them." PA TV children's shows routinely teach that Haifa, Tiberias, Jaffa and other Israeli cities are part of "Palestine" and that "resistance" (terrorism) is laudable.
The rest of the Shapiro's piece was devoted to a (generally interesting) discussion of the history of the Israeli and especially Palestinian programs linked to Sesame Street, meaning that other Palestinian programs indoctrinating children to hate were, as seems to be normal for the Times, ignored altogether.
(Apparently she saves her discussions of anti-Semitism for articles casting doubt on the ADL's concerns about anti-Semitism.)
Posted by at 02:42 PM | Comments (0)
October 01, 2009
Undiplomatic British Diplomat Guilty of Anti-Semitic Rant

Rowan Laxton
According to a Daily Mail report, A British court, on Sept. 24, found the head of the South Asia desk of the British Foreign Office guilty of racially aggravated harassment. Rowan Laxton also faces loss of his job.
It seems that Mr. Laxton, working out at the London Business School gym in January, accomplished the indelicate maneuver of putting his foot in his mouth while pedaling an exercise bike. Watching a TV report about a farmer in the Gaza Strip allegedly killed by Israeli bombs, the diplomat shouted the well-known English profanity, often referred to as the F-bomb, which he aimed at Israelis and Jews.
Unfortunately for the diplomat, the rant was loud enough to be overheard by two gym patrons on a lower floor lifting weights. The patrons complained to staff at the gym and the complaint went to the authorities. Subsequently, Mr. Laxton, whose salary after tax is ÂŁ3,000 (about $4,815) per month, was suspended from his Foreign Office job and faces a misconduct hearing. The court fined Mr Laxton ÂŁ350 (about $562).
A London Times report in February had said about the incident:
He (Laxton) is also alleged to have said that Israeli soldiers should be "wiped off the face of the Earth" during the rant at the London Business School gym near Regents Park on January 27. The tirade reportedly continued even after other gym users asked him to stop.
Subsequently, Mr. Laxton apologized to fellow gym members who had overheard the anti-Semitic, anti-Israel remarks.
There's been a history of anti-Semitism in the British foreign ministry - is this more of the same?
Posted by MK at 10:46 AM | Comments (1)
LA Times Whitewashes Palestinian Female Prisoners
In his article today on the Hamas-Israel exchange, the Los Angeles Times' Richard Boudreaux whitewashes the offenses of the female Palestinian prisoners who are to be released tomorrow in exchange for a video tape from Hamas proving Gilad Shalit's physical well-being.
Boudreaux writes:
Israel's prison service said the women had been arrested for offenses including possession of weapons and attempted attacks on police and soldiers.
In fact, according to the Israel Prison Service, more than half of the women were sentenced to prison for "attempted murder." The IPS' information does not specify that these attempted murders specifically targeted just police and soldiers. Why does Boudreaux conceal the most egregious offense from readers?
Posted by TS at 07:38 AM | Comments (2)