« Leading Swedish Daily Newspaper Accuses IDF of Stealing Palestinian Organs | Main | Arab Denial of Jewish History »
August 19, 2009
The "Moderate" Hamas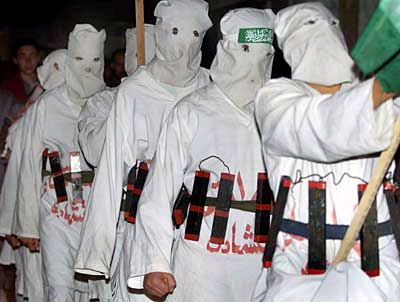 Hamas "moderates"?
It's bad enough to blindly trumpet Fatah as "moderate," especially after their recent convention gave ample reason for doubt about that characterization.
But Hamas? The terrorist organization responsible for murdering hundreds of Israeli civilians, throwing even Palestinian rivals from rooftops, and spewing anti-Semitic rhetoric?
According to China — or at least its state-run news agency Xinhua — Hamas is "moderate."
Xinhua reported last week:
Islamic Hamas movement and Palestinian President Mahmoud Abbas's Fatah party on Saturday traded accusations over deadly clashes that claimed the lives of 22 people in the Hamas-controlled Gaza Strip.

The clashes erupted Friday afternoon when an al-Qaida-inspired Imam announced the birth of an Islamic emirate in defiance of the moderate Islamic Hamas movement that has ruled the territory for the past two years.
The news organization, by contrast, routinely refers to Benjamin Netanyahu as "hawkish."
Posted by at August 19, 2009 11:39 AM
Comments
Guidelines for posting
This is a moderated blog. We will not post comments that include racism, bigotry, threats, or factually inaccurate material.
Post a comment