« Roger Cohen Sinks | Main | Israel's Founding A Unique Moral Achievement »
April 30, 2009
Dying for Coverage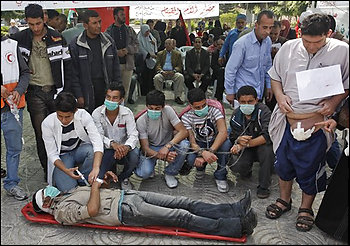 Gazans protest against the Hamas-Fatah rivalries which have prevented sick Palestinians from leaving the Gaza Strip for medical care (AP Photo/Hatem Moussa)
One year ago, the New York Times dedicated prominent news coverage to seven Fulbright scholars who could not leave Gaza to study in the United States. The coverage, including a front-page news story and a finger-wagging editorial, (erroneously) blamed Israel for the situation.
Now another group of Gaza citizens is unable to travel abroad for a pressing need -- and the consequences for these people are much more dire than those of the students unable to attend prestigious programs. As reported by the AP:
Hundreds of Palestinian patients have been trapped in the Gaza Strip, unable to travel abroad for crucial treatment for cancer and other diseases, because of political infighting between Gaza's militant Hamas rulers and their Palestinian rivals.

Eight Gazans who were waiting to travel abroad have died since the crisis began in March, when the dispute shut down a medical referral committee that helps sick residents find treatment outside of Gaza, according to the World Health Organization.
While the New York Times deemed the dubious case of the seven Fulbright students a cause celebre, the paper of record has totally ignored the Fatah-Hamas controversy which is responsible for the painful and unnecessary deaths of innocent patients desperately seeking to reach Egypt.
(Note: Prospects of recovery for sick Palestinians were also dimmed in late January, when the Palestinian Authority decided to discontinue payments to Israeli hospitals for treatments there, a development that was reported at the time by the Times. But the issue of the Hamas-Fatah disputes which has blocked the exit of Gazan patients has not been reported by the Times.)
Posted by TS at April 30, 2009 05:52 AM
Comments
with the millions of dollars funneled to the Palestinians via UNRA(SP) they could have their own med school and research center ten times over. they have the wrong values. terrible shame and shame on them.
Posted by: ann at May 3, 2009 10:53 PM
Guidelines for posting
This is a moderated blog. We will not post comments that include racism, bigotry, threats, or factually inaccurate material.
Post a comment