« Jimmy Carter's Difficulty With Numbers | Main | C-SPAN's Disgraceful Behavior »
February 13, 2009
BBC Still Fighting To Stop Balen Report Being Published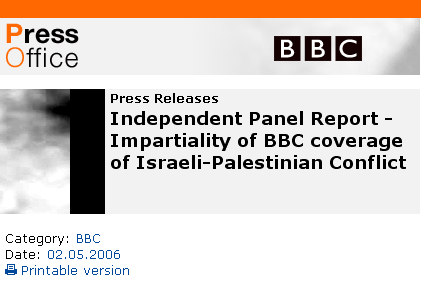 The BBC has lost its latest round of court battles with Steven Sugar, the British attorney who is campaigning to get the BBC to publish the Balen report - a 2004 internal report, conducted by the BBC's senior editorial advisor Malcom Balen, investigating allegations that the BBC's reporting of the Arab-Israeli conflict was skewed.
However, the BBC is still sticking to its guns. After the latest court ruling, a BBC spokesperson stated:
The Law Lords have not ruled that the Balen report should be released. What they have done is clarify the law around the jurisdiction of the information tribunal.
Mr. Sugar has stated that he will take the case to the European courts if need be.

Posted by at February 13, 2009 04:01 PM
Comments
If you'll notice, the BBC claims that they are not fighting this because it's about the middle east.
In Canada, we have a name for that kind of statement.
Horse-shit
Posted by: robins111 at February 13, 2009 06:29 PM
Guidelines for posting
This is a moderated blog. We will not post comments that include racism, bigotry, threats, or factually inaccurate material.
Post a comment