« Court: Foreign Journalists to Enter Gaza | Main | LA Times Corrects Casualty Figure »
January 01, 2009
Study: U.S. Alternative Media Cozy With Al-Jazeera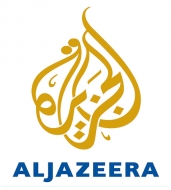 What is obvious to many who skim "alternative" news sites has just been confirmed by an academic study. The Jerusalem Post reports today:
"As hundreds of thousands of people all over the globe are protesting the US-armed and funded Israeli acts of war and Zionist genocide against the Palestinian population of Gaza, the slaughter continues with more bombings, siege and a blockade, plus a threatened ground war."

So reads a description of the Gaza fighting on the home page of indymedia.org, the Web site of the Independent Media Center, which describes itself as "a network of collectively run media outlets for the creation of radical, accurate, and passionate tellings of the truth."

It is accompanied by a picture of burned and bleeding children, among the relatively few civilian casualties of the Israeli assault on Hamas infrastructure in the Gaza Strip. The photo is supplied by a Palestinian in Cyprus, and much of the information provided on Gaza comes from an Arab source as well.

According to a study by Dr. Tal Samuel-Azran, a researcher at Ben-Gurion University's Communications Department, this type of cooperation has become the norm.

"Alternative" media in the West, particularly in the United States, have become a hub for the Arab or Muslim perspective on the region's conflicts, a perspective that is not shared or regularly represented by the mainstream media.

Samuel-Azran's study tracked some 1,600 broadcasts on major American networks, including ABC, CBS, NBC and CNN, and the use these agencies made of the footage being shown in the largest Arab network, Al-Jazeera.

His findings: Al-Jazeera has not been able to "inject" its perspective - including its more liberal use of bloody images and video footage - into American news broadcasts because it is perceived as too one-sided.
Posted by TS at January 1, 2009 05:52 AM
Comments
Guidelines for posting
This is a moderated blog. We will not post comments that include racism, bigotry, threats, or factually inaccurate material.
Post a comment