« News Station Used to Launch A Grad Rocket, Palestinian Journalist Laughs | Main | Free Gaza Coordinator Doubles as Daily Telegraph Journalist »
January 20, 2009
AFP Falsely Ties Victim to White Phosphorous
There has been no shortage of Palestinian wounded for photo services to document, so it is odd that AFP falsely links an injured boy to claims about white phosphorous. Consider the following photo and caption: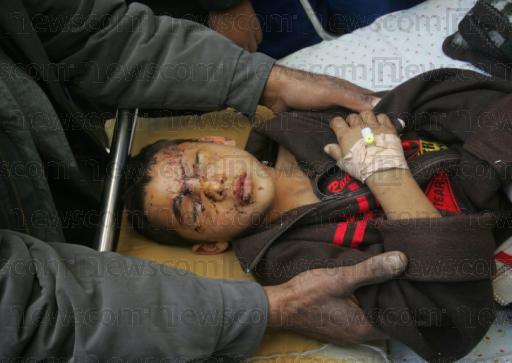 Palestinian Loua Sobeh, 10, is treated for burns at Shifa hospital in Gaza City on January 12, 2009. Palestinian doctor working in Gaza City Dr. Yusef Abu Rish told AFP that at least 55 people were injured early yesterday by white phosphorous shells, banned under international law for use against civilians, but permitted for creating smokescreens. "These people were burned over their bodies in a way that can only be caused by white phosphorous," said Abu Rish. An Israeli military spokeswoman denied the claims. "There is no use of white phosphorous. Everything we use is according to international law," she said. AFP Photo/Yasser Aymeh, Jan. 12, 2009
While AFP does not explicitly state that Sobeh was injured by white phosphorous, the gratuitous inclusion of Dr. Abu Rish's statement strongly implies that he is. And some media outlets got the message. The San Francisco Chronicle and the Daily News (Egypt) for instance, used this photo of Sobeh to illustrate their articles about claims concerning Israeli use of white phosphorous.
Meanwhile, it has become clear that Louai Sobeh, who gave his testimony to B'Tselem, was not injured by white phosphorous. He told B'Tselem he was injured in an attack by combat helicopters and gunfire, and according to the Palestinian Center for Human Rights, he was injured by tank fire. Tellingly, neither organization mentions white phosphorous.
Why, then, given the supposedly high number of casualties due to white phosphorous does AFP resort to falsely linking a victim to the weapon?
Perhaps, because despite the reports on CNN about the "Nasty, Nasty Weapon" which has brought casualties to Shifa Hospital, the Red Cross' delegation to that hospital did "not come across injuries which could be proved to be from white phosphorus."
For more on false claims about white phosphorous, see here.
Posted by TS at January 20, 2009 02:38 AM
Comments
As a former soldier and a career firefighter I know something about burns.
I see no evidence of Willy Peter burns on this person.
You only have to see it once, there is no skin pitting, even when the pic is blown up.
In addition, it looks like someone spread grease over this kids face, for some reason.
Story is a lie.
Posted by: robins111 at January 21, 2009 04:10 PM
Obviously - because this picture is not of a victim of white phosphorous, it proves conclusively and beyond any doubt that Israel has never and will never use white phospherous against people.
Despite the hundreds of photos showing WP bursts over Gaza, the video footage of people with horiffic burns right down to the bone, official reports from UN personnel stationed in Gaza, photos of the Actual spent shells with WP markings on them, reports by the Israeli Defense force commanders that they DID in fact use WP "as a screening agent" (screening what?) over the most densely populated city in the world.
Yes this one picture proves al of that false.
Posted by: Wisdo at January 22, 2009 07:31 AM
International Committee of the Red Cross mines-arms unit head Peter Herby:
"In some of the strikes in Gaza it's pretty clear that phosphorus was used. But it's not very unusual to use phosphorus to create smoke or illuminate a target. We have no evidence to suggest it's being used in any other way."
Posted by: Anonymous at January 22, 2009 11:32 AM
Guidelines for posting
This is a moderated blog. We will not post comments that include racism, bigotry, threats, or factually inaccurate material.
Post a comment